Popups – Mobile Banner
This is the section where you start creating or editing the mobile banner version of your popup. Let's take a deeper look below.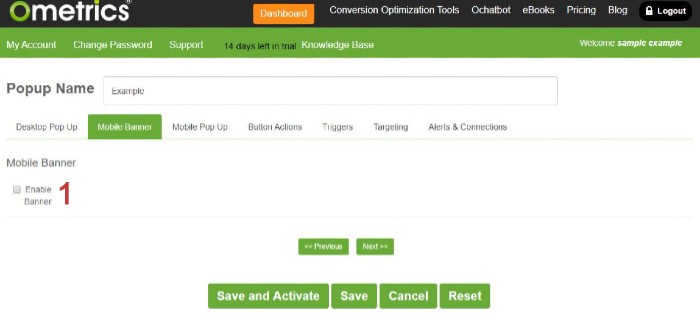 1. Enable Banner: Choose to either enable or disable the mobile banner.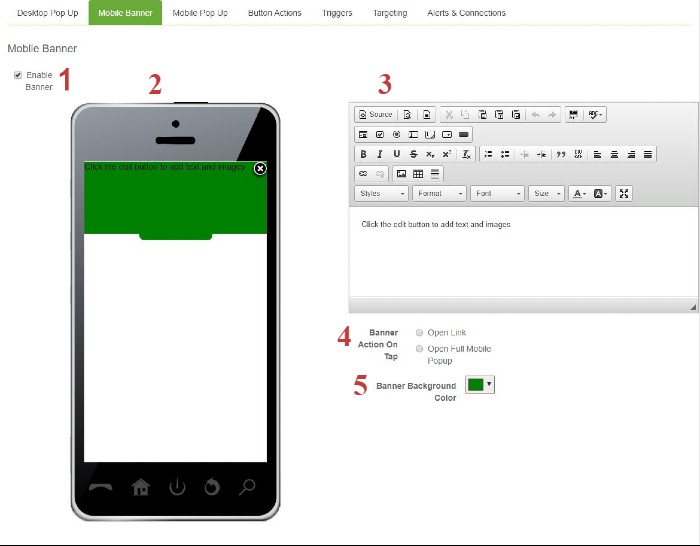 2. Phone Preview: This previews what your mobile banner will look like when a user is on their mobile device. Great way to make sure your banner looks like how you want it.
3. Text Box?: Editor window?
4. Banner Action On Tap: Choose what happens when a user taps the banner; either opens the link or opens the full mobile popup.
5. Banner Background Color: Choose the color to match your branding and make the banner and its content pop.
Frequently Asked Questions
My mobile popup is not displaying, why is this?
Try using a mobile banner instead of a mobile popup. Google does not like blocking users' entire mobile screen with a popup. Mobile banners are a great way to engage with mobile users without making the Google overlord mad.
We Are Here to Help
Here are the different ways you can contact support:
When logged in, click the "Contact Support" button. Your information will be autopopulated so just type in your question or comment.
To create a ticket when not logged in email: 

[email protected]

Call us during business hours: 8 a.m.-5 p.m. MST 800-700-8077.
If outside the US: send an email to

[email protected]

and we will set up a meeting over Zoom.