Ochatbot – Questions Tab
Questions are the core of Ochatbot and how you start the conversation with your users.  You can edit that default question here as well as create new questions which can replace your default question or be placed elsewhere in the bot. Crafting different questions is the key to Page Targeting which allows you to ask different questions depending on which page the user is on.
To get started, head to the Question Tab and click on the green plus button in the bottom right corner to select Add Question.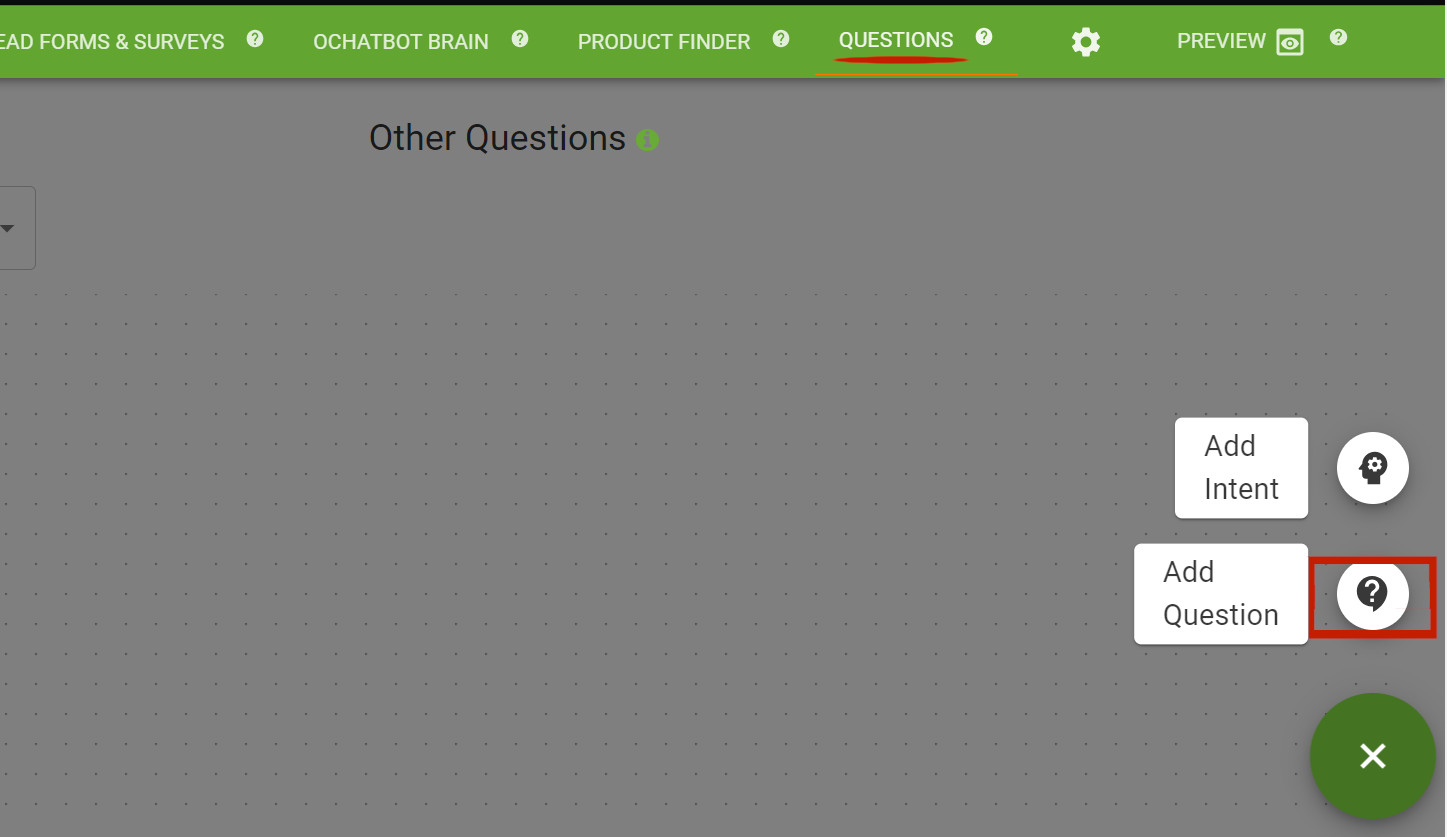 This will open a popup screen.

1. Question Name: Type in the name of your question here to keep yourself organized.
2. Question Description: Give a description of your chatbot here to help guide anyone browsing your bot after you build it.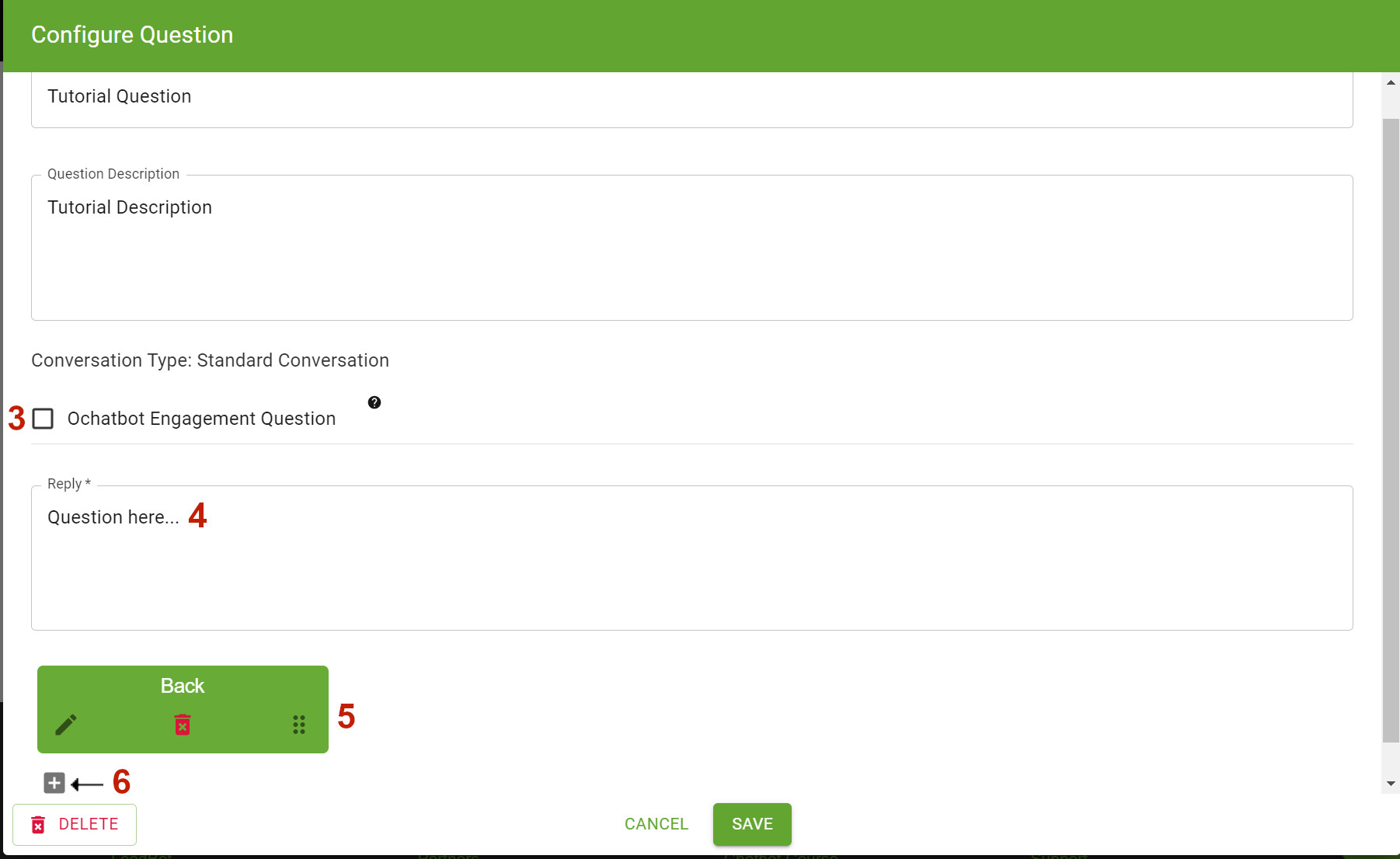 3. Ochatbot Engagement Question: Check this box to use the selected question as the default. Use this when testing different default questions to engage your user more.

4. Reply: Type the text of your initial question here. Be sure to ask something engaging such as "What brings you to us today?" or "Want to hear about our promotions?".
5. Back Button: All questions and intents automatically include a back button that links to the default question. To change where the back button goes, click the gray pen to open the editor.
6. Buttons: Add buttons here to link to a question, intent, or URL. The buttons you create here will appear in the chatbot window when your question initializes.
This appears after selecting the gray pen on a button or clicking the gray plus button to add a button.
7. Button Text: Give a name to your button. For example, "Shop Now."
8. Button Actions:  There are several possible actions for your button:
Link to URL: Link the button to a desired webpage.
Trigger Question: Link the button to an existing question.
Trigger Intent: Link to the button to an existing intent.
Trigger Ometrics Live Chat: Use the Live Chat code to link to Ometrics Live Chat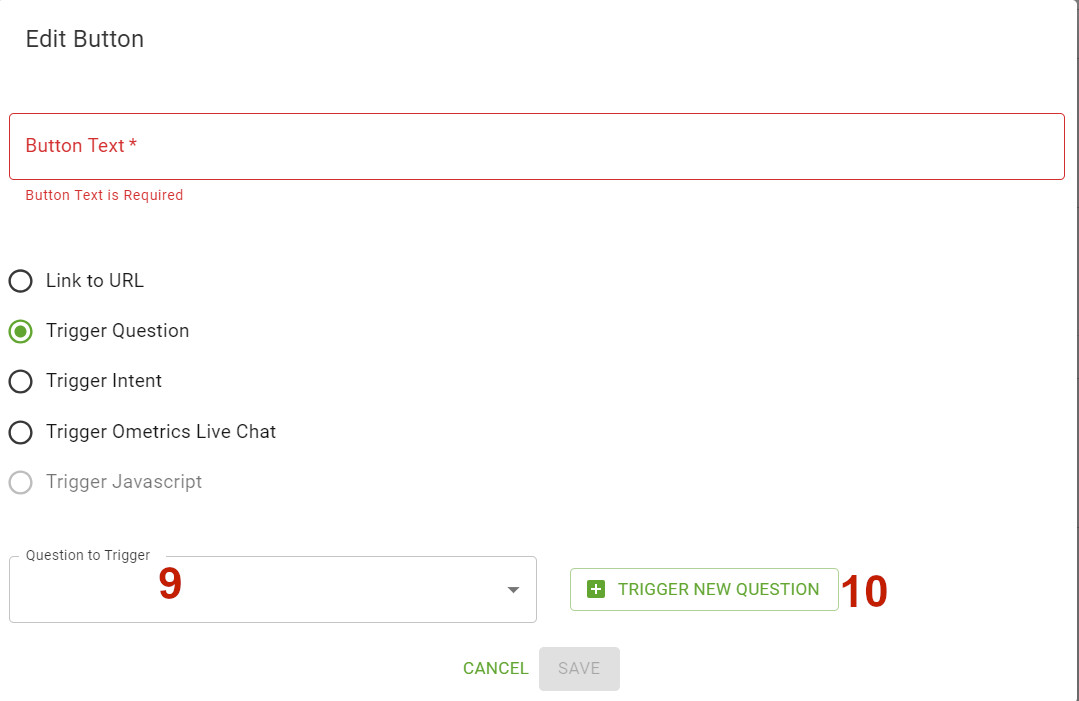 9. Question to Trigger/Intent to Trigger: Select an existing question or trigger from the dropdown to link to the button.
10. Trigger New Question/Trigger New Intent: You can create a new question or intent by clicking this button. Keep in mind that the questions/intent you create will be empty until you go back and edit in the appropriate details. New questions/intents will appear in the dropdown once created.
Once you're satisfied with your question, click the Save button to preserve your work! You will see the new question tree once the page refreshes.
Frequently Asked Questions
Can I ask different questions based on what page the user is on?
Yes! That's what is called Page Targeting! Great to engage your visitors in unique ways.
We Are Here to Help
Here are the different ways you can contact support:
When logged in, click the "Contact Support" button. Your information will be autopopulated so just type in your question or comment.
To create a ticket when not logged in email: 

[email protected]

Call us during business hours: 8 a.m.-5 p.m. MST 800-700-8077.
If outside the US: send an email to

[email protected]

and we will set up a meeting over Zoom.