Ochatbot – eCommerce Setting
Ometrics customers that utilize Ochatbot for their eCommerce stores can use this tab to help them connect their product database. This allows users to quickly search for the right product they are looking for as well as add to their cart all right from the chatbot window. Let's take a deeper look.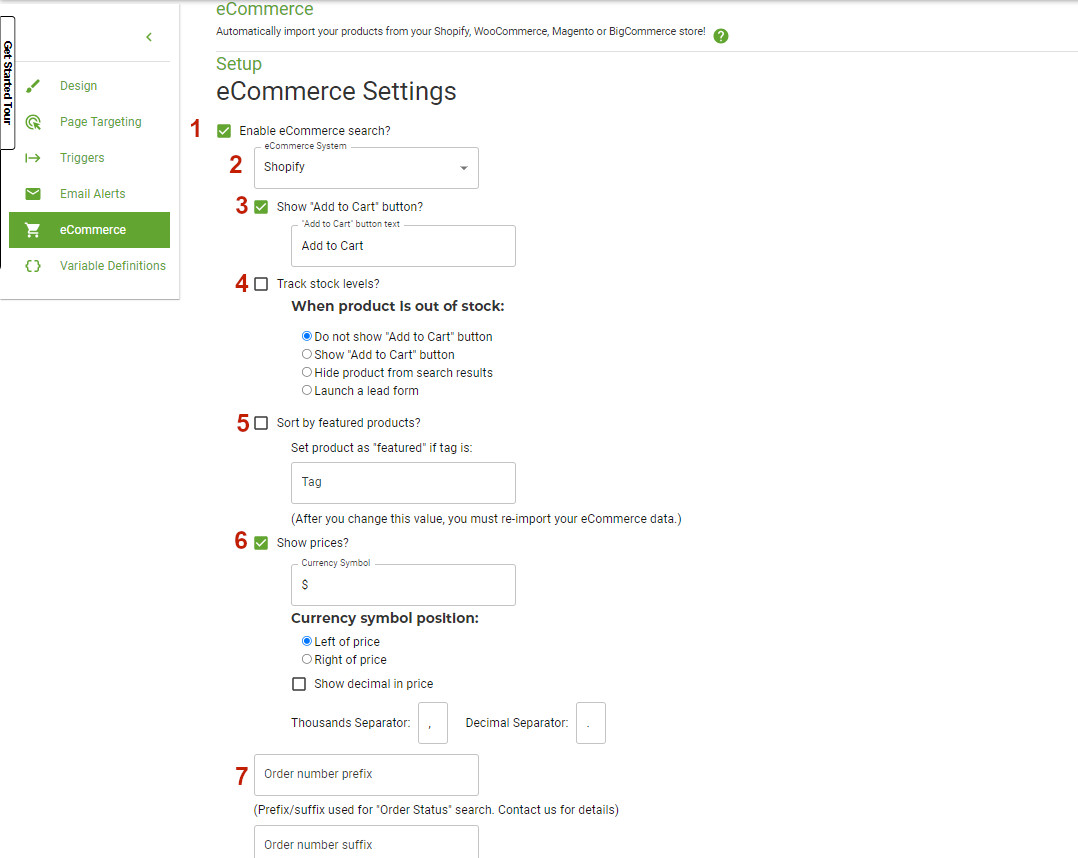 1. Enable Ecommerce Search: Click this box to enable and disable eCommerce searching.
2. Enable Ecommerce System: Choose the eCommerce platform your store is located on.
3. Show "Add to Cart" Button: Choose to include or exclude a button for "add to cart" in the chatbot window. You can decide to change the default text from "Add to Cart" to anything of your liking such as "Add to Bag" or "Add to Shopping List".
4. Track Stock Levels: When your eCommerce database is imported, the quantity of stock is also imported if you provide that information. When checked there are four options when a product is out of stock: do not show Add to Cart button, show Add to Cart button, hide product from search results, or launch a lead form of your choosing.
5. Sort by Featured Products: You are able to force the search results to sort by featured products of your choosing such as higher priced or higher AOV products, any sale items, or high or low stock levels. Be sure to correctly input your tag in the field.
6. Show Prices: You have the option to show or not show product prices in the search results. Edit the price format with the currency symbol, currency symbol position, etc. to suit your desired format.
7. Order Status prefix/suffix: The prefix/suffix used for order status search.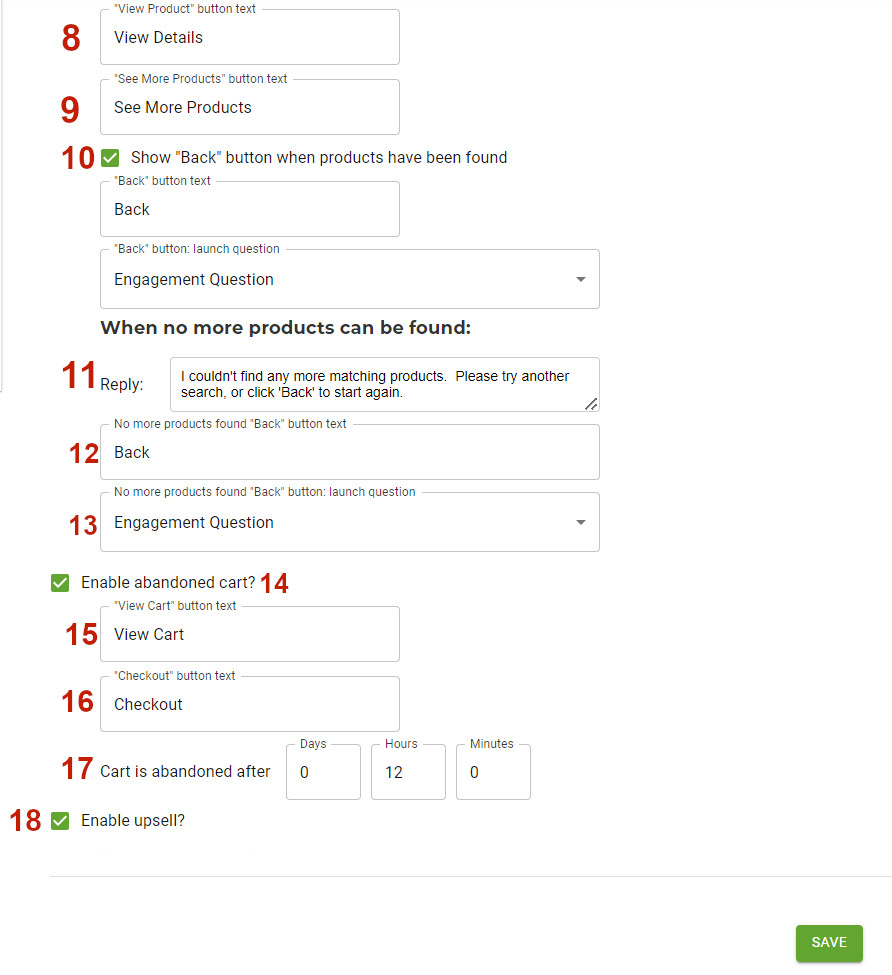 8. View Product Button Text: Change what text is displayed on the View Product button here. Once clicked, the user is usually sent right to that product page to see more details.
9. See More Products Button Text: Change what text is displayed on the See More Products button here. When clicked, the user is given a set of more products within their original search to browse through.
10. Show "Back" Button: After products have been displayed, include a "back" button at the bottom of the search results to direct the users back. Choose what the button text will say as well as which question is launched once the button is clicked,
11. No More Products Found Reply: Determine what text your reply is when the user gets to the end of their search results.
12. No Products Found Back Button Text: Change the "Back" button text to your liking.
13. Back Button Launch Question: Choose which question is launched once that back button is clicked; be it the default question or another question you previously created.
14. Enable Abandoned Cart?: Click the checkbox to enable the Abandoned Cart feature. This reminds returning customers of items left in their cart from a previous session (within 30 days) and prompts them to complete their checkout. When a customer returns to a eCommerce store's website on any page the Abandoned Cart intent, which displays the items left in the cart, will trigger instead of the Default Question.
15. View Cart Button Text: Choose what text will be inside of the button that leads to the cart page.
16. Checkout Button Text: Choose what text will be inside of the button that leads to the checkout page.
17. Cart is Abandoned After: Select the timeframe for which to trigger the Abandoned Cart intent. The default is set to 12 hours which means after a customer adds something to their cart and then leaves the website, the chatbot will wait 12 hours until triggering the Abandonded Cart intent. If a customer returns within 3 or 5 or 8 hours the Default Question will trigger – not the Abandoned Cart intent.
18. Enable Upsell?: Click the checkbox to enable Up-sells and Cross-sells.
Frequently Asked Questions
What if my store is on a platform that is not listed in the dropdown menu?
Simple reach out to Support and we will assist you in connecting your database.
We Are Here to Help
Here are the different ways you can contact support:
When logged in, click the "Contact Support" button. Your information will be autopopulated so just type in your question or comment.
To create a ticket when not logged in email: 

[email protected]

Call us during business hours: 8 a.m.-5 p.m. MST 800-700-8077.
If outside the US: send an email to

[email protected]

and we will set up a meeting over Zoom.