Gain Insights. Engage Users. Grow Sales.
Funnel Metrics – Get Started
Funnel metrics track how visitors flow through a specific funnel you set up to track. A good example is tracking how visitors move from their cart page to the checkout page and finally to the thank you/successful purchase page. You can calculate your conversion rate within the funnel by seeing how many visitors made a successful purchase from the number of visitors who started at their cart page (i.e. 100 visitors started on their cart page while 20 visitors reached the thank you/successful purchase page therefore your conversion rate is 20%). 
Be sure to input the pages you would like to track in your funnel in the correct order; the first field is the start of your funnel while the last field is the end of your funnel. This represents a great way to discover insights about where you are losing visitors within your funnel. Let's take a deeper look below: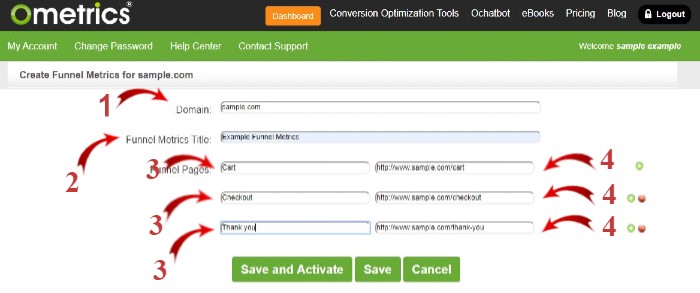 1. Your domain will be autopopulated.
2. Name your funnel metric to keep organized when creating multiple funnels.
3. Name the pages to help remind yourself what each page represents.
4. Input the exact URLs you would like to track.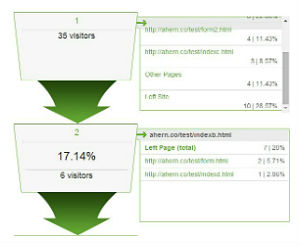 Here is the results of an example funnel metric. As you can see 35 visitors were on page 1 while 6 visitors made it to page 2 therefore the example conversion rate is 17.14%.
Frequently Asked Questions
Great, I created my funnel metric. Now what do I do with it?
That's where some critical thinking is needed! You have to ask yourself: why did these visitors not convert (i.e. complete checkout)? Where in the process did most visitors drop out? Once you identify a "problem page" then you can go about fixing it: Is your return policy or warranty information confusing? Are your call-to-actions strong enough? Are you presenting them with enough or too many options? There are so many factors that go into a purchase decision it can get overwhelming. Just try to test and correct one issue at a time and see your conversions increase.
We Are Here to Help
Here are the different ways you can contact support:
When logged in, click the "Contact Support" button. Your information will be autopopulated so just type in your question or comment.
To create a ticket when not logged in email: 

[email protected]

Call us during business hours: 8 a.m.-5 p.m. MST 800-700-8077.
If outside the US: send an email to

[email protected]

and we will set up a meeting over Zoom.