Billing is set automatically either monthly or annually with Ometris accepting all credit cards. Your billing cycle is every 30 days from the date you started your plan. As always, if you have any questions about your account or billing cycle please contact support.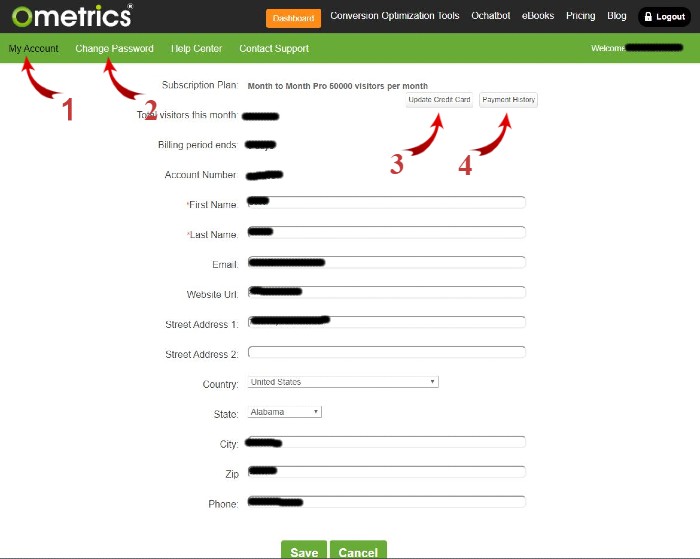 1. Under "My Account" you can view and edit your contact information.
2. Change your password here by entering in your old password then your new password as well as a new password confirmation. *Note – if you cannot remember your password, click the "Forgot Password" link when attempting to login, input your email address, then follow the instructions sent to your inbox.*
3. Update your credit card information here. Your information is secure and your credit card number cannot be fully viewed by Ometrics.
4. View your payment history here. You can view individual payment details as well as download invoices.

Frequently Asked Questions
How do I cancel my account?
Please contact support for assistance.
How do I upgrade or downgrade my account plan?
You can upgrade or downgrade any plan excluding the Pro plan due to required minimum term. As always, please contact support about any specific account questions.
We Are Here to Help
Here are the different ways you can contact support:
When logged in, click the "Contact Support" button. Your information will be autopopulated so just type in your question or comment.
To create a ticket when not logged in email: 

[email protected]

Call us during business hours: Mountain Time, Colorado USA. (US) 800-700-8077.
If outside US: send an email to

[email protected]

and we will set up an meeting over Zoom.