Popups – Desktop Popup
This is the section where you start creating or editing the desktop version of your popup. Let's take a deeper look: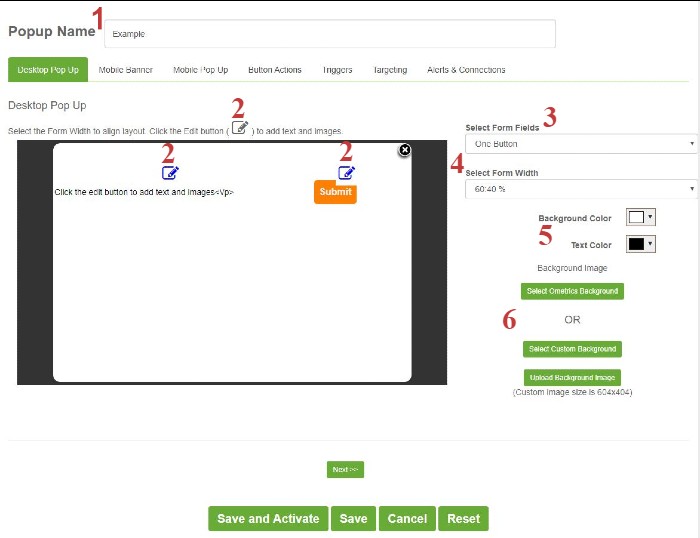 1. Name: Give your popup a name to keep organized.
2. Edit Button: Click on the edit button to open the editor window to add, change, or remove text or images.
3. Select Form Fields: Choose among 15 pre-set templates to include information you want displayed or to collect contact information you want for later use.
4. Select Form Width: Choose what screen ratio you would like your form to adhere to. "0:100%" means the form takes up the entire popup while "100:0%" means the form does not appear in the popup.
5. Background/Text Color: Select colors to match your branding.
6. Background Image: Select a background image from the Ometrics library or upload your own for true customization.
Frequently Asked Questions
Is there a limit to the amount of popups I can create?
Nope! Create as many as you want and try different combinations of popup designs for you different campaigns.
We Are Here to Help
Here are the different ways you can contact support:
When logged in, click the "Contact Support" button. Your information will be autopopulated so just type in your question or comment.
To create a ticket when not logged in email: 

[email protected]

Call us during business hours: 8 a.m.-5 p.m. MST 800-700-8077.
If outside the US: send an email to

[email protected]

and we will set up a meeting over Zoom.