Exit and User Triggered Popups
Start Converting Visitors Into Leads
Popups
can gather email addresses to build nurturing campaigns, offer coupons getting users to purchase and offer free information educating the users about your business. What makes popups successful is to show them without upsetting the user.
Designed for mobile! The mobile banner pop-ups have separate triggers and design functions to fit mobile devices. You can even have different messages and forms for mobile devices. The mobile pop-ups meet the latest Google standards by having the option to present a banner first for the user to click (image with short green banner) to then see the full banner (image with full green pop-up).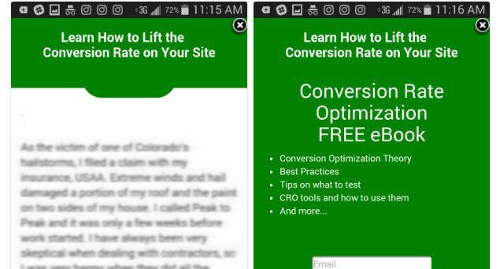 Triggers
Popups are triggered by the users actions such as:
Exiting a page
Number of pages viewed
Time on page
Scrolling down the page
Second time to the site
By clicking a text link or image on the site
Control how many times a pop-up is shown
Set the amount of time pop-up will be seen again
Page targeting
And more!
After a user submits they can see another screen or be sent to another page on the site.
Exit pop-ups
Exit popups detect when a user is about to leave your site or page and prompts them with your offer. Exit pop-ups only work on desktop but you can set a different trigger like scrolling for mobile devices.
The content area is easy to edit and you can place any type of creative and HTML in the editor.
Forms
15 built-in forms to choose from allow a variety of form options that send to multiple email addresses and the data can be exported. 
Link triggers
Link triggers allow you to have the popup appear when the user wants to fill out a form by clicking a text link or image. This is a powerful tool and can have a higher conversion rate than having a form on a site. This is because the user feels in control and has a higher likelihood of filling out the form. Also look at Lead Sliders for a high conversion rate.
All popups are overlays and are Google safe and approved. They can significantly grow email lists and can double registration signups. This is because a visitor often just needs a little nudge to join. Exit surveys also work well to gather information on why a visitor is leaving.