Support Customers & Increase Sales with Live Chat
In addition to your Ochatbot,
live chat
is an option that increases your customer service by offering instant support for customers who need more specific help.
While the chatbot answers most customers' inquiries, live chat provides assistance to more complex questions  unique to your customers' situation.  When a visitor arrives to your site, they may need help if they have spent time on a page without taking action or have a specific question. A live chat window will pop up (similar to that of your chatbot) asking if they'd like assistance.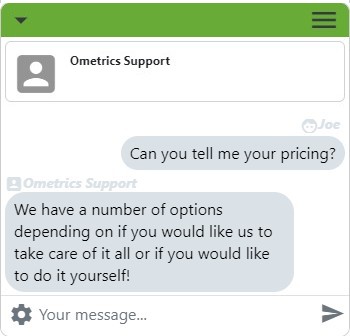 Live Chat Features
Monitor your website pages and proactively invite a customer to live chat.
A customer can request a live chat from within the chatbot – either when the chatbot AI does not understand the customer, or when the visitor clicks a button.
If you are unavailable to chat, the customer can leave a message and you can follow up via email.
If you are away from your computer, there is also the option for offline messaging which allows customers to leave a message and you can follow up with them via email.
What live chat offers you, as a business, is the ability to monitor who is on the site. You receive an alert when a visitor arrives and can proactively initiate engagement with them by inviting them to live chat when they need help. Improve your customer service by offering faster problem resolution. Enhancing the customer experience creates loyalty and increases sales.