Ochatbot – Get Started
Let's go step-by-step through the initial setup of your Ochatbot.

Add Domain
Enter the domain your chatbot will be on here. Remember to exclude the "http://www." or "www." Be sure to input the correct domain; you will need to submit a support ticket in order to change your domain later on. Click "Add Domain" to get started building your tools!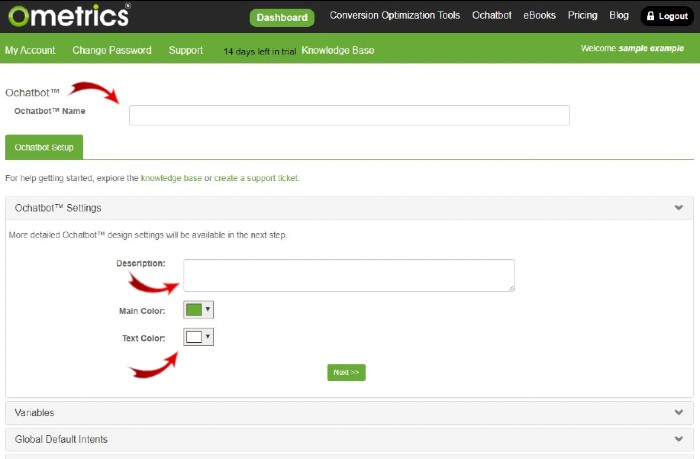 Settings
Customize your bot by giving it a name, writing a description, and choosing your text and main color.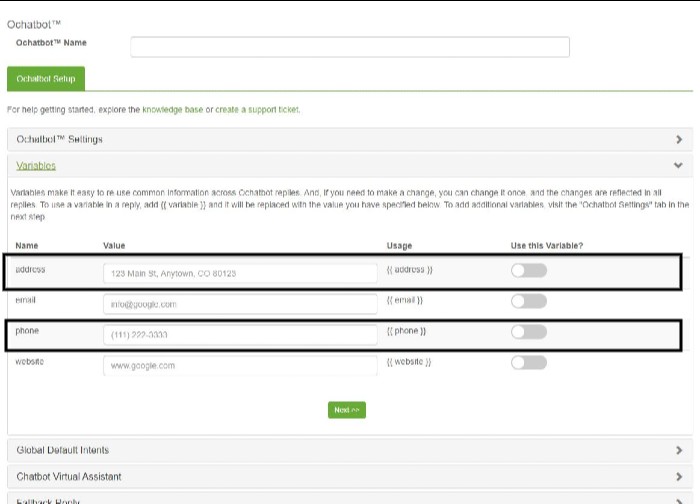 Variables
Select which variables you would like to use by editing the information or deleting the variable entirely if it does not match your needs. Variables allow you to easily store and recall a phone number, address, email, phrase, etc. When you create one, it means you can change the information in one place (i.e. the settings tab) and it will change everywhere else that the variable is used. They can easily be added, changed, or deleted by going to the Settings tab.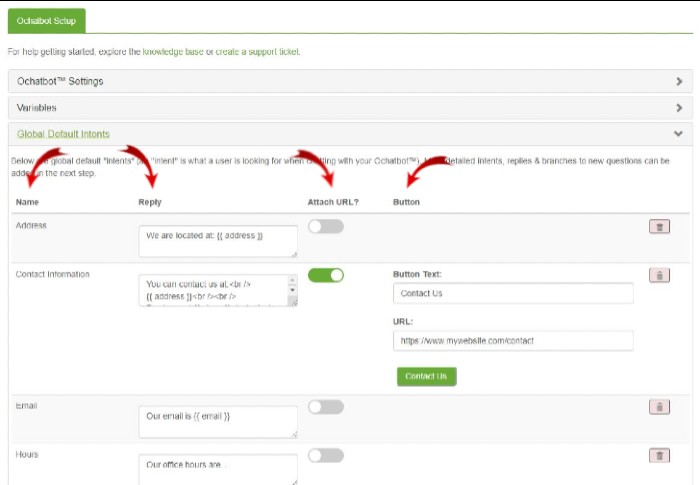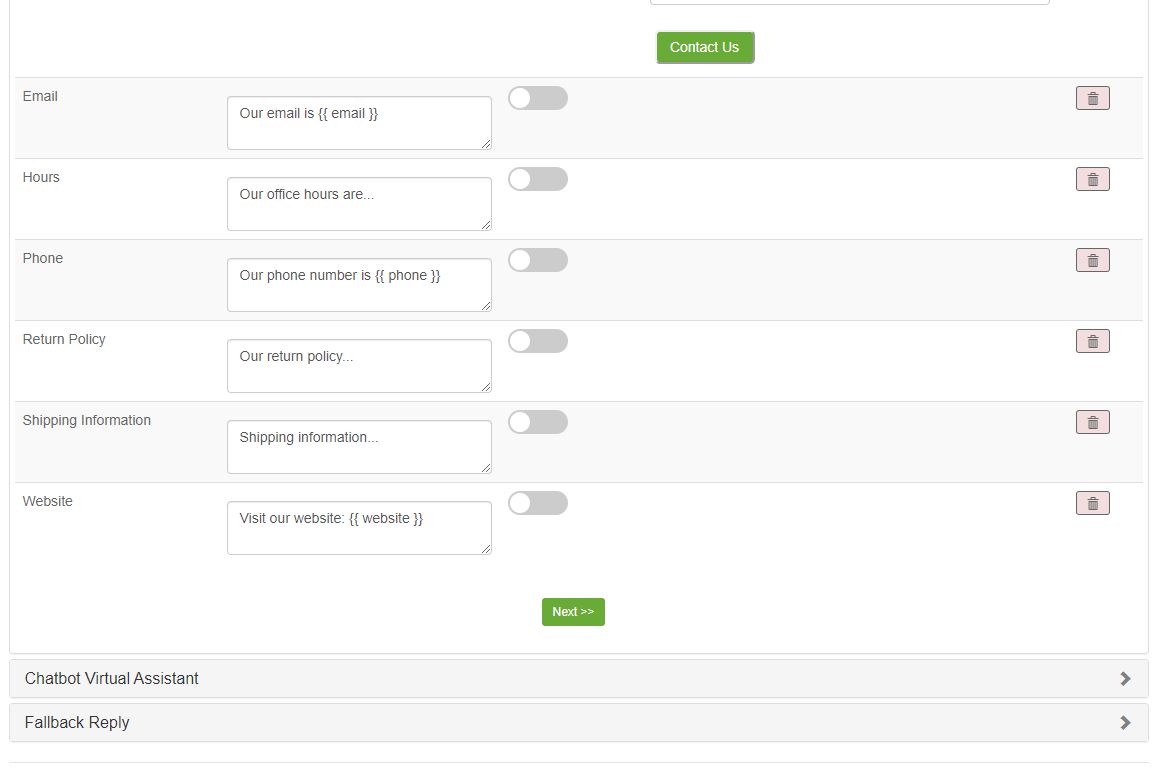 Global Defaults Intents
Select which global default intents you would like to use among the list. You can then edit the response, information, or variable to suit your needs. You can completely remove a global default intent if it does not match your business or preferences (i.e. you prefer communication via email so you want to exclude your phone number or your business does not ship products so no need to inform the user about shipping information). Learn more about Global Intents.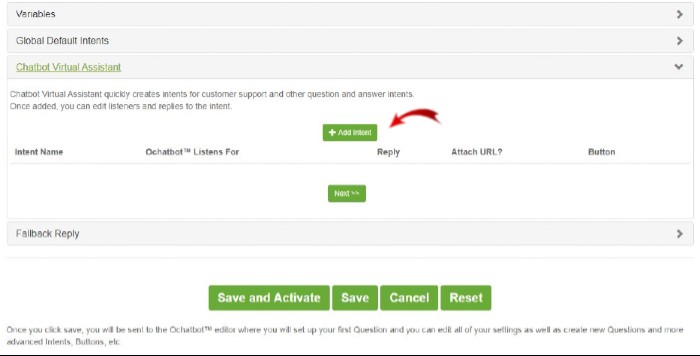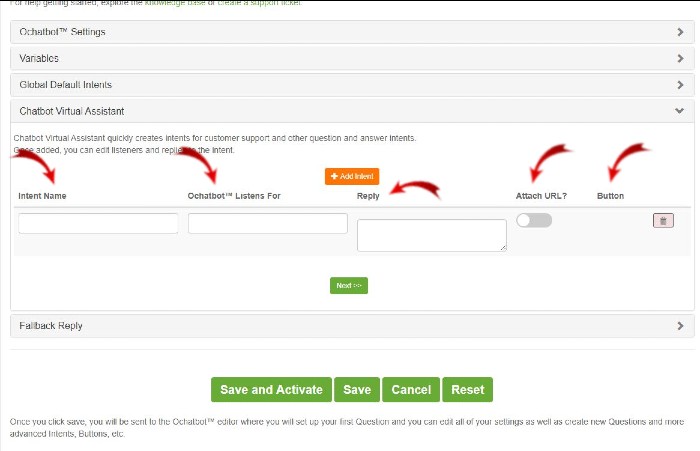 Chatbot Virtual Assistant
The Chatbot virtual assistant can quickly create intents for customer support and other simple intents. The intents made here are listened for globally, meaning no matter where the user is, if what they type matches the listener, it will respond. This is the best place to create intents to respond to user's Frequently Asked Questions (FAQs). Learn more about the Virtual Assistant.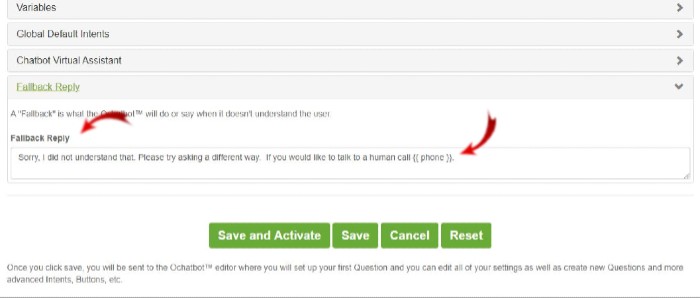 Fallback Reply
Here you edit your fallback reply. Fallbacks help Ochatbot handle questions or responses it isn't expecting. The default response is seen above, but it can be easily changed. This is a perfect opportunity to include your contact information or buttons for a "Contact Us" form or Live Chat.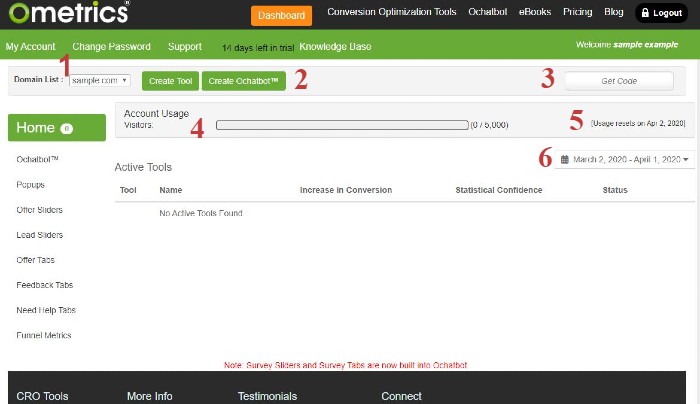 Ometrics Dashboard
1. Domains: Use this dropdown menu to switch between domains and access different tools for different sites. Our Plus or Pro plans include access to multiple domains.
2. Create tool/Ochatbot: Start creating your engagement tools!
3. Get code: This is your specific code. Make sure to place it in the <head> with a simple copy and paste. Learn more about Installing Ometrics Script.
4. Account usage: View your total unique monthly visitors and Ochatbot interactions for the current billing cycle.
5. Reset date: This tracks your visitors for the month and resets on your billing date.
6. Changing date range: Track your visitor data by changing the date range here. You can use the preset ranges or select your own custom range.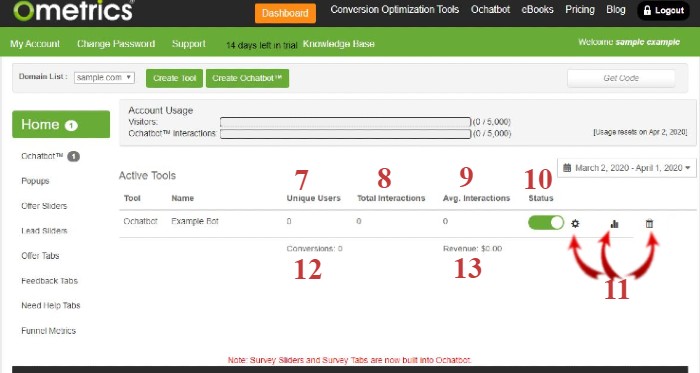 Ochatbot Dashboard
7. Unique Users: Displays how many different users were on your website during the selected date range.
8. Total Interactions: Tracks how many interactions your bot had with visitors. An interaction is counted when a user does something inside the bot such as typing in a word, phrase, or sentence or clicks a button (ex: user clicks on "Contact Us" button, clicks the "Send a Message" button, then types in their answers to the name, phone, and email field –> 1+1+3=5 interactions).
9. Average Interactions: Calculates the average number of interactions during the selected date range (i.e. the total number of interactions divided by the total number of unique users).
10. Status: Easily make your chatbot active or inactive by selecting or deselecting the toggle.
11. Buttons: Respectively — Edit chatbot, Reporting page, Delete bot, Duplicate bot
12. Conversions: Website conversions occur when your visitor completes a desired action such as purchasing from your eCommerce store, creating an account, or signing up for your newsletter or whitepaper. Your conversion rate can be calculated by taking your total conversions and dividing by the number of visitors or "unique users".
13. Revenue: If you connect your eCommerce product database, you can track the revenue brought in by Ochabot here.
Ometrics Ochatbot Quick Overview Video
Frequently Asked Questions
I created a Free account but now I see there is a Free Trial. How do I switch to a Free Trial?
Just contact support and we will activate your Free Trial!
We Are Here to Help
Here are the different ways you can contact support:
When logged in, click the "Contact Support" button. Your information will be autopopulated so just type in your question or comment.
To create a ticket when not logged in email: 

[email protected]

trics.com
Call us during business hours: Mountain Time, Colorado USA. (US) 800-700-8077.
If outside US: send an email to

[email protected]

and we will set up an meeting over Zoom.