Ochatbot – Settings Tab
Change all of the settings determining how your chatbot is displayed and it's appearance in this tab. This includes more than just colors; let's take a look: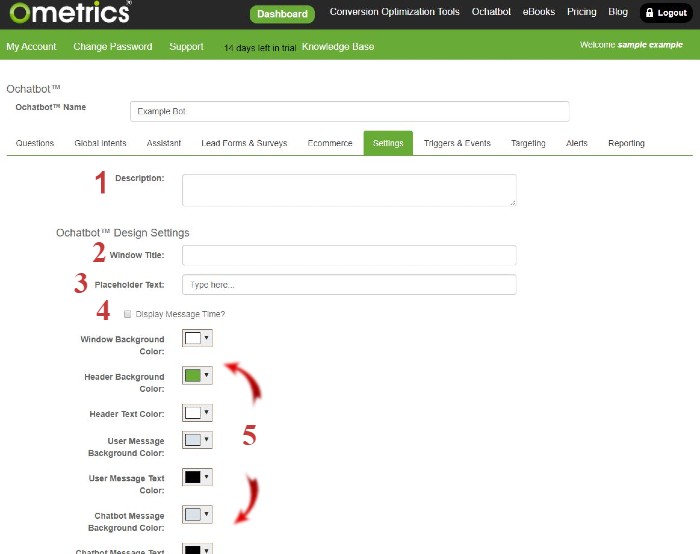 1. Description: Describe your chatbot here to help guide anyone browsing your chatbot after you build it.
2. Window Title: Determine what text is displayed at the top title section of the chatbot. By default, the name you gave your chatbot (under the Questions Tab) will appear here.
3. Placeholder Text: Choose what text is displayed at the bottom of the chatbot where users type in their questions/responses to encourage them to type when interacting with the chatbot.
4. Display Message Time: Choose to enable or disable displaying the time when a message was sent in the chatbot window.  
5. Colors: Pick your colors to help match your branding.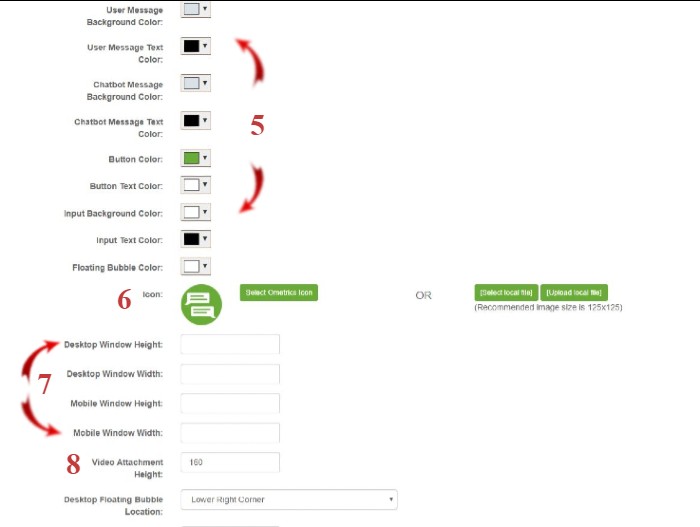 5. Colors: Pick your colors to help match your branding.
6. Icon: When you upgrade to the Plus Plan you can choose to upload your business's logo or stick with the Ochatbot logo. This will display when the chatbot is minimized to the floating bubble.
7. Window Sizing: Edit the size of your chatbot window here by inputting your desired height and width for desktop and mobile versions. Remember to strike a balance of your user being able to read the chatbot text and also still see/browse your website pages.
8. Video Attachment Height: Choose the height of imbedded videos within the chatbot window.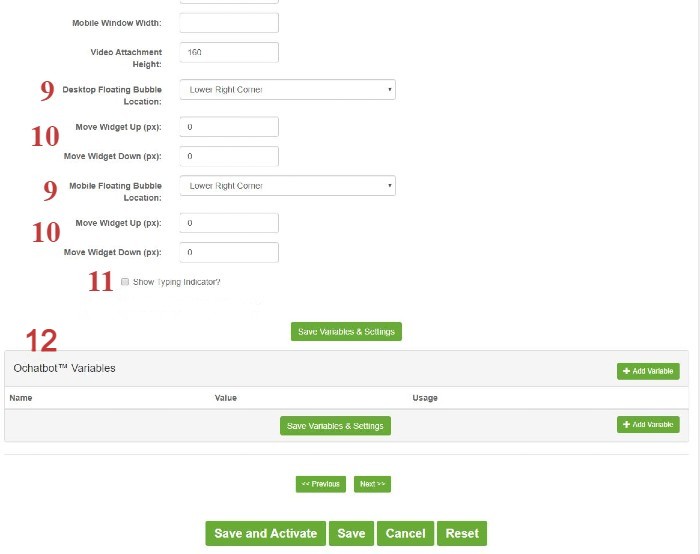 9. Desktop/Mobile Floating Bubble Location: Choose where you would like the floating bubble icon on your desktop and mobile versions.
10. Move Widget: Use these fields to fine tune the widget location to exactly where you would like it. Great way to move the widget slightly if it is blocking a key portion of your website pages.
11. Show Typing Indicator: Enable or disable the "…" icon that shows when a user is typing in the chatbot  window.
12. Variables: Variables allow you to easily store and recall a phone number, address, email, phrase, etc. When you create one, it means you can change the information in one place (i.e. here in the settings tab) and it will change everywhere else that the variable is used. They can easily be added, changed, or deleted.
Frequently Asked Questions
Can I add any sort of variable?
Absolutely! Creating all kinds of variables helps you save time and energy in the future by only having to update information in one location instead of hunting through all your intents to find the information that you need to update.
We Are Here to Help
Here are the different ways you can contact support:
When logged in, click the "Contact Support" button. Your information will be autopopulated so just type in your question or comment.
To create a ticket when not logged in email: 

[email protected]

Call us during business hours: Mountain Time, Colorado USA. (US) 800-700-8077.
If outside US: send an email to

[email protected]

and we will set up an meeting over Zoom.