Ochatbot – Reporting Tab
Once you complete your chatbot's initial build and make it live, the Reporting Tab becomes the most important tab because this is where you see user inputs and synthesis user insights. For example, if you see a high number of users asking the chatbot about your return policy or warranty information then you should review how that information is being conveyed to your user and consider revising it.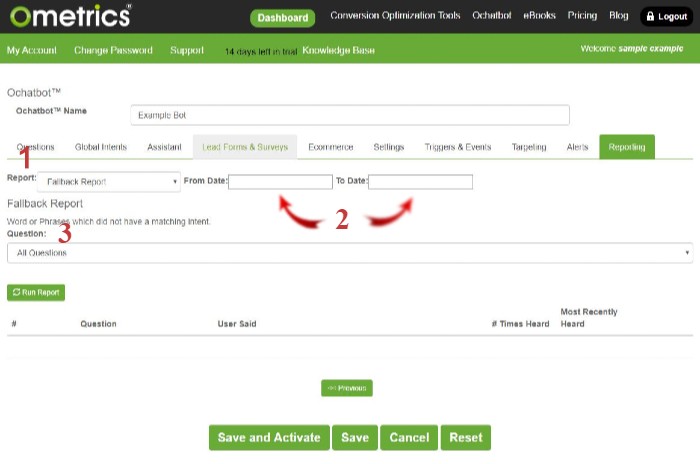 1. Report: From the dropdown menu, choose which report you would like to view among the 5 reports: fallback report, page engagement report, user response report, survey summary report, and survey/lead response report.
2. To/From Date: Select the desired date range for your report
3. Question: Select a specific question or form to run the report on.
Frequently Asked Questions
What's the most important report to regularly check?
While the page engagement and the user response reports are great to check for insights, the fallback report is the one you want to check the most. Use it to make your chabot smarter over time by correcting instances where users "hit the fallback".
We Are Here to Help
Here are the different ways you can contact support:
When logged in, click the "Contact Support" button. Your information will be autopopulated so just type in your question or comment.
To create a ticket when not logged in email: 

[email protected]

Call us during business hours: Mountain Time, Colorado USA. (US) 800-700-8077.
If outside US: send an email to

[email protected]

and we will set up an meeting over Zoom.