General – AI Chatbot vs. Live Chat
While these two might seem similar, chatting with and assisting website visitors, they have one fundamental difference: the presence or absence of a human. Let's explore more below….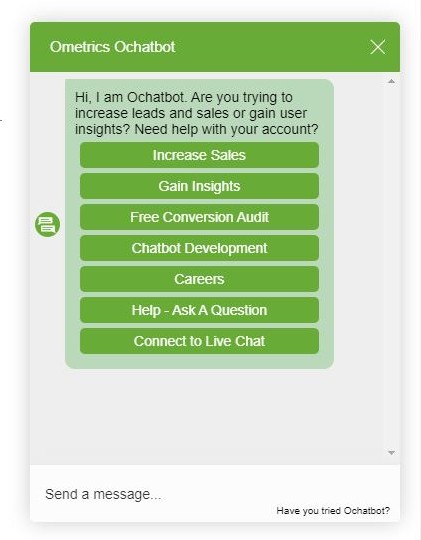 AI Chabot
Above is an example of Ometrics' AI Chatbot. It uses Artificial Intelligence to detect the intent of what a user is inputting and replies with a pre-determined response. It runs 24 hours a day and 7 days a week so no user is ever left feeling ignored or without assistance.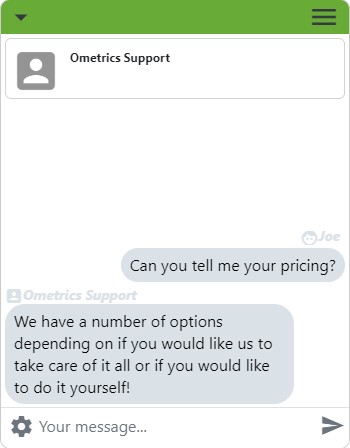 Live Chat
Above is an example of live chatting with Ometrics Support. Live Chat means directly connecting with a live company representative to ask them questions or resolve customer issues. Unlike AI Chatbots, Live Chat requires a company representative to be logged into their company's Ometrics account and actively managing the ongoing chats. If a representative is not logged in then users will have the option to input their email address along with their question or inquiry and wait for an email follow up.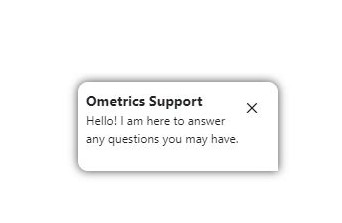 How They Work Best Together
With Ometrics, you don't have to choose between one or the other. The best method to deploy both starts with users interacting with an AI Chatbot. The AI will help answer lower-level support issues and questions such as "What is your return policy?" or "Do you ship outside the US?". This allows support staff to not waste time answering the same questions over and over again. Once the user reaches a point where they would like to talk to a real person, they can initiate a chat with a live representative and get their issue resolved. Alternatively, a company representative can prompt the user to initiate a chat (seen above) by displaying a message of their choice to launch a live chat.
Frequently Asked Questions
Which one will a user see first?
By default, your AI chatbot will appear first (depending on your trigger settings as the full window, floating icon, etc.). Once a live representative prompts the user to initiate a chat, the AI chatbot window or icon will disappear and the message prompt for live chat will replace it.
We Are Here to Help
Here are the different ways you can contact support:
When logged in, click the "Contact Support" button. Your information will be autopopulated so just type in your question or comment.
To create a ticket when not logged in email: 

[email protected]

Call us during business hours: Mountain Time, Colorado USA. (US) 800-700-8077.
If outside US: send an email to

[email protected]

and we will set up an meeting over Zoom.