The 2019 Conversion Rate Optimization Guide
Table of Contents
---
 Download the CRO Guide | Next >>
---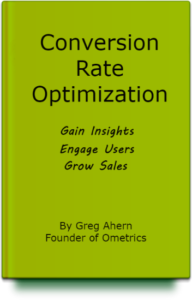 You only have seconds of time to convince the user to take action before they move onto another site. This conversion rate optimization guide covers proven design and testing techniques to optimize website and landing page conversion rates.
This conversion rate optimization guide is periodically updated at www.ometrics.com. If you have any questions or comments, please send them to [email protected]
Table of Contents
Chapter 1 – What is Conversion Rate Optimization?
Learn the benefits of conversion rate optimization, baseline metrics/KPI's and what is a good conversion rate.
Chapter 2 – Where to Start with Conversion Rate Optimization
Learn where to begin with conversion rate optimization.
Chapter 3 – Landing Page Optimization
Learn why you need a landing page, long format vs short format, video landing pages and email nurturing.
Chapter 4 – Website Conversion Rate Optimization
Learn CRO testing process and 3 phases to conversion rate optimization.
Chapter 5 – How to Engage With Your Prospect
Learn about the sales funnel, user engagement triggers and what trigger to use at each stage in the funnel. 
Chapter 6 – Micro Site Conversion Rate Optimization
Learn about micro site conversion rate optimization.
Chapter 7 – Conversion Rate Optimization Page Elements
Learn about the many page elements such as title, CTA, page layout, action words, fonts, forms that convert, left vs right and thank  you pages. 
Chapter 8 – Conversion Rate Optimization Page Layout
Learn about page layout and flow and mobile and desktop design considerations.
Chapter 9 – Conversion Rate Optimization Page Copy
Learn how to simplify your page copy and write action words.
Chapter 10 – Conversion Rate Optimization Page Forms
Learn about forms that convert and how form length and left vs right presentation makes a difference.
Chapter 11 – Engaging Users with Feedback and Surveys
Learn what to ask and how to ask it with feedback tabs and surveys.
Chapter 12 – A/B Testing
Learn about A/B and split testing, testing goals and factors that affect your test.
Chapter 13 – Other Conversion Rate Optimization Tools
Learn about heat maps, form and funnel metrics, feedback tabs, need help tabs, lead sliders and popup surveys.
Chapter 14 – The Golden Rules of Conversion Rate Optimization
Learn some of the golden rules in conversion rate optimization. 
Chapter 15 – #CROHacks
Learn some quick hacks about CRO. 
---
 Download the CRO Guide | Next >>
---

Greg Ahern Founder and President of Ometrics® is a fanatic about conversion rate optimization, AI chatbots and lead generation. Greg has been a successful Internet entrepreneur since 1994. He speaks at conferences and webinars and has built a number of internet businesses, including web marketing, web development and internet lead generation, which have been successfully acquired. Greg is the Denver Chapter Leader for the Digital Analytics Association. You can follow Greg on Twitter @gregahern and join his CRO Hacks Groups on Facebook and Slack.

Latest posts by Greg Ahern (see all)