Are you looking for different ways to find leads for your business? Lead generation chatbots are helping many online business owners find prospective leads in effective conversation.
Online business owners use different strategies such as writing blog posts, advertising, and using Search Engine Optimization (SEO) techniques to generate more leads for their business. AI chatbots outpace with the effective lead qualifying questions.
This blog post compares five top lead generation chatbots and helps you choose the best one for your website.
Jump to the Content
What is a Lead Generation Chatbot?
A lead generation chatbot is helpful for online business owners to qualify leads quickly and set appointments. Chatbots auto qualify leads with good lead qualifying questions. Every online business owner uses different strategies to identify potential customers for their business.
Chatbots with Artificial Intelligence technology provide instant support to your users. Chatbots with automated conversations will also prequalify leads with their response. If you want to identify your prospective leads' preferences, then a lead generation chatbot is the best option.
Why are AI chatbots better than customer service teams for lead generation?
The Artificial Intelligence technology in chatbots will help in their decision-making. Chatbots can understand customer conversations and identify the pattern in the conversation. If you implement an AI chatbot on your website, your chatbot will easily identify and qualify website visitors as potential leads with the conversational pattern.
Many online business owners use customer service teams and lead generation campaigns to generate leads. However, an AI chatbot will complete this task easily with a few automated questions. Your website visitors can fill the lead generation forms and set appointments quickly with lead generation chatbots. Comparably, an AI chatbot is more cost-effective than a sales team.
5 Ways a Lead Generation Chatbot will Generate Leads
A chatbot will not convert every website visitor into potential customers. Instead, it analyzes their preferences and determines whether they are prospective customers or not. You must apply a lead generation strategy to the target audience at the right time and a chatbot does that perfectly.
Lead generation chatbots will enhance customer relationships by talking like real human agents.
Lead qualifying chatbots will generate more leads by segmenting them into the group with their preferences.
The niche-specific questions will captivate high intent leads and enhance operational efficiency.
Chatbots will identify the audience who are showing genuine interest in their product and services.
Qualifying leads through the mail is the conventional process and it is also very tedious. Now, AI chatbots will qualify the leads within a few seconds with automated conversations.
AI chatbots with social media integration like Facebook Messenger will help you gain more quality leads from various platforms.
Read More: 9 Strategies- How Do Chatbots Qualify Leads for B2B Sites?
5 AI Chatbots for Lead Generation
1. Leadbot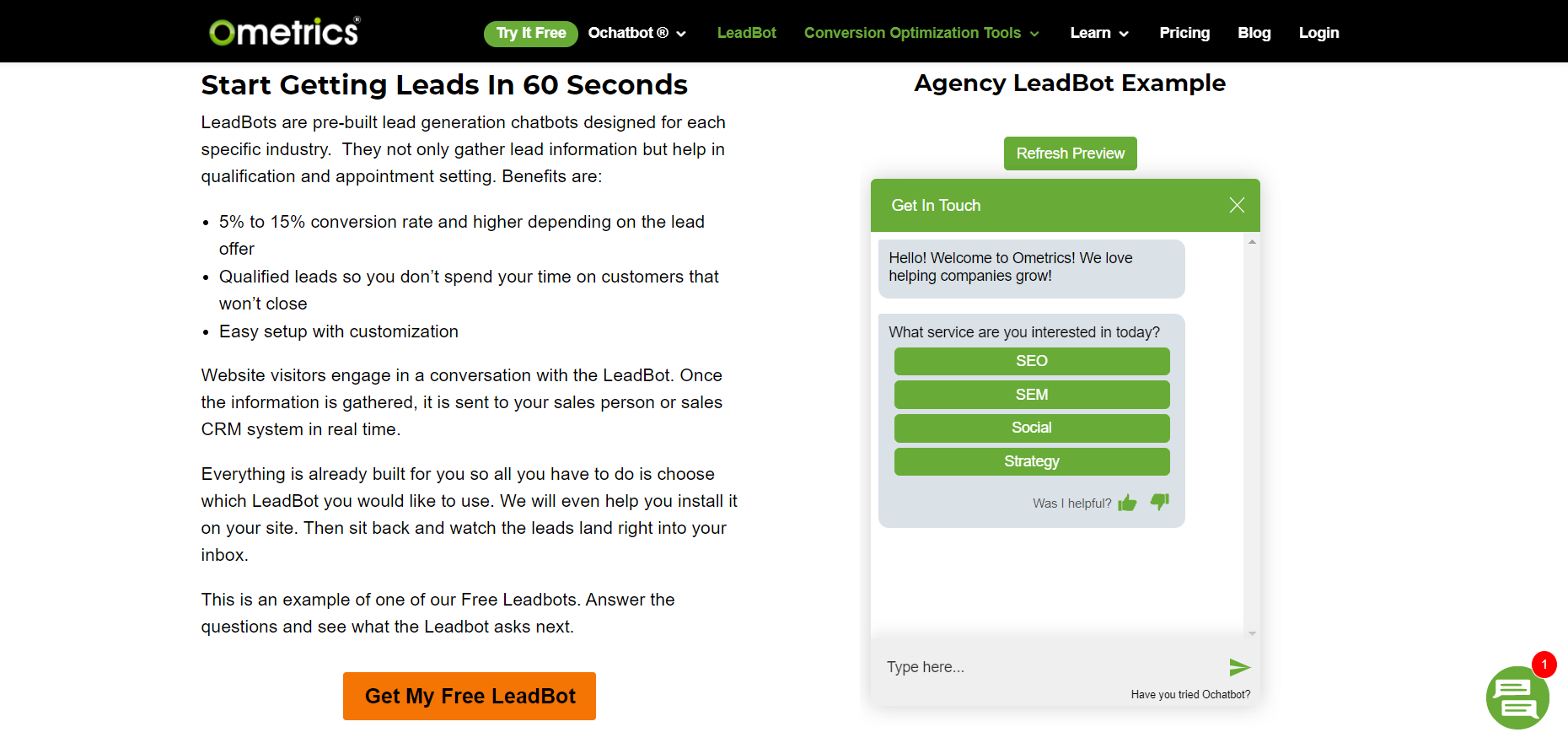 Leadbot is one of the effective AI chatbots that help online business owners to qualify leads by gathering information. Additionally, Leadbot helps in qualification and appointment setting.
With this lead generation chatbot, you need not waste your time on website visitors who will not close deals or purchases. Leadbot integrates with Customer Relationships Management(CRM). Once Leadbot gathers lead information, it will automatically send the information to your CRM system or sales team and you will get a 5% to 15% conversion rate or higher depending on the lead offer.
One good news for an online business owner is that there are industry-specific Leadbots for all industries such as property maintenance, real estate, weddings, travel, and self-help.
You can get construction and home service Leadbots to enhance and personalize your customer experience. Leadbot is a highly customizable bot and it is also code-free so you need not worry about complex installation.
Pricing:
Free plan, $69 basic plan, $109 plus plan, $495 pro plan. Leadbot is available for startups, small businesses, large businesses, and enterprises, and you can choose the plans according to your needs.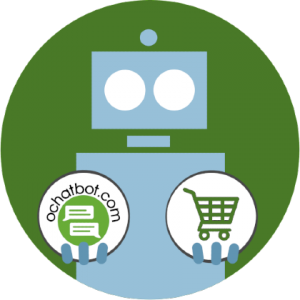 True AI to engage customers for eCommerce, business leads, and customer support.
5% to 35% Increase in AOV*

20% to 40% Increase in Revenue*

25% to 45% Reduction in Tickets with a Customer Service Chatbot
We Guarantee Results... Or Work For Free!
*When shoppers engage with Ochatbot®
2. Landbot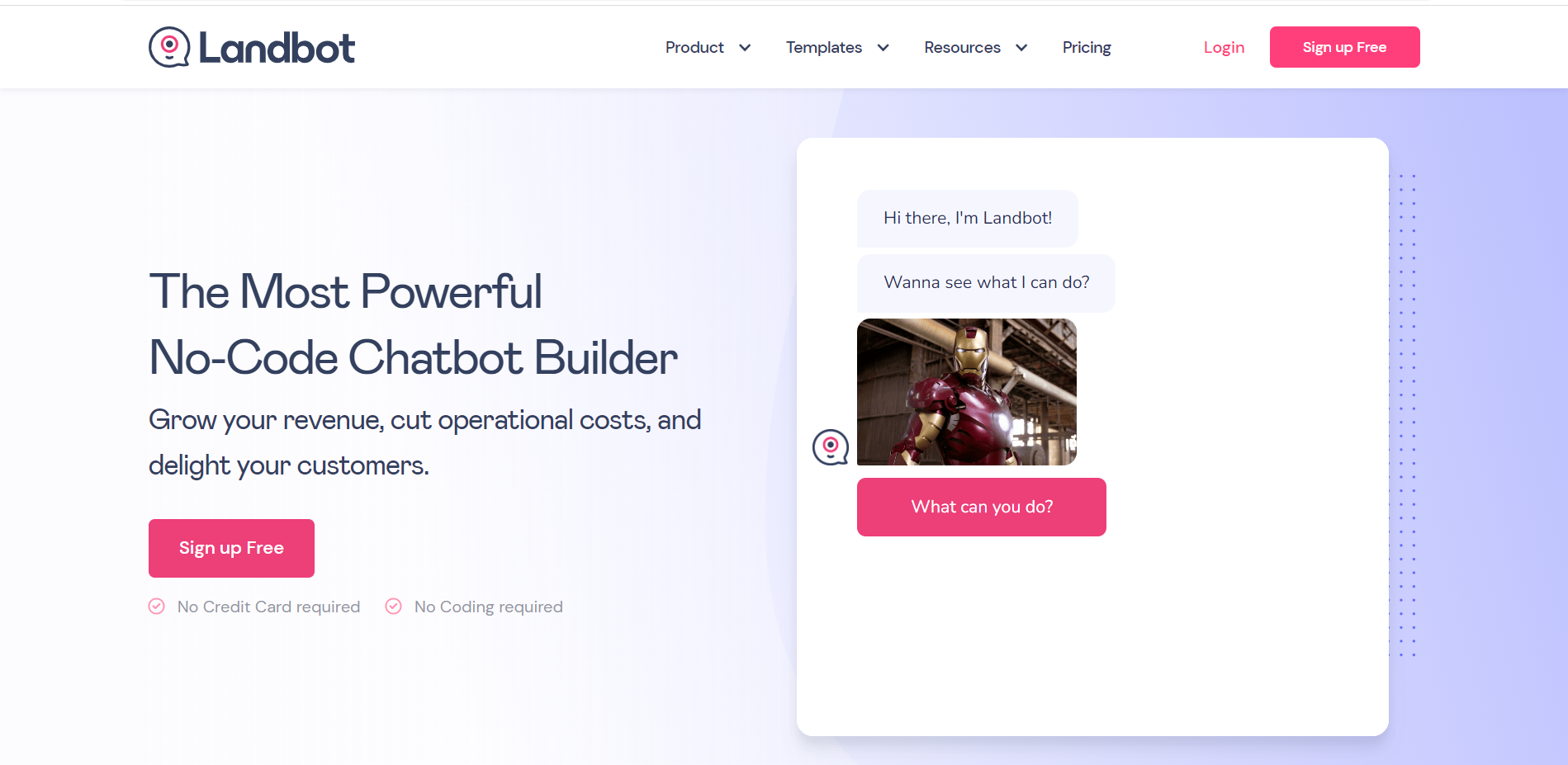 Landbot is a platform that helps online business owners create chatbots for their websites. If you are finding your customer interactions too complex, Landbot will help you automate the conversations and reduce your operational costs.
With Landbot, you can use the right templates for your lead generation chatbot. You can connect Landbot with popular software platforms, applications, and propriety using webhooks and API.
Pricing
Free plan, €30 starter plan, and €80 pro plan. For large businesses, you can choose the custom plan that offers custom chats, extra chats, and seats.
3. GetJenny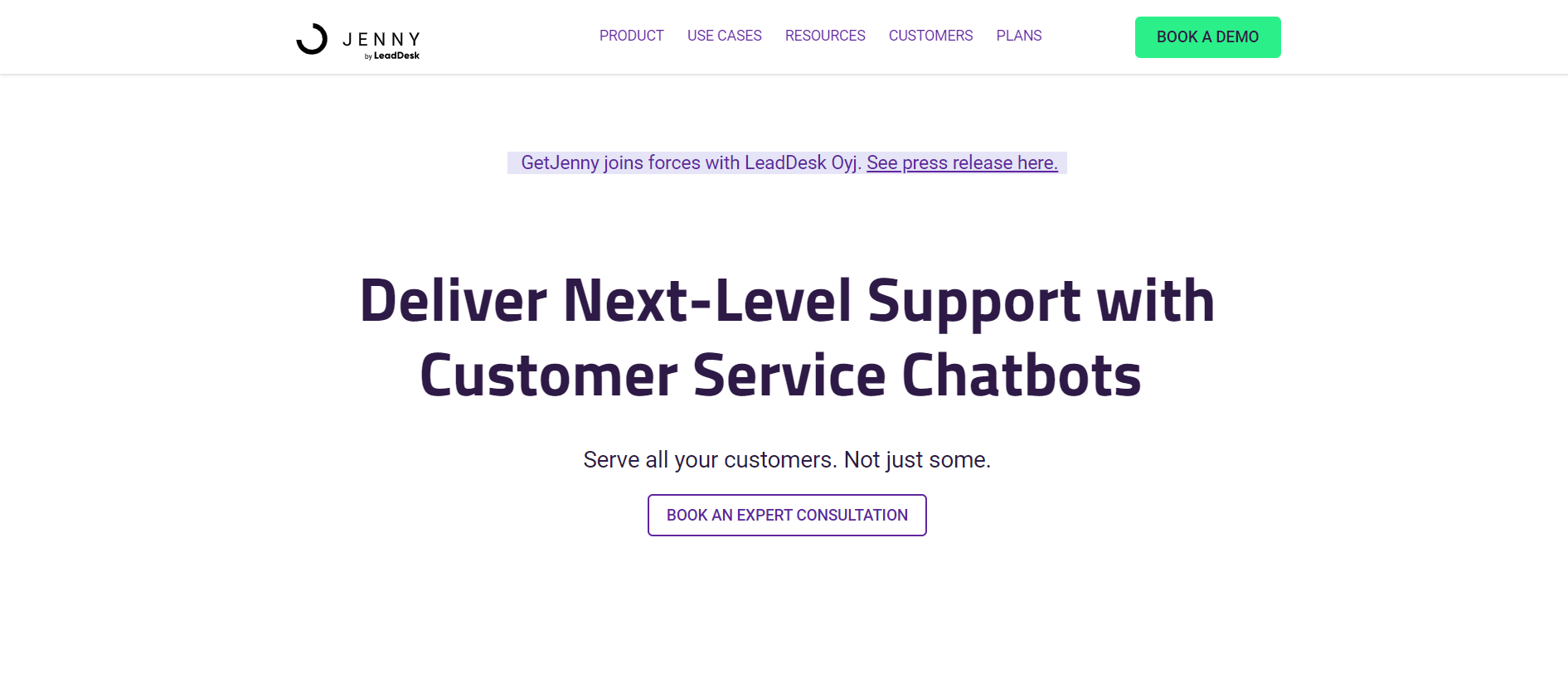 GetJenny chatbot asks relevant questions, book meetings, and converts lead fast. This chatbot has a human touch with the name and the lead generation efforts of GetJenny include proposing time to the potential leads, identifying target customers, and generating leads quickly.
GetJenny is an Artificial Intelligence technology-induced chatbot that generates qualified leads in a conversational way. One of the several benefits of this AI-induced chatbot visitors will receive personalized responses.
4. Instabot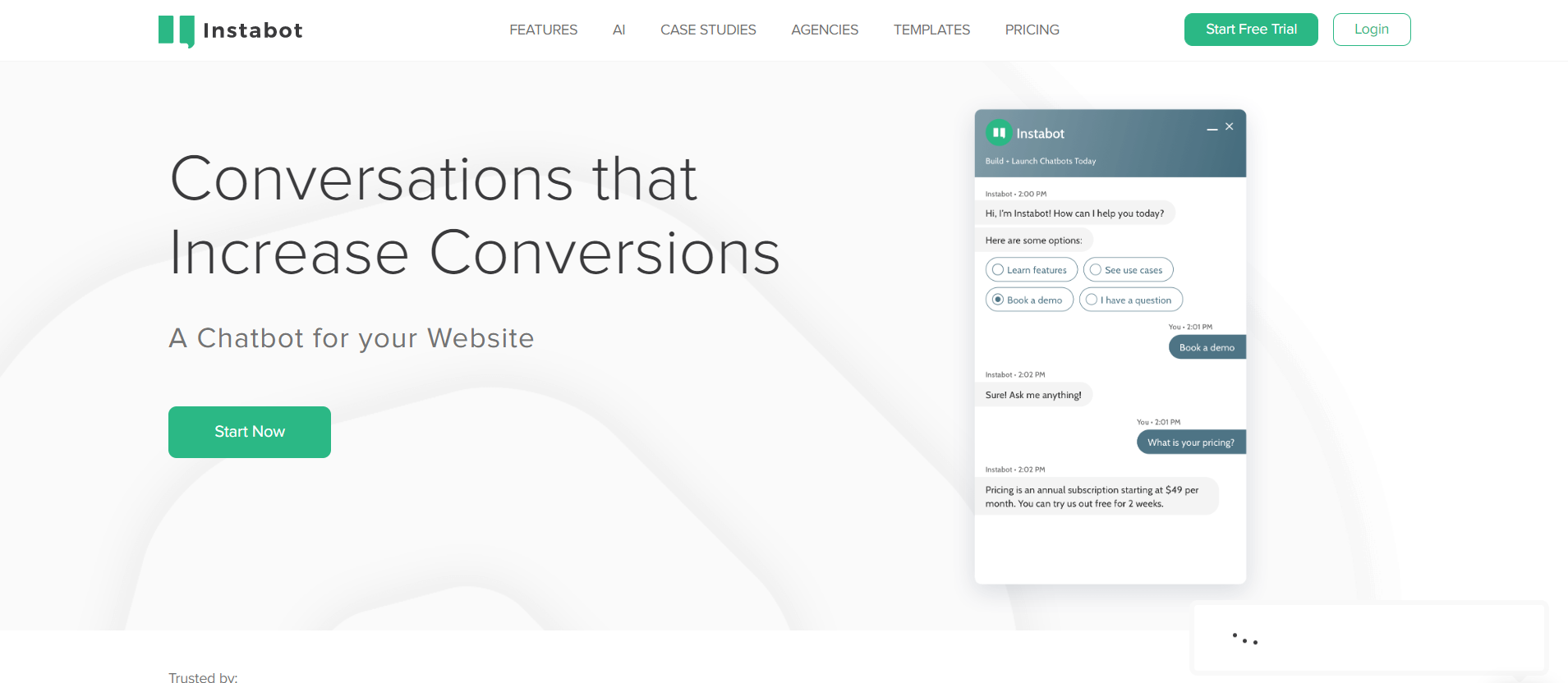 Instabot chatbot follows a more effective targeting messaging strategy than the traditional web contact forms and marketing campaigns.
Online business owners can generate high-quality leads and educates customers by asking dynamic questions to customers. Since it knows the pattern of previous conversations, this bot will answer common questions fast with a relevant response.
This chatbot will answer customer questions quickly and collect data to send them to the CRM system. You can automatically create segments and send your leads to marketing campaigns.
Pricing
Instabot has four pricing plans. $49 Base, $149 Standard, $349 Advanced, and custom pricing for enterprises.
5. Collect.chat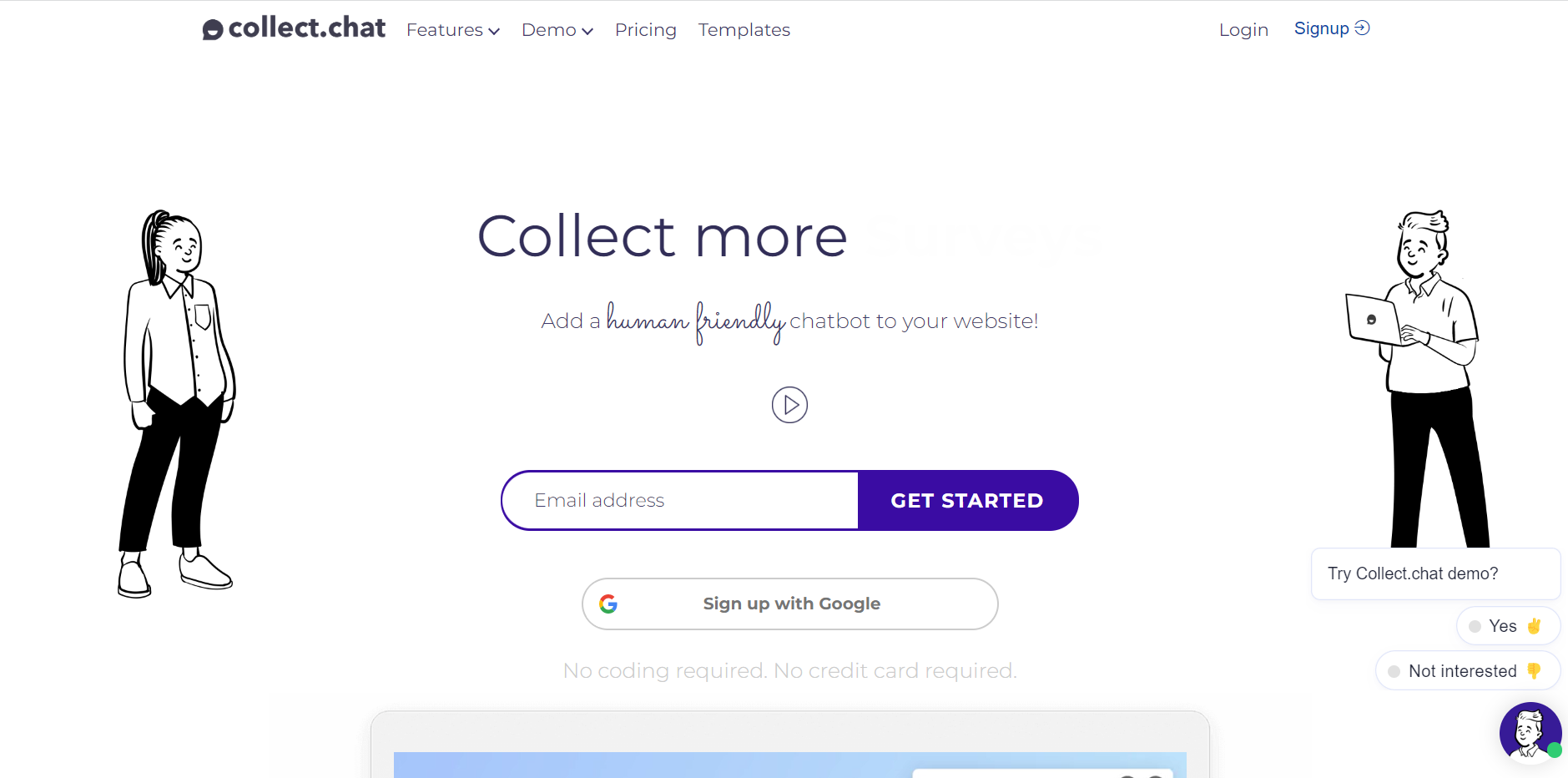 Collect.chat is one of the effective lead bots that enhance the sales process by instantly capturing emails, instant notifications, and booking meetings. This chatbot augments the traditional email marketing strategy by providing 100% automated messages.
You can also share the link of this chatbot anywhere to identify more target audiences. Collect.chat engages both current and potential customers with interactive conversation.
There is a high chance of collecting customer information with a chatbot than using the passive web form. Online business owners can also increase their brand visibility by sharing the link of Collect.chat on different online platforms. You can also automate your workflow by integrating this chatbot with any tools such as a CRM system and Google sheets.
Pricing
Collect.chat has three pricing plans including a free plan. The three plans are $24 Lite, $49 Standard, and $99 Plus.
Frequently Asked Questions
What is an e-commerce chatbot?
An e-commerce chatbot is an AI poweredchatbot that engages with customers at the right moment and encourages them to order products with personalized conversations.
How do chatbots increase sales?
Chatbots will discourage customers from leaving the website. If your potential customers get the right answers at the right moment, they are more likely to make a purchase immediately. AI chatbots talk like real people and engage customers with conversational elements. By enhancing the customer experience on a website, you can increase your customer base and generate more revenue.
What is a conversion funnel in the lead generation process?
A conversion funnel is where you identify potential leads, kindle interest in them through the lead qualifying questions and convert them into actual leads for your business.
Conclusion
An AI chatbot will do multiple tasks on your websites like directing your leads to a lead generation campaign, identifying their interest, and auto-qualifying them with a set of lead qualifying questions.
Converting your site visitor into potential customers is not a challenging task with lead generation bots. With this list of the five best effective lead generation chatbots and their features, you may choose the best for your business and enhance customer experience.
Latest Posts

Latest posts by Greg Ahern
(see all)