Are you struggling to find the best chatbot for your Shopify store? A Shopify chatbot is an easy and efficient way to increase sales on your e-commerce website.
However, isn't it tiring to check the features of every AI-powered chatbot to choose the best one?
This article makes that process easy by listing out the 11 Shopify chatbots.
Our list will help you compare the features, pricing, and functionalities of Shopify chatbot apps to increase customer satisfaction and focuses on the functionalities of the best chatbot apps!
Jump to the Content :
Overview of the Content
What is a Shopify Chatbot?
A Shopify chatbot provides real-time solutions to customers' problems and questions. An AI chatbot provides the customer meaningful answers and more sales to Shopify store owners.
Why Do You Need Chatbot Support For Shopify?
Many online business owners implement both live chat and chatbots for Shopify for conversion. An AI chatbot does multiple tasks and provides instant solutions to customers' questions, whereas live chat cannot always fit those requirements.
If you set up your Shopify store with an effective chatbot, then it will reduce your workload.  You can automate returns, check inventory, track order status, and resolve customers' questions with personalized chat.
Adding a chatbot to your Shopify store enhances customer experience and invites more potential customers to your Shopify website.
11 Best Shopify Chatbot Apps 
Ochatbot is an effective AI chatbot platform that engages users with artificial intelligence technology.
Best Features
One of the best features of the Ochatbot is its natural conversation and accessibility. You can easily install Ochatbot with one script on your website.
This chatbot is the best online chatbot for Shopify which gets smarter every day with constant learning. Ochatbot provides short descriptions of products to customers in the chat window.
It adds upsells and cross-sells and connects product recommendations to increase sales.
Ochatbot connects to thousands of CRMs(Customer Relationship Management System).
If you have a high-level customer situation, you can connect live chat with the Ochatbot.
It is easy to track the order status and shipping status with the Ochatbot.
Conversational chatbots play a vital role in increasing the sales of e-commerce stores. Ochatbot's human-like conversation through Natural Language Processing (NLP) engages with the customers at the right moment. You can implement Ochatbot for Shopify chat to build a customer-centric business.
PROS
Ochatbot helps in abandoned cart recovery by using various triggers in the conversation.
Page targeting is one of the exceptional features in Ochatbot that interact with the customers at the right moment.
Ochatbot helps online business owners track abandoned carts, converted carts, order status, revenue, and customer behavior through conversation.
Chatbot implementation is simple with Ochatbot since it is code-free.
E-commerce site owners can connect this chatbot with various CRMs (Customer Relationship Management) through Zapier integration.
Ochatbot is beneficial for Shopify stores since it integrates with e-commerce platforms easily.
This AI chatbot resolves the customer's question with personalized responses and reduces the cost of the support team.
CONS:
Limited omnichannel communication.
Pricing Plans
Ochatbot has four pricing plans with a free trial and enterprise.
Basic – $69 per month
Plus- $109 Per month
Pro- $495 Per month
Click here to view the exclusive enterprise plan for large businesses.
Verdict: Ochatbot is one of the effective AI chatbots for both large and small businesses in Shopify.
Relish AI chatbot is a 24/7 AI chatbot that helps you increase your e-commerce business sales through artificial intelligence technology. This chatbot app also automates your workload with live chat solutions.
Best Features
You can conversationally convert your abandoned carts and encourage buyers to make purchases in a conversational manner.
Relish AI automatically responds to frequently asked questions and doesn't make your customers wait for a long time.
This AI chatbot has exit intents, newsletter signups, and back-in-stock notifications.
PROS:
Gives personalized support to users.
Support features in the Relish AI are great for solving questions about the shipping process, returns, and cancellations.
Relish AI is a code-free chatbot, so you don't need coding knowledge to use it.
Effective communication through audio, call, and e-mail.
CONS:
Complex interface and it is difficult to set up.
Not many options for customization.
Pricing Plans
Grow- $29/month
Pro- $99/month
Premium- $299/month
Enterprise- $599/month
Verdict: Relish AI will be a suitable option for Shopify store owners.
E-commerce platforms use AI chatbots to communicate with customers and track their behavior to develop a customer-centric business. Gobot chatbot is a live chat platform for Shopify websites that converts website visitors into customers with shoppable quizzes.
Gobot Chatbot helps in product discovery and tracks the order status with easy integration. It doesn't track the order status alone. Gobot manages subscriptions and resolves customers' questions about shipping and refund policies.
PROS
Engages with the store visitors effectively through conversational popups.
Provides personalized solutions and recommends relevant products to the customers.
This Shopify chatbot app reduces the support ticket cost with CRM integration.
CONS
Gobot doesn't provide post-purchase feedback
Doesn't offer upsell and cross-selling features.
Gobot Shopify chatbot doesn't offer orders via chat or in the chat payment system.
Pricing
Gobot has free and custom pricing plans, and online business owners should request pricing plans.
Verdict: Easy integration is an added advantage for online business owners.
Tidio is an advanced live chat software that invites more customers to your Shopify store with an automated response.
Best Features
The live chat option responds to customers' repetitive questions by connecting customers with different communication channels.
Website visitors can engage with the brand through Facebook messenger, e-mail, and live chat options.
Shopify store owners can optimize their Shopify website by tracking order status and products with this Chatbot.
PROS
This AI chatbot is easily accessible and provides various templates to online business owners.
Answers mundane questions and helps the customers to find the products.
NLP technology behind this chatbot makes it easy to use and reduce help desk cost.
CONS
Tidio doesn't support omnichannel communication, so online business owners can only use this chatbot on messenger and websites.
The drag-n-drop feature in this chatbot is not easy to set up.
Online business owners may find it difficult to access customer data through conversation.
Pricing:
Chatbots Plan- $39 USD per month
Communicator Plan- $19 USD per month
Verdict: Tidio is an ideal blend of Live Chat and Chatbot. Nevertheless, this chatbot app lacks omnichannel communication.
Maisie is a humanized chatbot that personalizes product recommendations to online shoppers.
Best Features
Maisie engages with customers at every step of their journey and encourages them to make a purchase.
Personalized product recommendations will help online shoppers find the right product easily.
Customers can also subscribe to off-site notifications with the Maisie chatbot. You will increase your subscriber list with Maisie.
Maisie also reduces support tickets cost for Shopify store owners.
PROS
Maisie asks pre-sales questions to customers and boosts revenue.
Your customers will get compelling opt-ins.
Multi-channel remainders.
CONS
No CRM-integration.
There are no extensive reporting and analytics features with Maisie.
Pricing
5k Plan- $15/month
10k Plan- $29/month
25k Plan- $49/month
50K Plan- $79/month
Verdict: Maisie's persona is a perfect example of a humanized chatbot. CRM integration is the only significant feature it lacks.
Artificial intelligence technology plays a vital role in sales automation by Nibble software. Nibble is not a chatbot, but this app is exclusive for Shopify owners to convert visitors in a conversational manner.
Best Features
Nibble App will help online business owners create fun AI negotiations and deals in the online marketplace.
You can increase customer lifetime value by tackling abandoned carts.
If you have promotions and discounts on your site, you can notify your customers through this AI app.
PROS
You can activate Nibble on the exit intent and track the number of page visits and dwell time.
It is easy to connect post-purchase by re-targeting customers.
Online business owners will have a comprehensive dashboard and analytics.
Cons
This chatbot doesn't have specific features for large and small business owners.
Nibble doesn't connect with Live Chat.
Limited customer support features other than chatbots.
Pricing
Nibble is a free chatbot tool for Shopify store owners.
Verdict: Fun AI negotiations will invite more website visitors. Small business owners can benefit greatly from Nibble.
The Socialreply chatbot app is exclusively for Facebook Messenger. If you have a business account on Facebook, this chatbot app will integrate with one or multiple Facebook accounts.
Best Features
Socialreply provides real-time customer support through both Livechat and Chatbot.
Online shoppers will place their orders directly through the chat window.
Socialreply will help you reduce the cart abandonment rate on your site.
PROS
You can easily reply to customers' messages and comments in one place
Online business owners don't have to switch pages or accounts to integrate a chatbot.
CONS
Socialreply is not a humanized AI chatbot
This chatbot app is exclusively for Facebook Messenger and doesn't have other e-commerce integration features.
It doesn't have CRM Integration on the site.
This chatbot app is only beneficial for Shopify store owners who want to integrate chatbots on Facebook and Instagram.
Pricing: Socialreply is a free chatbot.
Verdict: Socialreply is not a humanized chatbot, but it will provide limited customer support.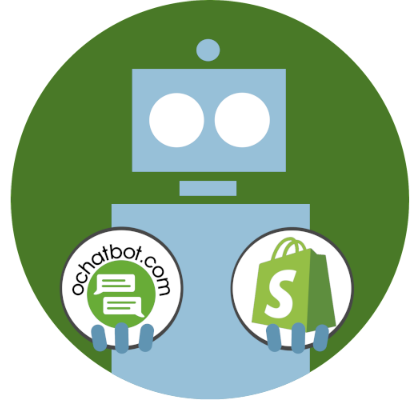 True AI to engage customers for eCommerce, business leads, and customer support.
Create happy customers while growing your business!
5% to 35% Increase in AOV*

20% to 40% Increase in Revenue*

25% to 45% Reduction in Tickets with a Customer Service Chatbot
We Guarantee Results... Or Work For Free!
*When shoppers engage with Ochatbot®
Floplug is not a LiveChat service and it is not a chatbot, but if you want a smart Live Chat integration on your website, Floplug is a good option.
Best Features
Online business owners will have an automated chat flow to converse with their customers.
Floplug can handle both simple and complex chat flow in the online store.
This chatbot app has easy integration.
PROS
You can create pre-defined chat flows with automated responses.
Customization and superior business branding will help you sell more products.
CONS
Floplug is a blend of both chatbot and live chat, so you will not have full AI Chatbot support on your store.
Floplug doesn't have push and triggers notifications to avoid cart abandonment.
Pricing
Basic Plan – $19 per month
Premium Plan – $29 per month
Verdict: Floplug has branding strategies to promote your business. However, Shopify store owners will not get full AI support.
Pro Profs will help online shoppers reach the right product page and find their desired products in a conversational manner. ProProfs is also a perfect blend of both chatbot and live chat.
Best Features
Online business owners can easily track incoming support chats through the ProPros mobile app.
You can send prompt replies to customers with automated support.
PROS
This chatbot app has both human support and automation
Your online shoppers will get proactive greetings with the ProPros chatbot app.
ProProfs build well with third-party tools such as CRM, Helpdesk, email marketing, Knowledge base, etc.
CONS
There is no case study of ProPros improving customer satisfaction and increasing sales on the website.
Pricing
ProProfs is a free chatbot app.
Verdict: The third-party tools work well with Proprofs.
Formilla Live Chat will help online businesses track website visitors and web pages that have huge traffic.
Best Features
Online business owners will receive push notifications on their mobiles if customers have any questions.
The helper chatbot will automatically respond to customers.
PROS
You will have real-time visitor monitoring features in the Formilla chatbot app.
Your site visitors can securely share their files through the chat.
Premium packages in the Formilla Live Chat will allow online business owners to customize their chat.
CONS
Artificial Intelligence technology support is a paid feature add-on in the Formilla Live Chat.
Online business owners don't have CRM support in this chatbot app.
Pricing
Premium – $24.99 USD/ month
Professional- $49.99 USD/month
Growth- $69.99 USD/month
Verdict: Shopify store owners should pay for AI technology support in the AI chatbot. Otherwise, the site visitors will have full security and support with this chatbot app.
Re: amaze chatbot is a no-coding chatbot. E-commerce business owners can build this chatbot visually and add many branding steps.
Best Features
You can create a custom chatbot with a visual builder.
It is easy to attach a chatbot to a custom message and execute it through the workflow.
There are multi-branding options in this chatbot platform.
PROS:
Re: amaze is a highly rated merchant support chatbot app.
This bot doesn't only have a chat option, so you boost sales through email, social, push, SMS, VOIP, and WhatsApp.
CONS:
There is no unsubscribe link to the e-mail.
Pricing
Re: Amaze Basic- $29/month
Re: Amaze Pro- $49/month
Re: Amaze Plus- $69/month
Enterprise Custom- $899/month
Verdict: Remaze provides fully automated support for Shopify stores.
Shopify Chatbot: 4 Significant Features
E-commerce site owners use AI chatbots for better customer and marketing automation, and a Shopify chat support App should also reduce the support ticket cost. Online businesses accelerate their sales when chatbots automate repetitive tasks and resolve customers' questions within a few seconds.
The chatbot responds to the questions like returns tracking, and refund status with conversational elements.
There are seven significant features that every Shopify chatbot should have to streamline the buying process.
1. Personalized response to customer's questions
A chatbot responds to customers' questions with artificial intelligence technology behind it. This AI chatbot pops up automatically and contextually while customers browse the website. Artificial technology tunes the chatbot to respond like a human in a conversation. Chatbots can quickly answer customers' questions when they can ask the question or direct them to customer support.
Personalized responses include connecting product recommendations and adding upsell and cross-sell strategies. A Shopify chatbot targets customers from every page of the website and easily analyzes the user intent to ask relevant questions. Shopify store visitors need not leave the website to know more about the product, as Shopify chatbots give short product descriptions within the chat window.
2. Customized AI Chatbot
One of the difficult challenges while finding the right chatbot and adding it to the Shopify site is choosing a customized AI chatbot. Online business owners should customize their AI chatbots to match their brand image.
Shopify chatbots should offer customer support 24/7 by answering every question related to products and providing customer satisfaction. This AI chatbot is fully customizable and provides a great user experience in your Shopify store.
3. Reduces the Support Ticket Cost
As mentioned above, Shopify chatbots should reduce the support ticket cost and support customers efficiently. Artificial intelligence technology behind chatbots can link one question to another, and it can also easily jump from one conversation to another conversation.
Shopify chatbot helps in reporting and business analytics and tracks the conversations and revenue, and updates customers with valid information. E-commerce site owners can also add forms and surveys inside the chatbot to gain customer feedback.
AI-powered Shopify chatbot tracks the order status of the customers and offers customer support by resolving every question regarding the products and services. Hence, chatbots will reduce most of the customer service teams' work effortlessly.
4. CRM Integration
CRM (Customer Relationship Management) integrated chatbots simplify the data entry and do multiple tasks. Chatbots with CRM integration collect customer data through conversations and manage the data efficiently.
Shopify chatbot with Zapier integration connects to thousands of CRMs effectively. CRM-integrated chatbots help the brand owners understand customers' preferences and provide them with satisfaction. Chatbot automation resolves almost every question and analyzes the conversations quickly to collect the data.
3 Advanced Features of Shopify Chatbot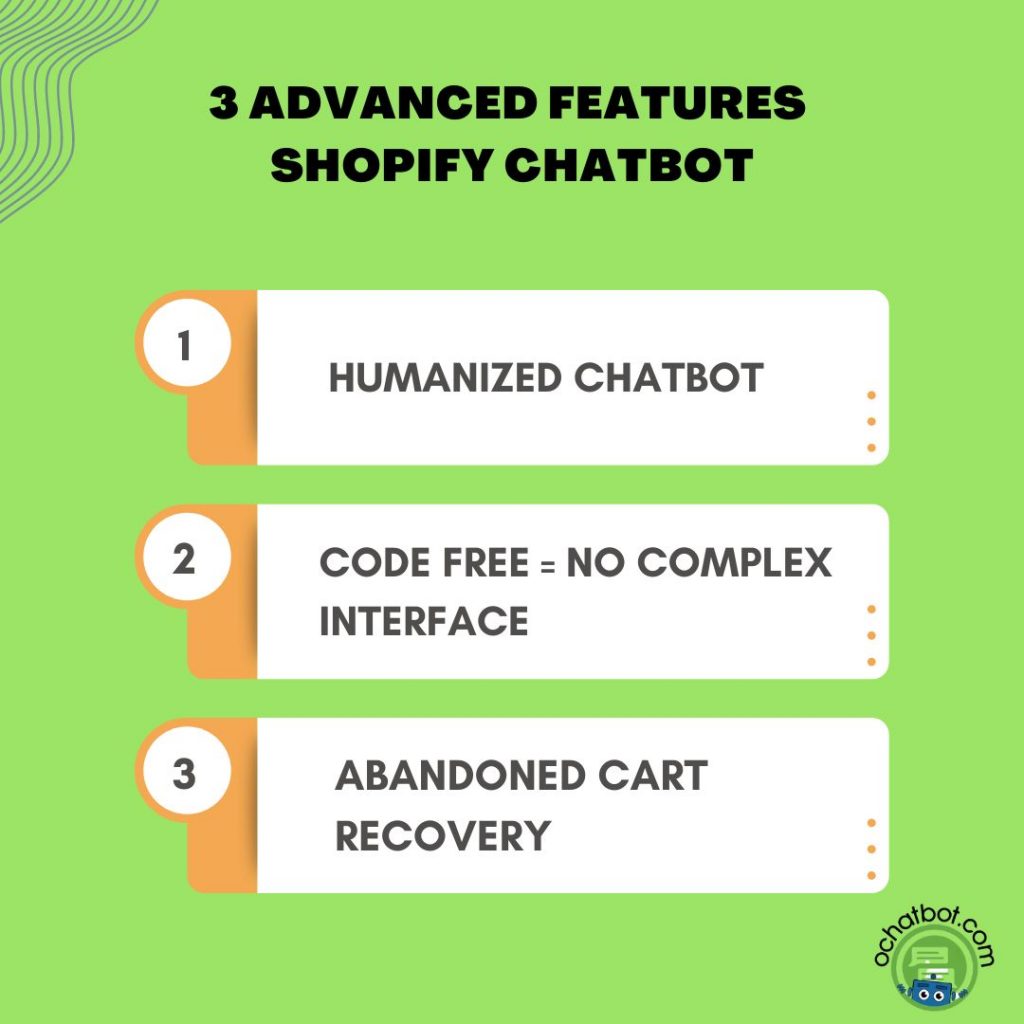 1. Humanized chatbot = Shopping Assistant!
AI-powered Shopify chatbot acts like a real-time sales representative and converses with the customers naturally. Natural Language Processing (NLP) in chatbots learns from the human conversation and mimics the conversation. Shopify chatbot is also one of the best auto check-out bots.
Other Shopify chatbots respond to every question of the customers, but the answers might sound mechanical without artificial intelligence and NLP. An AI-powered Shopify chatbot's answers don't sound mechanical and e-commerce platforms can converse and understand the customers' preferences with this shopping assistant.
2.  Code Free
Code-free chatbots will help you add bots easily to your Shopify store.
Shopify chatbots don't have a complex interface, it is easy to set up a chat widget with a custom size and appearance. Customers can add the products to their cart without leaving the chat window, which reduces cart abandonments with Shopify chatbots.
Shopify store visitors engage with the chatbot and purchase the products based on chatbots' upsell and cross-sell strategies.
3. Abandoned Cart Recovery
Cart abandonment is one of the issues every e-commerce site owners face while making the customers purchase the products. This best Shopify bot boosts sales with proper engagement and relevant product recommendations.
A Shopify chatbot pops up and reminds the customers about the products in their carts, it also augments the traditional e-mail cart recovery. Chatbots recommend products based on customers' browsing history on the website, and the cross-sell strategies update customers with proper information about the products.
Bottom Line
E-commerce site owners can understand their targeted customers and develop a customer-centric business by implementing a Shopify chatbot on their sites.
Online business owners should create customer satisfaction to invite more website visitors to the Shopify store. Converting website visitors into customers in a Shopify store is now an easy task with AI-powered Shopify chatbots.
You need not worry about machine errors in the conversation. Human intervention in the conversation creates a healthy conversation and nurtures more customers. What are you waiting for? Click here to purchase the best Shopify chatbot and turn more casual shoppers into potential customers.
Read More about Shopify & Chatbots
Frequently Asked Questions
Is there a  free trial available for Shopify chatbots?  
Ochatbot provides a free trial with advanced plus plan features. This no-code chatbot is not difficult to integrate into your website.
What is the best chatbot for Shopify?
Ochatbot is the perfect blend of artificial intelligence and human intervention. Your customers will get full-fledged customer support and a seamless buying process with Ochatbot.
Why Shopify chatbots are better than Live Chat?
A Shopify chatbot will be available 24/7 and automate message replies to online shoppers. On the other hand, human agents' availability is challenging in Live Chat.
Which platforms have the best Shopify chatbots?
Ochatbot, Tidio, and Gobot are the three best Shopify chatbot platforms.

Latest posts by Greg Ahern
(see all)