Do you want to know which is the best chatbot plugin in 2023?
Chatbot Plugins extend chatbot functionalities on the website. eCommerce businesses depend on conversational marketing to boost sales. One way to achieve this is to add chatbots to the business's WordPress website.
This is one most efficient and popular methods of extending the chatbot features with WordPress chatbot plugins. This article will guide you through information about adding chatbots to the WordPress website and explore a few best WordPress chatbots plugins.
Jump to the Content
Chatbots
A chatbot is a software program that boosts sales through conversational marketing. Chatbots fill the space of a human sales team by acting as a customer service solution. The chatbots, through their human-like conversations, interact with the users and guide them throughout their shopping journey.
Artificial Intelligence-powered chatbots, or AI chatbots, are what many businesses use for customer support systems. This AI chatbot uses Natural Language Processing to understand and imitate human language. Chatbots receive customers like human agents and handle their requests, queries, and complaints. It also ensures 24/7 availability by addressing the customers whenever they need support.
Also Read: 7 Tips for E-commerce sites: Training E-commerce Chatbot
Chatbot Plugin
Plugins are add-ons to extend a particular feature or enhance an already existing program or software. The chatbot plugin adds chatbot features to the business websites so users can communicate with the chatbots to experience the best customer service solutions.
WordPress is a website-building application that makes use of plugins to incorporate certain features into websites. Businesses employ WordPress applications to create and run a business WordPress website. For the effective performance of websites, they offer multiple plugins to extend their features in the website. One such useful conversational marketing plugin page is the chatbot plugin.
Website builders can make use of the WordPress chatbot plugin, so they can easily extend the chatbot facilities into a website with fewer clicks. Many popular chatbots in the market furnish free WordPress chatbot plugins and paid plugins. People can install chatbot plugins not only on websites but also in online stores, and on social media like Facebook messenger or Instagram.
How does WordPress Chatbot Plugin Work?
A website chatbot can increase the chatbot engagement with the website's visitors. People can integrate chatbot applications with websites with various methods. Developers build websites along with chatbot scripts to include chatbot features into the website. This is one of the common practices so users can directly have chatbot features on the website.
However, this is a tedious process because it requires programming knowledge or chatbot builder support to build websites with chatbot features from the core. Otherwise, WordPress website builders like Divi allow drag and drop of the component to include the chatbot coding to the website.
WordPress Chatbot plugin is the simplest way to use AI chatbots on WordPress business pages. WordPress creates websites and manages the content of its sites with the help of effective extensions. After you create a WordPress website suitable for your business, WordPress allows you to choose the domain-specific and suitable templates for your site. From there, go to WordPress plugin settings to simply add the extension to the website. In the search bar, type "chatbots" to search for and select the most suitable chatbot out of the list.
Benefits of Chatbot Plugins – Which is the Best Chatbot Plugin?
Chatbot plugins simplify the process of integrating chatbots with WordPress websites. These plugins help users, marketers, and website designers in conducting their business.
Easy to build
Using a chatbot extension is much simpler than coding a chatbot application because plugins are prebuilt software and people can make use of them to enhance their website's performance.
Low Maintenance
WordPress Chatbot is the best alternative to traditional customer support. Instead of spending more on hiring people to establish a  24/7 service, it is better to use a WordPress chatbot plugin. This WordPress chatbot plugin will work around the clock with simple installation steps and requires no further maintenance.
Extends functionality
To elevate the standard of WordPress websites, business owners depend on plugins to add features to their websites. Plugins for SEO analytics, grammar check, or other functionalities are an example of these plugins. Likewise, adding an AI-powered chatbot to the website is simple with these plugins.
Related: 10 Advantages of Chatbots in E-commerce
Top 7 Chatbot Plugins
Ochatbot focuses mainly on eCommerce, business, and lead generation. This chatbot plugin simplifies the chatbot integration process with websites. It ensures a natural life-like experience for the customers and senses the user's emotions through sentimental analysis and responds in a way that mimics natural conversation. It also removes the sales obstacles and boosts sales by 20 to 40%.
Features
Ochatbot helps users to get the right product and guide them throughout their shopping.
Communicates with users like a human to increase the customer's experience.

It is easy to extend the functionalities of the Ochatbot using these plugins.

This chatbot widget tracks the order and resolves customer queries and complaints.

Detailed analysis of chatbot performance based on user metrics and chat metrics.
Also Read: Role of Ochatbot in Abandoned Cart Recovery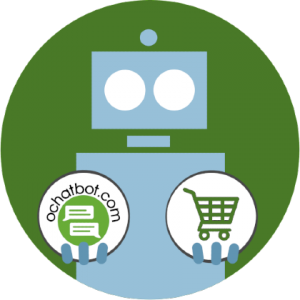 True AI to engage customers for eCommerce, business leads, and customer support.
5% to 35% Increase in AOV*

20% to 40% Increase in Revenue*

25% to 45% Reduction in Tickets with a Customer Service Chatbot
We Guarantee Results... Or Work For Free!
*When shoppers engage with Ochatbot®
Collect.chat is a chatbot provider solution that assures a higher sales conversion rate through conversational marketing. They collect reviews and suggestions from their users through friendly chats instead of making them fill out forms and analyze the chatbot's performance. This chatbot is easy to build with their free chatbot plugins for WordPress.
Features
Collect.chat offers a WordPress chatbot plugin named Chatbot for WordPress.
Their real-time customer communication shoots up sales conversions to multiple folds.
Apart from WordPress, Collect.chat also supports many applications like Facebook Messenger, Slack, and Salesforce.
Builds a quality email list and qualifies leads on auto-pilot mode.
Ensures 100% automated customer service system.
Collects critical customer feedback to analyze the chatbot's performance.
Hubspot is a popular platform that offers all marketing tools in one place. The best thing about Hubspot is that it provides its WordPress plugins with features like marketing, sales, and operations together in one plugin.
Features
The Hubspot chatbot plugins automatically analyze the chatbot performance.
These plugins also ensure dashboard reporting.
They furnish knowledge-based and support-based bots.
Drag and drop components for website and email building.
Easy integration with more than 1000 applications like Instagram, LinkedIn, Twitter, Youtube, and Facebook messenger.
Chatra is a live chat software provider that furnishes chatbots for eCommerce businesses. They ensure creative conversations with customers and offer live chat support. Over 45,000 online businesses use Chatra to increase their efficiency.
Features
Chatra live chat plugin collects the visitor's data and works on converting them into customers.
It also makes use of customer data and chat data to measure the chatbot's performance.
Supports email, Instagram and Facebook messenger, WooCommerce, and Shopify applications.
It is compatible with most Operating Systems like macOS, Windows, and Android.
IBM Watson Assistant provides exceptional customer service anytime and anywhere. This bot uses Artificial Intelligence to understand the customer's emotions and respond accordingly, with more precision.
Features
Easy chatbot customization. The user can choose the posts and pages where the chatbot should appear.
This plugin allows the customers to connect with telephonic customer support if necessary.
Accurate and quality responses with relevant images and graphics.
Simple to integrate Watson assistant with the business pages.
Easy to monitor and control usage from the plugin settings.
Closing Thoughts
Chatbot plugins are a wise option for website designers and digital marketers to integrate chatbots with business websites. Adding a chatbot to your website can help you in reducing manpower and improve your sales conversion rate. AI chatbots like Ochatbots are the perfect blend of Artificial Intelligence and Human Intelligence. This Ochatbot increases the user experience by ensuring realistic human-like conversations.
Out of the possible ways of adding chatbots to your sites, extending chatbot features through plugins can reduce your workload and ensure high performance.
Frequently Asked Questions
What is a chatbot plugin?
Chatbot plugins are extensions of chatbots that you may add to a website with simple clicks. Adding a chatbot plugin to a WordPress website will help the users make use of the chatbot support to guide and direct them throughout their shopping journey.
Do chatbot plugins support all platforms?
Chatbot plugins are not exclusive to WordPress websites, you may add them to other marketing platforms like Facebook, Shopify, WooCommerce, and Instagram.
Does Ochatbot have a WordPress chatbot plugin?
Yes, Ochatbot furnishes a WordPress plugin, so that users can download the Ochatbot extension.

Latest posts by Greg Ahern
(see all)