Conversational AI chatbot is a popular term in e-commerce sales. AI is Artificial Intelligence, a technique that uses neural networks to learn behaviors and improve and evolve, similar to natural intelligence. E-commerce business is escalating sales through conversational commerce and AI chatbots.
Conversational commerce is a set of technologies including artificial intelligence, machine learning, and natural language processing.
An AI chatbot can mimic human language with these technologies and converse with online shoppers to develop a communication-centric business. Conversational AI is different from programmed chatbots and seeks to eliminate mechanical responses, offering more life-like interactions similar to that of a human.
Overview of the Content
What is the Role of Machine Learning in Conversational AI
Customized and Personalized Conversation
Conversational AI is a Problem Solver
Intelligent Conversational AI
Artificial Intelligence chatbots invoke learning to better understand the minds of users and conversations. The AI chatbots encourage customers to know more about a product. A Conversational AI chatbot is an advanced technology that handles customers' questions with business objectives to enhance or increase interaction and sales.
An AI chatbot should help customers purchase a product or service by asking questions with business objectives. While training a chatbot, it is essential to add your business goals to the questions to make sales efficient. Intelligent conversational AI asks personalized questions to the customers by analyzing previous data and interactions.
Conversational AI chatbots have consistency in answering the customer's questions.
Interactions with the customers become more interesting with the elements like videos, and images about the brand.
Analyzing every customer's conversational record is possible with AI chatbots.
Natural Language Processing(NLP)
Natural Language Processing is one of the technologies in AI chatbots that helps the machine understand human language. The natural language processing and natural language understanding will help your chatbot talk like a real human. When there is a repetitive task, chatbots will perform them quickly with the NLP technology.
What is the Role of Machine Learning in Conversational AI?
Machine Learning plays a vital role in conversational AI chatbots. Machine learning technology in the AI-powered chatbots allows them to learn the data with the inputs.
The Machine Learning technology will help chatbots classify the text and respond to it in the right way. However, you need human intervention to avoid machine errors in the conversation.
Product Consulting Agent
AI chatbots are good product consulting agents. If a customer doesn't know anything about a product while visiting the website, conversational AI chatbots inform them about a product's features and use and can recommend alternate products if necessary. E-commerce websites use AI chatbots to understand the customers' preferences.
A conversational AI chatbot is also a good product consulting agent in e-commerce sales.
Human agents may feel frustrated with answering repetitive questions and consulting about the products but a conversational AI chatbot provides more information about the product and resolves customers' issues. AI understands and learns from the conversations to predict product preferences.
Customized and Personalized Conversations
When we talk about conversational AI chatbots and personalized suggestions, a few questions about personalized conversations might pop up inside the readers' minds.
'What is a personalized conversation?'
'How do conversational AI chatbots manage to give personalized suggestions to the users?'
Conversational AI chatbots don't guess the users' preferences and recommend irrelevant products without conversational data.
An AI chatbot considers the products that customers viewed frequently and recommends the product based on their journey.
Personalized conversations by AI chatbots are based on the users' conversation data. AI chatbots recommend similar products and these personalized recommendations increase e-commerce sales.
Behavioral Intent in Conversational AI Chatbots
AI chatbots are built with behavioral intent to understand the problems of the customers when they ask a question. Conversational AI chatbots can also understand a customer's series of questions by linking one question to another.
Behavioral intent in AI chatbots is beneficial to the online business owners to know what a customer is trying to search for.
For instance, when a customer sees a product somewhere and doesn't remember what the product is, behavioral intent in an AI chatbot helps to find the right product.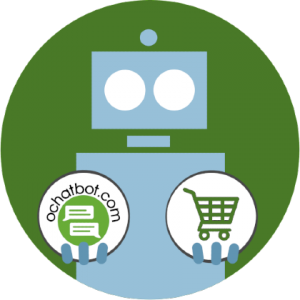 True AI to engage customers for eCommerce, business leads, and customer support.
5% to 35% Increase in AOV*

20% to 40% Increase in Revenue*

25% to 45% Reduction in Tickets with a Customer Service Chatbot
We Guarantee Results... Or Work For Free!
*When shoppers engage with Ochatbot®
Conversational Commerce
Conversational AI chatbots like Ochatbot converse with the customers like a human agent and switch from one topic to another easily. Ochatbot helps online business owners to make sales fast and succeed in conversational commerce. Ochatbot has exceptional features to enhance the user experience in e-commerce, namely:
Natural conversation with business goal questions direct the customers to buy a product.
Ochatbot not only recommends the products but also gives short product descriptions in the chat window.
Ochatbot is customized, it is easy to change the location of the chat window and appearance.
Conversational AI is a Problem Solver
To further develop a customer-focused business, solving the customers' problems is essential. E-commerce sites use conversational AI to understand the issues of the customers and their services and products. If a potential customer has a bad experience on your website, they will almost certainly purchase the products elsewhere.
Conversational AI is a problem solver for both customers and online business owners.
Customers are likely to purchase a product from the websites if an AI chatbot resolves the problems fast. If AI Chatbots perform learning often without human intervention, sometimes strange errors can occur so it is imperative that you train your AI bot appropriately.
Also Read: User Experience: What It Is and Why You Should Care
Contextual Awareness in AI chatbots
As stated above, AI chatbots learn from previous conversations and respond accordingly. Contextual awareness allows AI chatbots to learn from the conversations and send answers related to the users' preferences.
Contextual awareness technology in conversational AI senses the situation and reads the users' preferences.
Conversational AI chatbots can reduce miscommunication and interpretation through contextual awareness.
Online shoppers don't switch from one website to another if an AI chatbot engages with them effectively.
Rules and scripts don't guide AI chatbots: conversational AI acts from the learnings, not from the manually written scripts.
Final Word
According to a recent report, 87% of customers have a positive experience with AI chatbots. Conversational marketing with AI chatbots helps online business owners to get closer to their customers. An AI chatbot reduces the additional tasks of the human agents and supports tickets.
Conversational AI chatbots are advanced technology in online marketing to enhance user experience and reduce repetitive mechanical responses. An online business owner can develop sales by implementing the right strategy in AI chatbots.
Latest Posts
12 Important E-commerce Chatbot Metrics You Need to Track
Which is the Best WordPress Chatbot Plugin in 2022?
Conversational Marketing: The Ultimate Guide to Sales & Engagement
7 Tips for E-commerce sites: Training E-commerce Chatbot
7 Interesting Chatbot Ideas for 2022
Frequently Asked Questions
1. Why are conversational AI chatbots sometimes a better choice than human agents?
They are cheaper, and they're efficient. Conversational AI can answer repetitive questions of the customers and provide a fast reply to their questions whereas human agents can become fatigued or apathetic to so many repetitive questions. Also, human agents may be occupied with another customer, creating a frustrating wait time for the customer. AI chatbots respond quickly to the conversation.
2. What are the limitations of conversational AI?
AI Chatbots cannot act independently without human supervision: if a chatbot makes an error, human intervention is necessary to rectify it.
How to create an engaging chatbot persona in conversational AI?
Online business owners should first have a general understanding of their customer base, their preferences, and needs. This will help the company train the AI chatbot appropriately. 
Even though AI chatbots learn on their own, they have to be taught the ground rules first. Understanding your customer base is essential to having a highly functional and highly trained AI chatbot.
To set up an AI chatbot for any website, it is important to make the chatbot persona engaging. By understanding the demographics of the customers, an online business owner can build an effective AI chatbot persona.

Latest posts by Greg Ahern
(see all)