Do you wonder how to interact with your website's visitors? The answer is conversational marketing. Conversational marketing continues to grow in popularity and is now a top digital marketing strategy. Businesses use it because of its effectiveness and its return on investment. To best take advantage of it, dialogues should take place throughout the customer's journey to drive growth and give a better customer experience.
Conversational marketing is a powerful tool that improves the user's experience and gets you more sales on your website. This ultimate guide covers everything you need to know about conversational marketing.
What is Conversational Marketing? 
Conversational marketing is a method of interacting with website users in real-time. It aids in moving them down your sales funnel by initiating a conversation with your audience. Conversational marketing can take the shape of an automatic procedure by employing chatbots to communicate with your website's users, or it can take the form of real-time communications via live chat or conversational landing pages.
In brief, instead of employing mass communication, this strategy aims to establish a closer relationship with your audience from the start by understanding their pain points and personalizing the encounter. 
Why is Conversational Marketing important?
Conversational marketing is important as it has benefits for business owners and their websites. There are three main benefits of conversational marketing. 
1) Develop a relationship with your consumers based on trust and rapport
Conversational marketing's main advantage is that it helps you create relationships with your clients by providing them with an outstanding customer experience. Marketers believe "A human touch, in addition to technology, is always needed for a pleasant customer experience." Achieving this excellent customer experience promotes sales and customer loyalty for your business.
Customers are increasingly driven by high-quality experiences in a world where they can purchase almost anything with a touch of a button. In fact, many business owners consider customer experience as the most crucial difference between retailers,  surpassing pricing and quality products. 
2) It's beneficial to both you and your clients
Conversations via chatbots, messaging applications, and voice messaging services are fast and simple so you can sell to your clients in the most convenient way for them and help them get the most out of your product or service.
Consumers can provide feedback, pick up where they left off, and continue the conversation whenever it is convenient for them using asynchronous or adaptive ways of communication such as exchanging voice notes with customers. Customers will return if you provide them with that level of convenience and a personal touch.
3) Understand your customers
Conversations allow you to discover more about and acquire insights into the individual with whom you're conversing, which allows you to obtain information honestly and openly. Businesses can watch consumers and discover what time they prefer to message you, and what types of queries they prefer to ask, using a number of conversational technologies ranging from chatbots to voice messaging software.
All of your marketing, customer service, and sales operations will benefit from the insights you get into how your customers think, what they enjoy, and you can also understand what they don't like about your brand, and when and where they are most active.
What are the Components of Conversational Marketing? 
The presence of important components that assure best practices helps turn the dialogue into a successful marketing strategy.
1) Context
Consumers expect answers quickly and with as little work as possible so you must always place your brand-customer communication in a situational framework. There is no continuity, individuality, or convenience without it.
One of the most aggravating experiences as a customer is having to repeat your request as you travel from agent to agent that is bot-to-agent or department to department. You must avoid asking the same individual for information they've already shared with you. 
The goal of conversational context is to collect, store, and access lead and customer data such as name, email, previous orders, and complaints.The better service you can provide depends on how much data you can gather and use in real-time discussions.
2) Timing
If you want your conversations for use in marketing and sales, you must start, continue, and end them when it's convenient for your lead or customer. To put it another way, if you can respond and act in real-time, then it is as vital as allowing your consumers to complete the dialogue at their pace.
3) Location
Conversational marketing is marketing but from a different perspective. As a result, its parts aren't always new. Marketing practices advise you to cut down on the number of steps between you and your customer and the same is true for conversations. The easier it is for a customer to contact or respond to you, the better. Conversations that drive your marketing and sales should take place on a medium that your target demographic finds most convenient.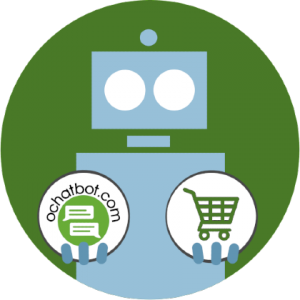 True AI to engage customers for eCommerce, business leads, and customer support.
5% to 35% Increase in AOV*

20% to 40% Increase in Revenue*

25% to 45% Reduction in Tickets with a Customer Service Chatbot
We Guarantee Results... Or Work For Free!
*When shoppers engage with Ochatbot®
4) Scalability
Customers care about their experience before anything else, including how busy you are. It might sound inconvenient, but it's the nature of business.
Without the ability to scale, neither conversational advertising nor marketing strategies can thrive. This would have been a problem in the past for small and medium firms that couldn't afford to hire a team of human agents. Chatbots and inexpensive, no-code technologies level the playing field by allowing businesses to automate without compromising humanity.
To set up conversational marketing, the first step is double-checking that the platform you're utilizing for your online business supports third-party app integrations so you can incorporate chatbots and live conversations for your strategy.
What are the Types of Conversational Marketing? 
1) Chatbots
Customer interactions are at the heart of a good marketing campaign. If your company can properly engage buyers on the internet or in the app, then you will meet sales targets on any scale.
This is why chatbots are a popular way for customers and organizations to communicate. Having an AI bot is a smart move because many customers prefer to shop with a company they can chat with. AI-enabled bots can help you automate monotonous work and help your company more effectively.
With dynamic conversational capabilities, chatbots for marketing are a useful marketing tool for firms to boost customer engagement and qualify leads. For more information about chatbots read: 7 Benefits – AI Chatbots in Conversational Commerce
Bots are divided into two categories:
Rule-based bots: They use a dialogue structure that is similar to that of a decision tree, with discussion driven by choices or logic jumps. This is ideal when you require a more structured user interface.
AI bots: AI bots employ natural language processing and machine learning to interpret the purpose behind natural user inputs and respond appropriately, which is typical for loose dialogue structure. They provide the user with more control, which is beneficial in more complex discussion situations.
2) Live Chat
Live chat for marketing is a software solution that allows businesses to engage with visitors to their website in real-time to generate sales. Chatbots raise the support experience by providing immediate replies and automatic responses to help requests, while live chat provides human-to-human communication and empathy to support interactions. Live chat and chatbots work together to provide your customers with a high-quality customer service experience.
3) Multi-step forms
A multi-step form is a lengthy form that simplifies shipping or registration forms. You can improve conversions and create a positive user experience by allowing consumers and leads to fill out their information in smaller pieces.
4) Messenger Apps
Messenger apps have more active users than social networking apps so organizations are turning to message marketing to interact with prospects, increase lead generation, and drive conversions. It is now the most cost-effective method for marketers to reach and engage with customers, and some examples of the best messenger apps include:
You may use WhatsApp Business for more than just customer service. When you have a new product or collection, for example, you may also market it on WhatsApp. This is a great choice because it is one of the most popular messenger apps.
Customers can see a "Message" button when they Google your name. Customers who click the "Message" button go to a page where they can start a dialogue with you. By employing keywords, you can assist and engage your consumers which lets you gather more individualized information about your site's users and then use segmented and retargeted messages to re-engage those clients. Google Business Messages is one of the most promising conversational marketing platforms for your business with its growing popularity.
You may use Instagram DMs to provide personalized customer service, provide product recommendations, and direct followers to your website.
5) Call center
Customers use call centers as a communication route to report requests or complaints to a company. In call centers, customer support and service employees accept phone calls from clients who require assistance with a specific problem. Call center marketing puts businesses in front of customers more directly than other means of marketing, such as postcards and email newsletters, by utilizing contact dialogues with clients. 
In every organization, call centers have the unique distinction of being at the intersection of people, processes, and technologies and require conversational AI solutions. Depending on the objective of your call center, these conversational AI applications and solutions may help you meet your various needs.
Wrapping Up 
You should not lose out on this opportunity because this marketing strategy is becoming increasingly popular. Furthermore, your clients expect their experience to be tailored to their specific needs and desires. Conversational marketing is an excellent way to accomplish this without making significant changes to your overall marketing plan.
To improve customer satisfaction, increase sales, obtain valuable data, and optimize costs and if you are a beginner, we may recommend you to start with a free plan of Ochatbot.
People who are here to know about Conversational Marketing also read:

Latest posts by Greg Ahern
(see all)