"How do chatbots qualify leads for B2B sites?" is one of the common questions that every eCommerce business owner has.
Online businesses qualify leads with multiple strategies. Listing out different criteria and using strategies for the conversation of a website visitor is a humongous task! An AI chatbot makes this task easy by allowing the B2B(Business to Business) websites to track client conversations instead of looking into the patterns of every customer.
Jump to the Content
Personalization without Human Errors
Collect Lead Information with Interaction
Criteria for Qualified Leads – How to Qualify Leads?
A B2B site should first understand its customers' preferences when qualifying leads. Many online businesses have live customer service agents who can answer and ask questions to visitors. Qualified leads are potential customers for a business. B2B websites increase sales by qualifying website visitors with various questions. Chatbots ask questions to determine whether a person is ready to move further down the shopping funnel or not.
A customer service agent, on the other hand, cannot handle multiple conversations at once. Online businesses prefer using AI chatbots, over human agents for their availability and instant response.
Chatbots help B2B sites to interact with their customers to help overcome obstacles and reduce support tickets. LeadBots increase the conversion rate from 5% to 15% depending on the lead offer.
Chatbots Optimize Landing Pages of Online Businesses – Chatbots Qualify Leads
Landing pages are the face of every B2B website. Every online business owner initially optimizes the landing page with effective technologies to develop a customer-centric business. The basic criteria for a qualified lead are:
Showing interest in a purchase.
Requiring the service.
Being curious about the specifications.
B2B sites have to implement different marketing strategies to interact with a prospect and qualify them as leads. Imagine talking with many different prospects and struggling to keep track of all the conversations. It is definitely a difficult task. Leadbots make this easy for B2B sites and generate leads by quickly gathering the appropriate information on the prospect and sending it to the right salesperson.
Chatbots act as friendly AI agents and help customers learn more about products and services. B2B sites use AI bots to generate leads exponentially with exceptional strategies.
Here are a few strategies AI chatbots can implement to qualify leads for B2B sites.
1. Conversational Insights
AI chatbots ask relevant questions to customers to understand their preferences and needs.
They don't merely help qualify prospects into leads, they also help business owners gain more insight into a customer's experience. Chatbots in B2B websites give more suggestions and recommendations to the customer based on their responses.
Chatbots help B2B sites analyze previous conversations to better understand a prospect's decision-making patterns. This strategy helps businesses actively engage prospects more effectively. Graphic elements in their conversations captivate customers and eliminate repetitive questions. Chatbot conversations reflect real-life conversations that bring in more business opportunities.
Also Read: What is a Conversational AI Chatbot?
2. Reachability and Availability
B2B website visitors prefer interacting with AI chatbots over human agents because of their availability. AI Chatbots interact with customers and answer every question with an appropriate response.
Customers often switch to another company if there is no prompt response to their questions. Chatbots engage the customers, keep them hooked with instant responses, and keep them from leaving the site. Increased engagement with chatbots can help online business owners understand the conversations to better qualify their prospects. AI chatbots simplify this task by analyzing their conversations with every visitor.
Conversations with chatbots not only gather the lead information but also qualify leads and send them straight into the Customer Relationship Management (CRM) system, also known as the right salesperson.
3. Personalization Without Human Errors
Chatbots personalize suggestions and resolve problems without human errors. Machine learning technology behind AI chatbots allows it to work as a human agent 24/7 and resolve inquiries without getting tired or burned out.
Chatbots intrigue website visitors and inform them more about the brand. anding creates interest among users, which can, in turn, help prospects understand more about the brand and the need for their products or services.AI Chatbots qualify leads with predictive intelligence.
4. Collect Lead Information with Interaction
Chatbots don't collect the prospects' unique information, but it does collect how customers interact with the bot and what questions they ask.
The only time the bot collects prospect information is when the prospect answers questions inside a form which is then sent to the sales team. You may have already found some great solutions to generate leads and maximise your results, but there's always a need for some interaction with potential leads.
Lead generation chatbots determine the needs of the prospective customer by the following interactions:
Chatbots reduce the time spent on prospects who are not close to closing a sale by qualifying each prospect appropriately.
After interacting with AI chatbots, human-in-the-loop technology trains the bot for future conversations to help improve future sales cycles.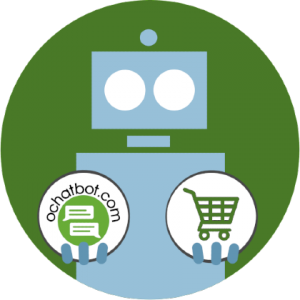 True AI to engage customers for eCommerce, business leads, and customer support.
5% to 35% Increase in AOV*

20% to 40% Increase in Revenue*

25% to 45% Reduction in Tickets with a Customer Service Chatbot
We Guarantee Results... Or Work For Free!
*When shoppers engage with Ochatbot®
5. Schedules Meetings 
After chatbots qualify leads for the business, they schedule meetings to improve the customers' experience in B2B sales.
Online businesses spend a lot of time collecting information about potential new customers. AI chatbots do this task while also promptly generating business leads and improving the leads generation process.
A customer might feel exhausted following several steps to book an appointment, but AI chatbots can schedule meetings fast by naturally asking questions.
AI chatbots that have human-like conversations with prospects, can develop a conversational flow and quickly invite these prospects to schedule appointments.
6. Targeted Marketing
AI chatbots help identify prospects who are nearly ready to make a purchase or are looking deeper into the product or service. Targeted marketing eliminates the time-consuming processes of analyzing every website visitor. Chatbots instantaneously add prospects to the B2B company's "hot" list.
Targeted marketing with AI chatbots breaks customers into segments and targets them as leads.
Selling ideas through different social media platforms is feasible with targeted marketing.
Providing more information and pushing prospects further down the shopping funnel is the greatest benefit of targeted marketing.
7. Cost-efficient to Generate Leads
Chatbots are cost-efficient compared to a full sales team made up of all human representatives.
Lead generation is a challenging task with intricate procedures. An online business needs several human agents to take every step forward.
AI chatbots are fast and can do almost every step to generate more leads organically.
Chatbots can inform the customers about the product, brand policy, offers, and promotions in an engaging conversation. This task may be challenging for a human agent to handle while juggling multiple conversations at once.
8. Fixes Issues Instantly
Many successful brands use chatbots to interact with their potential customers. They actively resolve customers' issues and increase their sales with the help of AI chatbots.
One of the effective strategies chatbots follow is fixing issues of customers without delay. Chatbots answer repetitive questions from prospects to qualify them as leads.
AI chatbots eliminate the conventional methods of targeting customers with forms and flow chart questions.
If a website visitor asks complicated questions about a product or service and the chatbot is unable to answer them appropriately,  the chatbot can hand over the conversation to a salesperson as a lead.
9. Track Customers' Previous Conversation
Understanding the customers' conversation history will help you converse with them in a personalized manner. AI chatbots find the conversational pattern using the previous conversation history.
If a customer's behaviour matches the persona of potential buyers, it will segment them and generate more purchases. With the Artificial Intelligence and Machine Learning technology, you can identify potential customers.
Bottom Line
AI chatbots are one of the most cost-efficient tools available to help grow email lists and generate leads in multiple ways. AI Chatbots qualify leads and grow B2B sites. Instant response and targeted marketing are only a few of the exceptional marketing strategies they use to analyze potential leads' preferences.
Many people visit an online website every day. Some people want to know more about the products or services without the intention of making a purchase that day. In this case, chatbots help to answer their questions and potentially turn them into a lead for future sales opportunities.
Online business owners spend so much money on understanding customers' preferences with human agents. Chatbots with AI and machine learning technologies reduce multiple tasks and qualify leads for businesses in record time. LeadBot uses both of these technologies and helps B2B business owners quickly qualify leads and set appointments.
Suggested Reads:
Frequently Asked Questions
What is a Sales Cycle?
A sales cycle is a series of steps or phases B2B companies follow when selling their product or service to other companies. Online businesses use different marketing strategies in the sales cycle to close the sale with a prospect.
What is a conversational growth strategy?
A conversational growth strategy helps business owners to get closer to the customers. Proper engagement and interaction help the customer understand more about the business and sales. Chatbots are a part of the conversational growth strategies to make sales.
What is the difference between inbound and outbound marketing in online business?
Inbound marketing captivates customers and creates brand awareness before the customers make a purchase. The outbound marketing strategy reaches out to the customer before they know about your business and invite them to learn more.

Latest posts by Greg Ahern
(see all)