Chatbots are being used by businesses to drive more sales and improve customer support. We compiled an AI chatbot platform comparison and reviews list to show the wide variety of prices and capabilities in the chatbot marketplace. This list is not static and it will be updated regularly. You may also enjoy our Fun List of Chatbots blog here. 
The table below includes three categories: Type, Platform, and Fees.
Type
Type defines how the user engages with the AI chatbot system. All systems have AI and/or logic conversational chatbots, and some can switch to a live person in a live chat.
Rule-Based Chatbot: Engagement with buttons only. These bots are logic tree based and do not have AI. The bot asks a question and gives predefined choices to click.
AI Chatbot: Engagement by typing text. These are AI chatbots. The AI figures out the intent of what was typed and responds.
Live Chat: Ability to live chat with a human.
Voice: Uses voice, often via a mobile phone. Most of these are connected to Google Assistant or Amazon Alexa voice AI systems.
Platform
Platform defines what platform the chatbot works on, and the list may not include all platforms.
Website: Interfaces on a desktop and mobile website.
Facebook: Uses Facebook Messenger. The user must have a Facebook account with Messenger active.
SMS Text: Uses SMS mobile texting.
Slack, Kik, Twitter, WhatsApp and other networks: The system works on other social and communication networks.
eCommerce platforms: Systems that work on or integrate with an eCommerce platform
Fees
Fees are the chatbot costs shown on each company's website on the date when this table was created.
2021 Chatbot Platform Comparison
Company
Type
Platform
Fees
Ochatbot
Text,
Live Chat
Websites, eCommerce
(Shopify, BigCommerce, Magento, Woocommerce, and others), Facebook and others, 80+ Free LeadBot templates on all platforms
Free, $69, $109, $495
IBM Watson
Text, Voice
Websites, Facebook, SMS,
Slack, WhatsApp
Requires contact
Intercom
Text, Live Chat
Websites, Facebook,
Slack
$67, Support, Customer Engagement, Marketing require contact
Smooch
Text, Live Chat
Websites, Facebook
Requires contact
AIVO
Text, Voice
Websites, Facebook, SMS
$99, $499, Business and Enterprise require contact
Chatfuel
Text, Live Chat
Facebook
Free, $9.99, $39.99, $124.99, Established Business requires contact
Engati
Text, Live Chat
Websites, Facebook, eCommerce
Free, $79, $249, Enterprise requires contact
Drift
Text,
Live Chat
Websites
Premium, Advanced, and Enterprise require contact
Botsify
Text,
Live Chat
WordPress, Alexa, Shopify, Messenger, WhatsApp, SMS, Telegram
$490, $1490, Contact required for White-Label and Custom
ManyChat
Text
Facebook, Instagram, SMS, Shopify bot for marketing, sales and support
Free, $15
Dexter
Text, Live Chat
Slack
Free, $20, $80+, Agency and Enterprise pricing on request
LivePerson
Text, Live Chat
Websites, SMS, Facebook
Requires contact
BotCore
Text, Voice
SMS
Requires contact
Conversica AI Assist
Text
Email
Requires contact
Amazon Lex
Text, Voice
SMS
$0.004 per voice request, and $.00075 per text request
Autochat
Text,
Live Chat
Websites
Free and $1, Volume Pricing on request
Avaamo
Text, Voice
Websites, Facebook,
Skype
Requires contact
Dialogflow
Text, Voice
Websites, Facebook,
Alexa, Google Assistant
Free, Price per connection
Clustaar
Text,
Live Chat
Websites, Facebook,
Slack
$350 and $1700
FlowXO
Text
Facebook,
Slack
Free, $19+
Botanic Technologies
Text, Voice
Websites, Facebook,
Slack
Requires contact
Digital Genius
Text,
Live Chat
Salesforce, Zendesk
Requires contact
Help Shift
Text
Websites, In-app
Requires contact
BotsCrew
Text, Voice,
Live Chat
Websites, Slack, Facebook
Requires contact
ItsAlive
Text
Facebook
Free, $19, $49, $99, Enterprise requires contact
Kore.ai
Text, Voice,
Live Chat
Websites, Facebook, SMS,
Slack
Requires contact
Landbot
Text
Websites
Free, 30€, 80€, Custom requires contact
Mobile Monkey
Chatbot,
Text, Live Chat
Facebook
Agencio, FunnelPro, InstaChamp requires contact
Netomi
Text, Voice,
Live Chat
Websites, Facebook, SMS,
eCommerce
Requires contact
Verint
Text
Websites, Facebook
Requires contact
Octane AI
Text
Facebook, eCommerce
Requires contact
Pandorabots
Text, Voice
Websites, Facebook, SMS,
Slack, eCommerce
Free, $19. $199, Enterprise requires contact
Pypestream
Text
Websites, Facebook, SMS
Requires contact
Quriobot
Text
Websites, Facebook, SMS,
Slack
Free, 9 to 99€, 99€, 899€
Kustomer
Text, Voice,
Live Chat
Websites, Facebook,
Alexa
$89, $139
Salesmachine
Text
Slack
$75, $500, $2500
Selekt
Text
Websites, eCommerce
Requires contact
Semantic Machines
Voice
Alexa, Google, Cortana,
eCommerce
Requires contact
Snatchbot
Text, Live Chat
Websites, Facebook
Free, $30-$999, Enterprise requires contact
Twyla
Text, Voice,
Live Chat
Websites

$199, $299, $499

Web Spiders
Text, Live Chat
Websites, Facebook,
Slack
Requires contact
Wit.ai
Voice, Text
Facebook, Alexa
Free
Wizeline
Text, Voice,
Live Chat
Websites, Facebook, SMS
Slack, Alexa, Google
Requires contact
Zyratalk
Text, Voice
Websites, Facebook, SMS,
Slack, Alexa
Free
Ochatbot
Ochatbot.com is a free AI, conversational chatbot platform that does not require coding. Ochatbot increases your business leads and online sales and quickly answers customer questions with modules that include lead forms, surveys, assistance, and eCommerce including importing SKU's. Ochatbot gathers intelligent data about your users which gives you valuable insights into their preferences. Chatbot development and maintenance are also available. Ochatbot also offers a simple industry-specific LeadBot with no AI.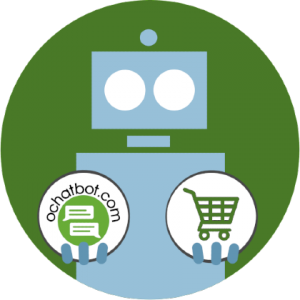 True AI to engage customers for eCommerce, business leads, and customer support.
5% to 35% Increase in AOV*

20% to 40% Increase in Revenue*

25% to 45% Reduction in Tickets with a Customer Service Chatbot
We Guarantee Results... Or Work For Free!
*When shoppers engage with Ochatbot®
Chatfuel
Chatfuel is a Facebook Messenger chatbot for marketing, sales, and support. It has a collection of bot templates that can be used in creating a chatbot on Messenger without any coding skills. It offers a handover process to a human when the chatbot cannot answer a question.
Engati
Engati offers both a chatbot and live chat. It has the ability to stop a bot response so a human can take over the conversation. It works on social platforms and websites and offers multilingual support. It is a no-programming chatbot. Engati supports over 50 languages.
Drift
Drift's chatbot qualifies website visitors without using forms, identifies the right sales representative and schedules a meeting on the sales person's calendar. The bot conversations are automatically saved and the transcripts are passed to the sales people for followup. They offer AI chatbots for customer interactions.
Botsify
Botsify is a customer support chatbot. It also has lead generation forms which collect information inside a chatbot conversation on a website, Facebook Messenger, WhatsApp, SMS, or Telegram. If the chatbot cannot answer a user's question, a human can take over quickly.
ManyChat
ManyChat is a Messenger bot for marketing, sales, and support. It has a visual drag and drop builder to set up the chatbot without programming, and it integrates a live chat feature to notify an agent that a subscriber needs personal attention. 
Dexter
Dexter allows you to write the chatbot dialogue in a text editor so you can edit and test right away. There are templates where rich media can be inserted, and it connects with many API's. Dexter is targeted at agencies and enterprises. 
LivePerson
LivePerson is a solution for marketing, sales, and customer care applications in specific industries. They have ready-to-go bot templates and pre-configured intents and dialogues for each industry use case that integrate into back-office systems.
BotCore
BotCore is fully deployable on both on-premise and cloud environments, and it integrates with enterprise apps and legacy systems. There are a number of conversation channels across voice, text, and custom channels. Multi-channel support is handled by Microsoft Bot Framework.
AI Assist by Conversica
AI Assist is a virtual sales assistant for prospecting, lead generation, and nurturing for the finance industry. The assistant engages the leads through email and gathers new or updated phone numbers and passes the information to a sales rep for follow-up.
AIVO
Agentbot creates omnichannel experiences on any voice or text channel. It has middleware that interacts with each application such as Zendesk, Salesforce, and Zapier. It uses natural language processing to learn from each conversation.
Amazon Lex
Amazon Lex is a service for building conversational interfaces into any application using voice and text. It has automatic speech recognition that converts speech to text, and natural language understanding to recognize the intent of the text.
Autochat
Autochat helps eCommerce businesses engage with their customers through the purchase experience. It has platform integrations with Woo Commerce, Magento, Shopify, and Big Commerce.
Avaamo
Avaamo offers an AI help desk agent with the ability for multi-turn conversations. There are 150+ prebuilt and custom integrations for healthcare, insurance, financial services, retail, and telecommunications industries.
Dialogflow
Dialogflow incorporates Google's machine learning expertise and products such as Google Cloud Speech-to-Text and is optimized for Google Assistant. This bot supports over 20 languages.
Clustaar
Clustaar has a visual drag and drop builder and allows you to import a plug-and-play template that helps train the bot. The bot starts the conversation and a live chat representative can take over at any time during the conversation.
FlowXO
FlowXO is a chatbot for lead generation that can switch to live chat when needed. It features the option to accept payments in the middle of a conversation and directs the user to a secure payment portal to complete the transaction.
Botanic Technologies
Botanic offers a full suite of conversational systems for enterprises that speak, see, hear and converse multi-modally. They also offer proprietary conversational interfaces for clients to create their own bot.
Digital Genius
Digital Genius is a customer service automation platform that uses predictive technology to suggest the best answer to the agent. If the prediction has a high confidence level, the answer is automated.
Helpshift
Helpshift is an in-channel customer service bot for the enterprise. Bots are available in 11 languages. You can build your own bot or customize a pre-built bot without a developer.
IBM Watson
IBM Watson AI Assistant integrates diverse conversation technology into an application. The Assistant can be used for a variety of channels including mobile devices, messaging platforms, and robots.
Intercom
Intercom is a sales, marketing, and support chatbot that integrates with eCommerce and social platforms and has a live chat option. Conversations from social channels can be integrated into a CRM.
BotsCrew
BotsCrew offers chatbots for hospitality, legal, customer service, finance, eCommerce, entertainment, and concierge service industries. All chatbots are for website, messaging, SMS, and voice assistant like Alexa or Google Home.
ItsAlive
ItsAlive is a chatbot solution for Facebook Messenger that has a drag and drop conditions and a folder-based system to organize decision trees.
kore.ai
Kore is an enterprise-grade end-to-end conversational chatbot platform that satisfies the complex use case requirements for the enterprise. It can be deployed on-site, in the cloud, or using a hybrid model. It is an omnichannel platform.
Landbot
Landbot is a service that transforms websites and landing pages into a conversational experience.
Mobile Monkey
Mobile Monkey is a Facebook Messenger and Instagram marketing bot builder with a live chat option. It has options for agencies, marketers, and SMBs and creators.
Netomi
Netomi is an AI chatbot for customer service that can respond to emails from the chatbot. It also has in-app, web chat, voice, SMS, and social integrations and allows a human to take over the chat conversation.
NextIT
NextIT is an enterprise-grade integrated AI solution with intelligent virtual assistants for customer engagement and workforce support for the enterprise. 
Octane AI
Octane AI is a Facebook Messenger bot that integrates with eCommerce platforms to directly connect with shoppers, track their behavior and report revenue.
Pandorabots
Pandorabots are conversational agents for eCommerce, customer service, voice, B2C, marketing, and entertainment industries. They offer DIY chatbots to fully turnkey chatbot development solutions.
Pypestream
Pypestream is a conversational AI solution built for customer service automation. It has encrypted B2C exchanges that allow customers to process payments, submit claims, and schedule appointments.
Quriobot
Quriobot is a build your own bot program with templates and a drag-and-drop designer. It features a conversation designer that works on most social platforms as well as websites and landing pages.
Kustomer
Kustomer is an enterprise bot platform for customer service in the insurance, travel & hospitality, and consumer electronics industries. It integrates with major CRM's, social networks, and websites.
Sales Machine
Salesmachine is a Slack bot and customer support tool that alerts you when customers need attention. Track customer health and get a notification if anything changes.
Selekt
Selekt offers sales and marketing chatbots to automate business processes in real estate, eCommerce, hospitality, airlines, TV broadcasting, and HR.
Semantic Machines
Semantic Machines is a conversational AI interface for Siri, Google, and Cortana for eCommerce and business.
Smooch
Smooch manages your messaging channels through a single unified API. It has a bot to human handoff that transfers the conversation history and context to an agent.
Snatchbot
Snatchbot is an AI-powered chatbot that works on mobile devices, web apps, and popular chat services. You can build an automated bot or a human hybrid chatbot without any coding skills.
Twyla
Twyla is a professional conversation design software for AI chatbot training. It automates chat and voice and is a CMS for chatbots that updates the content using workflow features.
Web Spiders
Web Spiders offers an enterprise event chatbot and a lead engagement sales chatbot for customer service and HR for web, social and mobile devices.
Wit.ai
Wit.ai allows you to create voice and text-based bots that humans can chat with on their preferred messaging platform.
Wizeline
Wizeline has chatbots for customer support, marketing, events, and conferences, along with voice bots for Alexa and Google. It has Google maps and Yelp integration.
To learn more about chatbots, check out The Complete Guide to Chatbots. If you have a chatbot platform that you recommend, contact us and we will add it to the list. Ometrics offers chatbot consulting and development services, and you can find more information here.
Our Latest Posts:
11 Best Chatbots For Shopify: Best Shopify Chatbot
Building a Chatbot For Shopify: 10 Benefits
6 Ways to Gather Feedback with AI Chatbots
9 Benefits of Conversational Sales in E-commerce

Latest posts by Greg Ahern
(see all)