Everything changes rapidly in digital marketing, including how people interact with companies and buy products is also shifting. But there are two factors you can't underestimate, and they still remain crucial elements. First, eCommerce businesses have increased and don't show signs of slowing down. Second, positive customer experience remains a crucial element of the success of any kind of business. As eCommerce companies play a huge role for today's buyers they find ways to improve their relationships with customers. For this and many other reasons, chatbots have become an integral part of eCommerce businesses.
Usage of chatbots significantly increased during the Covid-19 pandemic when the majority of customers had to shop online and also demanded self-support tools. Moreover, local businesses such as moving companies in Toronto or retail stores have also started using the power of AI technology. eCommerce chatbots are here to help automate customer service. Chatbots can give answers about eCommerce products in real time when customers need answers. But they are beneficial not only in answering customers' FAQs but also opening a wide range of opportunities. eCommerce chatbots also provide post-sales support, answer questions, recommend products, and gather valuable feedback. Chatbots also learn from customer behavior and build relationships with them. What is really great about chatbots is their ability to make eCommerce business processes more productive.
How eCommerce Chatbots Can Boost Productivity
Of the various advantages that we can mention about using chatbots in an eCommerce business, the main benefit is making sales and marketing processes more efficient and achieving better results. Here we will go through use cases that will convince you to start using chatbots for your eCommerce business.
1. Advertising Your Special Offers and Giving Recommendations
There are always more options to offer customers who interact with your eCommerce chatbot. It is your chance to promote our special offers like unique custom portraits and suggest rewards like discounts.
Your goals in this stage guide them during the buying journey and lead them to purchase new products. This is essential especially if you use referral programs for promotional purposes because it allows customers to get more accurate direction towards their next steps. When customers are just browsing eCommerce products, chatbots can help you give the right recommendations; therefore, they eventually find what they need. You should create excitement around your offers and, as a result, get new customers.
2. Upselling and Generating Revenue
If your business goal is to generate more revenue, chatbots can be a great solution to accomplish that. When your eCommerce website visitor has spent a specified amount of time on a page and can offer and make sales with similar and complementary products from the one they initially searched for. The eCommerce chatbot uses the customer's profile and history to make product recommendations.
Chatbots can even analyze users' preferences and order history, learn their needs and promote them as more relevant and upgraded products. And in some cases, this way is more effective than human interaction with sales representatives because people don't feel the pressure, and chatbots offer better recommendations based on valuable data. Additionally, you can also use lead generation CRM with chatbots to track the entire buyer journey and guide them to your predefined conversion flow.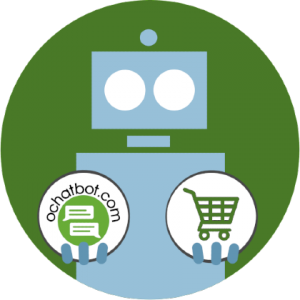 True AI to engage customers for eCommerce, business leads, and customer support.
5% to 35% Increase in AOV*

20% to 40% Increase in Revenue*

25% to 45% Reduction in Tickets with a Customer Service Chatbot
We Guarantee Results... Or Work For Free!
*When shoppers engage with Ochatbot®
3. Providing Support By Answering Shopping Questions
The most effective way to build powerful relationships with customers is to be ready to support them 24/7 and be ready to support them during the customer journey and shopping process. Particularly in eCommerce, getting quick help from a chatbot can engage with your business and create the base for increasing sales.
Customers don't have to search your website pages to find answers to their questions. And when your company is constantly available for customers through chatbots, this creates an image of a credible and trustworthy company. You can use the Outlook calendar sync to organize meetings and train your customer support team in the beginning. eCommerce chatbots are effective in this case as well because typically, consumers prefer self-service over contacting a support team or a human agent. You can use chatbots when your company uses eCommerce PPC services for organizing ad campaigns.
4. Suggesting the Right Products 
There is a great chance that when your potential customers start searching online, they have specific needs but can't find the right products. Chatbots can help customers to reach that goal. A chatbot can offer surveys to shoppers about their preferences and suggest perfect recommendations according to those wishes. This can give you ideas to create content about streaming and production if your audience wants to know more about video creation.
It also includes asking about personal style, struggles they have, and where solutions they are looking for. Here you have the freedom to be as creative as possible but also keep in mind the eCommerce business goals. You can do SMS integration with eCommerce chatbots to make the user experience better. By using an SMS reminder service the results will be even more effective for customers.
5. Supporting Order Management Process
It is challenging to provide customers with the right products and to be ready when customers make changes to their orders or account details. Here comes the excellence of chatbots, as they help organize and manage the whole ordering process. It includes checking orders that are in progress and managing canceled or delayed orders.
This increases customer satisfaction because they can request a change and manage the process with just a few clicks. This is a process that typically should have been managed by sales agents. But when you let chatbots manage this process, then your sales agents can concentrate on other tasks to make the customer experience better. Chatbots even offer your eCommerce website visitors to schedule consultations with agents when they need to get human help.
6. Offering Personalized Support
Typically modern buyers prefer and expect personalized purchasing experiences and customized recommendations. This tactic can be the core of building customer loyalty and boosting your sales. It is based on the success of the eCommerce business.
Just ensure that you implement chatbots correctly. James Ewen, a leading SEO consultant based in London regularly stresses the importance of not overdoing your chatbot code. Ensure it is fully optimized for the best personalization. Personalized support via a chatbot can effectively guide you to build trust during the customer journey when they decide whether or not to buy your eCommerce product. Chatbots help reduce cart abandonment rates as well as reduce the number of returns and refund requests.
Conclusion
In the rising and highly competitive eCommerce market, companies are trying to find ways and solutions for boosting customer satisfaction to win this game. An eCommerce chatbot makes the whole process more productive both for customers and employees and guarantees a solid customer experience. We have discussed six use cases of eCommerce chatbots for more productivity. These cases signify that you should start using chatbots in your eCommerce business to get a competitive edge.
Latest posts by John Trenta
(see all)