We aren't quite striking out across the galaxy, initiating intergalactic warfare, but the future has crept up on us in far more subtle ways. AI-powered chatbot technology is now a part of everyday life. We're all familiar with being offered help by a chatbot when visiting an eCommerce site, with 1.5 billion of us around the globe using them in 2022. 
This saves both company and the customer a lot of time and money by offloading much of the donkey work onto machines and away from busy call centers. And these machines never sleep. We can obtain help at any time, instantaneously. 
Such fast-paced interactions are the basis of how chatbots improve customer experience (CX), improve brand loyalty, and increase sales. Let's dive a little deeper into why the market share of chatbots will increase to a whopping $9.4 billion in 2024, from a mere $2.6 billion in 2019.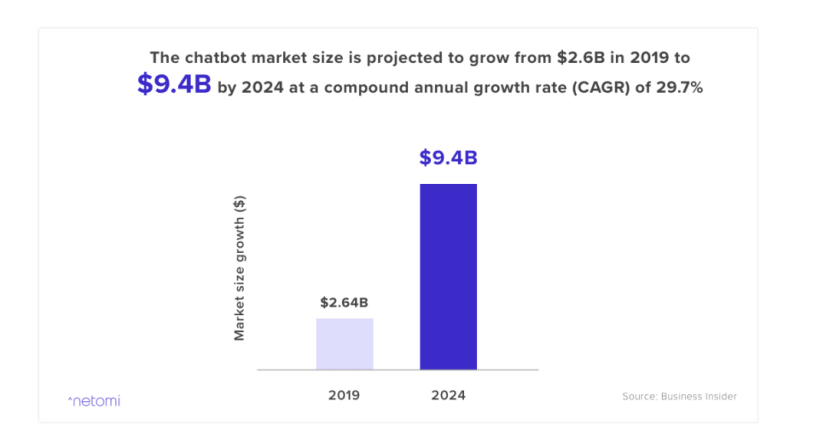 What is an eCommerce Chatbot and how does it work?
Chatbots are computer programs that interact with website users in real time through a variety of channels like live chats, SMS, and emails. They support customer service by answering questions, recommending solutions, gathering feedback, and tracking engagement from users. 
They are able to communicate 'like a human' through clever programming which includes Natural Language Processing (NLP). They can perceive the context of a query, decide on intent (positive or negative), and suggest possible solutions to customer queries. These abilities allow you to focus more on things like call center management best practices to improve your CX.
Chatbots are also used on social media platforms for customer support and sales, and with the help of social media management software, businesses can seamlessly integrate chatbots into their social media strategy.
How do I know if I should invest in a chatbot for my business?
Obtaining an effective chatbot does not come cheaply, so investment in this technology requires a careful assessment of your ROI. Failure to do so will result in your company not reaping the rewards of this potentially lucrative resource. 
This all begins with running a checklist of the functionalities you might require, including but not limited to product suggestions, prompts to add items, gathering feedback, answering FAQs, providing product information and tips, as well as any general customer support.  Only then might you be ready to begin choosing a potential platform to provide you with the right AI.
In order for this to work, you'll need to know your customers, their habits, and the kind of queries they have in order to make your machine co-workers an asset to your wider cloud contact centers.
An example consideration could be the size. You might think that larger companies use chatbots more than smaller firms due to their access to large capital. However, as you can see below current trends suggest it is the latter who are more likely to have them. Small businesses benefit from chatbots' ability to deal with customer queries quickly and efficiently, far beyond what their human staff could provide. Going forward, larger companies will also increasingly turn to AI and chatbots to better the customer experience.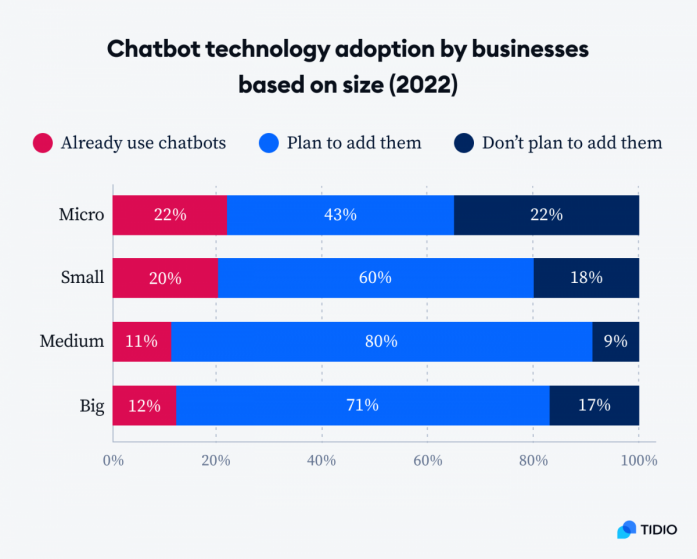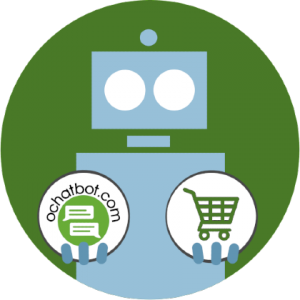 True AI to engage customers for eCommerce, business leads, and customer support.
5% to 35% Increase in AOV*

20% to 40% Increase in Revenue*

25% to 45% Reduction in Tickets with a Customer Service Chatbot
We Guarantee Results... Or Work For Free!
*When shoppers engage with Ochatbot®
How can chatbots improve your customer service?
Understanding how a chatbot might be useful to you starts with understanding what functionalities you would need it for, and then comparing this to wider market research about customer trends, and what they are predicted to use a chatbot for. 
Take the service industry as an example. Improving restaurant customer service is one of the key focuses of the service industry that can be benefited through chatbots. These tools can quickly answer questions, provide recommendations, and gather feedback from customers, freeing up budget and staff to focus on delivering exceptional in-person service. This is a beneficial practice for restaurant management and other hospitality sectors.
As you can see, getting quick answers to problems and finding out how to speak to a human agent is top amongst consumers, while buying expensive items ranks lowest. When reading the tips below, keep your business needs and customer use of chatbots in mind.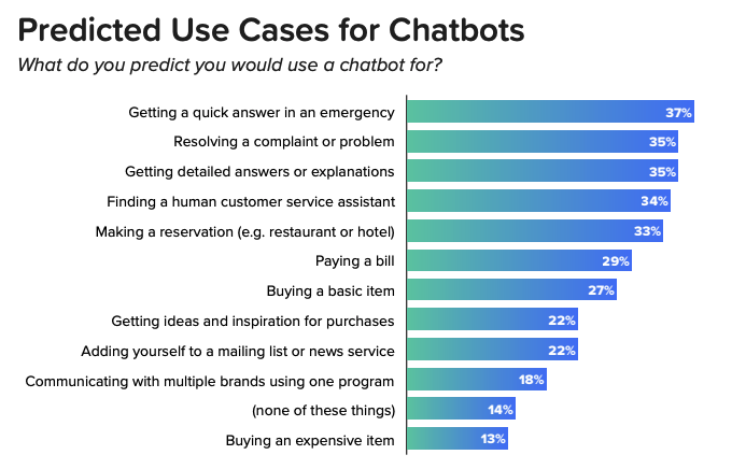 Save money
This is the primary concern for any business, to make things cost-effective and ensure great ROI. This is especially important for smaller companies who would find setting up round-the-clock customer service impossible and helps to explain why a chatbot is essential for eCommerce. It is widely held that using chatbots can save a company up to 30% on its customer service costs, and driving down costs is on everyone's lips in the current economic climate. However, remember that if you don't currently have many online sales, or plan to have them in the future, such a service will not help you make savings in such a dramatic way.
Saves time
As the saying goes, time is money, and for both business and customer, this is true. Two-thirds of customers feel that it is important for a company to value their time, and making them wait in long queues to resolve simple inquiries like "What are your refund policies?" is not a good way to facilitate customer loyalty or enhance customer experience. This might be particularly important in an emergency situation, like the Covid pandemic where chatbots provided much-needed reassurance and advice.
An end to FAQ pages
This links back to what was said earlier: chatbots offer user-friendly solutions to many simple problems that consumers have. This can be done without the price tag of hiring a whole team of agents, making them fantastic for smaller businesses. 
They are also seen in an increasingly favorable light by larger companies, who can, according to some studies, resolve up to 80% of customer inquiries (such as, what is your returns policy? Where is my delivery? Am I entitled to a refund?), allowing agents to deal with the important issues. In the end, call centers will be managed more effectively, with the added help of packages like Dialpad US contact center software, making you more likely to maintain loyal customers.
24/7 support
People really like this. Apart from the fact that people are often just as satisfied, if not more satisfied, after speaking with a chatbot due to the speed at which their query is answered, they can also do this anytime, anywhere – if you're a consumer juggling childcare and a job, being able to do this in your own time via an online messaging service presents a solution with a high degree of convenience.
Data collection
In order to make a functioning chatbot, it is essential to compile a huge amount of data so that it can actually respond to customer queries. Once you've done this, and your chatbot has constant and instant availability to customers, it can also collect data. Chatbots can be vital in helping you understand your customer demographic and what their needs are. In turn, this can help inform any new product launch or common errors people make when using your products. Chatbots are able to do this by collecting names, purchase orders, and other client information which can then be stored and used in the future, perhaps for making new leads or improving your marketing strategy and email campaigns.
Spending time creating a forecast in Excel has long been an excellent way to compile data, but must be entered manually, it's prone to error and cannot be updated in real-time. So perhaps a chatbot could be an excellent way to help shore up your customer data records.
Lead generation
Much as they offer help 24/7, they are also there to make sales or generate leads 24/7. This is something more than half of businesses currently take advantage of, reflected in the growing revenues linked to chatbots. This can be used alongside Dialpad US inventory management softwares to guarantee such orders are fulfilled in a timely manner and that you can effectively track the location and quantity of all your stock.  
Integrating omnichannel communications
As businesses continue to expand their methods of communication, the chatbot's ability to contextualize a customer query not only allows them to resolve it in most cases but also means that they can transfer a customer to the right person if the query needs to escalate. Chatbots can do a lot, but human support is still the backbone of successful customer service. Sometimes a chatbot's best contribution is to identify when someone needs to speak to a human agent. 
Final remarks
A growing trend
With a huge number of millennials using chatbots each day, they are one of the driving forces for this new technology within eCommerce, and the influence of their retail habits will only continue to grow as time goes by. This is reflected in the market share of chatbots, which is forecasted to grow massively in the next few years. It is, however, perhaps important to stress that this does not mean an end to human agents, but rather a combination of the two; the same millennials who engage with chatbots each day are also demanding more personalized and human touches to build stronger connections with brands and products.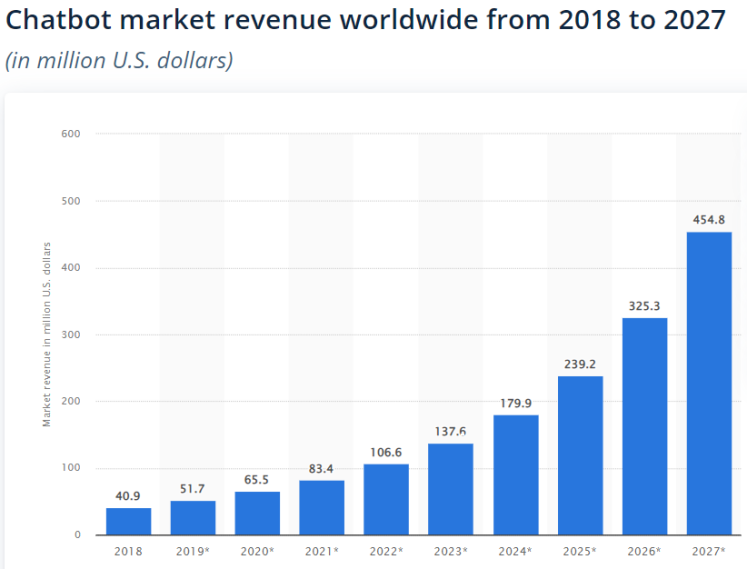 Challenges ahead
As with any new business tool, you should also consider any issues with a potential new investment, besides the actual financial cost itself. While the future is being brought into our homes via chatbot technology, they are still lacking in their capacity to solve complex issues and give a human touch – chatbots should still only really be used for simple routine queries. Many consumers also feel that chatbots are being used simply as a means of stopping them reaching a live agent, adopted as a cost-cutting measure at the customer's expense. Most importantly, consumers still believe that humans are better able to understand their needs, and this looks like it's here to stay; AI technology just isn't quite there yet.
Takeaways
This concludes some of the main advantages of a chatbot to any eCommerce company. When planning this into your strategy, bear in mind what functionalities your individual business needs and whether this could be the right move for you. If you are looking to save money and improve the customer experience, this could be an excellent step. 

Latest posts by Greg Ahern
(see all)