In this article, we will take a look at the top 7 e-commerce chatbot examples in the e-commerce industry.
Do you want to provide value to customers in your eCommerce business? Are you trying to find different ways to develop real-time conversations with your customers? Enhancing brand value is significant to developing your eCommerce business. Chatbots with Artificial Intelligence technology help online business owners with conversational marketing strategies.
Machine intelligence and Human Intelligence in AI-based eCommerce chatbots converse with customers and enhance their online shopping journey. This article will cover 7 successful eCommerce chatbots for your eCommerce brands.
What are eCommerce Chatbots? – eCommerce Chatbot Example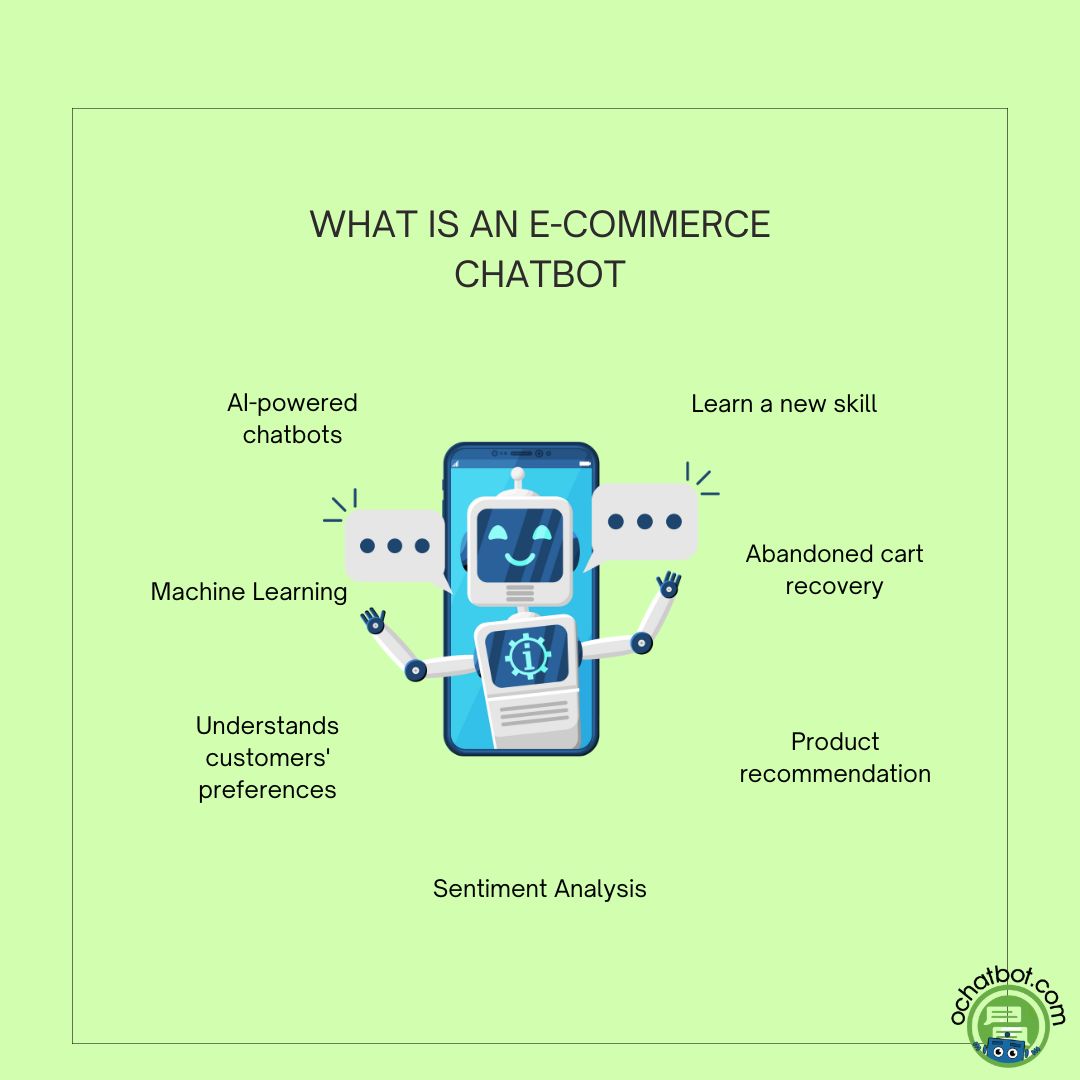 AI chatbots, also known as eCommerce chatbots, will answer customer questions like a real person. AI chatbots also use Natural Language Processing to understand customers' questions and enhance the sales process. 'Chatbot' is a popular term in online business. Many online business owners use chatbots to engage with their customers and increase the sales of their businesses. A recent survey says that chatbots nurture 35% to 40% of the response rate in online businesses.
Why Should You Choose an eCommerce Chatbot?
One of the great benefits of implementing eCommerce chatbots for your online store is having customers get responses quickly. Your online business will drive more sales and invite more website visitors with eCommerce chatbots.
Imagine your website visitor entering your website without having a clear idea about what to buy. Your casual website visitor needs a shopping assistant to guide them through your products. Advanced chatbot technology talks with the customers like a human and helps them find products.
Your online business should make the customers realize what they need, and an AI chatbot helps your customers find them effortlessly. With targeted questions, chatbots can outpace your customer service team. AI-powered eCommerce chatbots will increase the value of your eCommerce store and create brand awareness among your customers.
Let us look into the 7 best eCommerce chatbot examples in eCommerce to increase your online business sales.
What is the New Trend in the E-Commerce Industry?
The e-commerce industry evolves every day. Conversational commerce is the new trend in e-commerce that allows online business owners to develop a business around customers.
AI chatbots and live chat are efficient ways to provide customer support through conversation. An effective e-commerce chatbot technology will greet the customers, guide them through the products, collect feedback conversationally and track order details. All these tasks will accelerate instantly with AI chatbots since they have advanced technologies such as artificial intelligence and machine learning behind them.
What is the Role of E-commerce Chatbots in the Conversational Commerce?
E-commerce chatbots are mostly artificial intelligence technology-powered chatbots that outpace human conversations and retain more existing customers.
Conversational commerce revolves around the potential conversations that will increase the sales of businesses and develop a customer-centric business. E-commerce chatbots in conversational commerce are important because your customers will get good support throughout their journey on your website.
1. Ochatbot
Ochatbot connects to all eCommerce platforms and offers real-time solutions for your customers' questions. If you are planning to implement a code-free AI bot on your website, Ochatbot is the right option for you. Shoppers don't have to worry about confusing content or scrolling static web pages looking for products.
This successful eCommerce chatbot increases revenue by 20% – 40% when shoppers engage with it. Ochatbot overcomes sales obstacles by answering questions, allowing shoppers to add to their cart right from the chatbot window, and even reminding shoppers of items left in their cart from a previous session and encouraging them to complete the checkout.
When a shopper adds a product to their cart, Ochatbot encourages them to buy similar products or related accessories with upselling and cross-selling strategies.
Reducing support tickets is one of the biggest challenges in online business. Ochatbot reduces support tickets from 25% to 45% even up to 75%. Adding Ochatbot to your website is a great investment for your online business.
Ochatbot has plugins for eCommerce platforms including Shopify, Magneto, WooCommerce, and Big commerce as well as integrating with other platforms by adding a unique script to the site.
If you want to generate more sales for your business organically with eCommerce bots, Ochatbot should be your first option. You will also be able to integrate Ochatbot into messaging apps like Facebook messenger. If you are looking for an AI chatbot, this eCommerce chatbot may be just your cup of tea!
2. Sephora Chatbot
Sephora Virtual Artist is an innovative chatbot that is great at audience engagement. Customers are now able to make their bookings fast with the Sephora chatbot. Sephora Virtual Assistant engages customers and encourages them to make purchases.
With the Sephora chatbot, customers find products related to their fashion choices and taste. This chatbot also allows customers to find the perfect lipstick shade using a virtual makeover experience.
Sephora used this chatbot to increase the sales of their business and developed their business around potential customers. Sephora Virtual Assistant is one of the interesting eCommerce chatbots that enhances the customer experience by understanding their personal preferences.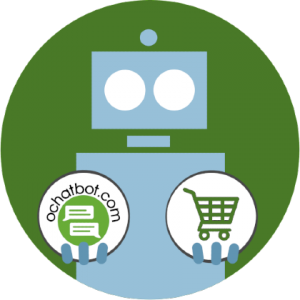 True AI to engage customers for eCommerce, business leads, and customer support.
5% to 35% Increase in AOV*

20% to 40% Increase in Revenue*

25% to 45% Reduction in Tickets with a Customer Service Chatbot
We Guarantee Results... Or Work For Free!
*When shoppers engage with Ochatbot®
3. HelloFresh Chatbot
HelloFresh chatbot is another example of an eCommerce chatbot with an engaging bot persona.
This customer support bot from HelloFresh called Freddy acts like a real-life salesperson and engages with the customers to resolve their questions. Freddy is another interesting example of a customer service bot that enhances the customer journey.
Tackling uncommon questions is the biggest challenge for rule-based chatbots, but the HelloFresh AI chatbot tackles both repetitive and uncommon questions of customers.
4. Chatfuel
Chatfuel bots increase sales of online businesses using integrated AI(not built-in AI). As previously mentioned, Ochatbot has built-in AI to engage users. On the other hand, in Chatfuel, online business owners have to integrate Artificial Intelligence.
Online business owners can add multiple choice questions and FAQs inside Chatfuel to answer the customers' questions as soon as possible. E-commerce site owners will also be able to create build-in integration on Facebook Messenger.
Inviting more new customers to your eCommerce sites is now possible with Chatfuel.
5. Kik Chatbot
Kik chatbot is a messenger bot that engages and answers the questions of customers as quickly as possible. Sephora also uses this chatbot in addition to Sephora Virtual assistant to understand customers' needs.
Kik is a successful chatbot that helps customers find what they actually want using Artificial Intelligence technology.
Kik and Sephora virtual assistants are the finest examples of how eCommerce companies will benefit from AI chatbots. If you want your customers to develop loyalty around your brand, implementing a customer-friendly chatbot is a good marketing strategy.
6. Botsify
Botsify chatbot is an intelligent bot that converts customers into potential leads for B2B businesses. This chatbot provides customer support with automated responses. Customers will get seamless interaction with Botsify.
This eCommerce chatbot is also a code-free chatbot, so implementing this chatbot on your website is easy. Engaging multiple users and collecting customer data through conversation is a piece of cake with the Botsify eCommerce chatbot.
7. Botmother

Entrepreneurs use a Botmother chatbot to drive sales on their websites; this eCommerce chatbot works on several messaging apps and invites customers through different platforms.
Online business owners can create bot scenarios with this chatbot and entice the users with their brand story. This bot analyzes the responses of users and maintains the statistics effectively. Machine learning and Artificial Intelligence technology in this chatbot work effectively for eCommerce businesses.
4 Strategies to Add Chatbots to Your eCommerce store – eCommerce Chatbot Examples
Chatbots are increasing the sales of online businesses by reducing multiple tasks for an online business owner. If you are an eCommerce site owner, you don't have to depend on live chat agents for customer support. AI chatbots offer customer support effectively with automated responses and 24/7 answers. The above eCommerce Chatbot examples increase customer support substantially.

Adding chatbots to your websites is not a difficult task. One of the successful eCommerce Chatbot examples like Ochatbot supports online businesses as LeadBots, support chatbots, and eCommerce chatbots. Online business owners can create a bot persona to engage their users and enhance customer satisfaction on the website.
1. Personalized Experiences – Bot Persona
Personalized experience enhances user experience greatly. If you create a bot persona, customers will feel like they are talking to a live agent. AI chatbots act as both live agent and machine that responds to customers effectively.
2. Integrating into Facebook Messenger

Integrating chatbot to Facebook Messenger is another effective way to optimize your eCommerce websites. Chatbots on messaging platforms bring your customers close to your brand. Messenger App is one of the chatbot development platforms that enhances online business more effectively.
3. CRM Integration
Chatbots connecting with thousands of CRM (Customer Relationship Management) systems through integrations will enhance customer satisfaction. Conversational AI marketing with a customer relationship management system is an added advantage of every online business.
4. Regular Training
AI-based chatbots not only answer the first-level questions of customers, but machine learning with human-in-the-loop technology will also understand user intent. By analyzing the user's purchase intent, chatbots will recommend relevant products and answer complex questions. If you are planning to add AI chatbots to your website, regular updates and training are necessary to avoid machine errors. Personalized marketing is possible with a regularly updated AI chatbot.
Conclusion
Chatbots play a vital role in this era of online shopping. Your customers will get a personalized experience if you give them a real-time shopping experience. AI chatbots are not like other rule-based chatbots that answer questions with a scripted response. With advanced technology and regular training, chatbots will answer every question like a human. You will certainly not exhaust your customers with a mechanical response if you implement AI-based chatbots on your eCommerce website.
Are you ready to enhance customer satisfaction and increase the sales of your business? Ochatbot comes with unique pricing plans for entrepreneurs, small businesses, and lead generation businesses. With Zapier integration, Ochatbot will connect to thousands of customer relationship management systems. Increase the sales of your eCommerce business organically with the successful Ochatbot.
Frequently Asked Questions
1. How do chatbots answer quickly?

Chatbots learn from the customers' conversations. By collecting data from previous conversations, chatbots understand user intent and answer questions quickly.
2. What is Zapier Integration?
Zapier integrations automate repetitive tasks. AI chatbots that connect with CRMs through a Zapier integration are a boon for online business owners to automate difficult tasks.
3. What are the disadvantages of rule-based chatbots?
Rule-based chatbots don't answer difficult questions like AI chatbots. Customers can only choose the answers from branching questions. The scripted response of rule-based chatbots can exasperate customers, whereas AI-based eCommerce chatbots are the best shopping assistants for every online business.
4. Does Amazon use chatbots in the eCommerce Business?
Amazon has its own virtual assistant, Alexa, to converse with customers through voice search. Alexa is an advanced virtual assistant that helps customers to find their products.
5. What are the benefits of eCommerce chatbots?
E-commerce chatbots will increase customer engagement, boost revenue, enhance the customer journey, etc

Latest posts by Greg Ahern
(see all)