Chatbot Messaging Strategy is among the unique ways of utilizing communication channels. The latest survey on messaging app statistics says that people tend to send more than 41 million messages every passing minute.
Texting and chatting have taken over the other forms of communication in recent days, so it shows that people prefer chatting through text to speaking over a call or meeting in person.
Chatbots are one the famous marketing tools that enable human-machine communication and a well-designed chatbot can replace core customer service teams and ensure sales productivity. This article discusses a few effective chatbot messaging strategies to enhance customer communication standards.
Jump to the Content
Chatbot Marketing for Business
Benefits of Conversational Marketing
What is Chatbot Messaging Strategy
What Is Chatbot Messaging?
A chatbot is software that simulates human-like communications through machines. This tool allows users to have real-time conversations with digital devices and there are many types of chatbots that vary in the way they interact with customers.
Some chatbots are rule-based chatbots or simple chatbots that use a predefined set of questions and answers fed to the system as a training dataset. These bots respond to users in a similar fashion.
Artificial intelligence (AI) Chatbots are smart chatbots that use AI and machine learning (ML) technologies to incorporate human intelligence into the machines. Other types of chatbots have combinations of both to make use of human intelligence and artificial intelligence.
Chatbot Marketing for Business
Chatbots are one of the most popular digital marketing strategies that boost customer engagement to multiple folds. AI Chatbot marketing can replace human agents in the customer support team and build an application that can perfectly mimic human-like voices, tones, and sentiments.
Chatbot marketing increases availability so customers can reach out to the business pages at any time. Most businesses and social media sites use a chatbot marketing strategy with their business pages. Business platforms like Shopify, woo Commerce, and other social media platforms like Facebook messenger, and Instagram shops use chatbots as their marketing strategy.
Chatbots are also a conversational marketing tool. They interact with users to replace human interactions with their human-like chatbot conversation. The conversational marketing chatbots address the customer service issues and enhance customer communications.
Related Post: Top 7 AI Chatbots for Business Growth in 2022
Key Benefits of Conversational Marketing with Chatbots
Not all casual visitors who look at your sites will turn into a customer. Chatbots with their conversational marketing strategy help in lead generation and enhanced customer interactions. The chatbot speaking with them guides customers through their shopping journey and increases the customer retention rate.
24/7 Service
The most admirable feature of chatbot messaging is its availability.  An internet connection is the only requirement from the user side to go shopping online. Internet users may log in to their Facebook messenger accounts and scroll through the business pages at any time. In this case, it is hard to assign 24/7 customer service to human agents.
However, chatbots can effectively guide and support customers with their shopping process anytime around the clock. This allows business marketers to make use of their human resources for any other business task.
Handles Complex Issues
Chatbots are responsible for helping your customers through their shopping journey. Apart from just answering the questions and scheduling the orders, the AI chatbots are responsible for the entire customer journey. The visitor may leave the site if they do not find their products, but the chatbots will push notifications to their accounts on the availability of the products.
Chatbots will also let the users look at other similar products and urge them to buy more. With this digital marketing strategy, the chatbots handle complex issues like abandoned carts and rising customer conversion sales rates.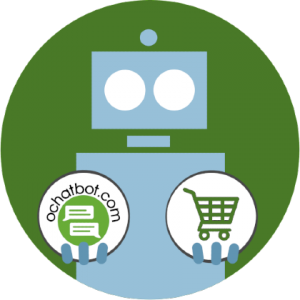 True AI to engage customers for eCommerce, business leads, and customer support.
5% to 35% Increase in AOV*

20% to 40% Increase in Revenue*

25% to 45% Reduction in Tickets with a Customer Service Chatbot
We Guarantee Results... Or Work For Free!
*When shoppers engage with Ochatbot®
Easy Ticketing System
People usually reach sales teams to record their complaints through calls or emails. Most business pages provide an alternative option through chatbots. The users can directly communicate with the bots to resolve the issues they have. Instead of tracking the tickets, it is easy to get live updates on their query status through chatbots when they occur.
Good Customer Experience
Some chatbots just act as automated machines to reply to the users with the stock availability. AI chatbots will receive customers like human sales reps and give them unique customer communication through chatbot messaging apps. The website visitors find the chatbot messenger conversational marketing extremely helpful as Facebook messenger chatbots and other business page chatbots consider customer satisfaction as their primary focus.
What Is a Chatbot Messaging Strategy?
A chatbot messaging strategy is the plan you design to build a chatbot with suitable features. Marketers should consider various factors like chatbot templates, brand colors, and techniques.
Some chatbots will work for booking orders, some for stock availability checks, and others work on all these features to ensure quality customer service. Analyzing the business requirements, figuring out the suitable features, and then building a chatbot to address all their needs will help marketers grow in their business.
Tips for Chatbot Messaging
Chatbot messaging is highly influencing the marketing industries to drive sales to businesses, so you must plan how you want to use it for your business. Here are some of the tips and strategies to consider while developing and implementing a chatbot with the business.
Know Your Audience
Knowing your audience comes with a proper clarity of what your business is and whom it is going to benefit. Setting a base idea of your business will let you have a clear understanding of what you have to focus on.
Likewise, find the people who may become your customer. From there, you must figure out the places where you can reach them and develop the chatbot messaging platforms with these details. If your customers are mostly Facebook messenger users, then you must develop a dedicated Facebook Messenger chatbot to interact with them.
Personality to Your Chatbots
Chatbots focus more on ensuring realistic customer communication. Chatbot developers must focus on bringing personality to their chatbots. Although the users know they are communicating with a machine, they still expect a human-like conversation.
It is better to give a real person's name to the chatbots, then finalize their tone. Knowing your business and finding the suitable tone for the chatbots according to your business will help it grow. Chatbots of shopping stores may sound friendly, while other professional business chatbots should communicate in a formal tone.
Customize Your Chatbots
Customers may feel more attracted to the design of the website rather than the content in it, and designing a chatbot is also equally important. You must design the chat screen with a suitable brand color, template, and brand image. 
For example, if your business targets more elementary school students, then consider the factors a young child finds appealing, such as attractive colors for your brand, and make the template reflect learning or games.
Keep Track of the Hits and Flops
Experience is the one major investment of any business. Consider the previous history of the chatbot messengers of similar businesses to know where and how it works.
Some messenger conversations would succeed because of the alternative recommendations of the chatbots. In some cases, the users would consider the recommendations unwanted, so you must go through the messengers to analyze what works and what does not.
Add Empathy to Your Chatbot Messenger
Bots automate repetitive tasks and the chatbots may repeat the tasks of welcoming and guiding the customers throughout their shopping journey.
But what customers expect is something more than a machine. Adding empathy to the machines will help them to analyze the sentiments of the users with the reactions, or the words they use. 
The chatbot developers should implement natural language processing (NLP) techniques. These techniques will make the chatbots analyze the positive and negative poles and sense the sentiments.
Frequently Asked Question
What is a Chatbot Messaging Strategy?
A chatbot Messaging Strategy is a plan that improves the chatbot performance. The strategy includes analyzing the business requirements and figuring out the necessary components and functionalities to include while developing a chatbot messenger. 
Implementing the conversational chatbot messenger to boost the sales rate is the major focus with which developers use to design their chatbots.
What are a few tips to build a Chatbot Messenger?
Knowing the target audience.
Customizing Chatbots.
Adding AI-enabled functionalities.
Name the techniques involved in Chatbot Messenger.
Chatbots use techniques like keyword matching, training, and testing the datasets for rule-based chatbots. 
The AI chatbots make use of artificial intelligence and machine learning to simulate human emotions and styles. They may also use human-in-loop to tackle situations that a machine cannot.
Conclusion
Developers create chatbot messengers with the focus of driving sales to businesses. To improve your sales rate, you must focus on the design, audience interests, and market demands and then incorporate these factors in your chatbots to grab the audience's attention. 
You must also ensure your chatbot messenger understands human emotions and responds to them accordingly. Make use of AI-enabled chatbots like Ochatbot that include Machine Learning and Human-in-Loop techniques to ensure a realistic customer experience.
Latest Posts

Latest posts by Greg Ahern
(see all)