Customer sentiment analysis tools will help you gather customer feedback and rectify your services accordingly. Customer interactions and their feedback are significant to grow your e-commerce business. After purchasing your products, customers may not leave their feedback through e-mails despite many triggers and notifications.
Hence, conversational feedback throughout the sales process including the product recommendation, guidance, and purchasing stages will help online business owners discern both positive and negative product traits. If you are not aware of the benefits of customer sentiment analysis, this article will give you 10 reasons why you need sentiment analysis in your online store.
What is Customer Sentiment Analysis?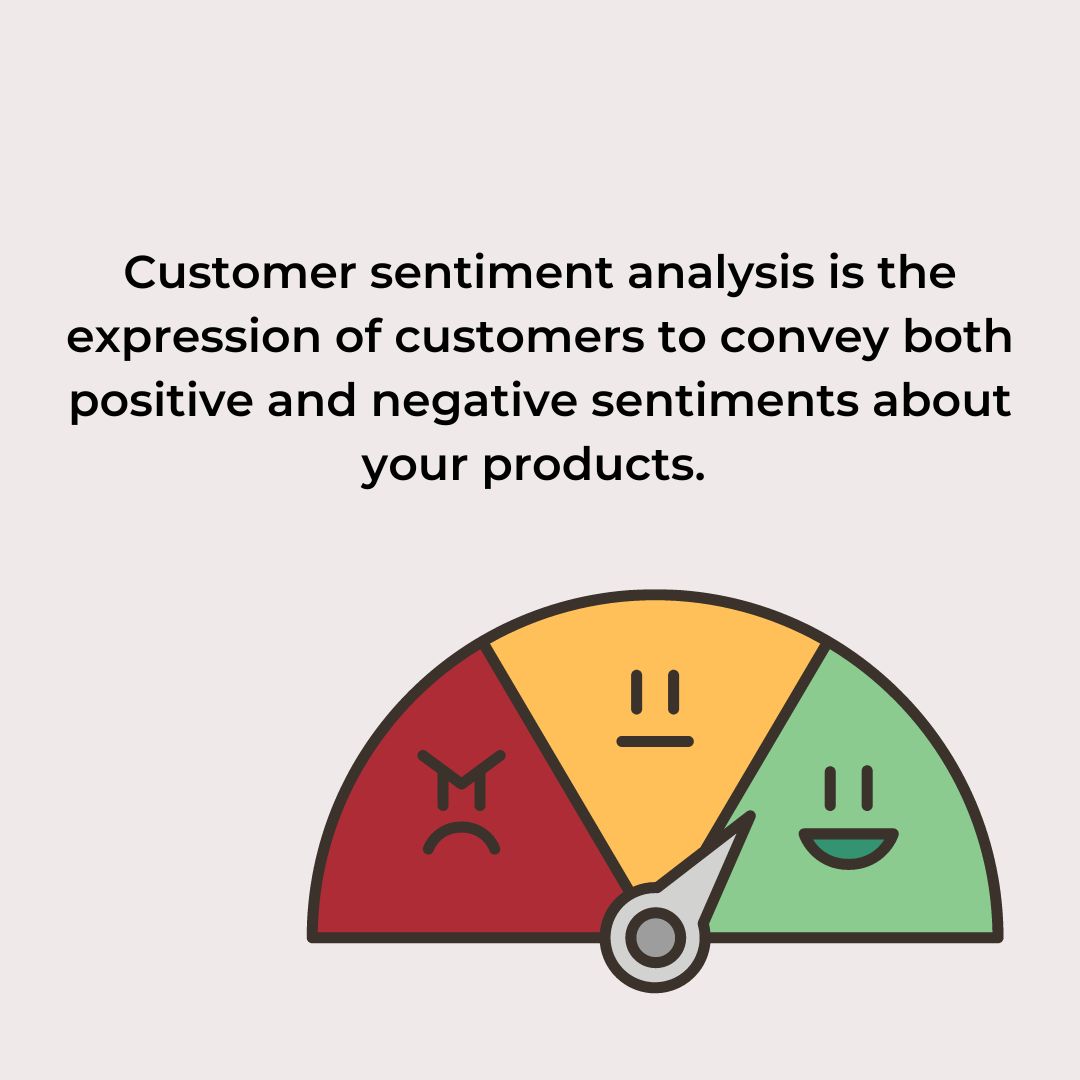 Customer sentiment analysis is the expression of customers to convey both positive and negative sentiments about your products. This automated process will help you understand what your customers feel about your brand and how you can improve customer service and products. If your customers convey a negative sentiment in their expressions, you can find out why they are unhappy and resolve their issues or offer a special deal or discount to save the sale.
Customer sentiment analysis will also increase customer satisfaction in your online store and convert more casual website shoppers into customers.
What is a Customer Sentiment Analysis Tool?
Every e-commerce site owner will have different tools to measure the feedback of their customers. If you want to collect customer feedback conversationally, AI chatbots are the best choice.
Most online business owners use live chat and AI customer service chatbots to collect customer feedback for their products. But, compared to live chat software, AI chatbots are effective and instant in collecting customers' opinions. With an AI chatbot, you can converse with customers like a real-life human and provide instant responses to customer feedback.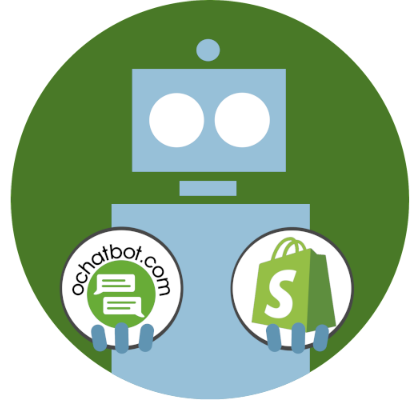 True AI to engage customers for eCommerce, business leads, and customer support.
Create happy customers while growing your business!
5% to 35% Increase in AOV*

20% to 40% Increase in Revenue*

25% to 45% Reduction in Tickets with a Customer Service Chatbot
We Guarantee Results... Or Work For Free!
*When shoppers engage with Ochatbot®
10 Reasons Why You Need Customer Sentiment Analysis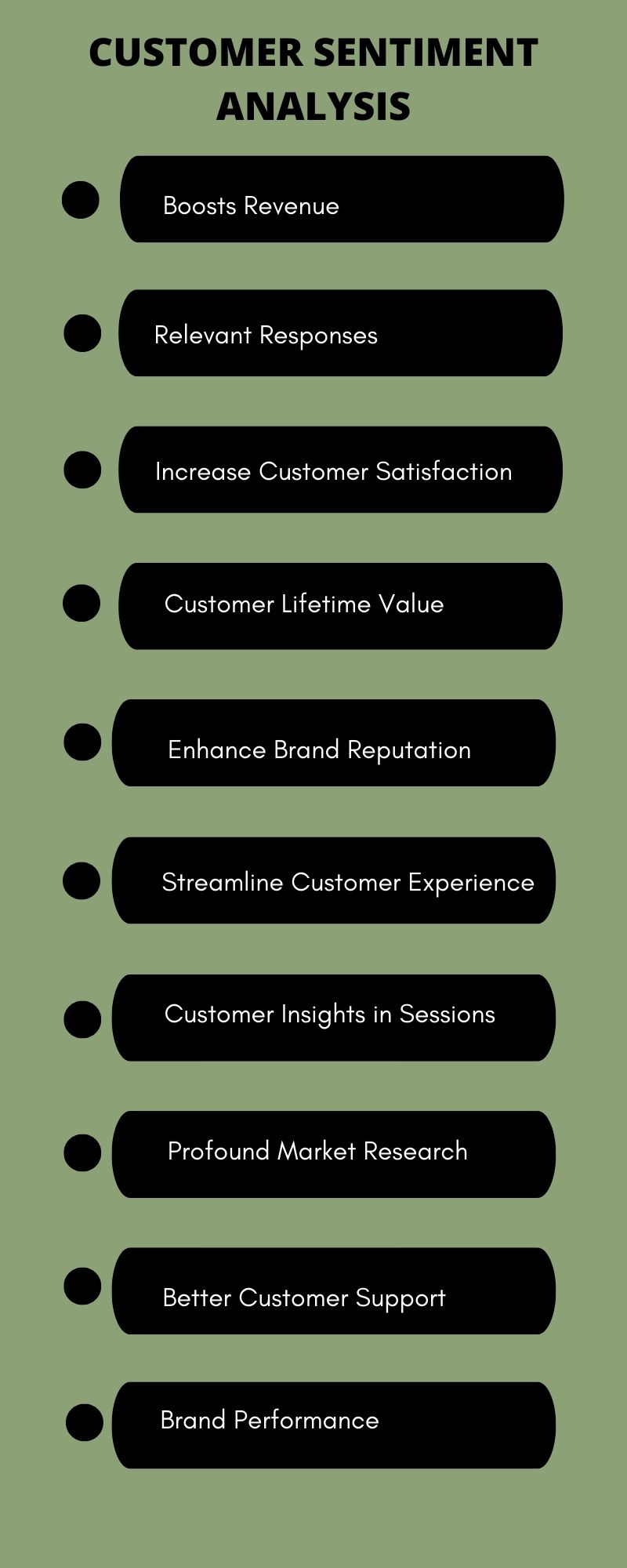 1. Increase Customer Satisfaction
Advanced e-commerce sites will increase customer satisfaction organically. Apart from implementing the advanced technologies in your online store, you should know what your customers feel about your service.
If it is a positive sentiment, you should try your best to maintain your customer service in the same line. Negative sentiments will also help online business owners, so know to rectify the mistakes in products and enhance customer service.
Related: 12 Ways to Boost Customer Loyalty in E-Commerce
2. Customer Lifetime Value
Online business owners can also increase CLV (Customer Lifetime Value) with sentiment analysis tools.
Customer lifetime value is the total profit of an online business for the period that a customer spends money. The average business relationship and the profit that you gain are customer lifetime value. When you understand your customers' problems and resolve them immediately, your customers will feel valued. Hence, you can increase customer lifetime value by taking action on their feedback.
Related: Automated Conversation – The Future of eCommerce
3. Enhance Brand Reputation
A brand gains a reputation when it understands its target audience in the right way. Collecting customer data and segmenting them will help you understand your target market.
Understanding your target market is not alone enough to boost your business sales. You should also understand what your target audience prefers and expects from your business. Customer sentiment analysis will help you know what your product or service lacks and how you can improve to meet your customers' expectations. Hence, sentiment analysis technology is one of the effective ways to enhance brand reputation.
4. Streamline Customer Experience
Every interaction with customers in your e-commerce store will fetch you more loyal customers. Customer experience is not only about interactions and engagements, it also means how easily your customers can purchase products and make payments.
If your customers are not happy with any service on your website, they will convey their disappointment in their feedback. You can then streamline their journey by improving the efficiency of payment transactions and accelerating the process of ordering products.
5. Customer Insights in Sessions
When your customers face any problems in your online store, you can view their emotions through the customer analysis tools.
Advanced customer sentiment analysis tools will display real-time mood changes. Chatbots with sentiment analysis technology will give you insights into how well the customer interactions are going in a chat session.
6. Profound Market Research
If you are launching new products and services in the e-commerce store, you should know how well it works with your target audience.
Not every customer will leave feedback after purchasing products from your e-commerce store. Customer feedback surveys are outdated, but if you implement an AI chatbot with sentiment analysis in your store, you can collect feedback conversationally. With the feedback, you will evaluate the success of new products and increase the efficiency of your service.
Read More: Chatbot Survey – How Does a Chatbot Do Market Research?
7. Better Customer Support
Responding instantly to your customers' questions will enhance your brand image. But, instant responses are not the only solution, as you should know where and how to help your online shoppers in their journey.
For instance, when you implement sentiment analysis technology, you will know the challenges that the majority of your customers face. Hence, changing the course of your services and products will be an easy process.
8. Brand Performance
Every e-commerce brand will run successfully if you implement the right goals and strategies for the website. However, you should measure the success rate of your goals and monitor the brand's performance.
A customer sentiment score will help you analyze your brand performance by measuring how well your goals are working with your customer's preferences.
9. Relevant Responses
Most online shoppers will have a common set of questions to ask about your service and products. Hence, many e-commerce site owners will add a rule-based chatbot to converse with the customers.
However, rule-based chatbots will not always give relevant responses. When your online shoppers ask complex questions, rule-based chatbots will struggle to give a proper answer. This is the reason why an AI chatbot with sentiment analysis, machine learning, and natural language processing technologies will always win the game with relevant responses.
10. Boosts Revenue
What happens if you respond to your customers instantly and resolve their problems with your products? Your loyal customer base will expand and you will generate more returning customers. With these returning customers, you will boost the revenue of your online store.
Despite having customer service teams on your website, you will increase revenue if you increase customer loyalty. Customer sentiment analysis is important to win over unhappy customers with instant solutions.
What are Some Examples Of Customer Sentiment Analysis Tools?
Now that the benefits of customer sentiment analysis tools are clear, it's best to research the effective customer sentiment analysis tools that will help you perform sentiment analysis accurately without any difficulty. Here are the three best tools in the market to track the sentiment of your customers.
1. Ochatbot
Ochatbot is an e-commerce AI chatbot that converses with customers like a real-life sales rep and guides them through products.
In this AI chatbot, you have machine learning, sentiment analysis, and natural language processing technology. The advanced technologies will streamline the monotonous customer conversation in e-commerce and improve feedback collection. You can integrate this AI chatbot on multiple e-commerce platforms.
2. Lexalytics
This software has natural language processing technology to analyze a text and determine whether it is a positive or negative sentiment.
One of the best features of this software is that it not only conveys customer sentiment but also informs you of the reasons why your customers feel that way.
3. Qualaroo
On an e-commerce website, you will have a lot of feedback for your products and services. Working and resolving every problem is definitely a challenging process for online business owners. This is why you need sentiment analysis tools to segment the responses of your potential buyers and target audience.
Qualaroo is a customer feedback software that performs sentiment analysis by segmenting the positive customer experience and negative experiences of your target audience.
Conclusion
A customer-centric e-commerce store will generate revenue and gain the trust of the target audience. If you are an online store owner, you should develop your store with a customer-centric approach.
The sentiment analysis model is one of the most efficient software in the e-commerce industry to gather feedback and improve the customer journey. If you are not getting enough feedback from your customers through surveys, you should innovatively approach them. Conversational surveys and sentiment analysis are the perfect combinations to understand customers' preferences without any difficulties and challenges.
Latest Posts
Frequently Asked Questions
1. What are the benefits of customer sentiment analysis?
Customer sentiment analysis will help you understand customers' preferences and tailor your services to improve the customer satisfaction rate in e-commerce stores.
2. What is a customer sentiment analysis tool?
Chatbots and live chat software are the sentiment analysis tools in an e-commerce store to converse with online shoppers and collect their feedback conversationally with expressions.
3. What is a good customer sentiment analysis score?
A score above 0.05  is considered a positive score in the customer sentiment analysis tool. 

Latest posts by Greg Ahern
(see all)