Are you looking for the best Shopify apps to increase sales and automate tasks for your online store? Shopify apps enhance the functionality of online stores with plugins and the customers' journey. It is one way to improve your online store's performance without difficulty.
Shopify is one of the eCommerce platforms that provides flexible features to set up an online store and is one of the most customizable platforms. Even if you are not tech-savvy, you may set up an online store on Shopify.
The Shopify App Store has effective apps to automate multiple tasks on your store. If you are a Shopify store owner, then this article will help you find helpful Shopify apps for your store to boost sales of your e-commerce store.
Overview of the Content
Shopify Apps for Conversion Optimization
Shopify Apps to Simplify Payments
Shopify Apps for Live Chat and Help Desk
Shopify Apps for Product Reviews
Apps for Analytics and Tracking
Upsell and Cross-Sell Shopify Apps
Shopify apps for pop-ups and notifications
What Is a Shopify App?
The Shopify App Store has various apps to increase the functionality of an online store. If a Shopify owner finds a task time-consuming, then Shopify apps are there to help. For instance, in the Shopify App Store, there are apps to Shopify Shipping rates calculator apps, Shopfiy dropshipping apps, and Shopify review apps.
Those apps help Shopify store owners calculate shipping costs, customize their online store's review section, and reduce cart abandonment rates. Similarly, there are other apps to increase sales and automate processes in the Shopify App Store.
1. Shopify Apps for Marketing Automation
Not every process in the Shopify store requires human action, so Shopify apps offer a solution for e-commerce store owners to reduce additional tasks. If you find a task is taking too much time, Shopify apps will help you automate it.
Marketing automation is significant in the e-commerce industry and the Shopify App Store provides various apps to optimize your store. If you want to enhance email marketing, resolve customer service issues, and deliver targeted emails to increase customer loyalty, marketing automation apps help you automate these tasks and there are three best Shopify marketing automation apps for your online store:
PostPilot Postcard Marketing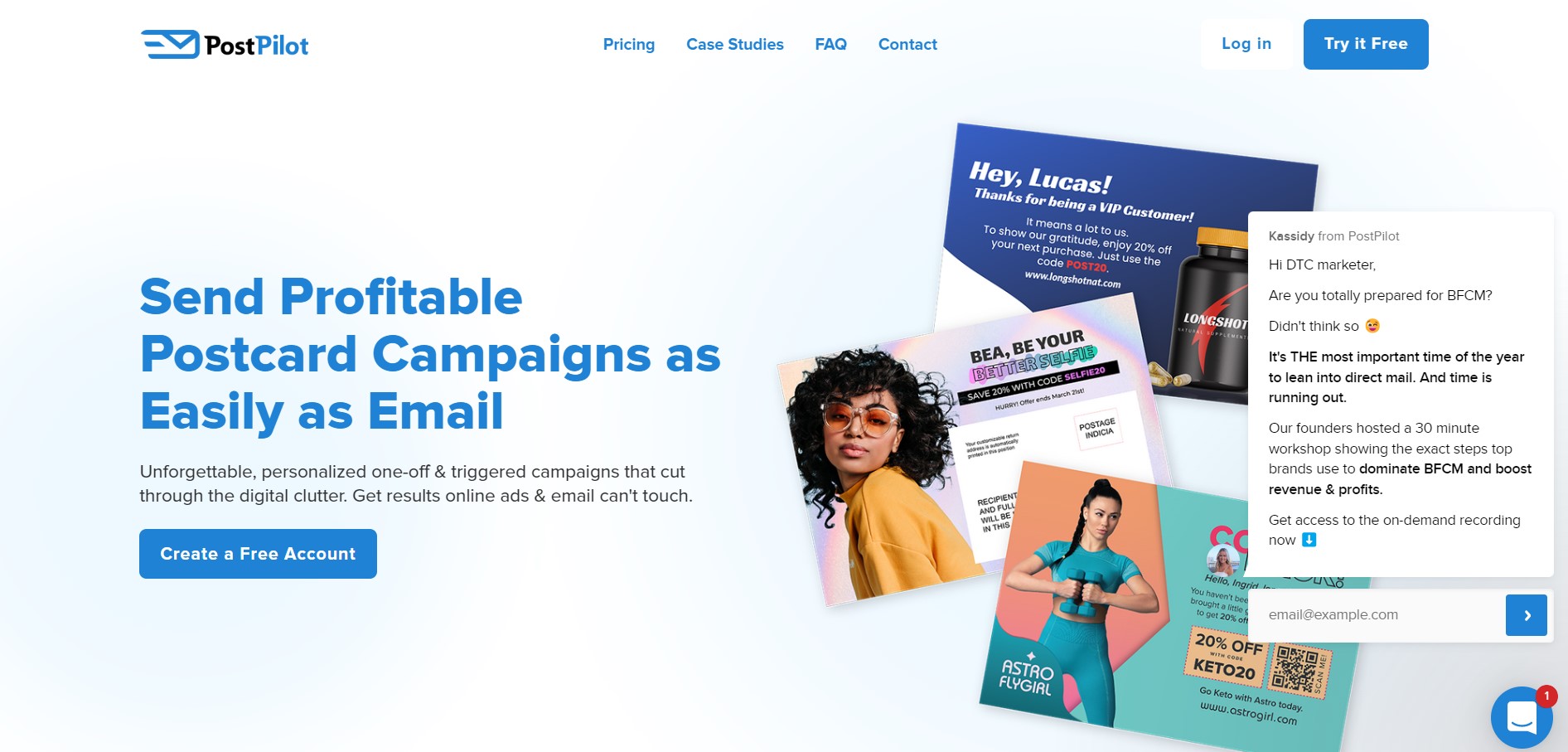 This app sends personalized messages and offers to your customers by analyzing their behavior. PostPilot Postcard Marketing is one of the best-personalized marketing apps to enhance customer loyalty to your store.
Pricing:
Growth – $99 per month
Pro – $499 per month
Enterprise – Custom
Klaviyo Email Marketing
 
Klaviyo is a suitable app for e-commerce store owners to understand their customer base. The app provides data on clicks, impressions, and bounces. With this app, you may understand what makes your customers click, bounce, and purchase your products in your online store.
Pricing
Email and SMS – $60 per month
Email – $45 per month
Free – Email and chat support for a month
CM Email Marketing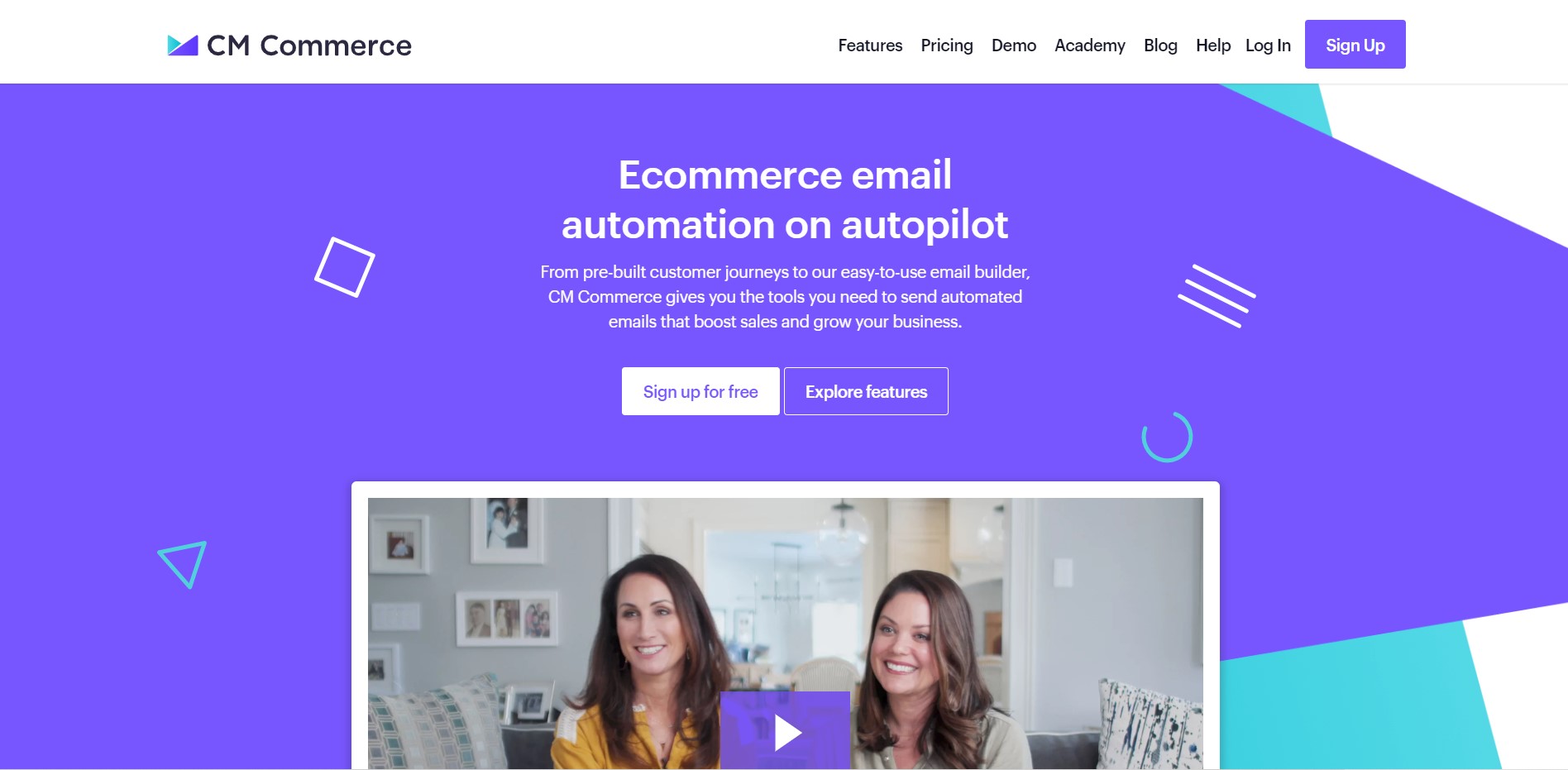 CM Email Marketing is an exclusive app for increasing the functionality of your email marketing campaigns with pre-built email automation and abandoned cart workflows.
With this app, you can create beautiful and mobile-friendly e-mails to send to your customers. You can optimize the e-mail template according to your business objectives.
Pricing
Starter – $9 per month
Growth – $29 per month
2. Shopify Apps for Conversion Optimization
Website traffic is a metric to measure website views, so directing traffic to your website is the foremost step of marketing campaigns. Letting people know about new products and gaining web traffic is the primary aim of any company, but this initial awareness is a prerequisite for business.
Not all website visitors will use your products or services. They may just exit the sites or abandon their carts after taking a look, so your goal lies in converting visitors into customers. Marketers should make use of the Shopify App Store for conversion optimization to attract and convince customers to purchase their products. Some of the best Shopify apps for conversion optimization that provide customer lifetime value to an e-commerce business include:
Free Shipping Bar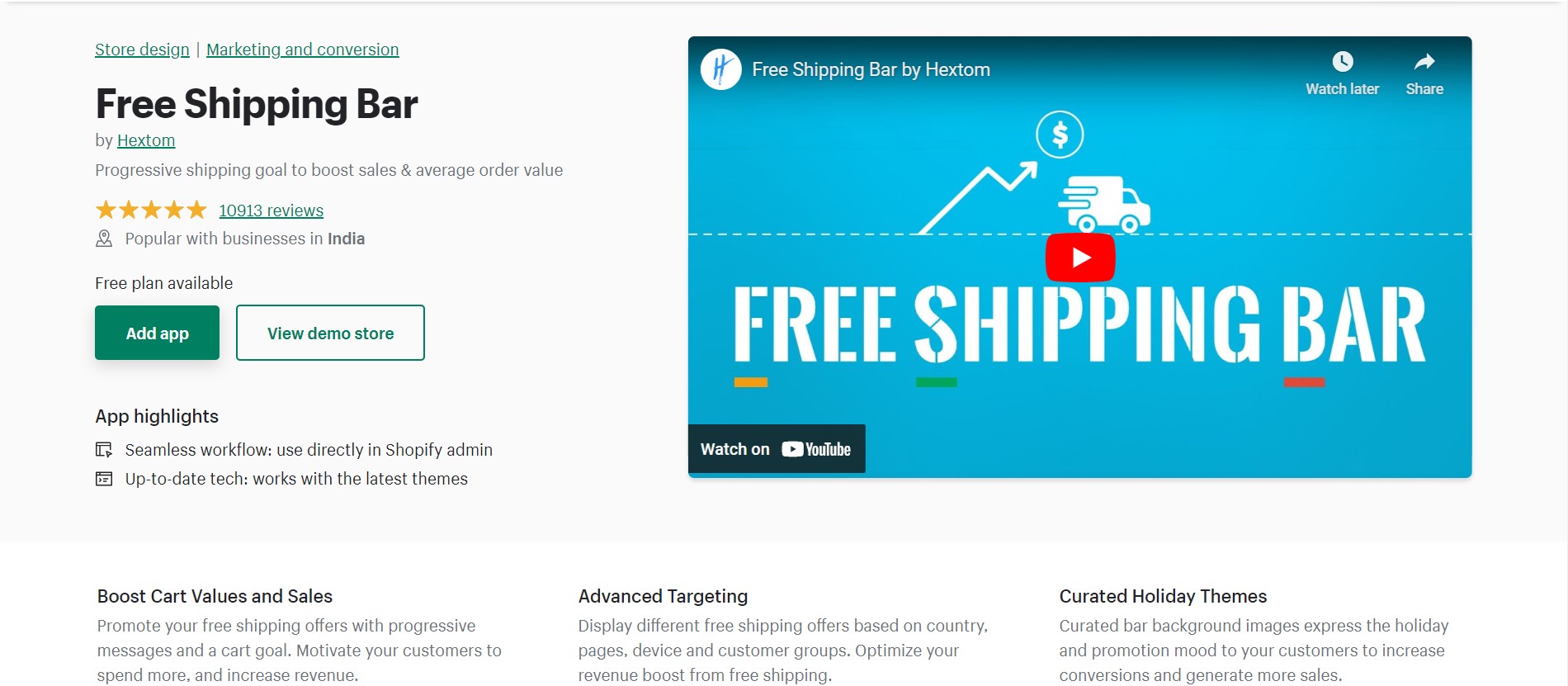 The free shipping bar app supports Shopify store owners to drive sales by providing free shipping. Online stores qualify shopping orders for free delivery if the customer reaches a particular target.
Once the customer adds their products to their cart, then the Free Shipping bar application will urge users to buy more so they can secure a free delivery option, which may end with them adding items to the cart they didn't plan to buy, boosting the conversion rate.
Pricing
This app has one free plan and one premium plan for the customers:
Premium Plan – $9.99 per month
Ultimate Sales Boost
The Ultimate Sales Boost application shoots up sales rates by making users feel the urgency to purchase their product. This application puts cards or tags like, "offer ends soon," "low stock," and "most purchased" in the product description or product cover. These tags create urgency in customers and make them buy products without delay.
Pricing
Basic – $9.99 per month
Professional – $29.99 per month
Advanced – $79.99 per month
Essential Countdown Timer Bar
Essential Countdown Timer Bar is one of the best Shopify apps to increase sales by creating urgency.
With this app, Shopify store owners can create unlimited countdowns on their sites. You can set up a countdown timer bar exclusively for the product page. You can also increase the average order value by adding a countdown timer bar on your site. The timer bar from this app is easily customizable according to the brand image. An added advantage of adding Essential Countdown Timer Bar in your Shopify store is that it is mobile-friendly.
Pricing
This app is one of the free Shopify apps to increase conversion rate optimization rate.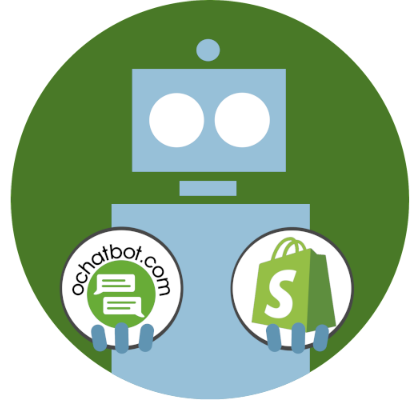 True AI to engage customers for eCommerce, business leads, and customer support.
Create happy customers while growing your business!
5% to 35% Increase in AOV*

20% to 40% Increase in Revenue*

25% to 45% Reduction in Tickets with a Customer Service Chatbot
We Guarantee Results... Or Work For Free!
*When shoppers engage with Ochatbot®
3. Shopify Apps to Simplify Payments
Online payment is a tedious process for users as people have multiple payment modes and options. There are a few Shopify payment apps to increase sales by helping users to perform secure and simple transactions.
Subscriptions by ReCharge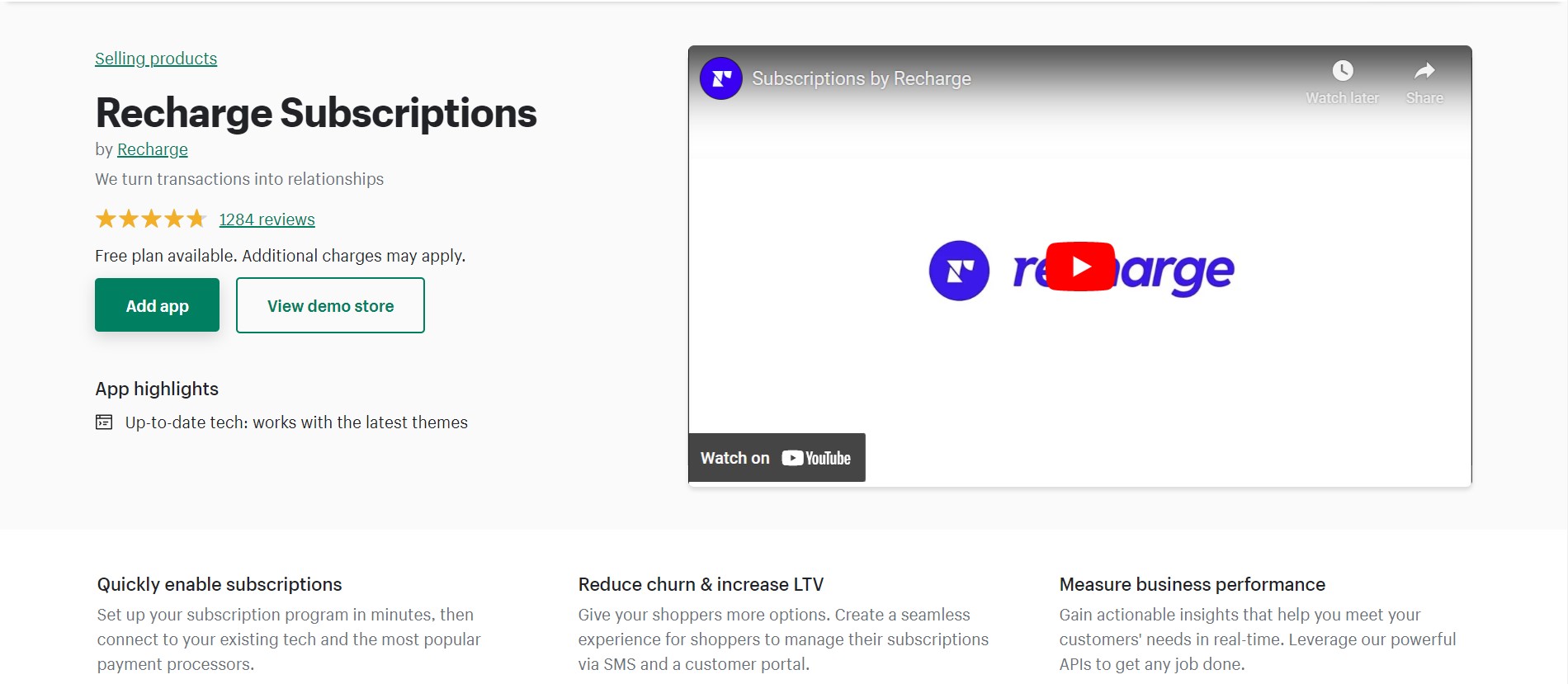 ReCharge is a payment application that integrates loosely with Shopify stores to handle repeat payments or subscriptions. This application creates accounts for the user both in Shopify and ReCharge applications. ReCharge stores payment details of people who do recurring payments in both applications without full integration. ReCharge application eases the payment process by taking the user to the payment page at the end of their purchase.
Pricing
This app offers one free plan and a pro plan.
Pro Plan – $499 per month
RecurrinGO! Subscriptions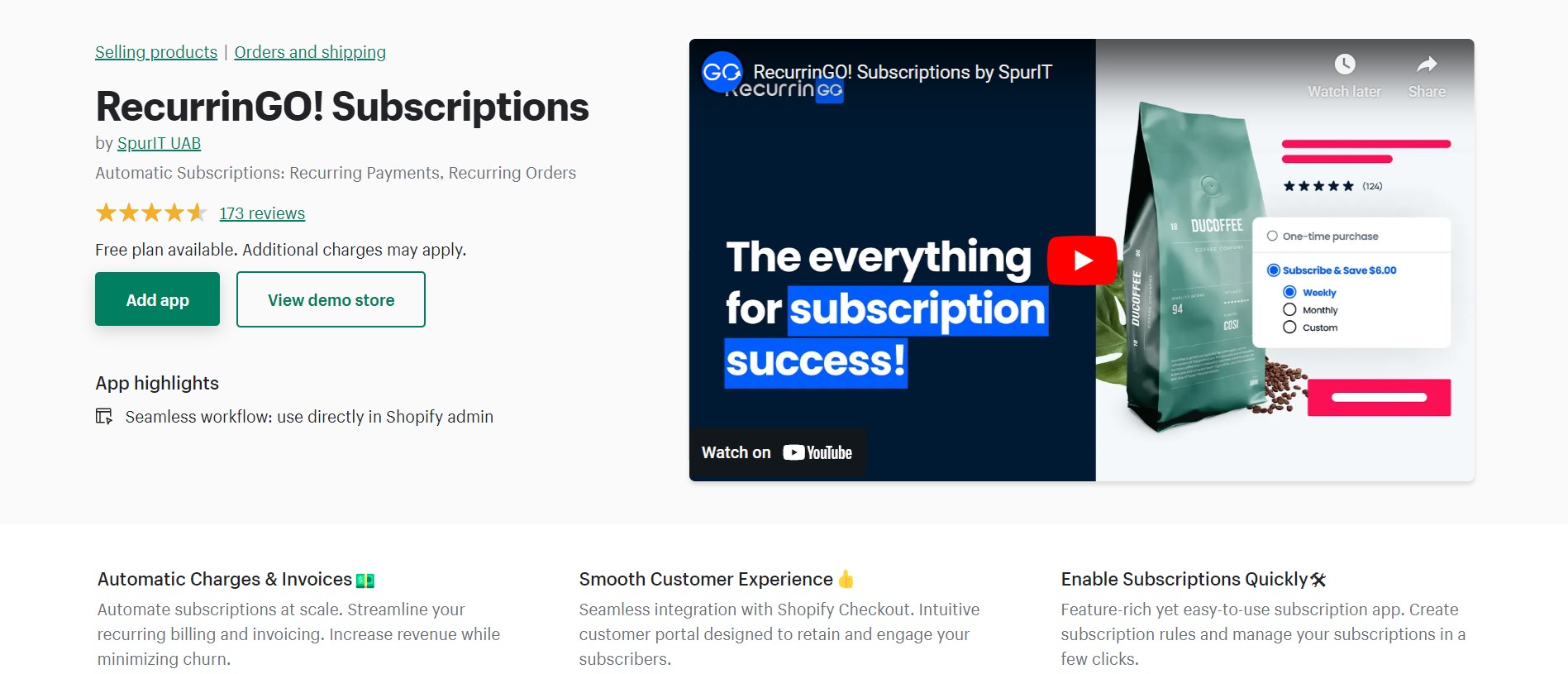 RecurringGo Subscriptions automate subscriptions on a scale. This app also streamlines the billing and invoice process on the e-commerce website.
You will have seamless integration with the Shopify checkout. Retaining and engaging your customers in an e-commerce site is simle with RecurrinGo subscriptions. You can also create subscription rules and manage subscriptions with a few clicks.
Pricing
Basic – $19 per month
Plus- $99 per month
Pro- $199 per month
4. Shopify Apps for Trust and Loyalty
Apart from product features and the customer's requirement, the more important factor to drive sales is trust. Gaining people's trust is one of the hardest and the wisest options for marketing. Some applications that work on convincing people about the quality of the product include:
Gameball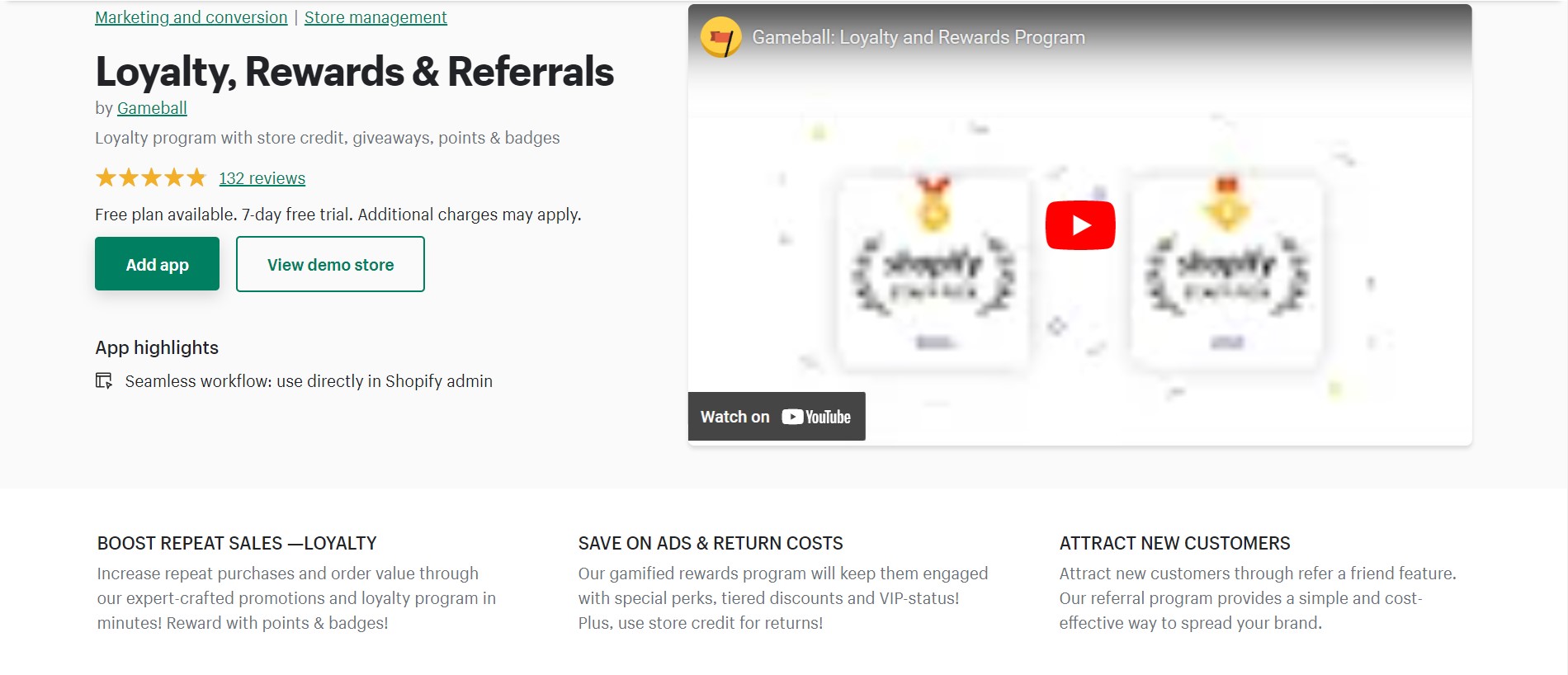 Gameball application works on building trust in customers and the general public with a game-like process. This application puts the user to cross levels by performing tasks like referring friends and earning badges. When current users refer their friends and add clients to stores, then they receive offers or coupons as benefits, which builds trust for new customers as well.
Pricing
Starter – $39 per month
Pro – $119 per month
Change Commerce – Donation App
Not only does a profit-driven business need marketing, but it must also reach out to people and collect funds from sponsors which also requires proper marketing campaigns. The Change Commerce Donation application builds trust in people by proving a business' transparency and the standard of non-profit organizations.
Pricing
Change Commerce is a free app to install. However, there might be a few external charges for the annual plan.
5. Shopify Apps for Live Chat and Help Desk
Customer retention relies on quality customer support service. When users do not get a proper response to their queries or concerns, they may prefer to leave the Shopify App Store. Instead of answering user queries, the chatbot should act as a guide to the users. Some chatbots that act as artificial intelligence (AI) chatbots when required include:
Ochatbot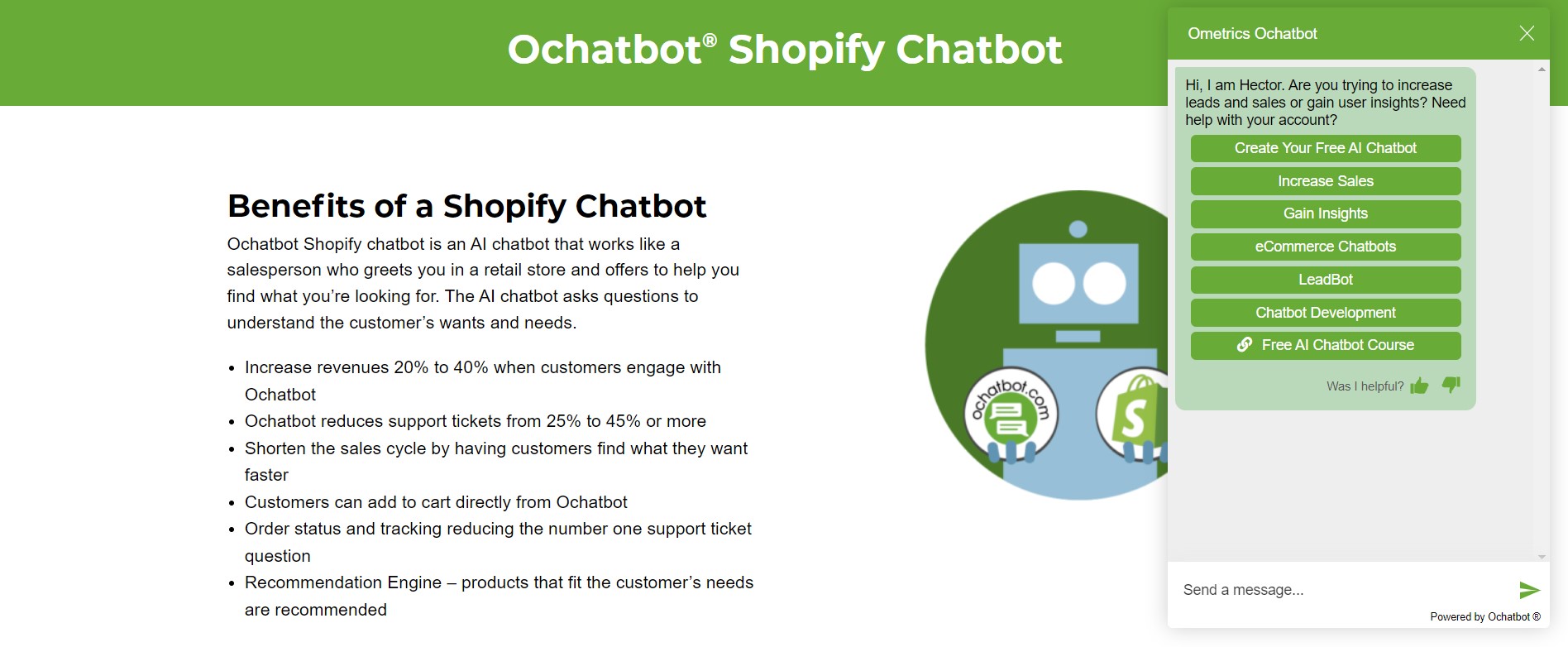 Ochatbot is one of the Shopify Store's apps that increases sales through a customer support team. This chatbot is an AI-based chatbot that maintains a human-like conversation with the customers at the start, from greeting them to guiding them throughout the shopping process. One of the best features of this chatbot is that it acts according to the customer's needs. In certain cases, apart from being an AI chatbot, it works with human operators in the loop to ensure a real business experience for users.
Users who utilize Ochatbot can add products to their shopping cart directly from the chatbot. This feature helps reduce abandoned cart rates and store owners boost their business revenue from 20% to 40%.
Pricing
Basic – $29 per month
Plus- $99 per month
Pro – $495 per month
Enterprise – Request pricing
Click here to add Ochatbot to your Shopify store.
Tidio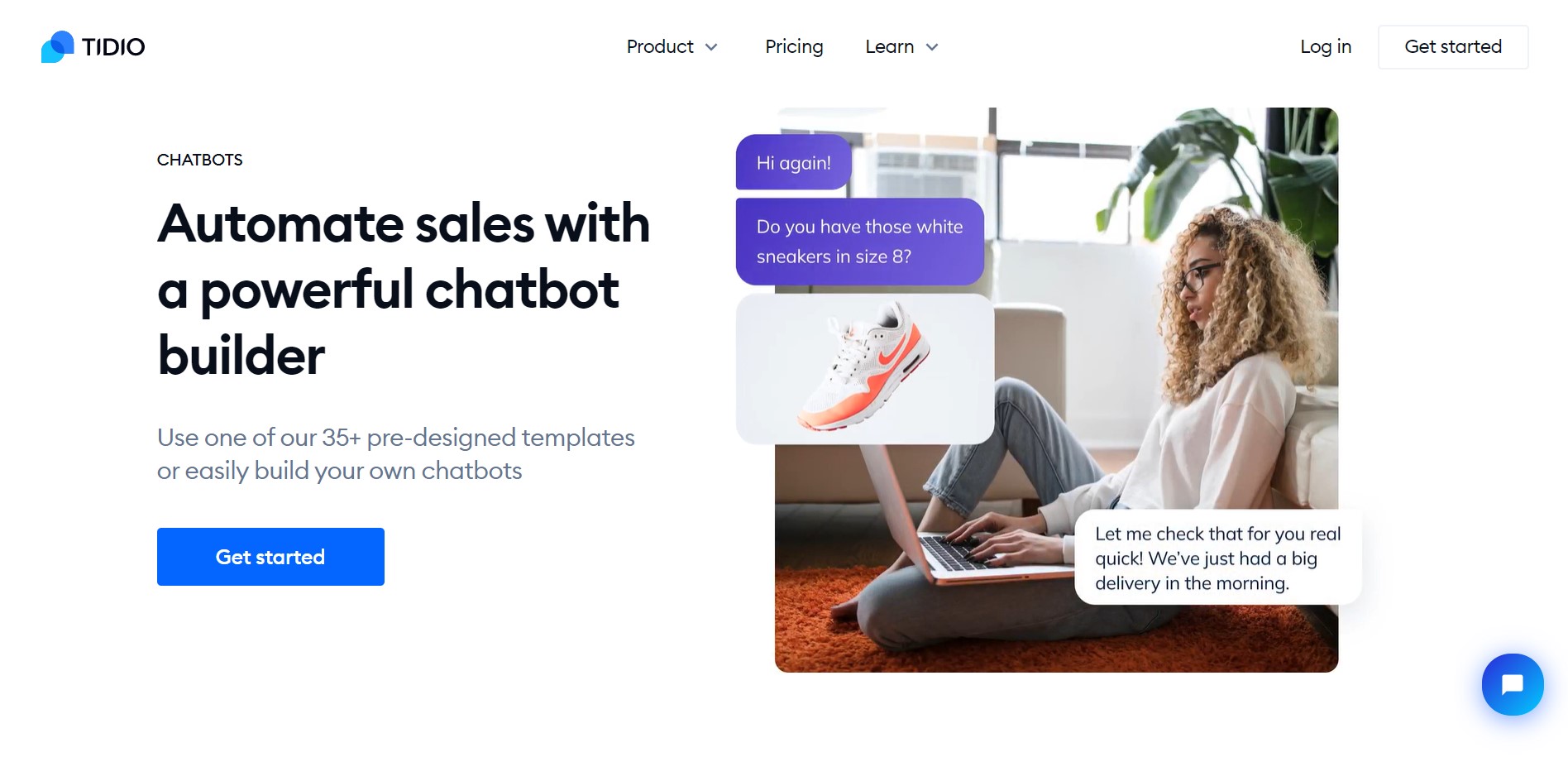 Tidio is one of the most efficient chatbots that acts as store owners. This chatbot ensures an interactive conversation for users employing AI to analyze patterns from user-generated content and comes up with a proper response. Tidio replies to users with the appropriate information regarding a product's availability or price as per the user's queries.
Pricing
Communicator – $15 per month
Chatbots – $32 per month
Tidio Plus – $240 per month
6. Shopify Apps for Product Reviews
Customers prefer going through product reviews to ensure the quality of the product. People who are not sure of the product's features and its worth will wish to hear from people who already used the service or the product. Customer satisfaction is the prime factor that can influence orders from new customers. Here are some Shopify store applications that help you with product reviews:
Growave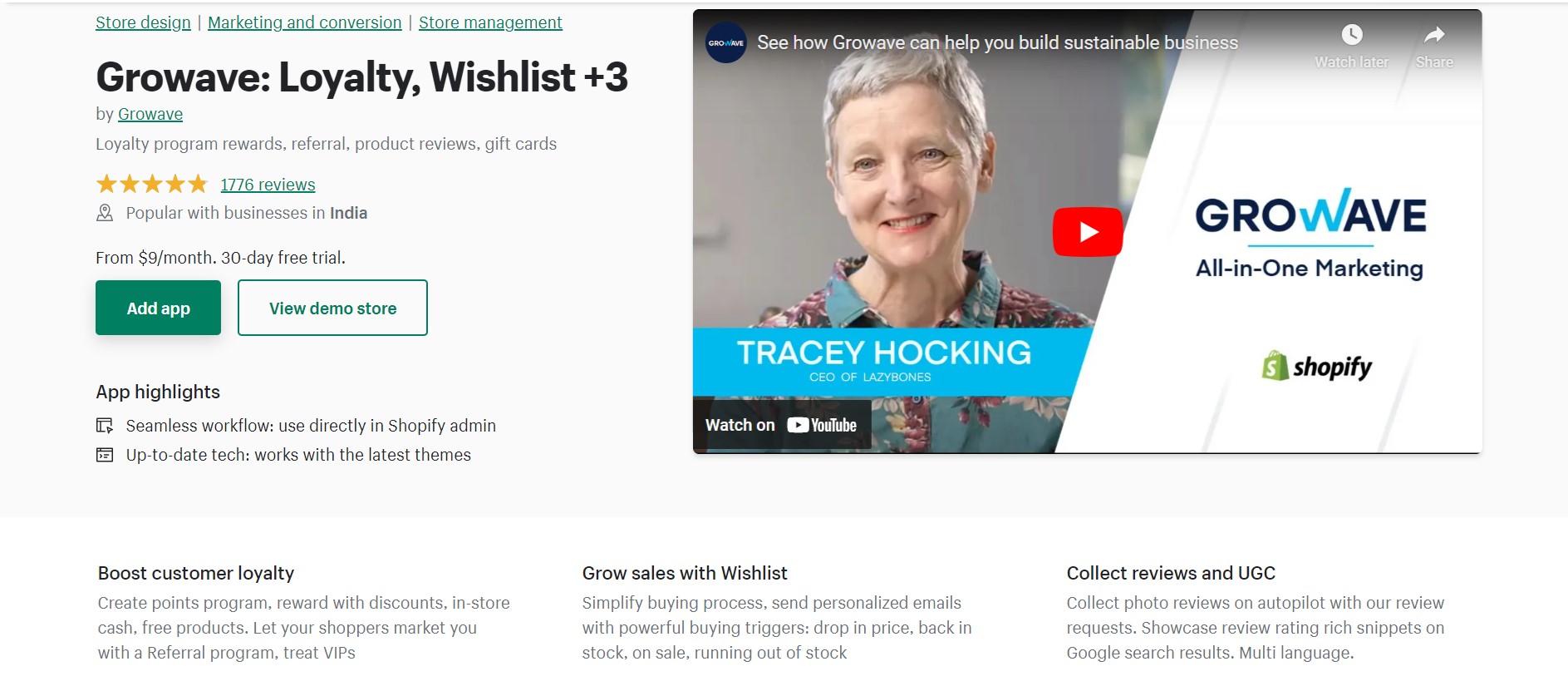 Growave is an application for online stores that drives sales to the business using customer reviews. This application takes reviews and user-generated content and shares product pages with friends through messages, news, and social media platforms.
Pricing
Starter – $19 per month
Medium – $49 per month
Enterprise- $299 per month
Yotpo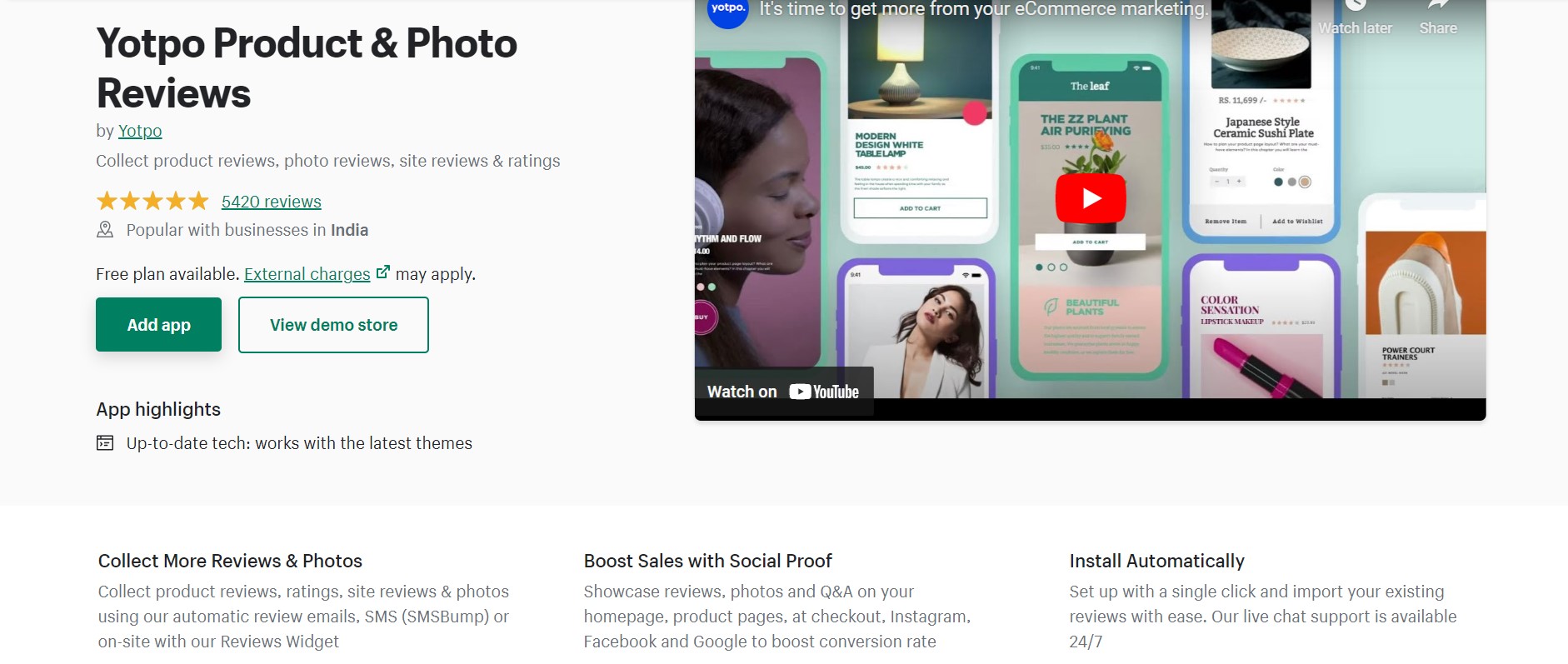 Yotpo drives sales to websites by working on user content. This application gathers statistical information and reviews from popular feedback sites and further integrates customer reviews, email marketing, and user data to shoot up sales rates.
Pricing
Growth 50- $15 per month
Growth 100- $24 per month
Growth 250- $49 per month
7. Shopify Apps for Analytics and Tracking
Proper analysis of business competitors and previous experiences help businesses come up with insights and strategies to bring effective results.
Analyzely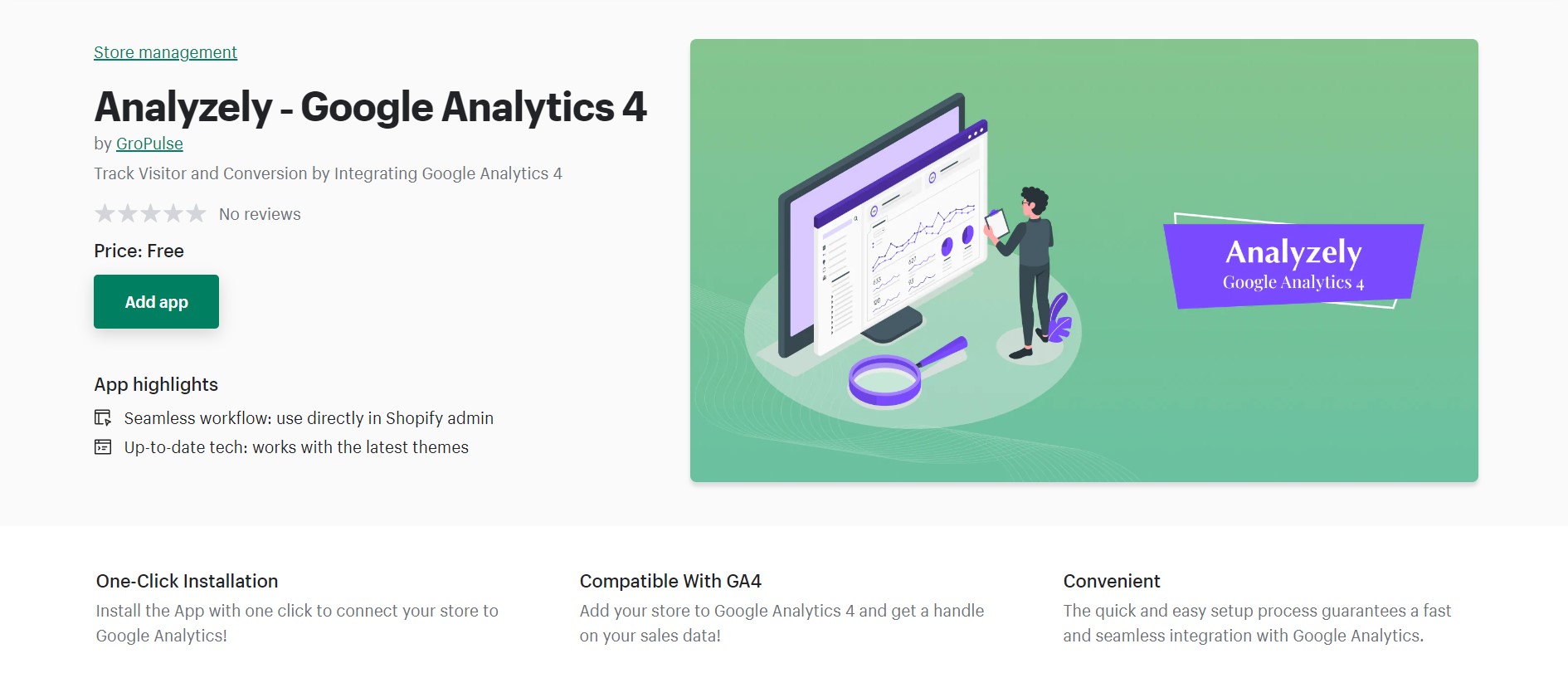 Analyzely is a free app in the Shopify store. With this app, you can take advantage of all the advanced features and benefits of Google Analytics.
You will get a comprehensive analysis of your visitors and their behavior with the Analyzed. Hence, tailoring your services according to your website visitors' preferences is an easy task!
Pricing
Analyzely is a free Shopify app to collect customer insights in the e-commerce store.
Shipping rate calculator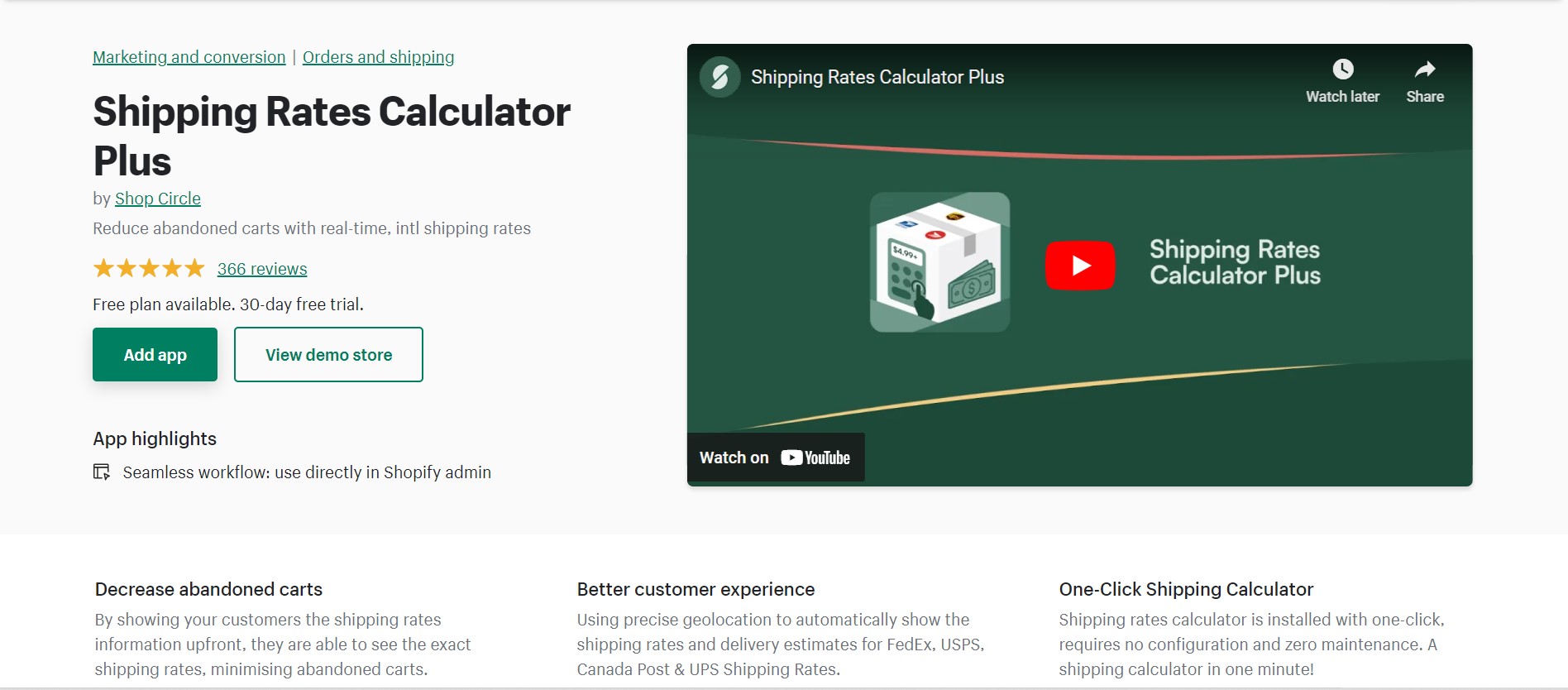 This Shipping Rate Calculator application of the Shopify store helps users with shipping notifications. Users can ask about shipping costs while adding products to the cart. This helps users have a clear idea of the delivery charges for specific locations.
Shipping Rate Calculator will provide a seamless customer experience in Shopify stores. Increasing the loyal customers of your store is one of the best benefits of this calculator app.
Pricing
You have one paid plan and one free plan for this app.
Paid Plan – $7.99 per month
8. Shopify Apps for Upsell and Cross-Sell
Some Shopify applications drive sales to stores by upselling and cross-selling marketing concepts. Applications come up with options to urge users to buy higher-end products or advertise them with relevant product pages. The former is upselling and the latter is cross-selling. These are some most efficient up-selling and cross-selling applications:
Bundle Products | Upsell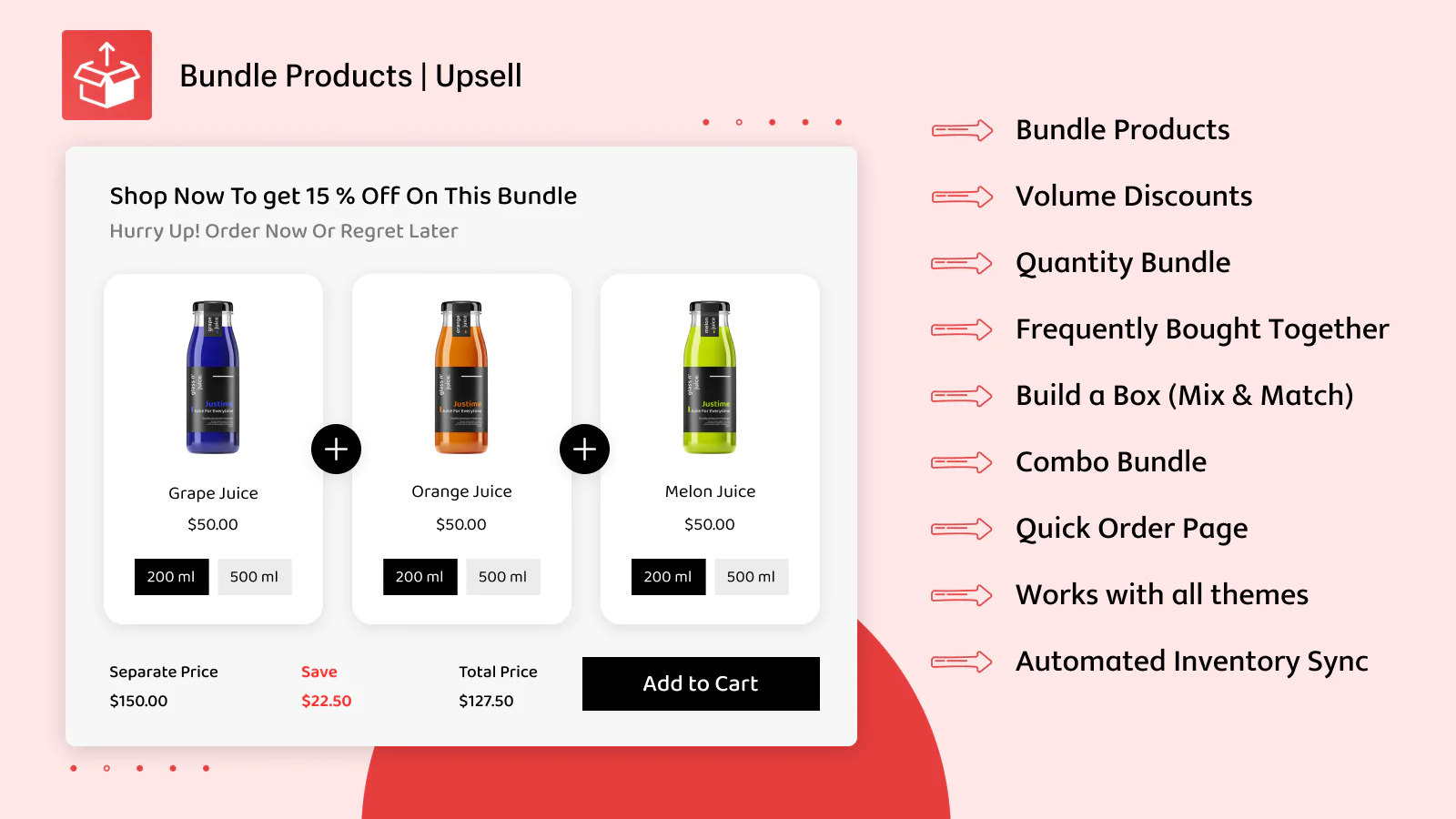 Bundle Products Upsell is an all-in-one app with various bundles such as Product Bundle, Quantity/Volume Discounts, Combo Product, FBT, Mix & Match Build Box that can be displayed in any language will be helpful in attracting customers. Keep your stock accurate and up-to-date with the help of Automated Inventory Sync. This app will be beneficial to engage more customers with the help of adding different bundle discounts with any product and can also help merchants increase AOV and grow sales.
Pricing
Free: For development stores
Advanced: $12.49 per month
Bold upsell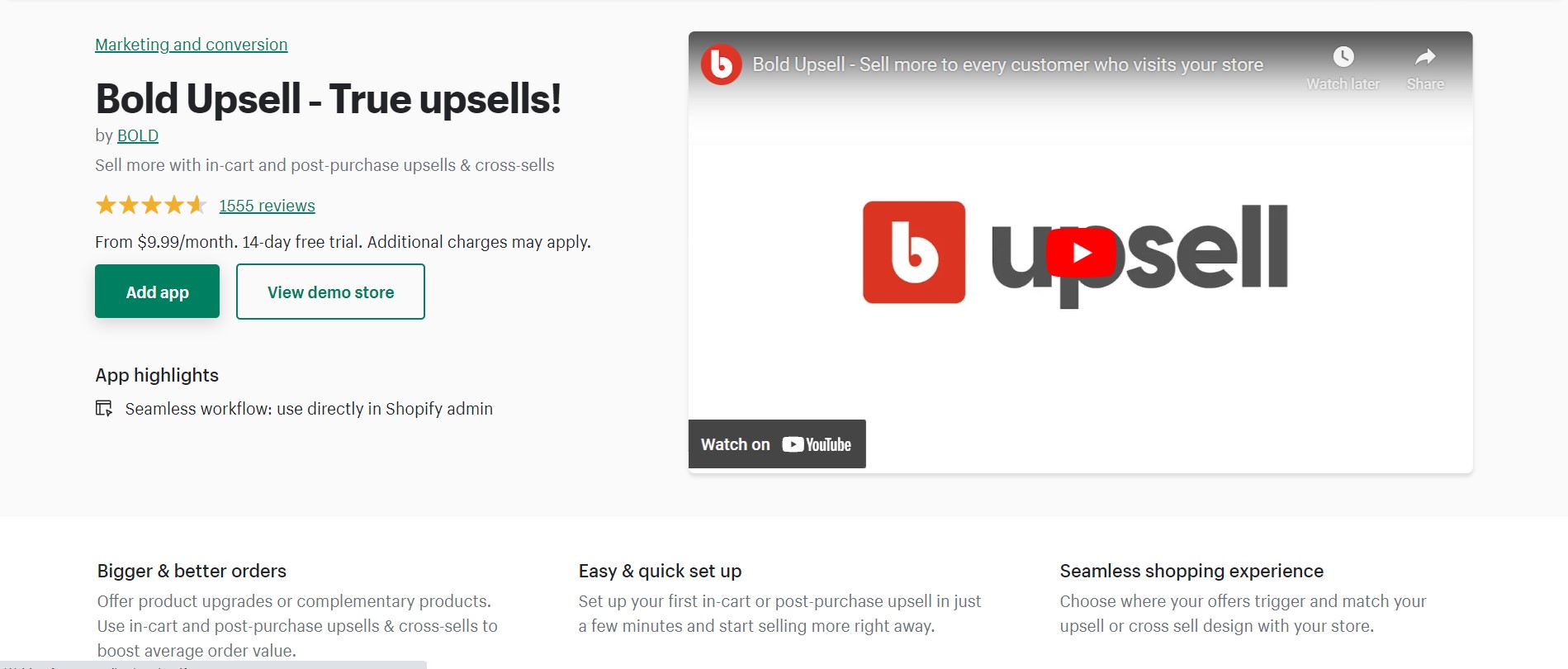 Bold upsell helps store owners notify users of available offers on relevant and upgraded products they add to their carts. These offers encourage users to replace the products in their cart with advanced and more expensive products which were not in their initial plan.
Pricing
Starter- $9.99 per month
Plus- $19.99 per month
Premium- $39.99 per month
Pro- $59.99 per month
Reconvert Upsell and Cross Sell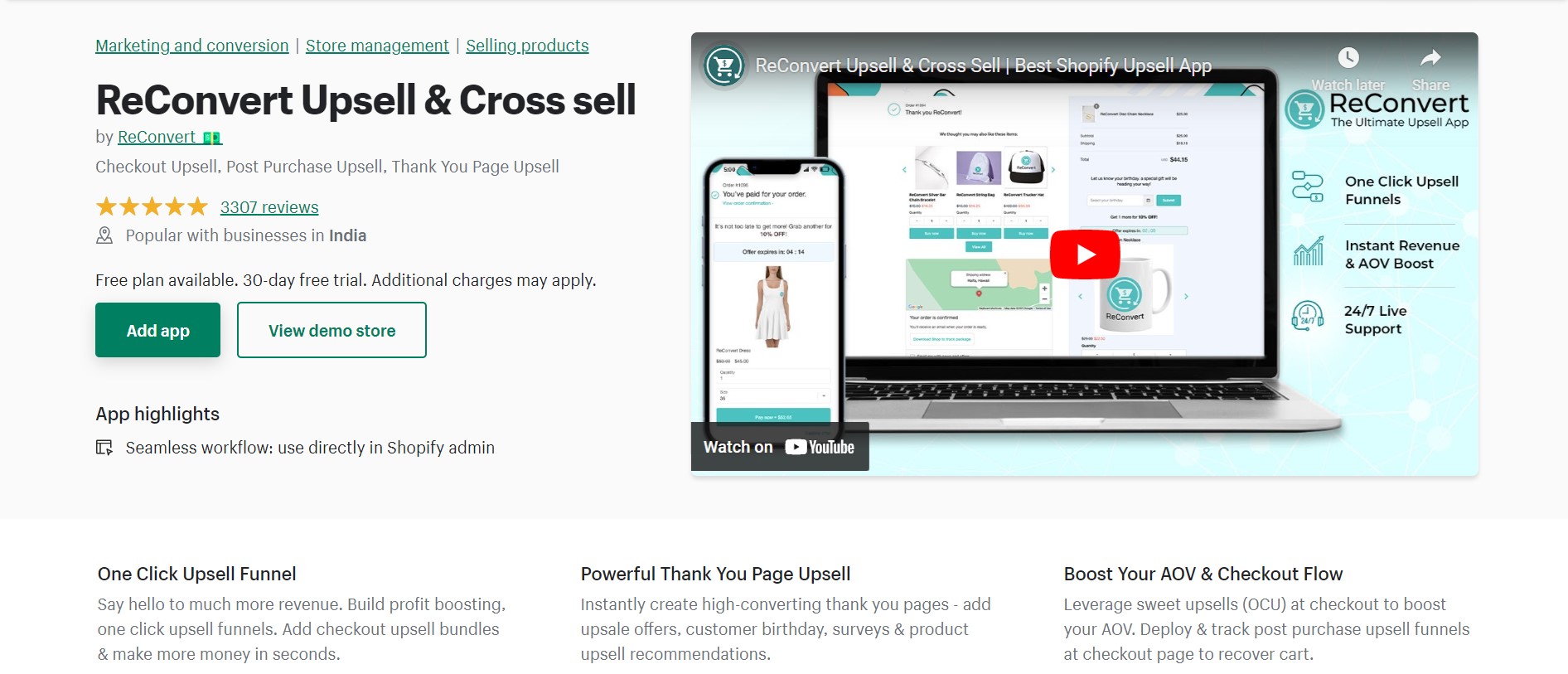 You can generate more one-click upsells using the Recovery Upsell and Cross Sell app. You can create high converting thank you pages on your Shopify store with this app. The checkout process is seamless here! Let us look into the advanced features of this app:
Product recommendations with the Artificial Intelligence technology to generate more personalized services in the store.

Adding personalized videos in the store to reduce cart abandonment.

A high-response thank you page on the e-commerce site will generate more valuable feedback.
Pricing
PRO Thank You Page – $7.99 per month
MVP Thank You Page – $14.99 per month
VIP Thank You Page – $29.99 per month
9. Shopify apps for pop-ups and notifications
Notifications and pop-ups through applications help remind and attract people's attention while shopping. Shopify has applications that help stores update users with recent product availability and offers that entice customers to purchase products.
Sales Pop Notification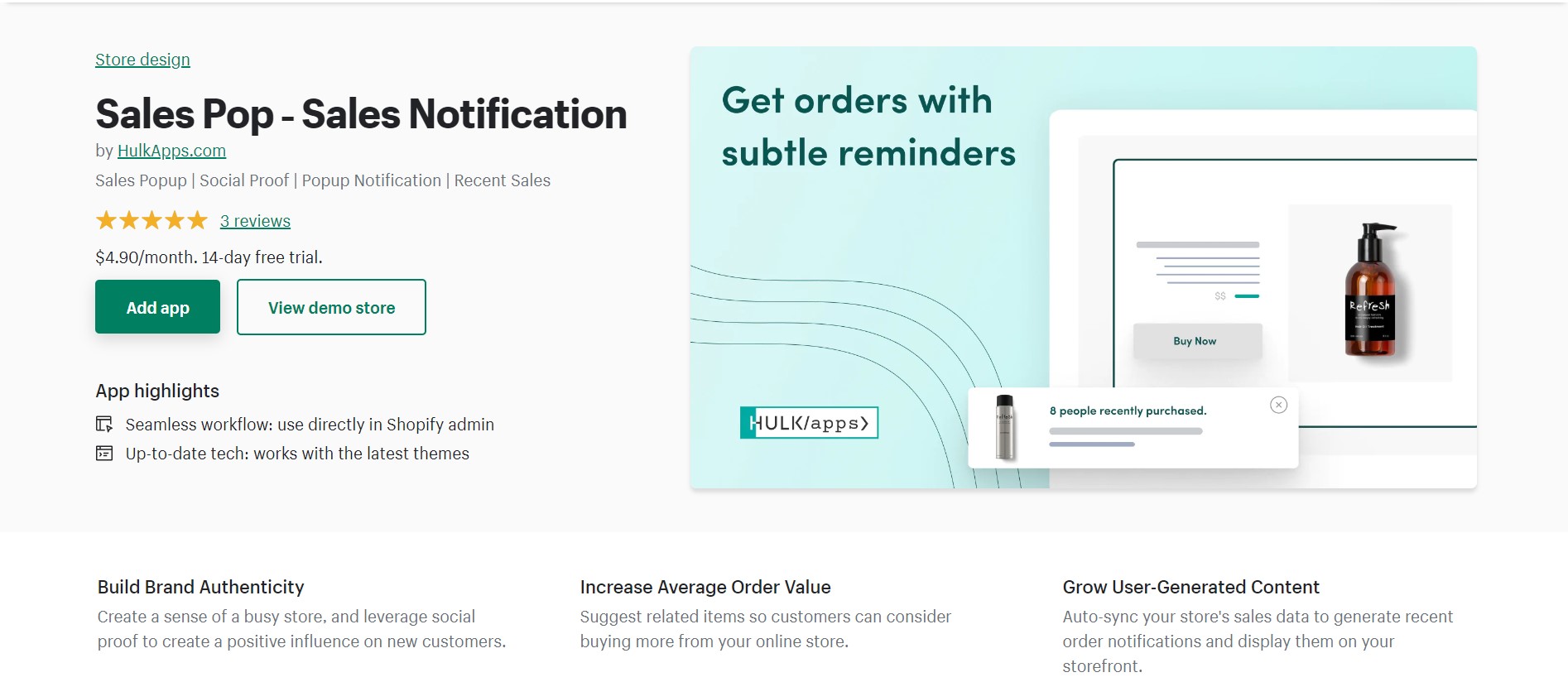 You can create a social proof on the site and leverage positive influence on the customers using the Sales Pop Notification app. This Shopify app is best for suggesting new and relevant products to customers to increase sales and purchases.
If you want to accelerate the checkout process in an e-commerce store, Sales Pop Notification will help you drive the impulse buying process. This app builds social proof and generates upsell sales pop-ups. Here are the benefits you gain from implementing the Sales Pop Notification app in your Shopify store:
Multilingual sales pop up

Notification display cycle

Custom Notification Message
Pricing
In this app, you have only one paid plan.
Starter- $4.90 per month
Conclusion
A survey by Web tribunal says that more than 85% of Shopify merchants depend on Shopify apps to increase their sales rate. Shopify store owners can make use of Shopify applications that support their businesses from designing the shop template to driving sales. Business owners can use review apps to gain the trust of their customers and visitors.
If store owners want to convert web traffic into subscribing customers, then there are specific apps for driving conversions, and on average, store owners have six Shopify applications to increase their sales, so it's best for you, as a store owner, to take advantage of these apps and their benefits.
Latest Posts
Frequently Asked Questions
1. Which is the popular Shopify app?
There are so many popular Shopify apps for various customizations. SEO Apps are the most popular since it helps Shopify merchants boost traffic and conversations. Some of the popular Shopify SEO apps are SEO booster, AVADA, SEO manager, and FavSEO.
2. What are the different pricing plans of the Shopify app?
Shopify app has a basic price and premium price for the merchants to set up their online store. The basic plan costs $29 per month and the premium Shopify plan is $79 per month.
3. Can you set up an online store on Shopify for free?
Shopify has a 14-day free trial plan, however, after 14 days you have to choose a plan to build your online store.

Latest posts by Greg Ahern
(see all)