Automated conversations on your eCommerce website will reduce your time in responding to customer questions. As an eCommerce owner, you may have been reluctant to add a chatbot since there was a chance of machine errors in the replies. But now, with AI (Artificial Intelligence), automated conversations with AI chatbots are the best way to streamline your customer experience. Automated conversations are not only beneficial for e-commerce sites, but you can also use automated conversations to streamline the B2B industry functionalities. 
This article revolves around the role of AI chatbots in automating conversations on eCommerce websites. The recent report implies that automated conversation increases engagement in the ABM and B2B industries.
What Is Automated Conversation and Why Is It Important?
Conversational automation is all about responding to customers with technologies such as machine learning and artificial intelligence. Machine learning technology is now used with bots to learn frequently asked questions and respond instantly to customers' questions. An automated conversation is a powerful tool for eCommerce because your customers don't have to wait for responses from a human when the AI chatbot can quickly answer their questions.
Traditionally, online business owners could train bots with scripts to automate conversations and provide a satisfactory customer experience in the absence of a human agent. Those rule-based chatbots followed robotic process automation that only could answer common questions.
But AI-powered chatbots handle complex issues that customers face, freeing up your sales team and support agents while enhancing your customers' journey.
Read More: 9 Benefits of eCommerce AI Chatbot
Automated Conversation = Customer Satisfaction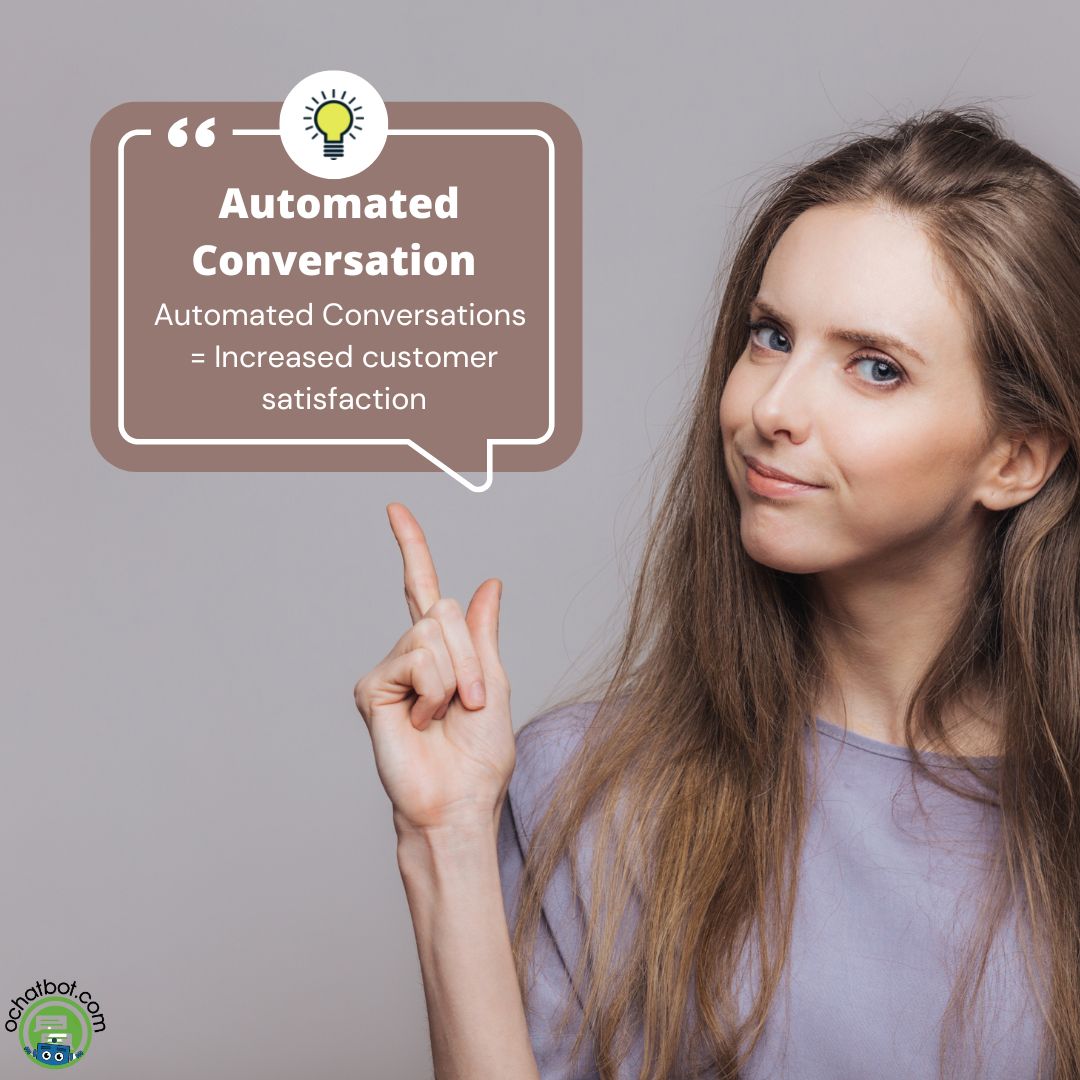 The AI automated conversation will increase customer satisfaction in your online store via these benefits:
Online shoppers will expect a quick response to their questions about products, and automated conversations will help them know more about your products and accelerate their purchase process.

Your customers will not leave your website to browse another site since you value them by responding faster.

At times, website visitors don't have any idea about your products. AI chatbots will help them understand your service or products. Hence, it boosts the brand experience on the site.

AI automated conversation provides personalized conversations, increasing customer value experience.

Automation increases the productivity of your store since it reduces the time-consuming task of a human agent replying to multiple customers.
What Is The Role Of AI Chatbots In Automated Conversations?
The eCommerce site owners can automate conversations using rule-based chatbots without AI technology. But AI chatbot automation is more effective. Customer communication is important in eCommerce stores to increase brand trust and credibility.
AI chatbots are a blend of both machine and human intelligence. The advanced technology of Human-in-the-Loop (HITL) behind AI chatbots will pave the way for more effective conversation.
AI technology helps bots make their own decisions based on customer behavior and previous conversation data. Hence, you will witness organic business growth with the AI chatbots' automated conversations. Conversational AI outpaces marketing communications through live chat agents to immediately increase business growth.
Related: 6 Ways: Boost Shopify Conversion Rate with Chatbots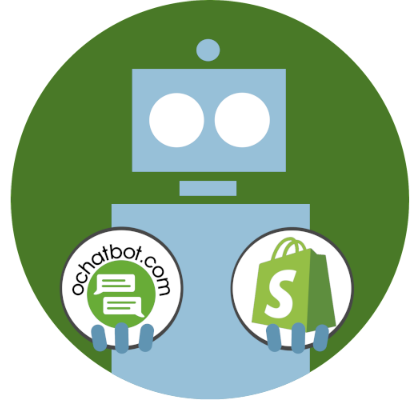 True AI to engage customers for eCommerce, business leads, and customer support.
Create happy customers while growing your business!
5% to 35% Increase in AOV*

20% to 40% Increase in Revenue*

25% to 45% Reduction in Tickets with a Customer Service Chatbot
We Guarantee Results... Or Work For Free!
*When shoppers engage with Ochatbot®
Conversation Automation: Increase in Conversion Rate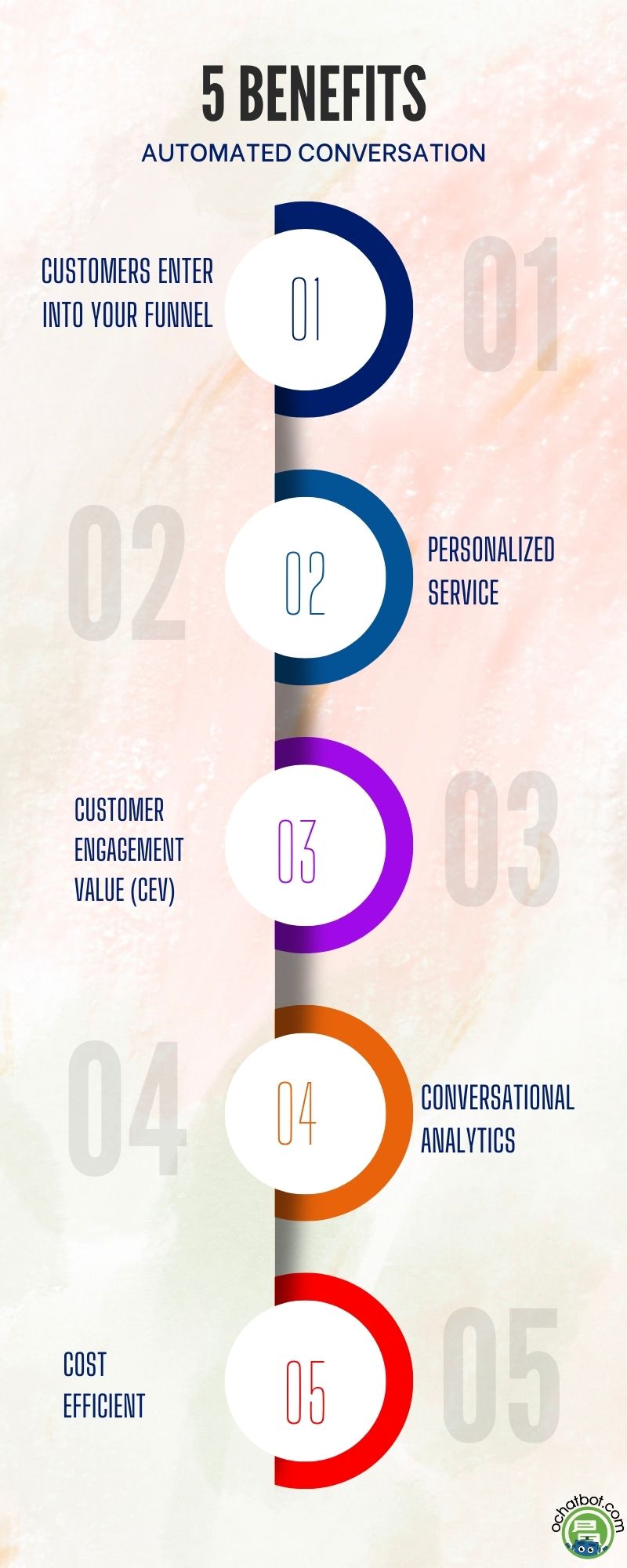 Conversation automation is one of the ways to provide customer support 24/7. You might have online shoppers from different time zones. Live chat agents on your eCommerce website will not always be available like chatbots.
Consistent answers from chatbots will often convert website visitors into customers. Natural language processing technology behind AI chatbots helps bots answer like a human conversation. 
Let us look at how AI chatbots' conversation automation will increase the conversion rate in eCommerce.
1. Customers Enter Into Your Funnel
Conversation automation by AI chatbots will help online shoppers to enter the marketing funnel. Chatbot conversation starts with the initial greeting and creates awareness about the brand to the website visitors who don't know anything about your brand.
With the help of AI chatbots, you can also recommend products to your online shoppers based on their preferences. By recommending products to your online shoppers, you will help them identify their pain points and consider your products/services as the solution. Similarly, the buying process is also simple with chatbots: customers can directly add products to their cart without leaving the chat window.
Related: 15 Advantages of Chatbots in E-commerce
2. Personalized Service
Improving customer journeys in the eCommerce store requires knowledge of customer preferences. 
Conversation automation collects insights about the target audience and their preferences. By understanding your audience, you will be able to provide personalized service to them. Conversation automation helps you to accelerate the speed of chat and ask multiple relevant questions to website visitors quickly.
3. Customer Engagement Value (CEV)
Conversation automation improves customer engagement value so that you can measure your online shoppers' transactional and non-transactional behaviors effectively. 
Driving down customers in the market funnel is a challenging task for many online store owners. You can achieve this task by enhancing customer engagement on the site. Apart from driving down the market funnel, you can also improve the trust and customer loyalty in the site with better customer engagement.
4. Conversational Analytics
How does conversation automation help in understanding customers' needs? If you have this question in your mind, consider this example:
When AI chatbots interact with online shoppers, they will identify similar patterns in the conversation. Customers who complete their purchases will also have a pattern. With a deep understanding and machine learning technologies, the feedback you receive from automated conversations will offer you insights into customer behavior. This conversational analytics by chatbots will help you to develop better conversations with potential buyers in the future.
5. Cost Efficient
Many online business owners prefer chatbot conversation automation to human agents because conversation automation is cost-efficient.
You don't have to spend a lot of money to hire many customer support agents to resolve customers' issues. If you implement an AI chatbot on your website, it will handle multiple customers and their questions. Hence, you can reduce support tickets cost by having an AI chatbot on your eCommerce website.
What are the Downsides of Conversation Automation?
While looking into the brighter side of conversation automation in eCommerce, you should also know that chatbots have downsides as well!
Chatbots' conversation automation can hamper your business image if they are not trained properly. No online shopper wants to hear irrelevant solutions/answers to their questions. Hence, building an AI chatbot on the best chatbot platform is necessary to leverage your business growth and experience the fruitful benefits of conversation automation. Ochatbot is now helping both small and large enterprises to develop an effective humanized AI bot for their eCommerce stores. Click here to view the pricing plans.
Bottom Line
Taking both advantages and disadvantages into account, our final verdict is that adding an AI chatbot and automating conversation in eCommerce will certainly benefit eCommerce store owners.
Add an effective AI bot to handle both repetitive and complex tasks. Grow your business with this efficient form of customer engagement.
Related Posts
Frequently Asked Questions
1. What is conversational AI?
Conversational AI is a chatbot that provides responses like human agents by using advanced technologies such as natural language understanding and artificial intelligence.
2. What are the benefits of AI in chatbots?
Older chatbots ran on algorithms that couldn't always respond in a meaningful way and a human agent would have to be notified. AI chatbots reduce that need by using Artificial Intelligence to properly simulate actual conversation, reducing the need for your business to have multiple live agents respond to customer queries.

3. How does my business benefit from using Automated Conversations?
Time is money, as the old saying goes. Not only will you save time, but the data you collect from an AI chatbot will provide you with key insights into who your customers are, and what they want.

Latest posts by Greg Ahern
(see all)