Are you aware of shopping cart abandonment effects? Have you come across it in your business? This is when a customer leaves the process of purchasing products after checking out into the online shopping process.
This article will help you learn more about Shopping cart abandonment and its effects.
Jump to the Content
What is Shopping Cart Abandonment
Why is Shopping Cart Abandonment Considered a Problem
7 Shopping Cart Abandonment Effects
Solutions for Shopping Cart Abandonment
What is Shopping Cart Abandonment?
Shopping cart abandonment refers to a stage when the visitors leave your site without completing the desired action.
Reasons for cart abandonment may differ from customer to customer. Some of the common reasons are extra costs, long checkouts, and unclear pricing.
You may calculate the rate of abandoned carts by dividing the total number of transactions completed by the total number of initiated transactions. These are also metrics that measure the effectiveness of the marketing strategies.
Why is Shopping Cart Abandonment Considered a Problem?
It's an issue because your business is losing sales, as losing a customer is the same as losing a sale.
This can happen for many reasons. Sometimes shoppers may not understand the website design or the customers found competitor sites with products of better quality. It's not always clear to know why customers choose one product over another. Customers might focus on quality, price, or great shipping options, and shopping cart abandonment might occur if it lacks such factors.
Shopping cart abandonment may result in a poor user experience and can break the sales funnel.
Related: Role of Ochatbot in Abandoned Cart Recovery
7 Shopping Cart Abandonment Effects
#1 Lost Customer Lifetime Value
Customer lifetime value is a metric that helps in understanding your customers. These metrics cost less in maintaining existing customers rather than a new audience. It is the total worth of business due to your relationship with the customers during a certain period. This is effective in generating new initiatives and strategies that focus on high-value customers.
It is an important aspect to consider in e-commerce because it helps in understanding the financial impacts of marketing campaigns. It also focuses on balancing the short-term and long-term objectives and goals of the companies.
Losing a customer in the long run process may affect your business in the long term because of low customer lifetime value. You can recover this issue by recovering the abandoned carts or reducing the rate of abandoned carts.
#2 Skewed Website Data
Fake traffic can cause problems for your carts. It can affect product availability during busy seasonal times. Visitors who are not converted as buyers and spending time on one specific page will affect your sales negatively.
Along with traffic metrics, traffic with low quality also affect KPIs, lead metrics, and campaign performance. However, you can prevent and fix these issues with bot detection features.
#3 Lower Ad Click-Through-Rates
Lower Ad Click through Rate defines that your target audience is not relevant because they do not click it.
When a customer adds products to a cart, Facebook (why are you talking about Facebook? Is this an example? If so, clarify it) recognizes them as a target audience and delivers related ads for the product which misleads your ad targeting.
To reduce this issue, you can have transparency and flexibility about shipping costs.
#4 Higher Customer Acquisition Costs
E-commerce plans spend an appropriate budget for many marketing aspects like brand awareness, improving its reach, targeting new customers, and paid acquisitions, which requires you to invest time and money in the advertisements of each stage.
If a customer doesn't convert the cart items into a purchase, then it is a waste of the time and money for ad generation, and lead nurturing, which leads to low conversion rates and acquisitions.
There is a need for making your checkout process smoother which reduces the impact of the abandoned carts on acquisition costs.
#5 Slower Website Speeds
A website running at a slow speed will negatively affect the conversion rate. If your online store is having high traffic, then it will affect the speed of the website. It can also happen because customers add many products to their cart at the same time.
If your website is running at a slow speed, it can irritate your actual customers. It affects the peak sales time and makes the customers drop the action.
As I said before, you can easily fix these issues by adding a wishlist section or blocking the unnecessary or bot traffic.
#6 Higher Retargeting Costs
Retargeting helps customize ads, improve SEO traffic, and maintain the sales and CTR ratios. It will help in brand awareness and improve the visibility of the ads.
Abandoned carts may cost your business, but retargeting costs for lost sales may cost between $0.66 and $1.23 per click.
What are the Solutions for Shopping Cart Abandonment Effects?
You might worry about the damaging effects of shopping cart abandonment, but there are solutions that will help you to deal with this issue.
#1. Keep Customers on the Conversion Path with Live Chat
Customers always wish to have instant solutions for their problems. If your customers must navigate off-page for inquiries, it may lead to cart abandonment, and a live chat feature can prevent this issue.
Through live chat, you can keep your visitors on the conversion path and make them customers. This feature also helps in resolving troubleshooting issues quickly and provides a great user experience.
You can learn more features of live chat from here.
#2. Revisit & Communicate Your Return Policy
Some people are not comfortable with online shopping because it doesn't allow the customers to interact or try the product physically. Due to this drawback, some people are not sure about buying the products they have in their carts.
It is effective if your online store provides a return policy feature. This can make online shoppers more secure in their purchases and makes the customer's journey smoother to buy the product.
#3. Focus on Cart Slider to Reduce Steps in the Purchase Path
Customers may feel the steps of an online store consume too much time. Due to long steps and troubling issues, people may drop the idea of purchasing in the process. To avoid this issue, you can create a cart slider that prevents a long route to purchasing.
The cart slider may differ in terms of brands, products, etc. However, a conversion path may include:
Product pages
Add to cart
Cart Page
Shipping details
Order completed
Some brands or online stores create a standalone cart for each customer, which provides a great user experience and makes an easy buying process.
#4. Adding Trust Signals to the Checkout Flow to Make Customers Feel Secure
The first thing that initiates and drives the visitors to the online store is trust. If the customer lacks trust in a specific brand or quality of product, it may lead to the abandonment of carts. To build trust, you should provide trust signals like reviews and ratings. There are many trust signals which assure the credibility of the online store, including:
Return policies
Money-back policies
Customer services
Trusted payment process like Amazon Pay or Paypal.
You may learn more about the best payment apps of Shopify through our blog- 5 Best Shopify Payment Apps for Seamless Checkout.
#5. Eliminate Customer Journey Interruptions
There is a chance of interruption that may occur if the shoppers install many extensions. The additional extensions help customers find coupons and compare prices.
But these interruptions may lead customers to drop shopping and increase abandoned carts.
So, it's necessary to eliminate or reduce these interruptions to achieve better customer experiences. (This one doesn't feel clear. How do you prevent the customer's journey if they choose to have extensions? This one needs revision).
#6. Remove Friction Points
In some cases, the customer will try to purchase a product but some unexpected blocks appear which may consume too much time to resolve. Such friction points may occur in the checkout flow so they may face many hurdles in completing the order.
Around 70% of users get interrupted and stop buying the product. These friction points won't affect eager and loyal customers but may be an issue and stop new audiences or visitors from buying the product. It is important to prevent or eliminate some friction points in your online stores.
#7. Make More Appealing Purchases by Offering Add-On Items
You may be aware of add-on-items, which are additional products sold to a buyer along with the main product or services they purchase. It may include extended warranties offered by sellers. These offers are mostly seen in household appliances such as refrigerators or other electronics.
You can give a great impression and user experience by adding some additional items which can drive visitors into buying customers.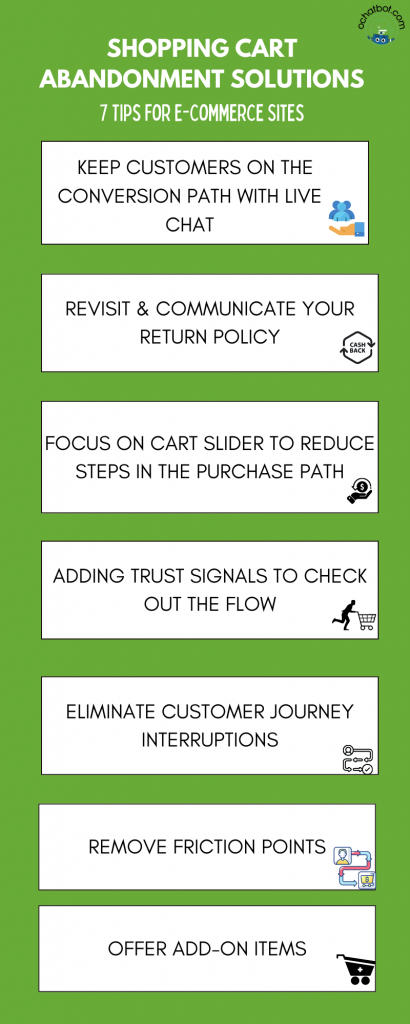 Takeaway
It is important to focus on the cause of shopping abandonment effects because it can directly or indirectly affect your business growth and wastes the time and money you spend on your business.
Through these seven solutions, you can easily reduce abandoned carts and make the customer's journey to purchase smoother and easier. Have you ever tried these tricks for your online store? What's your opinion on these solutions? Share your views through comments.
Latest Posts

Latest posts by Greg Ahern
(see all)