Do you know the top Shopify benefits for your online store?
Online shopping is an advantage for many business owners to extend their sales and increase revenue. E-commerce sales have many benefits for both online shoppers and business owners. Purchasing online is more convenient and faster for your potential customers. It's best to set up your online store in a flexible e-commerce platform as an online business owner.
Shopify is an online platform that has better navigation and a nontechnical interface. If you are an online store owner, this blog will define the perks of setting up an online store on the Shopify platform.
What is Shopify?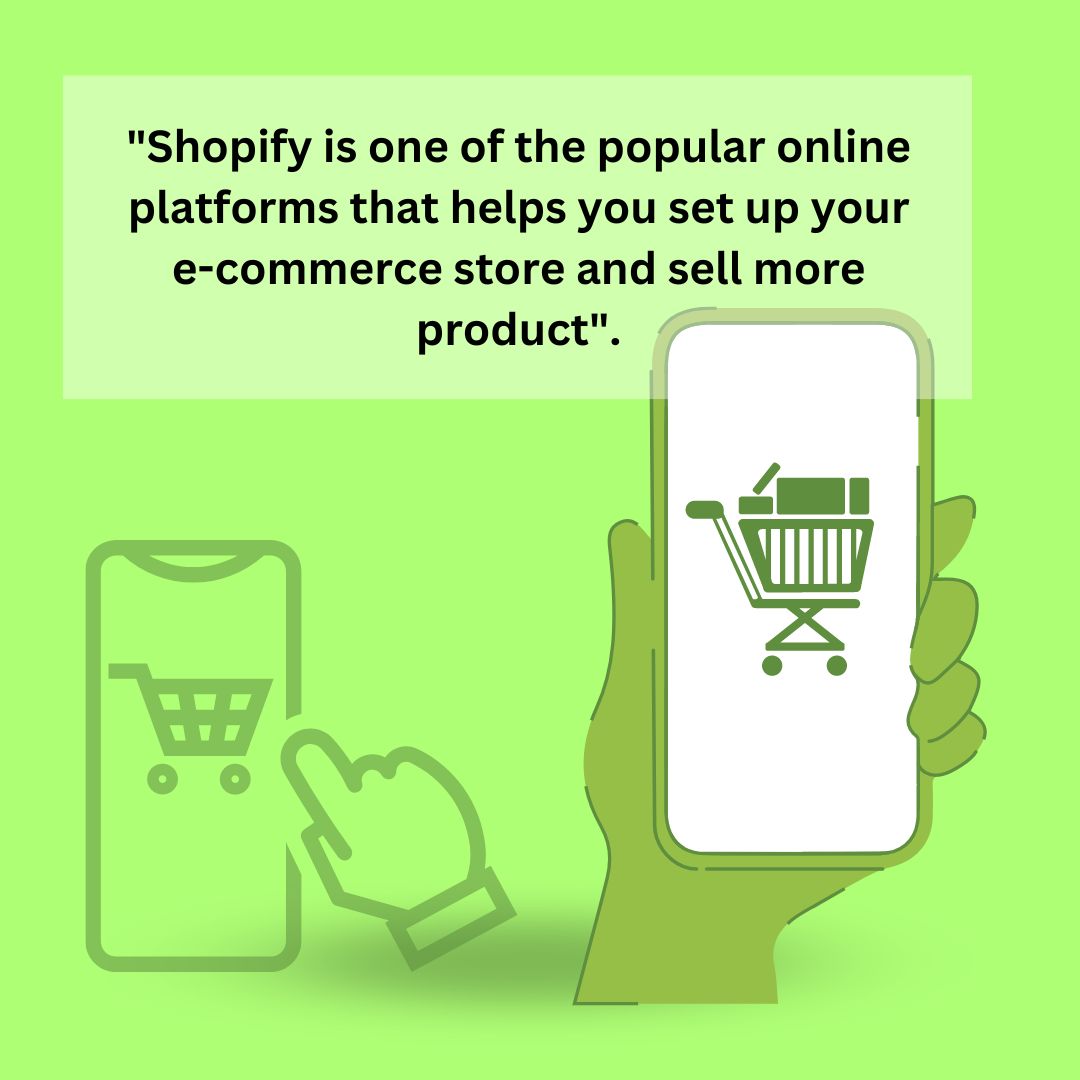 Shopify is one of the popular online platforms that helps you set up your e-commerce store and sell more products. This platform allows you to host your online store even if you are not tech-savvy. This store has 4.4 million people selling in more than 170 countries. There are many Shopify perks that help online business owners to grow their sales and website visitors.
Why Shopify is Better than Other E-commerce Platforms?
Online business owners have different e-commerce platforms to host their online stores and sell their products. Shopify outpaces other platforms with its exceptional features.
One of the best advantages of using the Shopify platform is that you can host an online store even if you are not a technical person. Shopify platform is quick and easy to set up to have an online store. Apart from the easy setup feature, Shopify is also a reliable platform because of its extraordinary security and privacy.
What is the Pricing Plan For Shopify?
In the Shopify platform, you will have competitive rates to find out which is the best for your online store. Here is the pricing plan for Shopify:
Shopify has three pricing plans: Basic, Shopify, and Advanced.
Basic($29 per month) – The basic plan will help you create an online store, shipping process, and payment modes.
Shopify($79 per month) – This plan will escalate your business by professional reporting and staff accounts.
Advanced($299 per month)– An advanced plan will help you create an extraordinary online store with custom reporting and low transaction fees.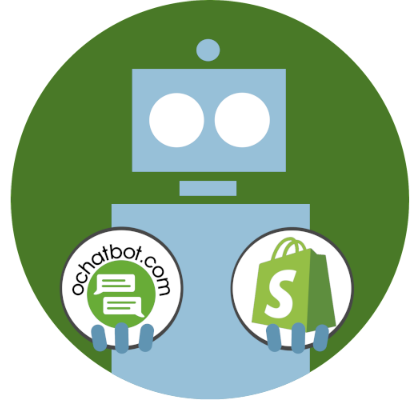 True AI to engage customers for eCommerce, business leads, and customer support.
Create happy customers while growing your business!
5% to 35% Increase in AOV*

20% to 40% Increase in Revenue*

25% to 45% Reduction in Tickets with a Customer Service Chatbot
We Guarantee Results... Or Work For Free!
*When shoppers engage with Ochatbot®
11 Top Shopify Benefits For E-commerce Owners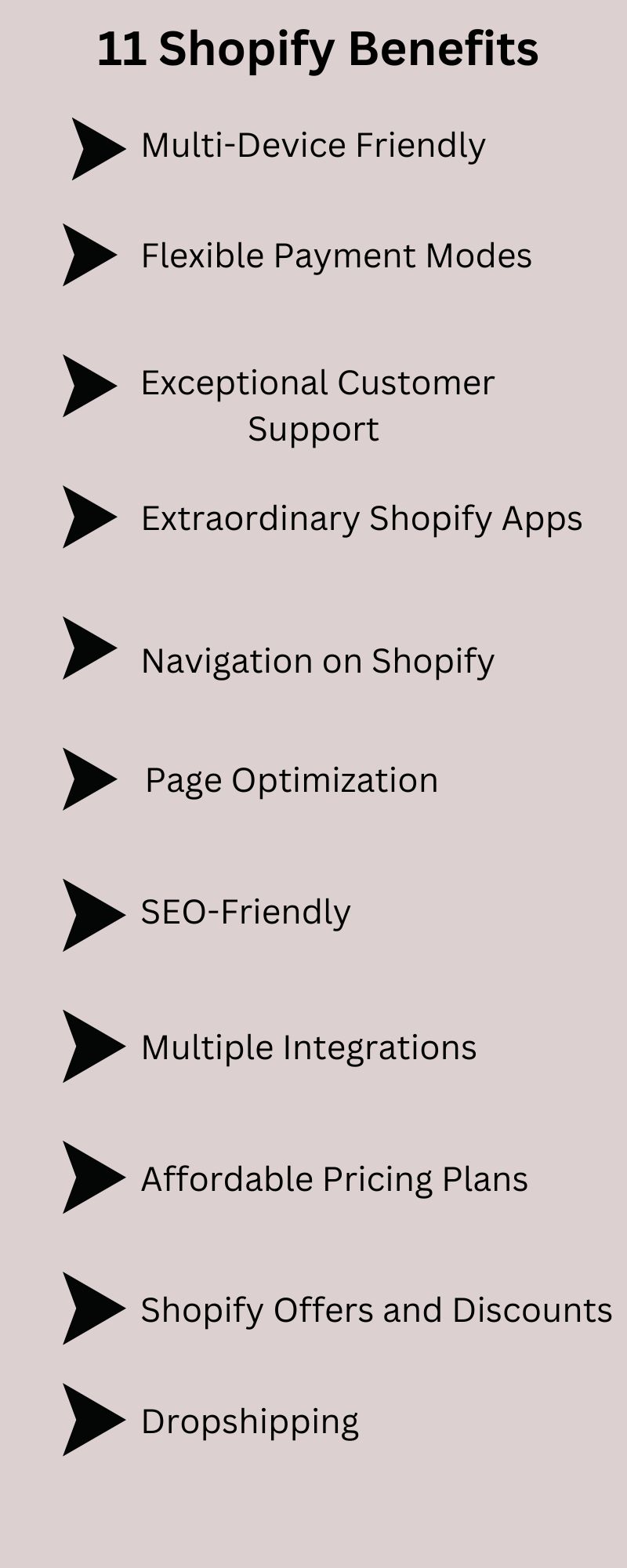 Streamlining your sales and captivating the target audience is a challenging task in the e-commerce industry. It's important to know the 11 Shopify benefits that help you increase your sales and reach the right audience base.
1. Multi-Device Friendly
An e-commerce website should be accessible from multiple devices. For instance, if you are purchasing your online shoppers adding products in one device and trying to check out from another device, it is best to make it easily accessible for them. Shopify is a multiple devices-friendly platform, it is easy for your customers to purchase products and browse products from mobile, tablet, and desktop.
2. Flexible Payment Modes
Shopify has a unique reputation for its security and privacy. This online platform has flexible and highly secure payment gateways for your customers.
Online business owners need not rely on the third-party payment provider, Shopify payment will help you streamline the different payment modes and transactions. Your online shoppers will not have extra fees while paying on the platform.
3. Exceptional Customer Support
Shopify customer support is 24/7. If your customers have any problems with the products or navigation on the site, they can immediately reach out to the customer service agents on this platform and seek help.
You can also integrate a Shopify chatbot on your website and connect with your customers. A Shopify chatbot on the website is extremely beneficial to gather customer insights and understand their preferences.
4. Extraordinary Shopify Apps
Online business owners can integrate different apps into their websites to provide a seamless shopping experience for their customers.
For instance, if you want to make your website more SEO (Search Engine Optimization) friendly, you can integrate Shopify SEO apps and enhance search engine optimization. Similarly, you can find various applications, such as personalization apps, payment apps, Shopify product filter apps, etc.
5. Navigation on Shopify
If your online store has better navigation, customers will be able to browse products and continue their purchase journey without any obstacles.
Shopify platform has better navigation that drives your customers to the products and revenue-generating pages such as the collection page and product page. Your customers need not struggle to get the information that they want, so Shopify will help them get the information quickly.
6. Page Optimization
A fast-loading website is important for an e-commerce site owner to gain more customers and accelerate the purchase process.
Your website will not slow down on the Shopify platform because it has good page speed optimization. Online shoppers can browse the products with ease and purchase them. If your goal is to increase the purchases of your online store, you can also make your customers easily achieve the goal in your online store with good page speed.
7. SEO-Friendly
Shopify has many SEO-friendly features compared to other e-commerce platforms. Page speed is also one of the significant SEO features. As aforementioned, Shopify's page speed is high and your customers will not abandon the website.
The Shopify interface is not clumsy and helps you rank for your potential customers' search queries. The site structure and themes are best in the Shopify platform that captivates your website visitors. SSL encryption in the Shopify stores is highly secure and it is good to prove the site's credibility to the search engines.
8. Multiple Integrations
Shopify supports integrations with ERP and CRM tools. Social media marketing is a significant aspect of marketing technique that will help you fetch more website visitors and make you reach your target base easily.
This e-commerce platform will help you connect with popular social media channels such as Instagram, Facebook, Pinterest, etc. You can market your online store and products on popular social channels with integration flexibility.
9. Affordable Pricing Plans
Shopify platform has affordable pricing plans for startups, businesses, and large enterprises. The basic plan for setting up a Shopify store is $29 per month, you can manage to host a store, and manage the shipping process and payment modes.
For startups, the basic plan is affordable compared to the other e-commerce platforms. The competitive rates are functional and you can create a standalone store easily.
10. Shopify Offers and Discounts
Providing offers and discounts to customers is a powerful marketing strategy in the e-commerce industry. If you set up your online store in the Shopify store, you will have plenty of offers and discounts to provide for your customers.
It is also easy to create automatic discount codes for the customers to increase sales and promote products in your online store.
11. Dropshipping
Dropshipping is incredible on the Shopify platform. You can provide quality service to your customers with the dropping feature in the Shopify store. It is easy for Shopify store owners to scale their business with the dropshipping services in the Shopify store.
You can also integrate many dropshipping tools in the Shopify platforms to enhance the shipping process from the manufacturer to the retailer or the customers. This platform has integrations with the best tools such as Oberlo, SupplyMeDirect, and CROV.
Latest Posts
Frequently Asked Questions
1. Why Shopify has the best SEO features?
Shopify has better page speed optimization and highly secure and reliable features. If your online store has credibility and a better user experience, you can easily rank higher on search engine pages.
2. What are the three significant benefits of the Shopify platform?
Security, payment gateways, and page speed optimization are the three best benefits of choosing Shopify as your e-commerce platform.
3. Is there any disadvantage in choosing Shopify as your E-commerce platform?
Shopify has limited features for designs and customization and has no email hosting.
Summing Up
When you have decided to set up an online store, you should first choose a flexible platform to invite more website visitors. Shopify is one of the best e-commerce platforms that help you enhance your customer journey and captivate your potential customers. The pricing plans in the Shopify store are also easily affordable for both large and small business owners.
Hence, Shopify is your go-to platform for building your dream online store and becoming a successful entrepreneur. 

Latest posts by Greg Ahern
(see all)