Online marketing is essential to grow a brand and reach the target audience. A brand needs popularity to increase sales and a perfect audience base. Many online business owners promote their brand with digital marketing strategies and social media marketing.
The main goal of online marketing is to spread messages about the brand and create brand awareness. Many online business owners use various web channels to spread information about a brand. This article sees how AI-powered chatbots magnify the aspects of online marketing.
Overview of the Content
Human Touch in Product Recommendation
Integrating Bots with Messaging Apps
What is Online Marketing?
Online marketing is one of the effective ways to spread information about a brand to the target audience through various channels. Online marketing helps online business owners market their products and services effortlessly.
Online business owners use various channels to market their products and identify a channel where the target audience is active. There is no benefit in marketing products in different channels if your target audience is not present there. Online marketing will also help online business owners optimize the primary digital mediums that their target audience is using.
What are the Primary Benefits of Online Marketing
Online marketing benefits the e-commerce industry in a great way. Online marketing is cost-effective in comparison to traditional marketing strategies. An effective digital marketing strategy will help you predict customer behavior quickly to increase your sales.
If e-commerce store owners use various channels for spreading their message about a brand, then they can identify where their target audience interaction has higher intensity. Five significant benefits of an online marketing strategy include:
Targeting a customer base becomes easy and flexible.
Increase in customer engagement.
Enhancing brand awareness.
Growing customer base.
Analyzing similar patterns in customer behavior.
Artificial Intelligence in Online Marketing
Artificial intelligence helps online business owners personalize their responses to online shoppers. E-commerce store owners use AI technology to provide automated responses instantly without making customers wait for an answer.
Customer communication is significant to enhance the brand value. If your brand interacts with your customers continuously, you can develop a loyal customer base. The e-commerce industry uses chatbots to automate responses.
However, a chatbot without AI technology will provide repetitive answers to customer questions. This is why you need an AI chatbot to have effective communication with your potential customers. An e-commerce store owner can also integrate an AI-powered chatbot into their social media channels such as Facebook Messenger to communicate with customers.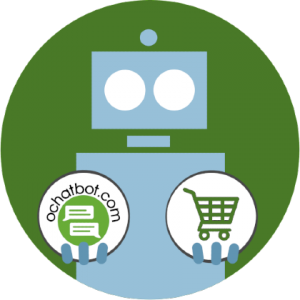 True AI to engage customers for eCommerce, business leads, and customer support.
5% to 35% Increase in AOV*

20% to 40% Increase in Revenue*

25% to 45% Reduction in Tickets with a Customer Service Chatbot
We Guarantee Results... Or Work For Free!
*When shoppers engage with Ochatbot®
What is the Role of AI Chatbots in Online Marketing?
Artificial intelligence-powered chatbots will help the e-commerce industry to understand its target audience's behavior in a more straightforward way. AI-powered bots are advanced bots that accelerate the sales process.
Chatbot Marketing
Chatbot marketing is an effective way to promote your products and services to the audience with a chatbot. An AI chatbot can recommend relevant products to the target audience. AI chatbot engages with users by predicting a scenario and understanding user intent. A chatbot can integrate into any marketing channel that e-commerce business owners use. If a business owner integrates a chatbot into a popular social channel like Facebook Messenger, it will boost engagement and enhance customer experience effectively. Chatbot marketing also increases customer assistance on a website, so an online business can generate more revenue with AI chatbots than a sales team strategy. An AI chatbot is also cost-effective compared to the support tickets in an e-commerce store.
Understand Complex Requests
An AI-powered chatbot can understand the complex requests of customers. Most online business owners stay reluctant to implement AI chatbots on their websites because of their irrelevant automated responses and inability to handle complex questions. An AI-powered chatbot is different from rule-based bots as machine learning technology will help you learn customer data from previous conversations and AI technology improves interactions by understanding complex requests.
Personalize Responses
When you understand your user's problem and tailor your service accordingly, you will captivate every website visitor. AI chatbots will learn more about their target audience and their needs. Customers' interactions with
AI chatbots are always beneficial for the e-commerce industry
. When you provide personalized responses to your customers, your customers will feel heard and seen. Relevant responses through chatbots will generate more website visitors and revenue.
Upsell Your Products
Have you ever visited an online store to purchase a product and bought a premium version of it? Well, upselling products is one of the best strategies in online marketing. Chatbots with artificial intelligence excel in upselling products. When your customers search for their desired products, AI chatbots will recommend various other premium products to online shoppers and help business owners increase sales exponentially. When your customers purchase the products, chatbots will pop up and say
'Products you might like.'
Human Touch in Product Recommendation
Having human agents on the e-commerce website is a good idea but online business owners should consider adding chatbots to automate processes. If you add an AI chatbot to your website, your marketing process in the online store will be automated with interactions. An AI chatbot is a computer program with a human touch, so their interactions will resemble human agents. Most advanced bots with AI and ML technologies will recommend products with a human touch. An AI chatbot's conversation will not sound mechanical and target the right person from casual website visitors.
AI Chatbots Understand Errors
Chatbots with artificial intelligence technology will predict conversations by understanding errors. If a customer is typing something in the search bar, a chatbot will understand typo errors and understand your customers' conversations well. Many B2B business owners use AI chatbots to qualify leads and schedule appointments with them. The lead generation process becomes more flexible with the chatbots.
Word-of-Mouth Marketing
Word-of-mouth marketing is more effective than applying traditional marketing strategies. You will easily gain brand popularity if a customer has a good experience in your e-commerce store. Many online business owners can create
brand awareness for their target audience through an AI chatbot
. A humanized chatbot that provides personalized service for its website visitors will captivate your target audience more. AI chatbots will create brand awareness through word-of-mouth marketing and help you promote your brands more.
Integrating Bots with Messaging Apps
Online business owners can also integrate AI chatbots into various messaging apps such as Facebook Messenger. Integrating bots into social messaging apps will help online business owners understand which platform their target audience uses most often. This is also one of the effective ways to promote your business on social media.
Bottom Line
AI chatbots are a new and unique perspective for promoting your brand to your target audience as new technologies will always captivate an audience. Chatbots with AI and ML are a new and innovative technology that will attract your target audience effectively. Providing personalized service with chatbots is a fantastic opportunity for your online store. If you are planning to enhance your customer service on your e-commerce website, then you should add an AI chatbot. Researching the functionalities of top AI chatbot platforms will help promote your brand and help your business increase its potential.
Latest Posts
9 Strategies- How Do Chatbots Qualify Leads for B2B Sites?
Growth of Artificial Intelligence in eCommerce – 2022
What is a Conversational AI Chatbot?
6 Strategies: Conversational Chatbots Transform Sales Funnel
AI Chatbot Development – Ultimate Guide 2022
Frequently Asked Questions
What are the best online marketing strategies for e-commerce site owners?
Content marketing, social media marketing, and e-mail marketing campaigns are the best marketing strategies for e-commerce site owners to promote their products.
What is SEO in online marketing?
Search engine optimization (SEO) in online marketing will help online business owners rank on the search results pages. If your target audience is searching for a product, your website will rank higher if you apply effective SEO strategies.
What is conversational UI in chatbots?
Conversational UI (conversational user interface) helps machine understands human language and vice versa.

Latest posts by Greg Ahern
(see all)