Do you know the exponential growth of Artificial Intelligence in the eCommerce industry? The latest report by Mckinsey & Company conveyed how AI is bringing 20% extra revenue to the eCommerce industry. Artificial Intelligence technology bringing new changes to the eCommerce industry.
If you are much into online shopping, the role of AI in helping you find your desired products is extensive. AI and machine learning help eCommerce store owners (that's you) understand their customer behavior and enhance the customer experience in online stores.
In this article, let us look into the latest eCommerce trends and how it is transforming e-Commerce businesses into an increasingly effective market on multiple levels.
Overview of the Content
What is eCommerce Intelligence
Role of AI & ML (Machine Learning) in eCommerce
Future of AI Trends in the eCommerce Industry – Growth of AI in eCommerce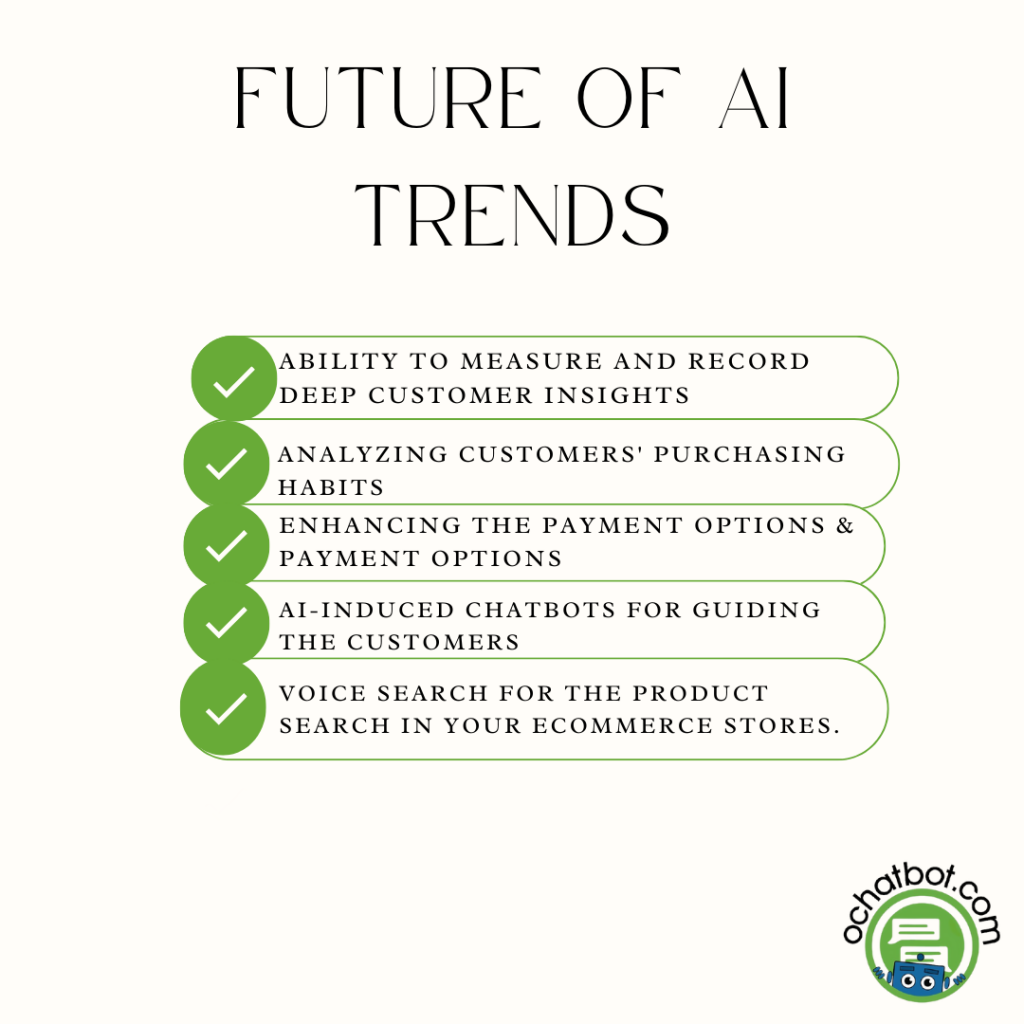 AI is bringing different evolutions to the eCommerce industry. One example is the ability of AI to include a voice search feature. That's where you can simply voice what you are searching for, and the AI understands your query and proceeds to find it for you.
As an online business owner, know the different trends that the eCommerce website community is using so that you can optimize your store as well.
With AI, eCommerce merchants can automate repetitive manual tasks to enhance the purchase processes of any online store. 
Here are a few AI trends that the eCommerce space follows to invite more customers to their websites.
Ability to measure and record deep customer insights and their behaviors.
Analyzing the purchasing habits of global consumers.
Enhancing the payment options and accelerating the payment process in the store.
AI-induced chatbots for guiding the customers through the website
Voice search for the product search in your eCommerce stores.
What is eCommerce Intelligence
eCommerce intelligence is a trending term in the eCommerce industry. In simple words, eCommerce intelligence defines the decision-making capacity of an eCommerce business. An online business should not depend on random guesses to generate revenue on the platform.
EI (eCommerce Intelligence) will help online business owners automate, optimize and personalize their websites for visitors with the help of deep learning and artificial intelligence technology. The role of artificial intelligence technology in automating repetitive tasks is extensive. AI collects data and predicts the possible outcomes in online businesses.
Role of AI & ML (Machine Learning) in eCommerce
Artificial Intelligence and Machine Learning play a vital role in enhancing the customer service of a website. When someone says Artificial Intelligence, a lot of you might think about self-driving cars and talking robots. But in fact, AI is being used in numerous industries and is especially capable of helping you in your very own eCommerce industry.
1. AI Chatbots for Customer Engagement
When you are visiting an eCommerce website, you should be able to find your products easily without navigating the website for too long. An AI chatbot pops up on the website and answers customers' questions immediately using pre-trained quality data and annotated texts.
eCommerce has taken the world by storm. No one would've expected the steep rise of eCommerce via digitalization. Then with further advancements came along the use of chatbots in eCommerce. An advanced iteration of the use of chatbots is conversational chatbots.
An AI-induced chatbot simulates the conversation of a real-life human.
The personalization potential of a chatbot will captivate online shoppers and provide a seamless shopping experience.
AI chatbots also provide abandoned cart triggers and remind the customers of the products left in their carts.
With AI chatbots, you can recommend products with upselling and cross-selling strategies to customers.
Page targeting is one of the significant features of AI chatbots. An online business owner can use Artificial Intelligence induced chatbots to gain insights and engagement.
Machine learning and AI with human-in-the-loop technology will enhance the eCommerce market's customer service.
So, how did AI chatbots captivate customers in the eCommerce space?
The concept of commerce worked on the principle of attracting customers and creating demand in the market. This growth of commerce has mostly relied on sales by interacting with the customer and understanding their demand. Ever since conventional commerce moved towards digitalization, there hasn't been much of a conversational mode of commerce to drive sales.
So, there needed to be a way to connect with the customers and drive conversions. 
Then came along the concept of conversational commerce and AI chatbots to ease the process!
2. Effective Automation
Consider the Zapier automation tool, featuring integration in email and Customer Relationship Management systems. AI technology will maintain the data and automate the manual tasks of entering customer data into your systems.
You can schedule emails in the customer relationship management systems with AI chatbots.
Your online store will become more functional by automating repetitive tasks with Artificial Intelligence technology.
Automating low-level support in the eCommerce industry will help you escalate sales exponentially.
3. Generate Business Leads for B2B
For B2B businesses, you have to find new prospects, schedule appointments, and select potential leads. Artificial Intelligence technology will automate all these tasks for eCommerce site owners.
Finding potential leads for your business is a challenging task for every B2B business site. But, AI technology will resolve these eCommerce challenges efficiently and enhance the sales process. Your potential leads will easily schedule appointments with this advanced AI technology.
4. Mobile Commerce and AI technology
AI will improve the UX(User Experience) of eCommerce websites. Mobile commerce is one of the latest trends in the eCommerce industry. In simple words, mobile commerce is your eCommerce website visibility through mobile applications.
Your eCommerce site should be visually appealing to customers. Artificial intelligence technology will help eCommerce business owners for making decisions. eCommerce business owners use AI applications for selecting images and video content for websites to optimize the site. To make your online store rank in the Google search results pages, you should optimize your stores for both mobile and desktop. AI can improve the mobile shopping and usability of your eCommerce website.
5. E-commerce Logistics with AI Chatbots
When you are implementing AI chatbots on eCommerce websites, your customers will easily place and track their orders. We have looked into the exceptional role of AI-induced chatbots in guiding customers through eCommerce websites to introduce products. In the same way, customers will place orders and track them efficiently with AI chatbots.
You will also get real-time information. The AI will read the incoming data and flag certain things as a priority or less so, giving you a report. 
The predictive analysis enhances the functionality and supply chain of an eCommerce business.
AI chatbots also provide product descriptions directly through chat windows.
6. Voice Assistants in eCommerce
Voice assistants are one of the best AI trends in eCommerce. A customer need not type a search query, because, with an AI voice assistant, simple voice commands will help customers reach their desired products without any difficulty.
In a famous eCommerce store like Amazon, voice assistant plays an important role. Enabling voice assistants in the stores will accelerate product search and help customers place orders instantly without any delay. AI technology will understand users' questions and respond to them relevantly.
Final Thoughts
The digital world is expanding at an unprecedented rate. Every day, trends change, and new trends arise. But, they all aim at bettering the user experience and satisfaction. In this case, Artificial Intelligence technology serves the right purpose by facilitating the user journey in the eCommerce industry.
Now that you know how advanced technology like AI and Machine Learning is changing the world, you can incorporate them into your brand in your own ways. Understand your requirements, create an AI-powered online store, and explore the scope and benefit they offer to drive conversions.
Related Posts
Frequently Asked Questions
How does Amazon use business intelligence to generate revenue?
Amazon concentrates on target marketing and understands shoppers' journeys through predictive analysis. AI technology understands customers' purchase histories and enhances the shopping journey of each one.
Can we enhance digital payments in eCommerce with AI?
The E-commerce industry uses Artificial Intelligence technology to accelerate digital transactions online. AI technology will also improve the legitimacy of digital transactions.
What are the types of Artificial Intelligence technology?
There are three types of Artificial Intelligence technology in eCommerce. They are Artificial narrow intelligence, Artificial general intelligence, and Artificial superintelligence.
Read more: Three Types of Artificial Intelligence

Latest posts by Greg Ahern
(see all)