When exploring strategies that could help you take your business website to the next level — and instantly boost conversions and customer satisfaction — designing and implementing an AI chatbot tops the list.
After all, chatbots don't just represent valuable knowledge databases that use AI and UX design to lead web visitors on their journey of solving pain points. They're also a great way to continuously deliver a first-rate customer experience and post-purchase service without having to increase your customer service operations budgets.
And while, to some, the idea of chatbots may seem too futuristic to yield results, research continues to confirm that chatbots are here to stay. According to Gartner's latest predictions, chatbots will become the primary customer service channel within the next five years. 
And if that's not enough to convince you to give this solution a chance, consider the following data. Zendesk's research revealed that, when defining the most crucial aspects of a good customer experience, people prioritize:
Being able to resolve issues quickly (more than 60% of respondents)

24/7 support availability

Omnichannel support availability

Self-sufficiency (not having to contact an agent)
But while you may be aware of all this information, you still may find yourself wondering: "how do I design the perfect chatbot for my brand and audience?" So, if you want to know how you can get the most out of your chatbot, here's how you can ensure it's built to appeal to your existing and future customers.
Identify Your Audience & Align with Your Brand Identity
As you start designing a chatbot that aligns with your brand's identity (and your audience's preferences), the first step you need to take is to define the characteristics of the people who are going to communicate with your chatbot. 
By specifying your audience, you can use logic and demographic data to create a chatbot that meets your customers' needs without leading to frustration, miscommunication, or poor CX.
For instance, imagine that you run a business that caters to end consumers interested in purchasing a medical alert system, like GetSafe. Chances are, you're trying to reach a senior audience or the caretakers of older adults. And, considering that your potential customers are looking for safety, reliability, and ease of use, you'll want your entire website (including your chatbot) to communicate how committed your brand is to delivering these qualities.
With this in mind, you'll want to approach the chatbot design process by constantly reflecting on your audience's identity and priorities and staying true to your brand image. 
For example, this might influence you to choose a traditional color palette for your chatbot UI. You'll use a slightly more formal tone and voice to ensure your web visitors see your business as professional and quality-oriented. And you might even afford to ask for more info than usual (like asking for a phone number), considering that your target audience's preferred communication method likely isn't typing back and forth with an AI bot. 
GetSafe does all of these things. And, seeing that it has a crystal clear idea of who its audience is, it gets away with more than one unconventional design choice.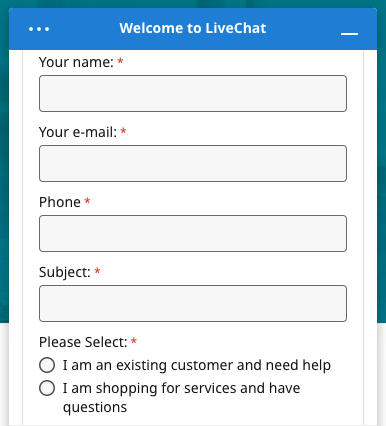 If you're a B2B organization trying to convert more business users, your design process is bound to differ from the one mentioned above. In this case, your primary concerns will be to:
Come across as professional yet approachable.

Provide prospects with instant access to helpful information.

Get new users to book a demo or start a trial. Then, the sales team can nurture them into customers by helping them implement your solution into their workflows.
For instance, if you check out the Flock Team Messenger homepage, you'll see that this effect is precisely what the brand is going for. 
The brand knows its audience is likely to demand a more hands-on shopping process. Plus, it understands that its users need to experience the solution before committing to spending thousands of dollars per year on a product. That is why the opening message invites prospects to "book a demo."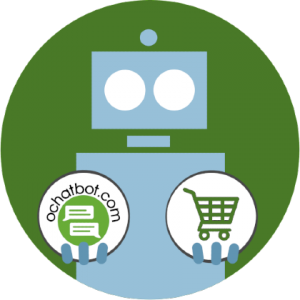 True AI to engage customers for eCommerce, business leads, and customer support.
5% to 35% Increase in AOV*

20% to 40% Increase in Revenue*

25% to 45% Reduction in Tickets with a Customer Service Chatbot
We Guarantee Results... Or Work For Free!
*When shoppers engage with Ochatbot®
Understand What Your Chatbot Needs to Do
The second step of designing a chatbot that works for your audience will be to define your chatbot goals. 
After all, not all businesses have the same objectives when implementing chatbots. (Typical objectives can include sales, lead generation, customer support, etc.). 
And that's not all. Sure, the main aim of your brand's homepage may be to engage prospects and introduce them to what your business does. But, on a specific landing page, you may want to help them understand a more focused solution or solve a pain point related to their product experience.
With this in mind, you must know precisely what the perfect chatbot for your brand and audience will do. Look at how the following three brands aim for different results with their chatbots:
Example #1
Transparent Labs is an eCommerce business, which makes it logical that its chatbot's goal will be to help customers manage their orders. 
While waiting to be connected to a customer service rep, web visitors can choose from four pre-set options that let them track, cancel, or return a package or report a problem. This allows them to quickly solve any issue without waiting for a customer service representative, sending an email, or making an annoying call.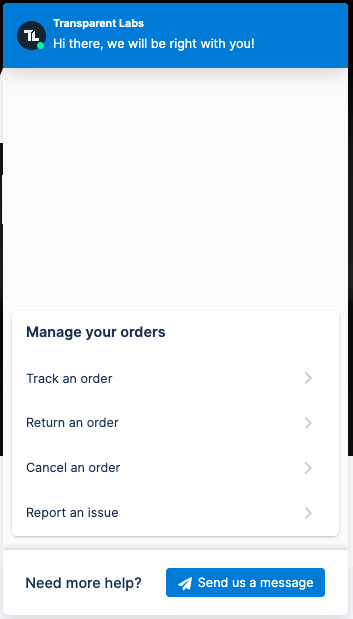 Example #2
Aura, a SaaS brand, will most likely try to get people to start a free trial. This is why Aura's chatbot greets first-time visitors with a message that informs them how the solution "offers the most features and performance for the cost." It then provides a CTA and link to the sign-up page. The clever rocket emoji is also there to symbolize growth while communicating approachability.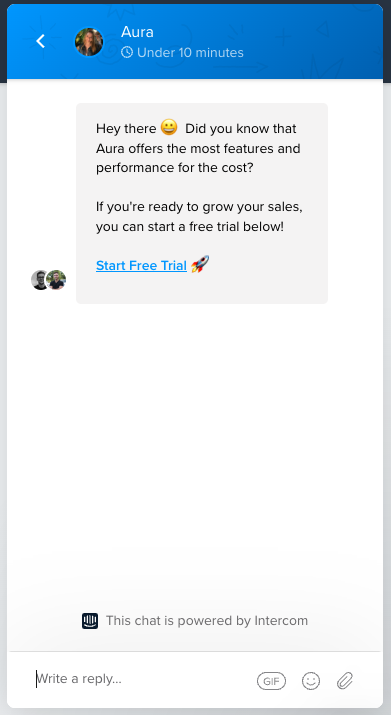 Example #3
In some cases, the purpose of your chatbot may be to help improve user experience on a complex site. 
In these cases, the popup could offer to assist web visitors in finding a specific product or navigating to a page. It could also help them get in touch with your expert team or — like in the example below from BestBuy— schedule an in-store appointment. The latter is especially handy if you want people to visit your business location.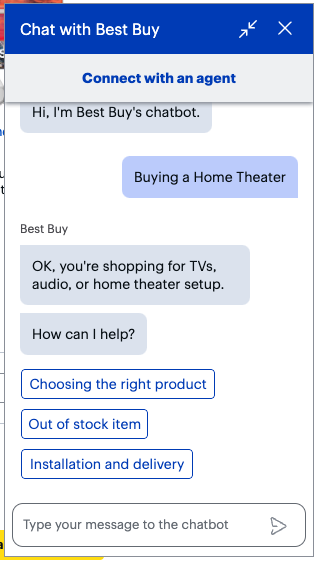 Create a Superior Knowledge Base & Populate Your Menu
Finally, if you want to create the perfect chatbot for your brand, don't forget that any AI solution is only as intelligent as you build it to be. 
Yes, a chatbot can and will answer customer questions. But to do that successfully, you first have to teach it a few things.
So, in order to do this, you will have to take the time to create a comprehensive knowledge base, then populate the chatbot menu with predetermined options to ensure the best possible UX.
Firstly, start by designing your website visitors' first interaction with your chatbot. Create a greeting that invites prospects to communicate with the bot and prepare a few pre-set options. 
For instance, if you look at Hector, the Ometrics chatbot, you'll see that the first message it sends is an invitation to web visitors to specify their needs. Then, once a person clicks on their pain point, they're presented with several resources they can explore to get acquainted with the solution.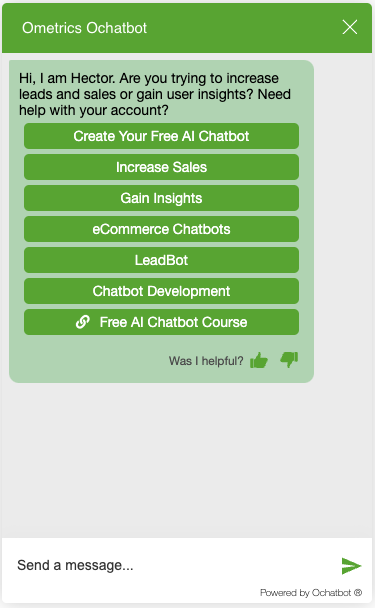 Secondly, go through your existing customer support logs to identify commonly asked questions. Include the most frequently asked of these in your chatbot's first message, and you'll minimize the time it takes for a prospect to find a solution to their problem and ensure a superior experience. 
For example, if you check out the January homepage, you'll see that the initial message includes five options. However, the chatbot also provides a search feature. This allows customers with more advanced questions to find the info they need.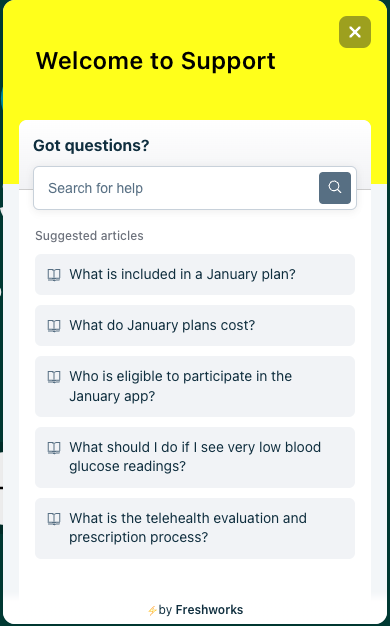 Thirdly, don't think that your knowledge base will ever be complete. Working with people means that you'll likely get new questions every day. So, to ensure that your chatbot is truly helpful to your audience, ensure you continue to populate the assistant with new answers. A quick look at the KURU Footwear chatbot reveals how committed this brand is to helping customers find the information they need to have a positive shopping experience, with more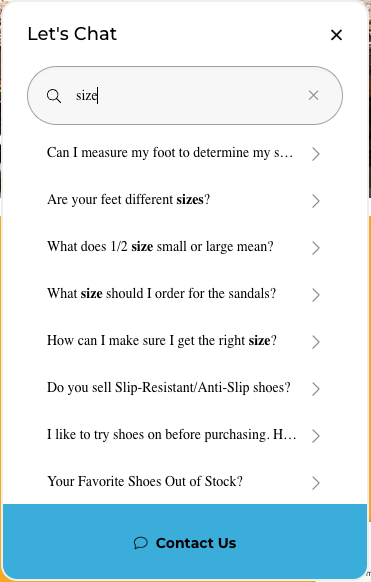 Advanced Strategies to Create a Pleasant Chatbot Experience
By following the three (relatively simple) steps above, you're guaranteed to design the perfect chatbot for your brand and your audience. But how do you take things to the next level?
Well, if you're looking to upgrade your existing chatbot with features that will benefit your brand and prospects, here are two options for you to consider.
First of all, set expectations regarding what the bot can do and what web visitors can expect. 
If you also offer a live chat option, make sure that your customers know when they can expect your agents to be online. Or, if that's not something you can predict, set up a system similar to the one on the Notion Help page, where users are asked for a few bits of information, then told that they'll shortly be contacted by an agent.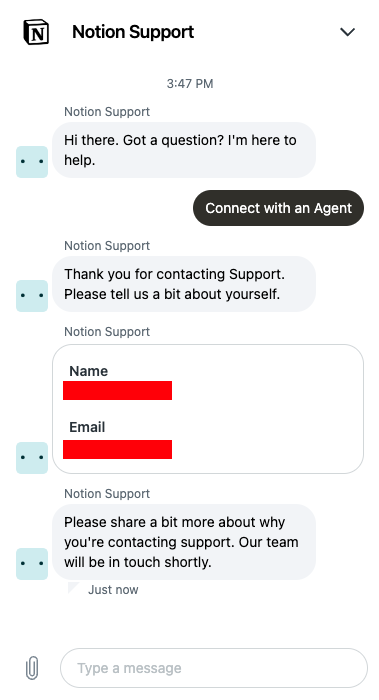 Secondly, if you offer an intricate solution, create an escape clause. By doing this, you're making it possible for customers to chat with a real person. That is essential when dealing with urgent matters or complex questions a chatbot couldn't possibly answer.
Final Thoughts
Sure, the process of designing the perfect chatbot for your brand and audience is never complete. After all, your goal should always be to improve. Nonetheless, you can still achieve great results by following the strategies outlined in this guide.
But as you start your journey towards adding an AI element to your website that will boost UX and promote sales, make sure you choose a powerful chatbot builder that will meet all your needs. This will allow you to incorporate any functionality your customers will appreciate and ensure your prospects see your brand as one they can rely on to deliver superior service, no matter the time of day or the question they have.
Latest posts by Lashanah Tillar
(see all)