Do you want to know the future of chatbots in the eCommerce industry?
You may know of chatbots and their need in conversational commerce, so you must also research the latest trends in Chatbots in 2023. Chatbots are beneficial to your online business, and if you do not know how, then this blog will help you understand the latest chatbot trends in 2023.
Before jumping into the trends, it's best to understand Chatbots and their benefits.
A chatbot is a program that interacts with website visitors. It helps customers by answering their questions and troubleshooting problems. Chatbots also help customers understand and engage with the company.
Many website owners use chatbots as a medium to convert visitors and shoppers into buyers and answer current customer questions.
Overview
What is the role of AI Chatbots?
Latest trends in Chatbots for 2023
Neutral Chatbots to Charismatic Chatbots.
More conversation-driven chats.
Chatbots are based on natural language processing.
Chatbots in a human-like manner. 
What is the role of Chatbots?
AI Chatbots are one of the best ways to interact with customers without human intervention and help companies learn the interests of their target audience. They are beneficial for companies and audiences because it gives instant replies to the questions of customers.
They work as digital assistants to improve a business's efficiency by providing users with a chat window that shows product descriptions.
AI chatbots also play a great role in analyzing performances and tracking conversions and revenue.
As technology advances, so do the trends in chatbots, so you must know the recent trends in Chatbots to utilize them efficiently for your business. Explore more on chatbots.
Latest trends in Chatbots for 2023 – Future of Chatbots
From Neutral Chatbots to Charismatic Chatbots
Neutral chatbots possessing limited interaction with customers was the starting point of chatbots, but chatbot programmers continue to add positive and charismatic personalities to chatbots.
Through these charismatic chatbots, the customer finds it easy to interact with them and ask their questions, which in turn, improves traffic to the website.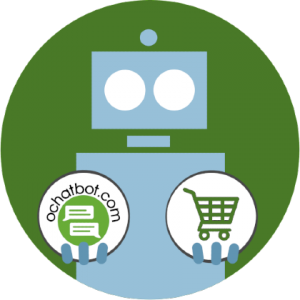 True AI to engage customers for eCommerce, business leads, and customer support.
5% to 35% Increase in AOV*

20% to 40% Increase in Revenue*

25% to 45% Reduction in Tickets with a Customer Service Chatbot
We Guarantee Results... Or Work For Free!
*When shoppers engage with Ochatbot®
More conversation-driven chats
Even though chatbots are helpful for many users and companies, they may not always give relevant answers to the questions of customers.
AI chatbots, on the other hand, learns from the previous conversation of the customers and understand their questions. With the previous conversation data, chatbots will easily resolve the problems of new customers.
Chatbots based on natural language processing
Natural language processing (NLP) is the functional ability of computers to identify and understand human language. Chatbots use NLP for better customer service and satisfaction as they learn from previous interactions with customers. 
Insights with Chatbots 
Chatbots help in the conversion of visitors to customers and provide customer insights. It helps the company to create a customer service strategy through the help of conversations with customers.
Through real-time information, it improves customer service. Through insights, chatbots redesign the customer's services and help to identify customer grievances. 
Chatbots in a Human-Like Manner
Chatbots interact with customers through artificial intelligence, and it goes beyond answering questions, as chatbots continue to understand human behavior, which makes them experts in imitating human conversation.
Even though the conversations are in text, it is driven in a friendly manner. This feature helps in positively solving customer issues and questions and drives customers to visit the site again. 
Chatbots for analytics 
Due to direct interactions, chatbots make systematic records of data which helps in analyzing and reporting metrics, such as revenue and conversions. These analytics improve the performance of chatbots through customer service and helps in competitor analysis.
Chatbot on Social media 
Social media is about interacting with people across the world. It has a great role in most people's lives from building friendships to ordering products. So online businesses use social media as their best source for marketing and improvement and chatbots are among the best medium to deal with customers.
Many eCommerce websites use social channels to communicate with their customers. eCommerce website owners should use AI chatbots that integrate with social media platforms.Ochatbot is the best example of this trend that integrates with instant Facebook messenger. 
Multilingual ability 
One of the best qualities of chatbots is their multilingual ability. This feature is beneficial for an audience who speaks a different language while personalizing their experience and allows businesses to grow globally.
The multilingual ability helps build trust in customers by allowing them to interact in their native languages and understand the answers to their questions.  
AI Chatbots
Even though there are different types of chatbots, AI chatbots are beneficial in satisfying the customers because they provide24/7 customer support. Chatbots interpret proper information based on the inputs of the customers and use different algorithms to understand the contents. 
Ochatbot 
Ochatbots are one of the best AI chatbots which help in converting the audience to customers. It is a user-friendly software that helps in generating leads and improving the market and is simple to install through one script.
Ochatbot allows customers to direct shop through keywords and product descriptions and has a built-in third-party live chat. They have a great role in improving the revenue and marketing sales of the product and services. 
There are many highlights in Ochatbot editors. It allows real-time tests, finds collisions, and creates new questions. They also allow images and videos in the chatbot window. 
Visit our website to know more about the features of Ochatbot. 
If you are a beginner, start with a free plan of Ochatbot.
Future of the Chatbots – Voice Bots
Voice search is one of the technological advancements in chatbots. Online shoppers need rapid results while searching for the products online. 
Many eCommerce websites will enhance the customer experience with voice bots in the future. Voice bots understand the natural language of human beings and respond to the customers immediately with the relevant information. Voice bots are the future of chatbots in the eCommerce industry.
Takeaway 
Like Actress Christina Milian said, "I think chatbots are the future of engagement between a fan and a brand or celebrity." 
The developments and innovations in the features of Chatbots continue to grow. Due to these impressive trends, millions of companies are using chatbots as a platform to interact with their audience and expand their growth. If you are planning to start an eCommerce business, AI chatbots will be an exceptional customer service agent for your website. Check out our latest posts to know more about Artificial Intelligence induced chatbots.
Latest Posts
10 Advantages of Chatbots in eCommerce
Rule-Based Chatbots vs Conversational AI: Which is Best for Ecommerce?
Best eCommerce Chatbot to Increase Sales
How Do Chatbots Learn – Chatbot Algorithm

Latest posts by Greg Ahern
(see all)