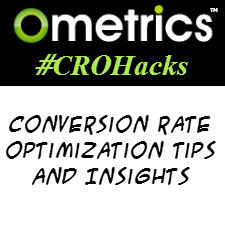 CRO Hacks is a list of conversion rate optimization hacks that will improve your sites conversion rate and provide user insights about your site and business. I have successfully used most of these CRO hacks for clients on landing pages, ecommerce or across a whole site.
This post is updated every time I have a new conversion lift or learn of a new test to try.You can follow the posts #CROhacks on twitter at @Ometrics, @gregahern or on the Conversion Rate Optimization Network via G-Plus or Linkedin
If you have a CRO Hack add it to the comments below or send it to me with your name and twitter handle for credit to [email protected]

Greg Ahern Founder and President of Ometrics® is a fanatic about conversion rate optimization, AI chatbots and lead generation. Greg has been a successful Internet entrepreneur since 1994. He speaks at conferences and webinars and has built a number of internet businesses, including web marketing, web development and internet lead generation, which have been successfully acquired. Greg is the Denver Chapter Leader for the Digital Analytics Association. You can follow Greg on Twitter @gregahern and join his CRO Hacks Groups on Facebook and Slack.

Latest posts by Greg Ahern (see all)