Implementing a
chatbot for sales
on your e-commerce website is one of the best innovative marketing strategies as AI chatbots can act as sales agents in the physical store. Are you planning to start an online store on the Shopify platform? For this, you need to
hire dedicated Shopify developers
.  But if you want to increase customer satisfaction in your online store, opt in for an AI chatbot. In this blog, let us look into the benefits of implementing a chatbot for sales for your
Shopify store
. Increasing the sales of your e-commerce business is not a difficult task with AI chatbots. Online business owners can engage their website visitors and convert them into potential customers by building an AI-powered chatbot for sales. You don't have to pay for the sales team to enhance the customer journey through the conversation. Chatbots can greet customers with personalized welcome messages and increase engagement. E-commerce business owners would be able to track potential customers in the sales pipeline through conversations with sales chatbots.
Overview of the Content
Customer Satisfaction
Easy Setup
Lead Generation
Sales Conversions
Sales Funnel
Answering Questions
HITL and Machine Learning Technology
Natural Language Processing and Sentiment Analysis
Third-Party Live Chat
Direct Shopping
What is the Difference Between Live Chat and AI Chatbots?
Many Shopify store owners have this confusion between live chat and AI chatbots. One of the common questions that online business owners have is
"Which is more effective for customer support? Chatbots or live chat?'
The simple answer to this question is "AI Chatbots." AI chatbots will captivate website visitors and engage them in conversation. The availability and accessibility are greater in AI chatbots than the live chat software.
What is a Sales Chatbot?
A sales
chatbot is an e-commerce
chatbot with artificial intelligence technology. AI chatbots are making online business owners handle several manual tasks instantly. If you are an online business owner, then you should choose the best sales chatbot that will integrate into every e-commerce platform. There are several e-commerce platforms such as Shopify, Woocommerce, Bigcommerce, Magento, etc. A sales chatbot should support your customers on every e-commerce platform and enhance their journey on the websites. E-commerce site owners use sales chatbots to increase customer satisfaction and generate more leads.
AI Chatbots > Customer Success Teams
Many online business owners use AI chatbots for automating customer conversation on an online website. Chatbots with artificial intelligence technology will not only automate conversations but will also automate repetitive tasks and improve customer service. An online business owner can reduce manual tasks and support ticket costs by implementing an AI chatbot. A customer support agent cannot handle multiple questions of many website visitors, but a chatbot automates every conversation and handles several questions at once. A customer success team is responsible for handling customer-related tasks on an e-commerce website. An AI chatbot can equally finish customer tasks and automate the marketing process in an e-commerce website.
AI Chatbot for Sales Automation – Enhance Purchasing Process
Enhancing the purchasing process in an online website will benefit e-commerce site owners greatly. An AI chatbot will help customers find their desired products and add them to the cart. When online shoppers add their desired products to the cart, there is a chance of abandoning carts without purchasing the products. However, chatbots will send push notifications and remind customers about their carts. Chatbots will also support customers after the purchase process. If a customer wants to track order and shipping details in an e-commerce store, AI chatbots will help them track order details.
Why Do You Need Chatbots for Your Shopify Store?
Chatbots with AI technology will talk like a salesperson in a physical store. When you implement an AI chatbot on your Shopify store, your customers will have relevant conversations and purchase products immediately. A Shopify store is a flexible store for both small and large entrepreneurs. Increasing customer satisfaction is essential to survive in the competitive e-commerce industry. AI chatbot is an effective solution to automate sales processes and engage your online shoppers in a sales conversation. Ultimately, an AI chatbot on your e-commerce store will help online business owners increase revenue and customer engagement.
Features of an E-commerce Chatbot – Chatbot for Sales
After you choose a chatbot for your e-commerce website, you should train the sales bot in your business objective. A chatbot should ask relevant questions to the customers to make them purchase the products and services from your website. E-commerce website owners use AI chatbots to increase B2B(Business to Business), B2C(Business to Customers), and C2C(Customers to Customers) businesses. AI chatbots can also help B2B business owners to generate leads through conversation. Keep reading as we look into the ways you can increase sales by building an effective chatbot for your website.
1. Customer Satisfaction – Customers-Based Sales
Website visitors should leave your website with the intent of re-visiting even if they didn't make a purchase. Customer satisfaction plays a vital role in increasing website visitors and potential customers. A chatbot should help the customers purchase the products by understanding their preferences through their conversation. Customer engagement with chatbots shouldn't sound mechanical. With artificial technology, customers can receive personalized responses and recommendations. Personalized conversations with AI chatbots should provide the experience of talking with a human agent.
2. Easy Setup
AI-powered chatbots in e-commerce websites shouldn't have a complex interface. If an AI chatbot is too complex to set up on the website, online business owners may be unable to customize the sales chatbot. The AI-based,
Ochatbot
doesn't have a complex interface and it is code-free. Online business owners can easily set up Ochatbot on their websites and send a personalized messages to customers. This AI chatbot also does page targeting and pop up with relevant questions. E-commerce site owners can install the Ochatbot on their websites with one script. This AI-powered chatbot is fully customizable. E-commerce site owners can change the color and size of the chatbot to match the brand's theme.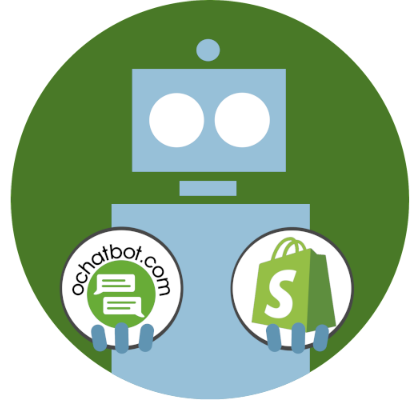 True AI to engage customers for eCommerce, business leads, and customer support.
Create happy customers while growing your business!
5% to 35% Increase in AOV*

20% to 40% Increase in Revenue*

25% to 45% Reduction in Tickets with a Customer Service Chatbot
We Guarantee Results... Or Work For Free!
*When shoppers engage with Ochatbot®
3. Lead Generation
As mentioned above, AI chatbots can increase sales in all e-commerce businesses. B2B website owners can optimize their businesses with AI chatbots and train the chatbot with lead qualifying questions. B2B site owners would be able to qualify more leads with lead qualifying questions. Qualifying leads is now an easy task with
Leadbot.
Ochatbot offers a leadbot template and the conversion rate is from
5% to 15%
for B2B businesses. Leadbot engages with a customer and sends the information to your sales team and customer relationship management system. Customers will be able to understand business objectives and services through interacting with LeadBots. Leadbot templates generate more leads easily and reduce support ticket costs. Customers can schedule the meetings through conversation and the lead qualification process becomes a piece of cake for online businesses.
4. Sales Conversions: AI Chatbots for Sales in E-Commerce
E-commerce websites benefit more in the sales process with the AI chatbots' automated customer support. AI chatbots can exponentially reduce the support ticket costs and enhance the sales process with Artificial Intelligence technology behind them. A good customer experience is one of the
benefits of setting up chatbots on your website
. Because of this, the online business sales process will soon become automated with AI chatbots. Chatbot pop-ups invite new customers to websites and help them purchase products through upselling and cross-sell strategies. Sales chatbots reduce the sales cycle and engage with the customers like real-life sales reps. Chatbots generate leads and engage customers through fast response and online business owners will likely witness their sales conversions rise.
5. Sales Funnel – Sales Chatbot Support
Online business owners can use chatbots to optimize their websites at every stage of the sales funnel. Sales chatbots can understand customers' preferences through conversation and develop products based on their choices. Chatbots reduce the additional tasks of online business owners, such as creating a traditional marketing funnel. A conventional sales funnel analyzes the decision process of a customer and entices them to purchase the products. The artificial technology behind the chatbot predicts customers' inquiries and answers their questions rapidly. E-commerce site owners have used sales funnel to implement different marketing strategies through multiple channels and increase sales. AI chatbots perform all these tasks and tirelessly answer questions to help you grow your business.
6. Answering Questions – Sales Chatbots Never Sleep!
If you are employing human agents to answer every question of your customer, it is hard for them to answer repetitive questions tirelessly. A sales chatbot can converse with customers 24/7 and identify customer behavior patterns rapidly during the conversations. AI-powered chatbots help the business collect data from the conversation. Through this data, sales chatbots can send personalized suggestions and recommendations to e-commerce site owners. Online business owners don't have to employ a sales team to answer questions and recommend products. Ochatbot gives product descriptions within the chat window and connects one question to another question to answer effectively. Online business owners can customize Leadbot and generate high-quality leads with good lead qualifying questions.
7. HITL and Machine Learning Technology for Customer Support
AI chatbots reduce human errors in conversations and respond to the customers like sales reps in a physical store. Online business owners should also regularly update chatbots with proper information. Machine learning chatbots can learn the wrong information and respond with rude comments if there is no constant human intervention. Human-in-the-loop is an advanced technology that reduces machine errors during conversations. Online business owners will be able to increase engagement without errors and generate more leads/customers with HITL.
8. Natural Language Processing and Sentiment Analysis in Conversation – Enhancing Customer Experience
Natural language processing in chatbots can understand multiple languages and converse with them. NLP allows the chatbots to answer questions from customers appropriately without giving irrelevant answers. As mentioned above, with natural language processing technology and sentiment analysis, chatbots can understand the questions of a customer. NLP makes chatbots smarter when asking questions to customers and this is how chatbots qualify for leads in B2B. Imagine increasing the leads and customer visitation to your website with chatbots instead of spending more money on support tickets and a sales team.
9. Third-Party Live Chat
Online business owners can now add Ochatbot to their websites so that customers can chat with the bot and be directed to a third-party live chat if needed. Ochatbot is a built-in third-party live chat that you can buy. These AI chatbots come in
basic, plus, and pro versions
. E-commerce site owners don't have to worry about chatbot misinterpretation and inappropriate communication with the customers. There are always human agents in the loop to understand the questions of customers and rectify chatbots to respond appropriately.
10. Direct Shopping
An AI chatbot will enhance your online shoppers' purchasing process with direct shopping features. Traditionally, when a customer converses with a chatbot and leaves the chat window to purchase products. But, an AI chatbot will help online business owners engage in conversation and add products to their cart from the chat window. Online shoppers don't have to leave a chat widget to purchase products. Chatbots with AI technology enhance the purchase process with direct shopping functionality.
Final Word
AI chatbots are similar to the sales reps in a physical store and a B2B. They perform all administrative tasks from greeting customers to scheduling meetings. Online business owners can enhance the customer experience and witness increased sales and revenue. If you can reduce support ticket costs, invite more customers to your website, and track your customer journey through their conversations with AI chatbots, why not get it immediately?
Buy an AI chatbot
for your e-commerce site and build a customer-centric business.
Latest Posts
6 Ways to Gather Feedback With AI chatbots: Chatbot Feedback
What is HITL (Human-in-the-Loop) in Chatbots?
9 Benefits of Conversational Sales in E-commerce
5 Effective Lead Generation Chatbots
AI Chatbot Development – Ultimate Guide 2022
Frequently Asked Questions
What is the sales strategy for a sales chatbot?
An online business owner should first understand their customers and introduce their business objective during chatbots' conversations. E-commerce site owners should build AI chatbots with key intents to perform various significant tasks, like reducing cart abandonment and site-browsing abandonment.
How do sales bots differ from other chatbots?
Chatbots, like rule-based or flow chatbots, follow scripted rules and give branch-like questions to the customers. If a customer asks questions that differ from the scripted ones, rule-based chatbots give a mechanical response. Sales bots with Artificial Intelligence can tackle every question of a customer and encourage them to buy products.
How do chatbots make money?
Using AI chatbots for lead generation, digital marketing, and e-commerce can increase customer engagement through interactive questions and generate more revenue for your business.
What are the best chatbot platforms for e-commerce?
Ochatbot, Tidio, and Gobot are the best chatbot builder platforms for e-commerce industries.
Will chatbots collect customer information?
Chatbots don't track customers' personal information. Instead, an AI chatbot with ML (machine learning) technology will help you collect customer data through conversations. An online business owner will know customer conversation patterns and collect their purchase history.

Latest posts by Greg Ahern
(see all)