E-Commerce Chatbot
Wondering whether you need an e-commerce chatbot for your business? You're not alone. More and more business owners are now considering these efficient, AI-powered customer service solutions. And if you're still on the fence, we're here to show you the seven reasons why you need an e-commerce chatbot!
How can an e-commerce business benefit from chatbots? Does your company even need one? We'll answer these questions along with the top seven reasons why an e-commerce chatbot could be a smart investment.
3 Telltale Signs That Your E-commerce Business Needs a Chatbot
Take a look at the following three statements and see if any of them apply to you and your business.
Your customer support team spends more than half of its day answering the same questions over and over.
You leave your customers waiting for simple answers to simple questions for hours on end.
Your business needs help to stay relevant in a highly saturated industry.
If any of the above is true for your business, then it's high time you consider an e-commerce chatbot.
7 Reasons Why You Need an E-commerce Chatbot
You may think that a chatbot is a costly, unnecessary investment. But we're here to prove otherwise. So here are the seven reasons why you need an e-commerce chatbot for your business:
Reason #1: They're Great for Product Recommendations
Did you know? Approximately 60% of shoppers say they are likely to be repeat buyers if companies provided personalized recommendations. (Forbes, 2021)
Chatbots are great for personalization and product recommendations. You can easily program chatbots to recommend related products and services to people who are already interested in another set of products and services.
Offering personalized shopping experiences is a great way for e-commerce businesses to stay relevant and boost sales. Statistics show that 4 in 10 people would end up purchasing something more expensive than they planned because of a personalized experience.
But aren't these considered impulse purchases? Yes, these are impulse store purchases. But less than 5% of customers return impulse purchases as a result of a personalized shopping experience. And interestingly, around 85% of these impulse buyers considered themselves satisfied.
Reason #2: They Make For No-Pressure Shopping Experiences
Did you know? Less than 32% of people trust salespeople, but 88% will buy from a salesperson that they trust. (LinkedIn, 2021)
People who enjoy shopping tend to enjoy the experience more when they don't feel pressured into making snap decisions and buying things they don't need. And many people are more comfortable talking to chatbots because chatbots don't judge, and you can't embarrass yourself in front of one.
The presence of a salesperson whom a customer doesn't inherently trust can cost you sales in a traditional shopping setting. So, in an online setting, you can give their jobs to chatbots to make for a no-pressure shopping environment. Sure, customers always appreciate help and recommendations. But what they don't like is somebody breathing down their necks while they do their shopping.
A customer can use chatbots to register a user account, facilitate payment, get order details, and even register a complaint. Chatbots can help with every interaction between customers and e-commerce businesses.
Reason #3: Your Customer Service Will Be Available 24/7
Did you know? Over 50% of customers expect businesses to be available to answer questions 24/7. (Ubisend, 2016)
This is probably one of the biggest benefits that chatbots can offer. Chatbots enable your business to operate and answer questions 24/7.
An e-commerce chatbot is a form of customer service that allows your business to be reachable at any time of the day. If you program a chatbot just right, it can answer all basic questions and help customers solve problems on their own. Your customers can reach out to your e-commerce chatbot and get their issues addressed without delay.
However, AI chatbots won't have the answer to everything. Customers may sometimes require the help of an actual customer service rep. Luckily, chatbots allow customers to leave messages for agents too. Though your customers may not get their questions answered instantly, they can still send messages during the wee hours of the night.
Reason #4: Chatbots Significantly Reduce Customer Service Costs
Did you know? Chatbots can reduce customer service costs by up to 30% and help companies save as much as $8 billion by 2022. (VentureBeat, 2020)
These popular AI chatbot solutions don't come cheap, and it's not just about the money. Although you can get most of these conversational solutions via subscription plans, companies can also build their own in-house chatbots. Many factors come into play when figuring costs.
Chatbots can take a few minutes to a few hours every week to maintain. But why is maintenance necessary?
Chatbots serve as an interactive FAQs, so changes to the FAQs require changes in the chatbots too. It isn't good for business when contact center agents and chatbot solutions provide wrong answers.
Companies should always make sure that both chatbots and agents have the most up-to-date information. And this is especially true when you're expecting an influx of questions about new events, promotions, discounts, etc.
A chatbot's purpose has always been to supplement, not replace, human representation. Here is why:
Chatbots don't know the answer to every business-related question, but they can answer almost 80% of routine questions.
Some people don't trust chatbots and prefer to talk to or chat with actual representatives.
Chatbots are great for gathering information and passing it on to agents for follow-up. Customers won't need to repeat their concerns, and agents will have ample time to review their resources before providing customers with an answer.
Reason #5: Your Target Customers Are The Younger Generations
Did you know? Millennials and Zoomers prefer interacting with chatbots on less complex issues. (Zendesk, 2021)
People belonging to younger generations tend to be more comfortable interacting with bots than with human agents. Statistics also show that they prefer chatbots for resolving problems quickly.
The younger generations favor text and chat more than any other customer service channel. They like solving issues on their own and dislike bothering people over something they consider a simple problem. So an e-commerce chatbot makes sense if you're selling to younger people in the millennial and Z generations.
Reason #6: An E-commerce Chatbot Can Help With Recovering Abandoned Carts
Did you know? About 70% of users abandon their online shopping carts for a multitude of reasons. (Baymard, 2020)
Abandoned carts are a normal part of any online store. You can't expect anybody who wanders onto your site to purchase every single item in their cart. And even if you provided the most wonderful pre-purchase experience, there is never a guarantee that a customer won't leave you hanging.
So how does an e-commerce chatbot help? Chatbots can send customers reminders for items left in their carts. And chat reminders are generally more effective than, say, email reminders. Compared with chat inboxes, more people leave thousands of unread messages in their email inboxes.
You can program an e-commerce chatbot to send reminders on Facebook Messenger where open rates and click-through rates are the highest. You just have to convince your customers to opt in to these timely reminders.
Reason #7: Chatbot Analytics Can Help With Business Optimization
Did you know? The year 2017 produced more data than all the previous 5,000 years combined. Analyzing and making sense of this data can give your e-commerce business an edge over your competitors. (Salesforce, 2020)
Data analytics is a key part of e-commerce businesses nowadays. It allows businesses to learn a wealth of information about customers, products, and even their competition. E-commerce chatbot analytics can help you track:
User Metrics
Total users your e-commerce chatbot has.
How many of them are new users?
Number of users who actively read your messages
How many customers will respond?
Chatbot analytics can help gauge the effectiveness of your customer interactions. Some AI chatbot tools can even help capture user sentiments so the chatbots can send an appropriate automated reply. Knowing what went wrong during chatbot conversations can help improve the customer experience.
Messaging Metrics
How many messages does your bot receive in a day?
The number of messages your bot can understand and provide the correct answers?
How many conversations does your e-commerce chatbot initiate?
How many messages are simply replies?
Take a closer look at the messages you send and the conversations you start. Chatbots can easily become the face of your brand. You want your e-commerce chatbot to sound consistent with your brand's voice.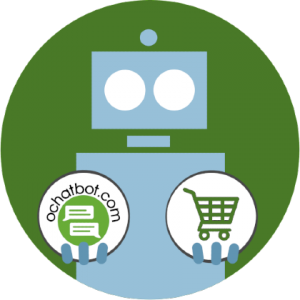 True AI to engage customers for eCommerce, business leads, and customer support.
5% to 35% Increase in AOV*

20% to 40% Increase in Revenue*

25% to 45% Reduction in Tickets with a Customer Service Chatbot
We Guarantee Results... Or Work For Free!
*When shoppers engage with Ochatbot®
Bot Metrics
How many of your interactions resulted in customer satisfaction and a completed goal?
How much time does a customer spend with your e-commerce chatbot on average before they complete their goal?
The number of chatbot users who solved their problem without actually requiring help or intervention from an agent.
These metrics will allow you to see how effective your chatbots are. User satisfaction as a chatbot metric isn't only about how fast you can answer their questions. It is more about the quality of your answer and the process your customer went through to get that answer.
Commercial Metrics
The time period for your e-commerce chatbot to pay for itself (ROI)
How many quality leads has your chatbot generated?
Number of quality inputs it can provide for new product development
Chatbots are an investment. You'll use money, time, and effort to develop and maintain these AI solutions. But like any investment, you want to know that it's worth it. The good thing about chatbots is that you can very easily quantify the benefits they can provide.
3 E-commerce Chatbot Tips and Best Practices
It's easy to develop chatbots nowadays, and you can even make use of chatbot templates. But if you're looking to make a chatbot, keep in mind these tips:
Practice Transparency
Any e-commerce chatbot should introduce itself as such from the get-go. Yes, bots can chat like humans, but you should never allow a customer to believe they're chatting with a human when they are not. Leveraging the power of artificial intelligence and natural language processing is fun, but what if your customer doesn't trust bots?
You can try to build the bot's credibility by correctly answering all of your customer's questions, but if you can offer to connect them to an agent, do so. You can also ask them to leave a message and wait for an agent's response. Be sure to provide them with a timeframe you can commit to.
Protect Your Customers' Privacy
Never program bots to be too intrusive. Though you can most definitely ask customers to opt-in for reminders, make sure you don't flood their inboxes.
Customers can also provide your chatbots with important personal information. You can ask for permission to use their data for market research and analytics. However, you might want to let your customers know how you intend to protect their identities and safeguard their data.
Work on Your UI/UX Design
Chatbot UI/UX design may not be the first thing to come to mind when you're developing a chatbot. Most developers are more concerned with providing accurate responses, and there is no problem with that. However, a good UI/UX design for your website and a cool logo design need attention too.
With UI/UX design, the smallest improvements can make the biggest difference. For example, typing indicators in customer chat screens is helpful for impatient chatters. Or, when customers are waiting for agents, have your chatbot update them when they move up the line. They see your modern logo design, it instills it in their memory. Alongside positive experience, prioritize the chatbot's visual elements as well. In that phase, you can use the best Figma mockup plugin similar solution to create an outstanding design for your chatbot.
Should You Get an E-commerce Chatbot?
Any e-commerce business looking to expand its horizons and improve its customer service should implement a chatbot. What other solution can give you these benefits?
Round-the-clock customer service and instant responses
Cross-selling, upselling, and personalized product recommendations
A no-pressure shopping experience for your customers
Timely reminders that serve as follow-ups for abandoned cart items
Chatbot analytics for business operations and product development
If you still don't have an e-commerce chatbot for your website, consider getting one. These customer-centered and AI-powered solutions aren't a fad. In fact, you can expect to see the market for chatbots grow into a multi-billion dollar market by 2025.
To implement and maintain an e-commerce chatbot, you will need to spend time, money, and effort. And if it works, great! But if it doesn't pan out at first, work on it some more. Over half of your customers are already expecting an e-commerce chatbot feature to help them out with their online shopping. Don't disappoint them!

Latest posts by Greg Ahern
(see all)