Are you an online store owner and looking for the best platforms to sell online? If so, this article is for you.
We live in an age where almost every sector is looking for ways to move towards digitalization. The same is true for the commerce sector because buying and selling online is a significant industry with massive potential.
With the rise of eCommerce, a variety of brands and businesses continue to move online to market and sell their products. When it comes to selling online, the types of products you can sell are nearly limitless. You just have to find the right sales channels and platforms that suit your purposes to help drive your sales.
How to Choose the Right Online Selling Platform?
Selling products digitally has great potential and fascinates many businesses in a variety of niches.
Owning an eCommerce website or an online store grants you the ability to start selling online. To start and establish your online marketplace, you must decide what platform suits your niche and your business model.
There are two major ways to sell online: You can either create your own website with e-commerce platforms or find an online marketplace. You can find an online marketplace where you can leverage their website to post product listings and sell as a vendor.
Both methods hold equal opportunity to sell products online depending on your choice. If you are a business owner trying to venture into the world of online shopping and looking to upscale your growing business, then owning an eCommerce website or online store would be ideal.
On the other hand, if you are venturing into online sales as a pastime, to declutter your house, or to sell any products as recreation, then listing products on online selling sites and online marketplaces is the right choice for you.
Additionally, you would have to take some factors like growth potential, maintenance costs, customer engagement, and support features into account.
Best eCommerce Platforms to Help Create Your Own Store
Shopify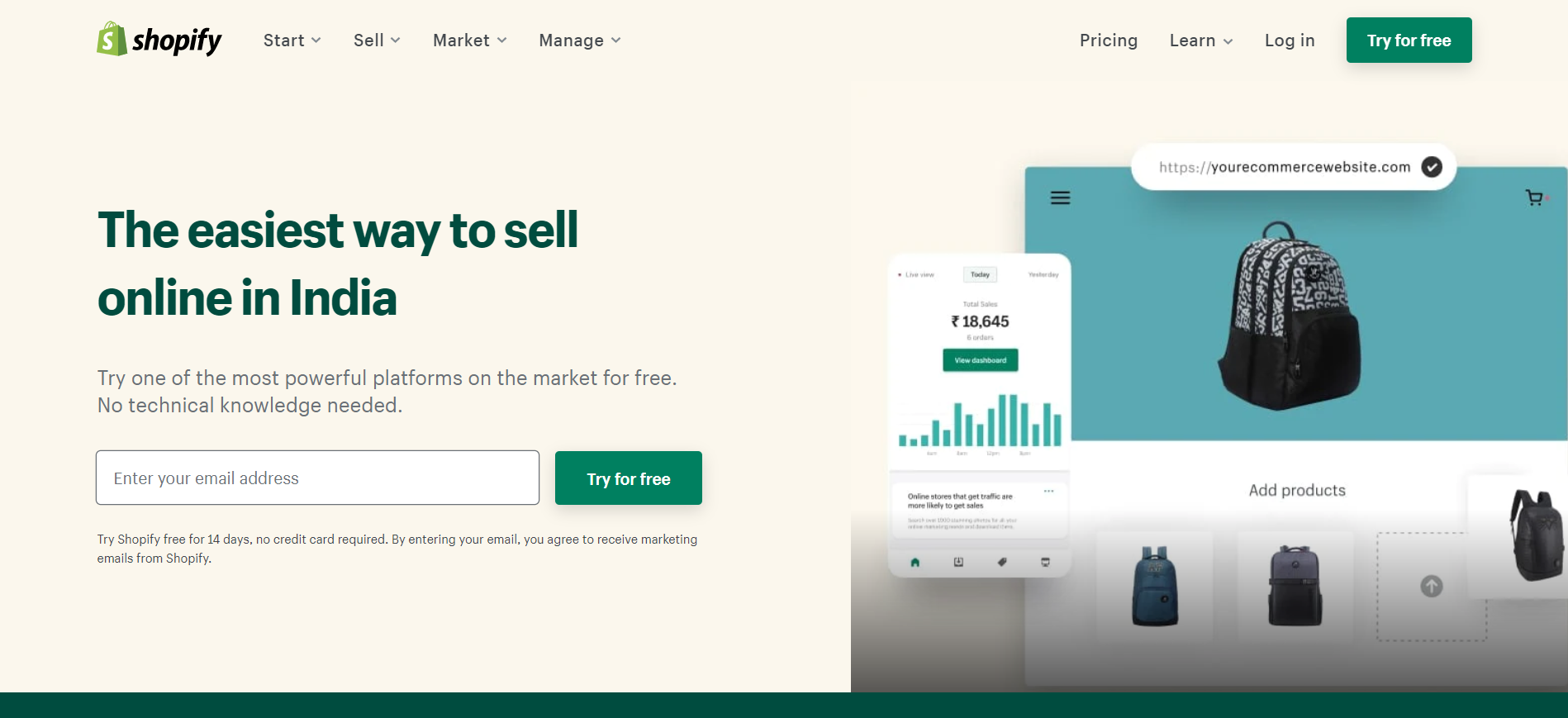 Shopify is one of the renowned eCommerce platforms that helps you set up your online store and efficiently sell any of your products.
About 1.75 million merchants sell using the Shopify platform making it one of the most profitable online platforms. Around 3.76 million live websites currently use Shopify and the total order value in 2021 is estimated to be $79.5 billion.
Shopify helps you create an online store or move your business from a third party to your Shopify website. Built-in features help you easily advertise and manage the shop from a single platform. Regardless of your products, Shopify helps you set up your own eCommerce store and helps you sell online.
The main advantage of Shopify is that it is flexible and easy to use. It also has an interactive console that requires no coding and offers a structured interface to the creator and the user.
Additionally, it houses many features and has a wide array of themes, customizations, and extensions for an easy end-to-end process.
Shopify comes with a flexible pricing plan depending on the size of your enterprise and the features you require. You can choose the basic plan to start for the price of $29 per month, the Shopify plan for growing business at $79 per month, and the advanced plan at $299 per month for enterprise-level growing businesses.
Related Post: Shopify vs Wix – Which is Best for E-Commerce?
Magento

 Magento is an eCommerce platform to set up your online store and scale your eCommerce sites. This is one of Adobe's products and helps you connect and target both business-to-customer (B2C) and business-to-business (B2B) customers.
Magento is an open-source eCommerce platform that gives you complete control over your website and lets you customize the website to your ideas. It also offers end-to-end support starting from setting up your website to receiving online payments.
Since it is your store, there are no restrictions on what products to sell. Hence, you can choose any particular niche and create an online store.
Magento's cloud and AI-based platform provide the seller with the necessary insights to understand the buyer's notions and deliver more sales.
Additionally, Magento's AI support system helps you automate various complex tasks. This automation is a variety of business models, thereby cutting down on the time taken to complete the task.
Magento is an open-source and free-to-use platform. However, you must pay for domain hosting, additional add-ons, and plugins. Depending on the scalability and features it offers, the prices may vary from $12,000 to $250,000.
WooCommerce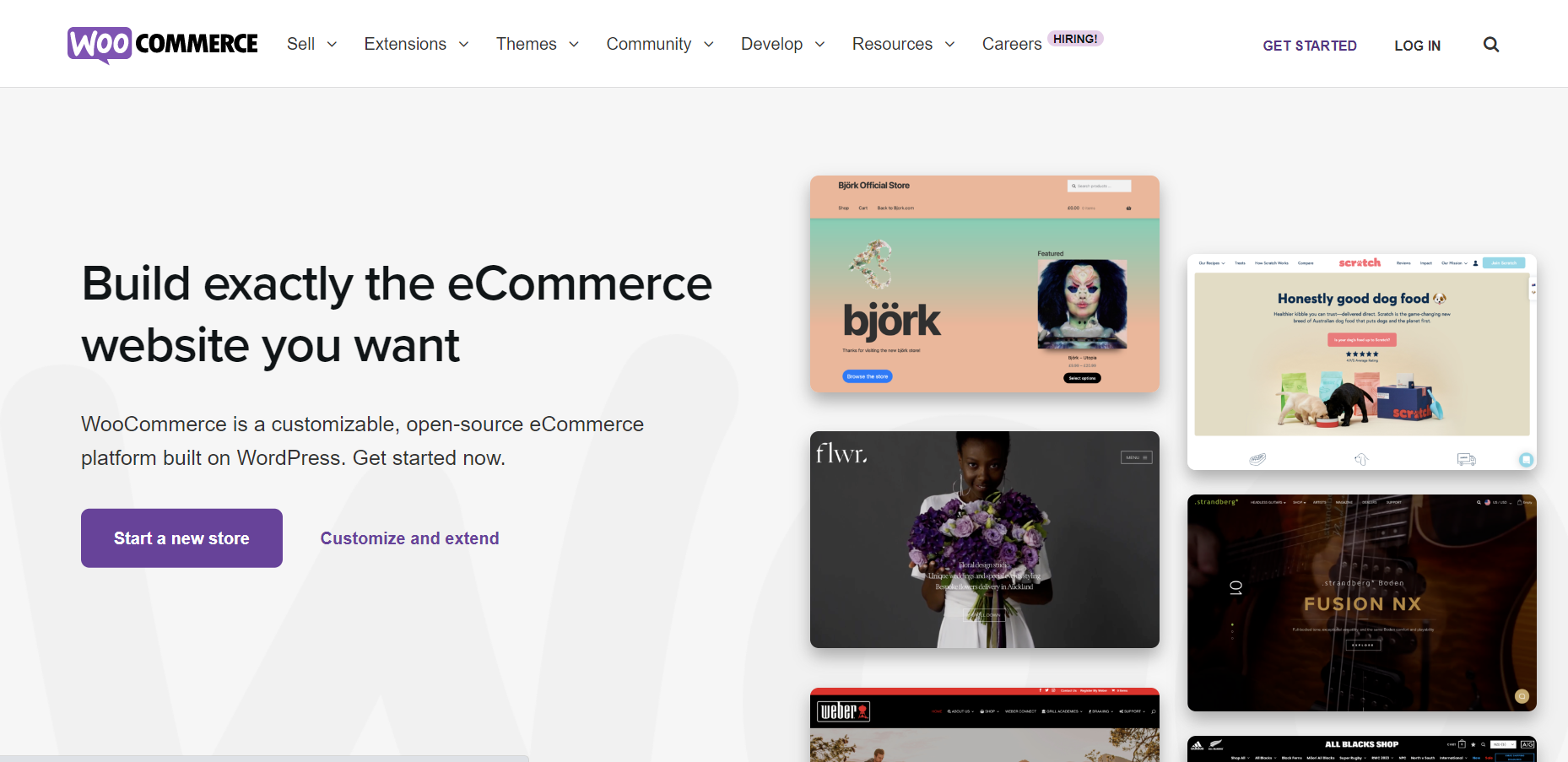 WooCommerce is a fully customizable online platform that you can build using WordPress and sell products online. It is one of the fastest-growing eCommerce communities.
You can create your own site in a couple of hours and enable the WooCommerce plugin on your WordPress site. In addition, you can enable a variety of plugins and extensions to help you with the processes from creating your online website to customization and payments.
If you are new to the field of eCommerce and looking for a way to enhance your store and its services, you can hire experts to help you perfect your store. You can manage your online store anywhere using your mobile devices. Additionally, the platform provides you with sales inputs, insights, and analytics from real-time data.
Initially, you must invest in a domain for your site and create your store using WordPress. The domain registration and its hosting may cost up to 130$ per year on average.
Depending on the features and extensions for shipping, customization and payment, security, and SSL certification, the pricing may vary as much as $0-100 per year. Ultimately, the more upgrades and features you spend on, the better reach and better user engagement you can achieve.
Post You May Like: Which is the Best WooCommerce Chatbot? – A Comparison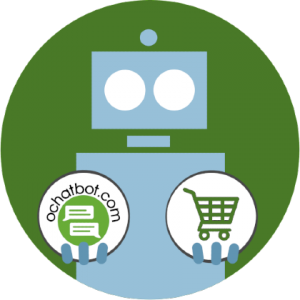 True AI to engage customers for eCommerce, business leads, and customer support.
5% to 35% Increase in AOV*

20% to 40% Increase in Revenue*

25% to 45% Reduction in Tickets with a Customer Service Chatbot
We Guarantee Results... Or Work For Free!
*When shoppers engage with Ochatbot®
Best Online Marketplaces to Sell Online
Facebook Marketplace
Facebook is one of the most popular social media platforms. Instead of just bringing people together socially, Facebook took a bold venture into the world of eCommerce to help people buy and sell their products.
You can join Facebook groups to find products, and buy and sell them. This is the best platform for sellers looking to target local customers in your vicinity, and it is simple to access its marketplace from any Facebook account.
Facebook collaborates with Shopify to help eCommerce business owners promote and advertise their products on social media platforms and improve their reach.
The key features that enable sellers to run ad campaigns, integrate Shopify, AI tools to gather insights into your products, track sales, and offer a communication bridge between the seller and buyers make the Facebook marketplace a great place to sell products online.
There are no listing fees for the product, but as a seller, Facebook requires you to adhere to their guidelines and requirements. The Facebook marketplace currently charges 5% of the selling price for every order shipped or $0.40 per shipment for goods with a selling price of less than $8.00.
Amazon
When people think of an online store, the first website that comes to mind is Amazon, which remains a titan in the eCommerce world since it began in 1995. Amazon is one of the best platforms to sell online.
When it comes to buying or selling online, Amazon is the go-to place. The most important thing that distinguishes Amazon from other commerce sites is the number of people using Amazon as their main platform to buy and sell online. This helps you reach a broad spectrum of audiences regardless of your niche. Along with its huge array of buyers and sellers, it is one of the most trusted online marketplaces.
Some particular features that make amazon a great eCommerce site are:
Setting up your own store on Amazon is simple and you can begin in a day. The FBA (Fulfillment By Amazon) program helps you access logistical solutions that enhance user fulfillment and facilitate delivery and returns, which makes work easier for your team.
In addition, some features like the AMS (Amazon Marketing Services) facilitate your advertising and help reach a variety of audiences. The business reports, sales analytics, and support Amazon provides make them an ideal online selling platform. In case you are also interested in Amazon Marketing you can read this guide from ClearAds.
The pricing plan for Amazon varies depending on your needs. You can choose the individual plan which charges you $0.99 for every item sold plus additional selling fees, or the professional plan for $39.99 per month plus additional selling fees.
The professional plan aids high-volume sellers that sell more than 40 products per month. Depending on the type of item you sell, Amazon taxes 8% to 20% per item.
Amazon helps you sell almost anything, which makes them competitive in terms of sellers, and product pricing. However, you must margin the product pricing so you turn a profit.
Bonanza
Bonanza is a new name making its mark in the online marketplace. With over 50,000 sellers, Bonanza is one of the fastest-growing communities of online stores and suits small business owners trying to get their businesses started.
Setting up your store in Bonanza is simple because there are no listing fees for product categories and Bonanza only takes a cut if you sell a product. Bonanza helps you list your items across categories similar to Amazon and eBay.
Bonanza has some notable features like inventory management and synchronization which syncs the listing from other platforms like Amazon, and eBay and adds them to your Bonanza store batch editor which helps you give additional discounts and edit multiple products simultaneously, along with advertising and insights.
If you are running a business and post product listings often, it's best to upgrade to a premium membership. Bonanza has three different pricing ranges based on its features and its scalability. You can either choose the Gold plan for $25 per month, the platinum plan for $55 per month, or the titan plan for $167 per month.
eBay
eBay is one of the oldest and best platforms to sell online. The main reason for its reach is that on eBay you can sell almost anything. It has one of the largest buyers and sellers networks in the world but has less trust from users than Amazon.
One of the main distinguishing features of eBay is that as a seller, you have two selling options. You can select the fixed price listing where you list a product and sell it to one buyer. There is also another option called auction listing, where different buyers bid on your product and auction it off to the highest bidder.
There are four types of pricing plans on eBay. The starter plan comes at $4.95 per month, the basic at $21.95 per month, the premium plan at $59.95 per month, and the anchor plan at $299.95 per month. You can choose the pricing plan depending on your selling volume and your level of expertise.
Listing products for some categories don't require a listing fee. However, to use all the features for selling in large quantities, having a premium subscription is ideal.
eBay holds massive potential for sellers but it is competitive for starters to sell their products as its market is quite big with experienced players.
Etsy
Etsy is more of a niche marketplace where you can find collectibles, fashion, beauty products, artistic products, and antiques. You can sell across a variety of categories, unique niches, and products.
A variety of buyers trust Etsy because it is transparent about its reviews, and focuses on markets that are more discerning about their products. From a seller's point of view, Etsy is user-friendly with its structured and streamlined process. Setting up an Etsy store is easy, even if you have no idea where to start with eCommerce platforms.
You can customize your Etsy store depending on your preferences. This gives you lucrative offers on free domains, promotional tools and credits for advertising, and insights and analytical reports.
The pricing plan for Etsy comes in two ways. For the standard plan, Etsy charges you no monthly fee, but it charges you a $0.20 fee per listing and a 5% transaction fee if you sell the product. With the $10 plus plan, you can get more additional tools to elevate your business to its next level.
Final Thoughts
So far, we have looked into the 9 best platforms to sell online. Choosing the right online platform always depends on what you are selling and how you want to sell them.
You can either choose to create your own online store or showcase your products in other marketplaces. Research about your niche, and validate their pricing, plans, and features while choosing your online platform for sales. With this information, you may now decide which online platform to sell on, or begin building your website if you feel that's the right choice for your store.
Latest Posts
Frequently Asked Questions
What niche has the highest potential?
Fashion items are a niche that holds the highest potential to sell in 2023. Along with that, skincare products, and electronics also hold the highest number of sales.
Are online platforms really worth it?
Choosing your online platform and the right amount of investment in time and resources can reap solid benefits.
What products are in trend in 2023?
Currently, fashion items like peel-off masks and nail polishes, and electronic products like smartwatches and Bluetooth speakers are a great trend in 2023.

Latest posts by Greg Ahern
(see all)