Do you want to know the best WooCommerce chatbot to automate tasks? Chatbots are ruling the eCommerce world with automated messages and making difficult tasks easy.
Recent research elucidates that by the end of 2040, 95% of purchases will occur through eCommerce platforms. Ecommerce site owners should optimize their stores to enhance customer service.
AI-powered chatbots play an important role in automating difficult tasks in eCommerce stores. AI chatbots emulate an actual salesperson in the physical store. Integrating an AI chatbot in eCommerce stores provides effective customer service solutions. This article focuses on the popular WooCommerce platform and the best chatbot to implement on the site.
Overview of the Content
What is the WooCommerce Platform?
WordPress Website – eCommerce Site Builder
Benefits of Implementing AI Chatbot on eCommerce
What is the WooCommerce Platform?
WooCommerce is one of the best user-friendly and highly customizable eCommerce platforms that is also an eCommerce plugin for WordPress. Many online business owners use WooCommerce for its flexibility. You can sell different products on this platform, digital goods, external products, and e-books.
Payments through the WooCommerce platform are also safe and secure with regular updates and Paypal and Stripe payment gateways to ensure credibility for eCommerce store owners. The warehouse management and POS (Point of Sale) systems help to enhance the navigation for customers.
Since the WooCommerce platform is WordPress-specific, online business owners should use the WordPress chatbot plugin and pick the best chatbot for the platform.
WordPress Website – eCommerce Site Builder
WordPress is one of the preferable eCommerce site builders because it has pre-made themes and plugins to improve the functionality of online stores. These WP chatbot plugins will answer most of the customer service questions effectively. Here are some of the advantages of building your eCommerce site on the WordPress website:
Affordable for small business owners.
Layout customization is an easy task.
The constant code in the website builder will help you rank in the search engines.
If you want to create blogs on your eCommerce site, the WordPress website is the best choice since it is a blogging platform.
WordPress security plugins are safe and secure for the eCommerce store owners.
What is a Chatbot?
Chatbots are computer programs that mimic human conversation and give instant replies. Artificial Intelligence (AI) helps chatbots understand the human conversation and reply naturally.
There are two types of chatbots, rule-based chatbots, and AI-induced chatbots. The rule-based chatbots have a set of rules and give answers only to predefined questions while giving branching questions for customers to choose from.
On the other hand, AI-based chatbots answer every customer's question instantly without making them wait and AI helps chatbots learn from previous conversations and resolve major issues.
Benefits of Implementing AI Chatbot on eCommerce Store
Online store owners have many benefits when they implement AI chatbots in their eCommerce stores. Compared to a live chat representative, the AI chatbot may quickly resolve customers' problems and is available 24/7. Here are the best AI chatbot features for the eCommerce store:
AI chatbots will understand customers' questions and develop a naturally unrestricted conversation.
Create new questions and intents.
Helps customers in ordering a product and tracking the orders.
Provides customer support 24/7, your customers won't leave the website because of the no response.
No code AI chatbots are easy to install on your website.
Read More: 10 Advantages of Chatbots in E-commerce
6 Best WooCommerce Chatbots
Now that you know the functionalities of WooCommerce platforms and the benefits of implementing an AI chatbot on your online store, you must analyze their effectiveness and choose the best one. 
1. Ochatbot

Ochatbot reduces support tickets from 25% to 45% while increasing revenue by 20% to 40% when shoppers engage with Ochatbot. This independent AI chatbot uses Ometrics AI and is not exclusive to the WooCommerce platform.
This independent AI helps chatbots function effectively on Facebook Messenger, WooCommerce, Shopify, and Magento. Ochatbot is not limited to the above eCommerce platforms, as it can also function efficiently on all platforms. The Zapier integration (online automation tool) connects with thousands of CRM systems.
This AI chatbot will easily jump from one conversation to another with global intents. Your customers may order the products from the chat window.
After ordering products, Ochatbot will help in the order and status tracking. Connecting product recommendations and selling the products with upselling and cross-selling strategies increases revenue for eCommerce store owners.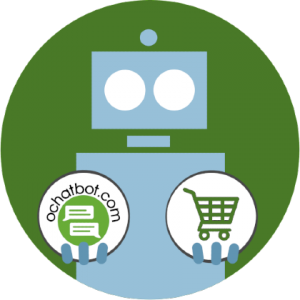 True AI to engage customers for eCommerce, business leads, and customer support.
5% to 35% Increase in AOV*

20% to 40% Increase in Revenue*

25% to 45% Reduction in Tickets with a Customer Service Chatbot
We Guarantee Results... Or Work For Free!
*When shoppers engage with Ochatbot®
2. Botsify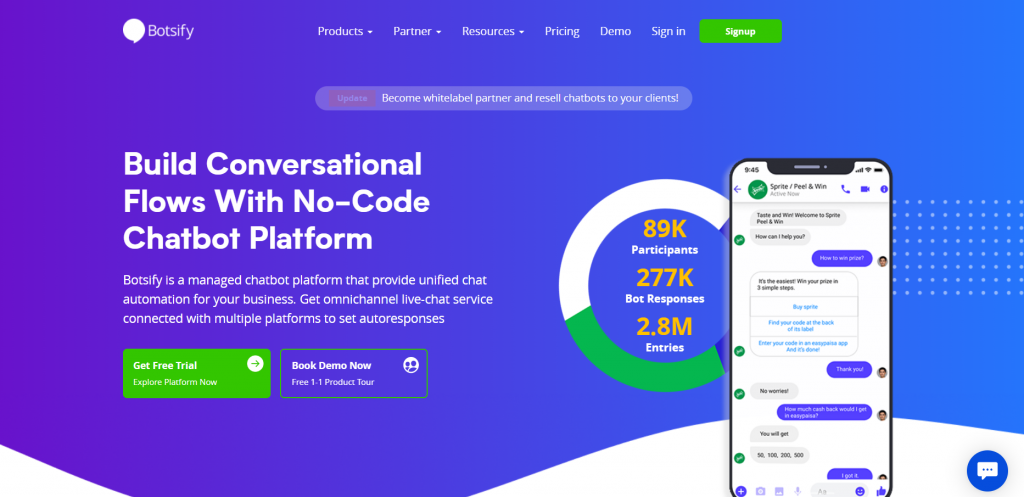 Botsify is also a no-code, multi-channel chatbot platform that integrates with WooCommerce.
If you want to convert your casual website visitors into potential leads, then Botsify will be one of the suitable options since it has page-messaging features. With AI technology, Botsify understands your customer's questions and answers them instantly without making them wait on your website for so long.
Botsify also uses conversational forms and automates the tasks of storing customer information in its CRM (what does CRM stand for?) system. This AI chatbot also works with various websites and is a WP chatbot that integrates effectively into the WooCommerce platform. 
3. Drift

Drift has custom chatbots that personalize your conversations with customers, so gaining your buyer's insights is also an easy task with Drift.
With the right conversation strategies, your website visitors will return to your website and make purchases. The Drift chatbot will qualify more leads and turn set sales meetings with them immediately. Some of the exceptional features of this chatbot include:
Drift prequalifies your visitors to schedule a meeting with them immediately.
This chatbot analyzes the best performance of the messages and forms conversational strategies.
The triggers and targeting techniques will help eCommerce stores in the conversion rate optimization.
4. Landbot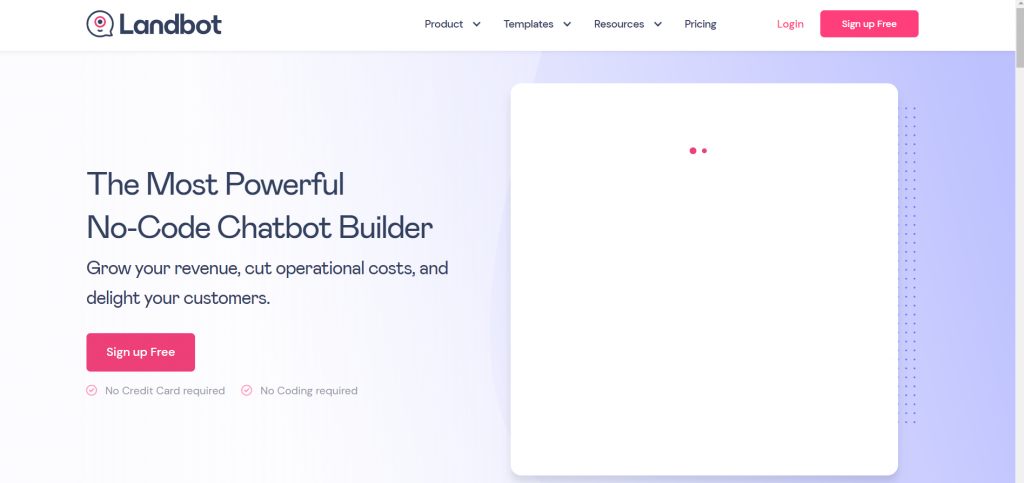 Landbot helps resolve support requests and instant messaging, which replicates human conversation.
You can deploy conversations on Facebook Messenger, Whatsapp, and any API-enabled channel. Landbot is also a WP chatbot that integrates with the WooCommerce chatbot well. This web chatbot will increase through an automated web chat and improve the customer's experience.
The easy setup integration allows eCommerce owners to implement this AI chatbot on all eCommerce platforms. Integrating the Landbot with one of the CRM solutions Salesforce will collect lead information in the best way. The pre-built templates in Landbot are beneficial for lead generation, event registration, and various applications.
5. Woo Bot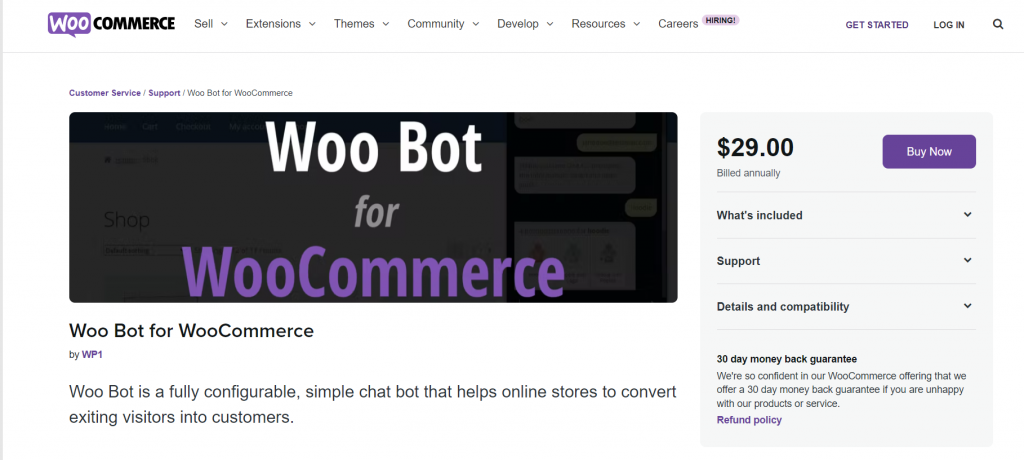 Woo Bot for WooCommerce is a customizable and flexible chatbot for the WooCommerce platform. If you implement Woo Bot on your online store, then you don't have to worry about abandoning visitors (website visitors who leave your site when there is no response) on your website.
The Woo Bot has a product search option in its window where customers search for products from the chat window and place orders.
Woo Bot has various configurations such as chatbot icon, chatbot pop-up theme, chatbot background image, and overall configuration. There are email notifications for common questions and links to the product page from the chat window, but you can add responses to questions from the backend.
6. IBM Watson Assistant Chatbot

IBM Watson chatbot plugin is an exclusive chatbot for WordPress. Ecommerce website owners may train the chatbot with commonly asked questions in a few minutes.
This chatbot uses the conversational elements in the chat to engage with customers. With the IBM Watson Chatbot Plugin, eCommerce owners will display the images and videos in the text. The simple plugin setup will help eCommerce owners to implement chatbots on their websites effectively.
If your customers want to communicate with a real person, then the IBM Watson chatbot plugin will connect them to a live chat agent. Ecommerce site owners will easily customize the chatbox to their preferences. Even if you are not tech-savvy, IBM Watson Chatbot Plugin will resolve complex tasks easily.
Who is the Winner?
Chatbot conversations should escalate your eCommerce store's conversion rate and provide seamless customer support. While you implement chatbots on your website, you should also make sure that the bot conversations are not mechanical. The seamless conversation and instant solutions will captivate your website visitors and encourage them to navigate through your website.
While comparing the features of chatbots, Ochatbot stands out from the others by performing multiple tasks at the same time, while being suitable for all business sizes. If your customers don't want to converse with the bot, then Ochatbot will direct them to a live chat agent.
Ecommerce owners don't have to worry about coding skills to implement a chatbot on their websites. In a nutshell, Ochatbot wins the 'Which is the best WooCommerce Chatbot?' competition. Click here to see Ochatbot's flexible pricing plans for online business owners.
Latest Posts
Frequently Asked Questions
What is the future of AI chatbots in the eCommerce industry?
AI chatbot is already ruling the eCommerce industry by providing excellent customer support. In the future, AI chatbots with voice search features will enhance sales and navigation of eCommerce stores.


Which is better: WooCommerce or Shopify?
Shopify is a self-hosted platform and is more customizable compared to WooCommerce. Anyone can start an online store on Shopify, but WooCommerce will ask you to build a WordPress website. Click here to read our recent posts about Shopify features.


What is the difference between WordPress websites and WooCommerce?
WooCommerce is an eCommerce platform that is built on WordPress. Whereas, WordPress is a Content Management System and a popular blogging platform.

Latest posts by Greg Ahern
(see all)