Ecommerce Chatbots
---
<< Back to Fun List of Chatbots  | Health Chatbots | Support Assistant Chatbots | Personality Chatbots | Travel Chatbots | News Chatbots
We collected a list of interesting eCommerce chatbots. Here are some of them and what they do.
Ochatbot
Ochatbot is a free, no-code AI chatbot that automatically connects to eCommerce platforms and creates your bot for Shopify chatbot, Bigcommerce chatbot, Woocommerce chatbot, Magento chatbot, and others.  Ochatbot asks questions and directs the user to the exact product page, and includes an add-to-cart button directly in the chatbot window as well as upsells and cross-sells, abandon cart, support and order tracking, and more.
Sara (Correos)
Sara is the virtual representative for Correos, a postal service in Spain. She is fluent in numerous languages, including English, and helps to answer questions about packages, shipping services, and tracking. She can be found on the customer service page.
Wanda (Park)
Wanda helps navigate Park's website. She can also bring up information about orders.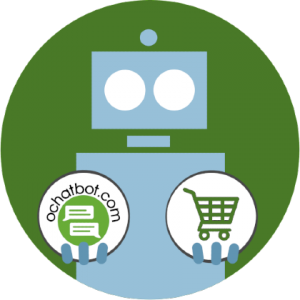 True AI to engage customers for eCommerce, business leads, and customer support.
5% to 35% Increase in AOV*

20% to 40% Increase in Revenue*

25% to 45% Reduction in Tickets with a Customer Service Chatbot
We Guarantee Results... Or Work For Free!
*When shoppers engage with Ochatbot®
Ines (Nespresso)
Ines is an exclusive feature for members of Nespresso. Once a member, Ines engages customers with espresso related information, helps with subscription, and answers company questions.
Color Me Happy Bot
Provides recommendations for lipsticks from the line based on skin color analysis. Also converses about lipstick. For FB Messenger. 
Coke India
Promotes educated choices for consumers. For FB Messenger. 
Barend Jungerius
Helps the user decide what kind of tattoo they might want and what artist. For FB Messenger.
Rue21
Virtual stylist bot for Facebook Messenger.
If you have any other ecommerce chatbot suggestions to add to our list, please contact us at [email protected]. No time to build a chatbot? We offer chatbot consulting and development services here.

Latest posts by Greg Ahern
(see all)