E-commerce has been one of the fastest-growing digital trends for the past decade and is continuing to be so. People are moving from conventional methods of doing things and are utilizing modern innovative methods for buying and selling things online. 
With the growth of eCommerce, eCommerce AI chatbots have also gained in popularity. As an online store grows, so does the influx of people, and the need to engage and guide users can become arduous. Here, AI chatbots have become an integral part of eCommerce platforms and their strategies. 
In this article, we'll look at what makes eCommerce AI chatbots so essential, why they're so popular suddenly, and what their benefits are, for you and your customers.
What is an eCommerce Chatbot and Why is It Important?
A chatbot is a computer program that can simulate and mimic human conversations, allowing interactive conversations with digital devices in real time. They can be programmed with a broad range of implementations, from answering simple questions to providing in-depth information and solutions to the user. 
There are different types of chatbots reflecting the complexity of the presumed inputs and outputs, to functionalities of the code. Older forms of chatbots predominantly worked based on buttons and a hierarchical tree structure. Later stages included rules and keywords added to the script. One of the most recent iterations of chatbots that helps in conversational commerce is the conversational AI chatbot. These chatbots employ AI technologies like Machine Learning and Natural Language Processing to perform tasks, handle conversations and generate conversions. 
eCommerce platforms are not like simple mobile applications. Also, eCommerce stores require pre-sales and post-sales support for some products. Here, a human agent cannot be available all the time to facilitate the viewer, user, or customer through their buying journey and provide customer service and support. In such instances, chatbots can be made to provide support by answering user questions and providing solutions. For traditional businesses too, chatbots are cost-efficient and provide data-driven insights to formulate marketing strategies.  
Some other ways AI chatbots enhance your e-commerce store are: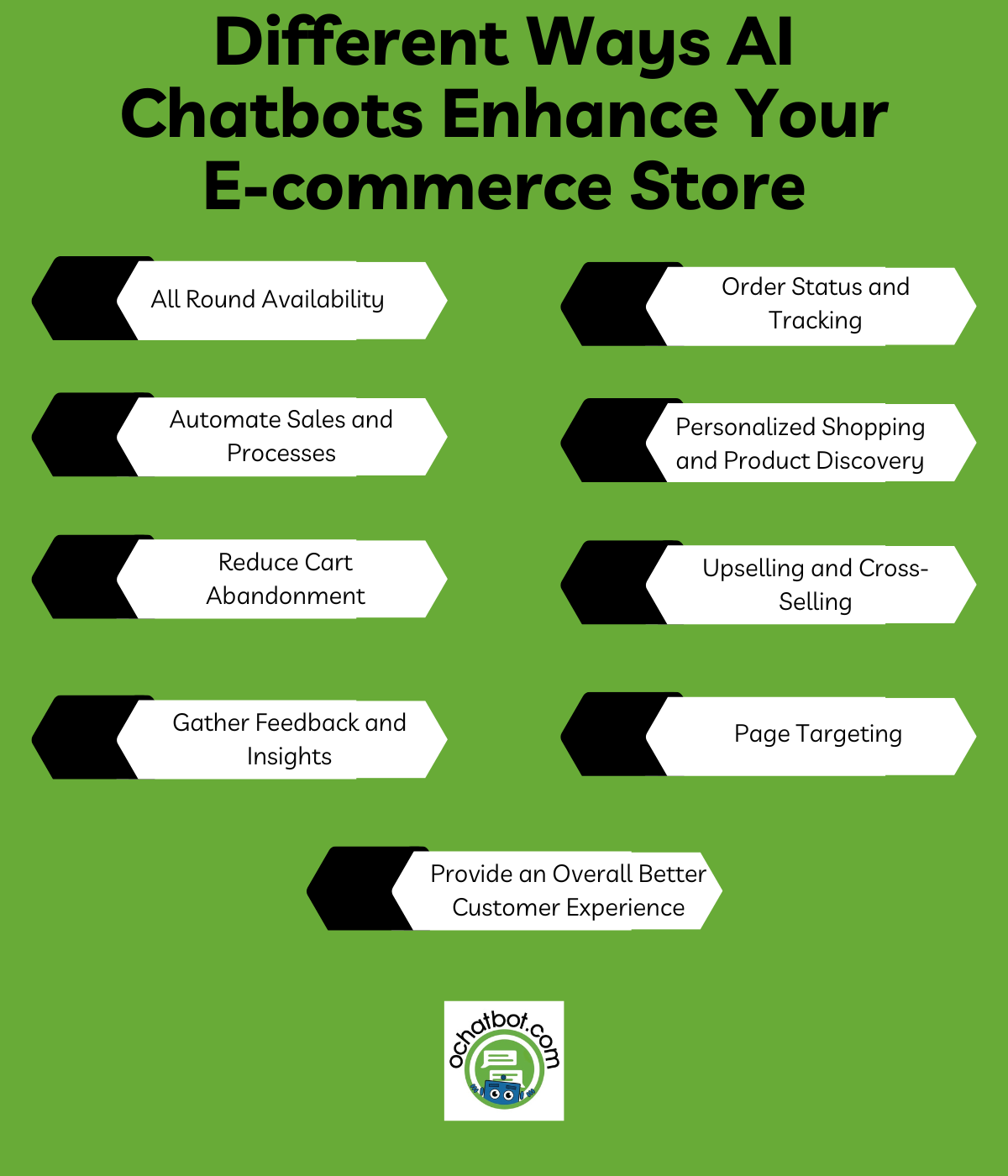 All Round Availability
One of the prime differences between an e-commerce chatbot and a live agent is that chatbots can be available all around the clock. They can answer customer queries from anywhere in the world and provide immediate responses, irrespective of their time zone, compared to human agents. 
Automate Sales and Processes
eCommerce AI chatbots can automate a lot of repetitive, mundane tasks in the eCommerce process. This will result in the reduction of manual effort, and lowered chances of error. 
They can also automate sales and conversions, by automatically qualifying leads, facilitating the user journey, showing personalized products, showing relevant offers, and guiding the user through different stages of the funnel. 
Reduce Cart Abandonment
Cart abandonment is one of the most common issues for lesser conversion rates in an eCommerce store. Oftentimes, the user leaves the cart to compare them with other platforms, or they could be waiting for better offers and simply forget the cart. eCommerce AI chatbots can notify the user about their abandoned cart with messages, offers, and payment assistance to boost sales and provide a seamless checkout experience. 
Gather Feedback and Insights
Chatbots not only answer questions, but they can also gather data from users via forms, polls, and surveys, without being too spammy. This data can be in the form of customer engagement and interaction, the products they viewed, and bounce rate, and can also be in the form of feedback collected from the user. The data collected from various sources and different means can be consolidated in the form of dashboards and help retailers formulate better strategies and make alterations to existing strategies for a better customer experience and bring in more conversions. 
Order Status and Tracking
Upon ordering the product, customers might be eager to know the status or updates regarding the delivery of the product. eCommerce AI chatbots ease order tracking of products by providing an update to the customer regarding the delivery of the product at their fingertips. Also, they can notify the user when the products are out of stock and when they are back in stock. 
Personalized Shopping and Product Discovery 
eCommerce AI chatbots primarily focus on delivering a personalized shopping experience to the user. They do this by tracking customer behavior: the pages you visit, the products you viewed, and by remembering past interactions.
When you are visiting the website next time or searching for a product, the eCommerce chatbot can show you more relevant products and help you find suitable products that meet your needs. Chatbots would also be able to show offers and discounts based on your purchasing preferences. 
Upselling and Cross-Selling
Acquiring clients and facilitating their journey can be one complicated undertaking required to make conversions. Additionally, suggesting better products to benefit the user and drive better ROI is even an arduous task. Chatbots can do this with ease. By asking questions, learning the customer's intent, and analyzing their buying behavior, eCommerce AI chatbots can upsell products or services to customers. They can also assist businesses in cross-selling a product or service with better functionality to an existing customer and bring in more revenue. 
Page Targeting
Chatbots can guide users throughout their buying journey. They can monitor every aspect of the user, analyze their behavior and provide insights into them. This can be useful for page targeting. Chatbots can be made to target the customer with a particular prompt when they perform a certain action, which usually spurs the customer's curiosity and in turn makes them take action. For example, when a customer is at the checkout page, the chatbot can prompt the user with relevant offers and product suggestions that can drive the user to buy an additional product. 
Provide an Overall Better Customer Experience
According to research by Comm100, the satisfaction rate of customers when they interact with a chatbot is around 87%, making them an indispensable addition to your marketing strategy. 
They provide a consistent and engaging customer experience by responding immediately and appropriately to the user's questions, showing personalized products, aiding in complicated customer queries, collecting feedback, and driving more conversions, without any need for a human touch.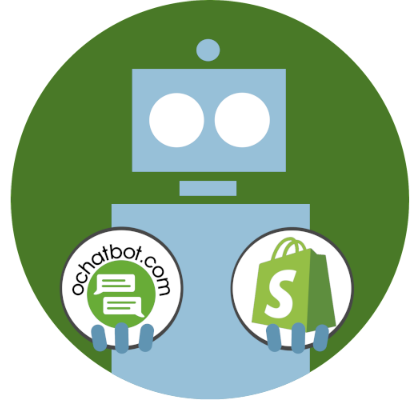 True AI to engage customers for eCommerce, business leads, and customer support.
Create happy customers while growing your business!
5% to 35% Increase in AOV*

20% to 40% Increase in Revenue*

25% to 45% Reduction in Tickets with a Customer Service Chatbot
We Guarantee Results... Or Work For Free!
*When shoppers engage with Ochatbot®
Different eCommerce Chatbot Platforms
There are a variety of chatbot platforms available on the market. Each chatbot platform offers different functionality, features, and pricing, so you can choose a chatbot pertaining to your specific needs. Let us see some of the e-Commerce chatbot platforms:
Ochatbot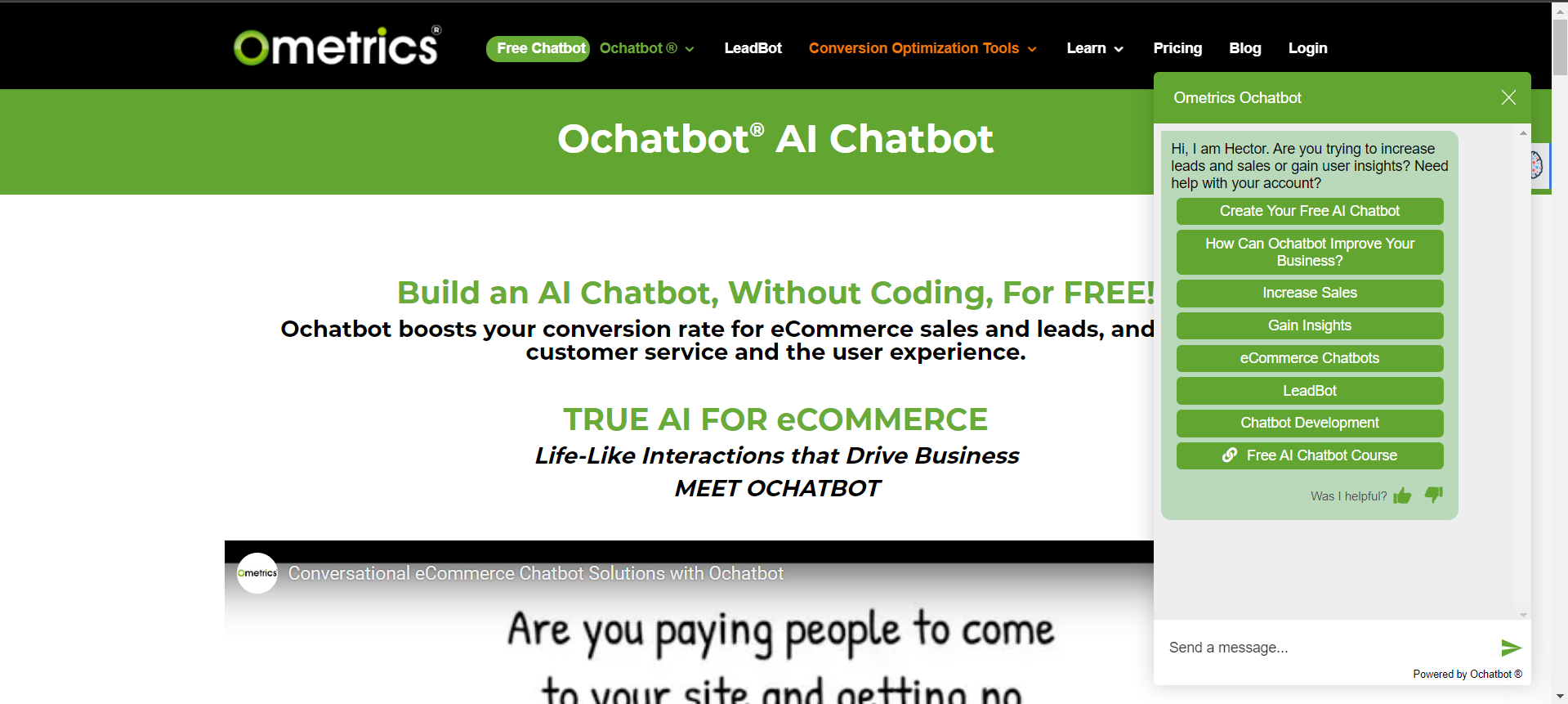 Ochatbot by Ometrics is a full-featured AI chatbot platform equipped with functionalities and features to assist your e-commerce store, sales, and marketing. It helps you build one of the best eCommerce chatbots that offer a user-friendly environment that is highly conversational and interactive. According to a real-time stat, Ochatbot helps increase your revenue from 20% to 40% and aids in customer support by reducing about 25% to 45% of the support tickets. 
Ochatbot also offers a plethora of features offering benefits to both the customer and the business. From offering personalized product recommendations and showing detailed product descriptions to tracking the order of products and providing customer support, Ochatbot assists customers in a variety of ways. For businesses, Ochatbot can provide insights into your customer journey and business performance. Ochatbots are also easy to build without the need for any code, offer a single script installation, and can be integrated with multiple CRMs and third-party software. 
Ochabot provides your analytics and insights to level up your customer experience and thereby drive more conversions. 
As for the pricing, Ochatbot has Free, Basic, Plus, Pro, and Enterprise plans, each available from $29, $99 to $495 depending on the features and functionalities they offer. 
FlowXO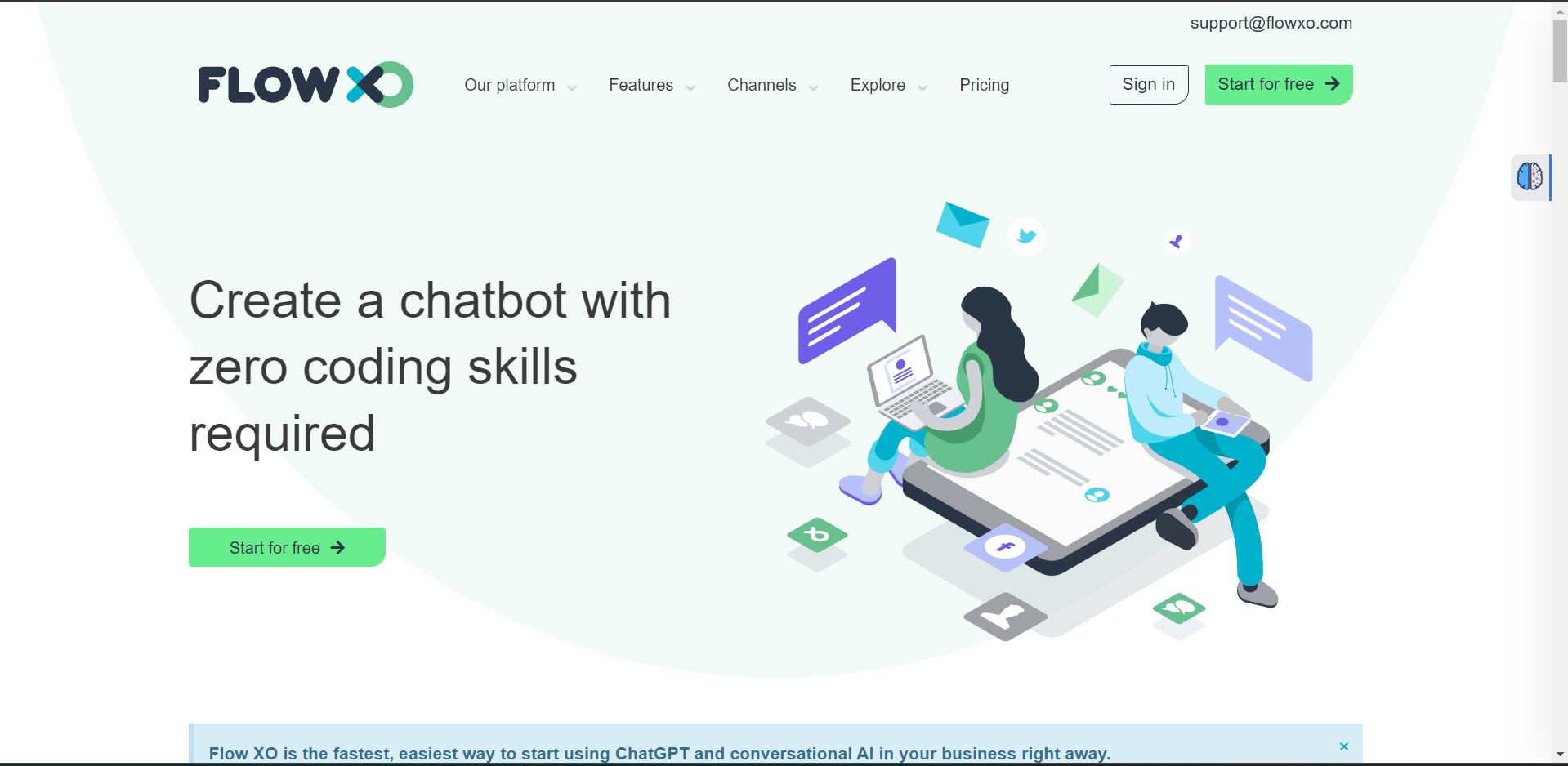 FlowXO is also an automation platform that enables you to create chatbots without requiring any coding skills. These chatbots can be deployed over a range of websites, applications, and social media sites. 
FlowXO chatbots help you automate workflows and engage customers from the moment they land on your website. FlowXO chatbots can answer simple questions to FAQs, engage customers 24/7, gather insights from the user, and assist them directly in payment processing. This chatbot can also pre-filter data to gather particular information and convert them into quality leads.  
Creating and adding your chatbot using FlowXO is pretty simple. All you have to do is just create your chatbot, design your workflow, and integrate them into your website or application. 
FlowXO chatbot platform is available at a standard plan of 19$ per month, with add-ons of $10 or $25 depending on the number of interactions, bots, and workflows. 
Freshchat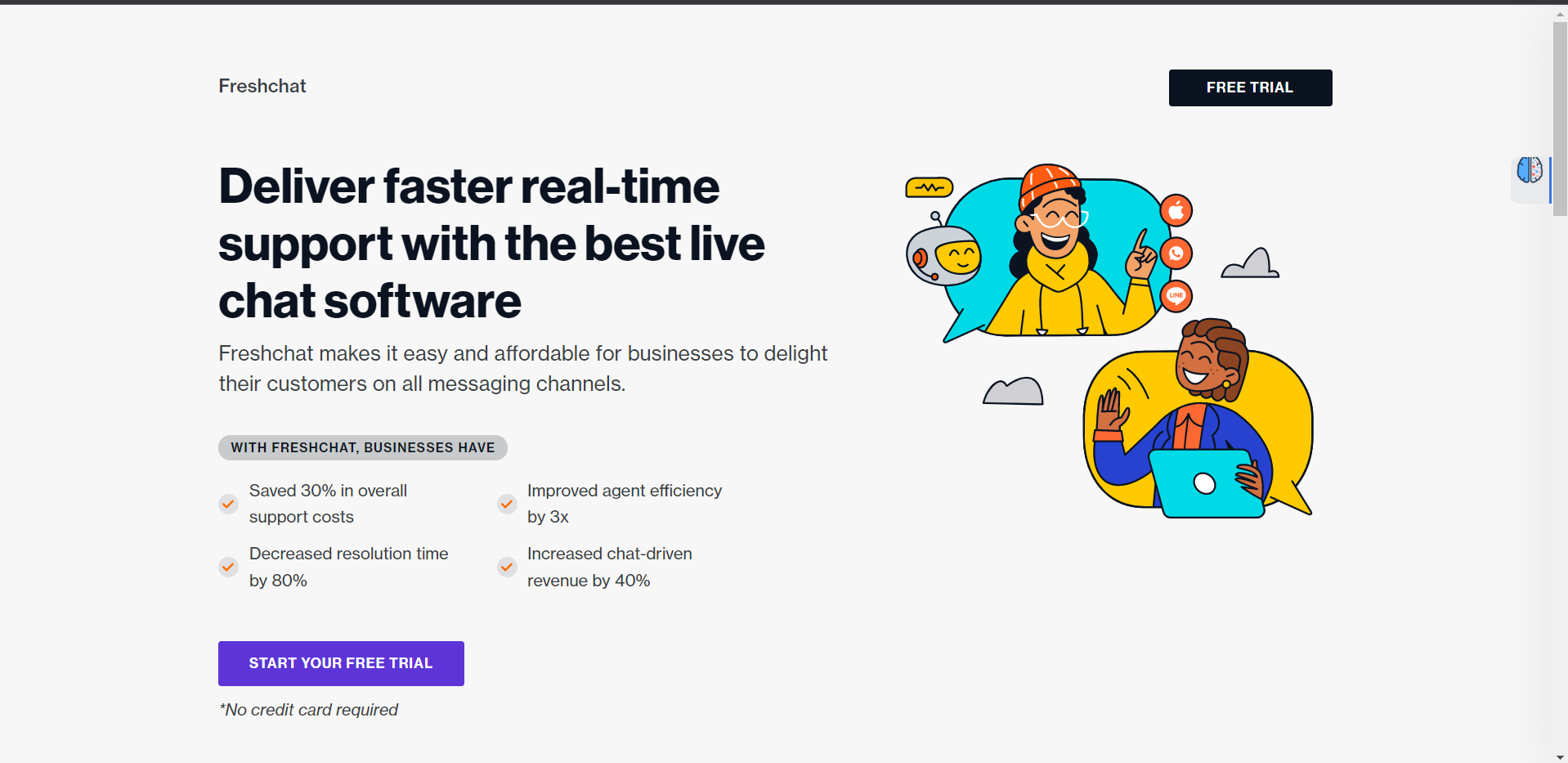 Freshchat by Freshworks is another chatbot platform that can proactively engage users over any channel by engaging in conversations and responding to user questions, turning them into loyal customers, and upscaling conversions. It enables you to reach out to your customers on their social media platforms such as Whatsapp, Facebook Messenger, or Instagram.
One notable feature of the Freshchat eCommerce chatbot is that it can be integrated with any third-party software, CRMs, and messaging apps to offer support in the channel of the user's choice. It also collects data from the user by monitoring their behavior, past purchases, and tickets raised which enables businesses to formulate strategies and methods to upscale conversions. Freshchat also offers sales and marketing support to businesses.
Depending on the features it offers and the size of your business, Freshchat's chatbot pricing ranges from $15, $39, and $69 per month for the Growth, Pro, and Enterprise plan respectively when billed annually. 
Verloop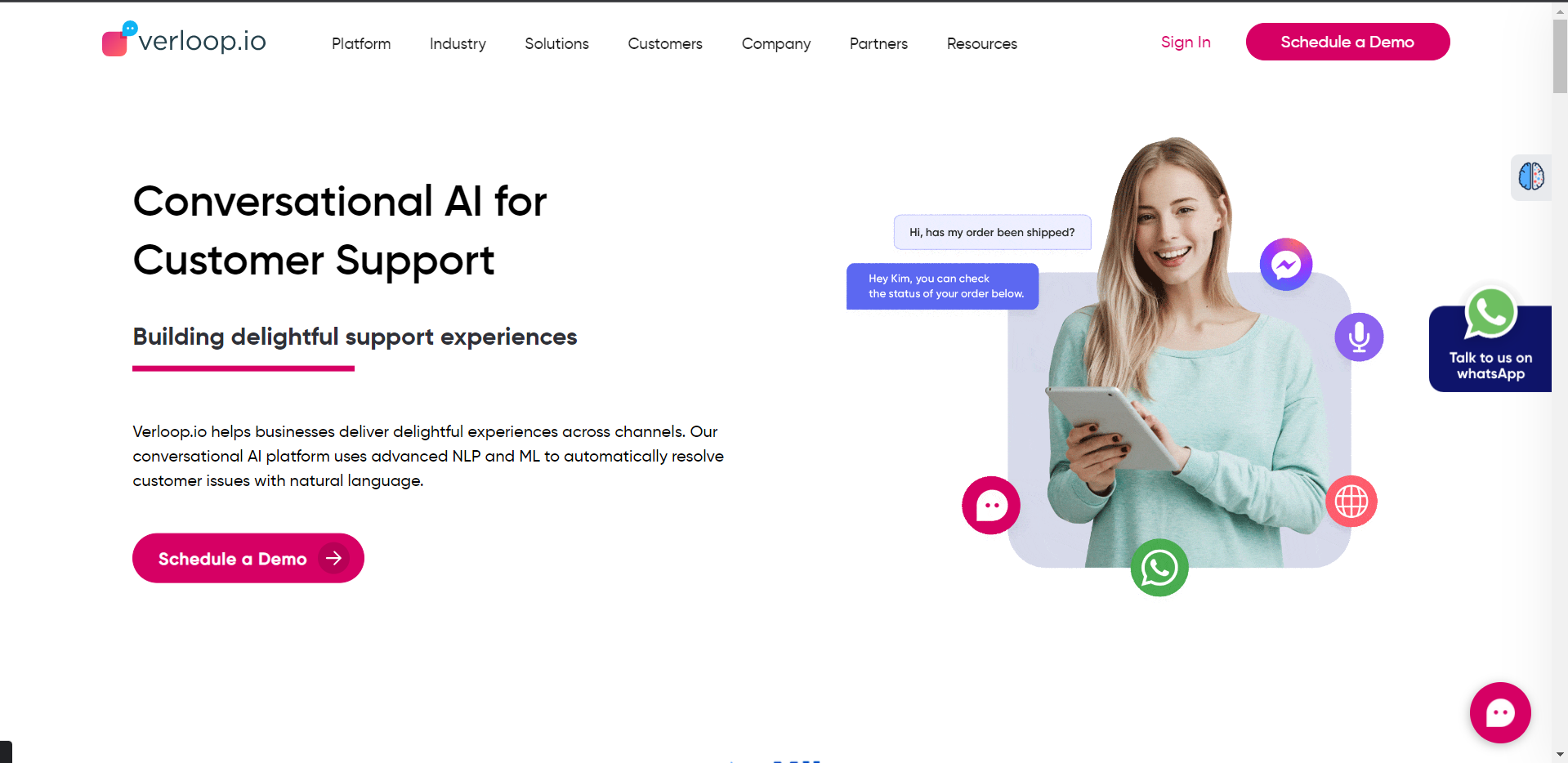 Verloop helps you build chatbots and improve your customer satisfaction across multiple social media platforms or on your eCommerce website. Using advanced Artificial Intelligence and Machine Learning techniques like Natural Language Processing (NLP), Verloop chatbots can clarify customer questions in a conversational context and heighten customers' online shopping experience. 
One particular feature is that this chatbot platform enables you to create a unified profile that can remember your preferences across different platforms and deliver a personalized experience irrespective of the platform. They can also deliver live chat customer support to the user, provide businesses with reports and analytics, and ensure the data safety of your business and your customers.
Mobile Monkey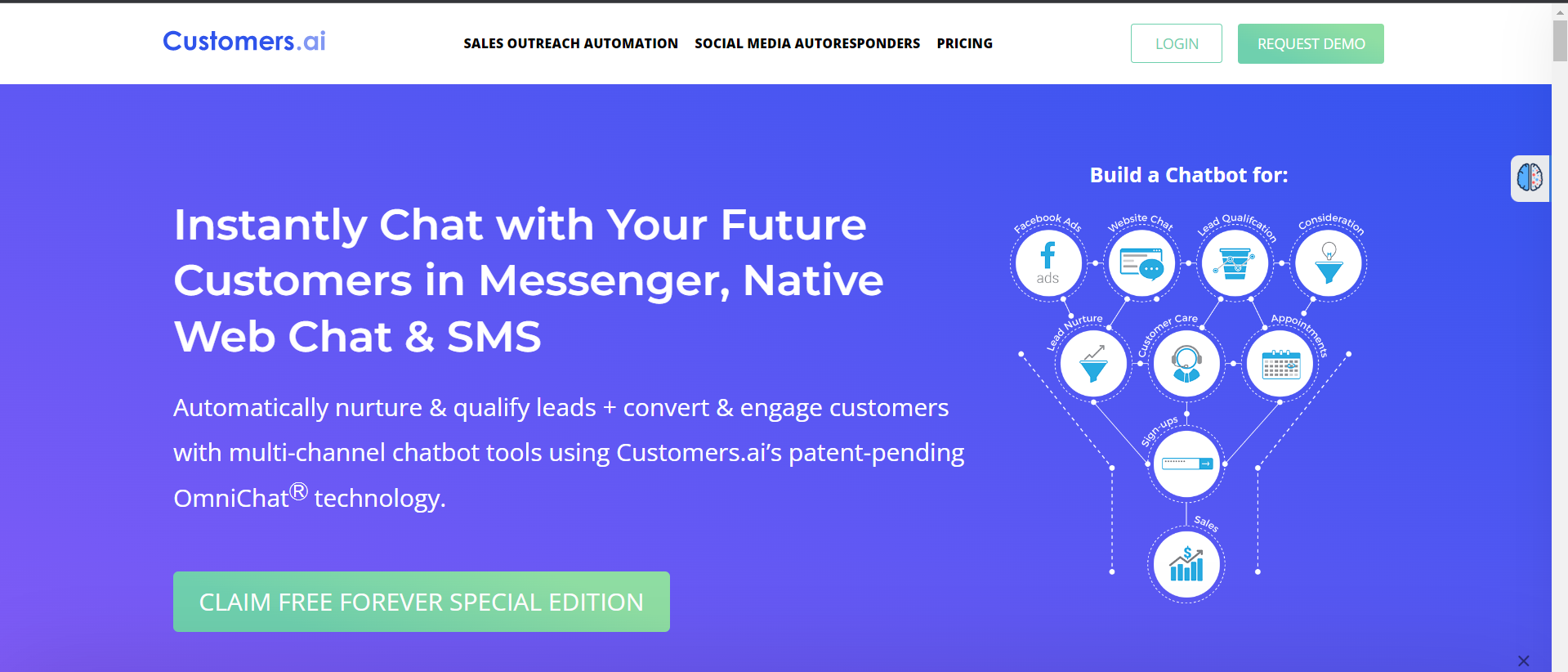 MobileMonkey, another popular chatbot choice offers a unified platform for creating eCommerce AI chatbots, focussed on providing sales, lead generation, and marketing support, in addition to providing unique customer support. They can automatically qualify and nurture leads and engage customers over multiple channels like Facebook Messenger, Slack, and other platforms.
This platform enables you to build a chatbot that can automate multiple tasks including contact integrations and fixing appointments, and prompting the customer with notifications and SMS. These chatbots employ Natural Language Processing techniques to engage customers, providing data analytics and insights, multi-platform chatbot integration, and marketing automation options. 
This chatbot platform can be availed at $119 per month when paid annually for startups and at $219 per month when paid annually for enterprises. 
Some Best Practices for Setting Up Your eCommerce Chatbot
A Chatbot can be a valuable addition to eCommerce businesses, but there are certain points to remember and practices to keep tabs on to make the most of them.
Identify your purpose and use cases: Before implementing a chatbot, take a step back and analyze your purpose for implementing them. Identify the problems you mean to solve, the need for a chatbot, the scale of implementation, and the features you need in your chatbot. 
Choose the right type of chatbot: There are a variety of chatbots available in the market. Ranging from button-based bots to highly complex AI chatbots, choose the right type of chatbot to implement in your eCommerce store.
Design your chatbot and its workflow: After deciding on the type of chatbot to use, create a customized chatbot flow to automate your tasks without any manual intervention. Also, when designing a chatbot make sure to keep both the interface and conversational flow simple and intuitive for the user. 
Set your metrics and KPIs: After designing your chatbot comes an important step in measuring its efficiency. Depending on your business requirements, plan your KPIs. Some of these metrics are conversions, leads generated, leads converted, or even, conversations completed, and these vary from business to business. Define the metrics to enable you to track your chatbot's performance. 
Curate commonly asked questions: When a user interacts with your chatbot and poses a question, it'd most likely be a common question also posed by several users. Having a FAQ repository at hand and having answers for them, can spot on satisfy the user. 
Enable fall-back responses and switch to live chat: There might be certain instances where even AI chatbots might not provide an answer to complex queries. In such cases, adding a proper fallback response like "Can you please repeat?" or "Contact our live support" can help you sustain a credible conversation with the user. 
Track user engagement: Once the chatbot is up and running, users will start to engage with it. Keep an eye on how the users are engaging with the chatbot and how the chatbots are responding to them.
Make use of analytics and data insights: Make proper use of the data collected from the user to strategize, plan and assist the business make better decisions and guiding the user.
Test and keep iterating: Finally, with the chatbot deployed, alter your KPIs, and strategies, keep experimenting, and measure the results to deliver a better customer experience and greater profits for the business.  
Related Posts:
How can eCommerce Chatbots Improve Customer Service?
7 Top Trends in AI for eCommerce to Look out for in 2023
8 Trending eCommerce Business Ideas 2023
Frequently Asked Questions
What are eCommerce AI chatbots?
eCommerce AI chatbots are a recent iteration of chatbots that are solely developed to engage customers visiting your online store. They provide all-around customer service throughout the customer journey from the moment they land on their page to post support after buying, recommending products, and tracking engagement.
How can chatbots be used in eCommerce stores?
Chatbots are a great way of engaging customers and facilitating their journey through various stages in an eCommerce business. They can also be used to answer user queries via chat, collect data, assist in formulating strategies, and bring down the overall operational cost of an eCommerce store.
What are some benefits of implementing an AI chatbot for your eCommerce business?
AI chatbots can be made to be available 24/7 and provide support to customers. They can also provide a personalized shopping experience, aid in upselling and cross-selling, automate tasks, gather feedback, and improve customer satisfaction. 
Chatbots Have Become Indispensable
Chatbots are now an indispensable asset to eCommerce companies and leveraging the benefits they provide is an integral part of a thriving e-commerce business. They provide tools for businesses and enterprises to leverage the recent trends in technology and scale them to our needs. 
We saw all the benefits eCommerce AI chatbots offer to online businesses, some of the best chatbots for eCommerce, and some practices to follow when implementing them.
They provide a simple yet effective way to interact with online shoppers, buyers, and potential clients. Make use of the benefits of the chatbots available, and implement the best practices to make the most out of your e-commerce business and stay ahead of the competition. 

Latest posts by Greg Ahern
(see all)