Live chat allows customers get excellent service which not only solves their immediate issue but can also close sales and increase the company's positive reputation. 
The top 5 benefits of a live chat system are:
Support, especially for software help

Sign up processes

Answering sales questions for products with a lot of options

Targeted proactive chat invitations

Advanced lead qualification
The only risk with a live chat system is when you take too long to answer which is as short as 15 seconds. This gives the appearance that nobody is at the office. You really need it maintained all the time much the same as a call center.
Video calls have become an integral part of today's communication with over 175% increase in regular live video usage among millennials in just the last 3 years under TokBox data. Thus video chat apps are hiking in its popularity with incremental speed as for businesses as well as for personal usage.
Live Chat and AI Chatbots
Live Chat can be used as an extension to an AI chatbot Iike Ochatbot.  A chatbot can handle all the basic questions regarding returns, what color sneakers can I get, what is your warranty, etc.  But customers sometimes need to talk to a live person. The advantage to setting up your website with a chatbot and live chat is now agents are answering higher level questions and providing an overall better customer experience. And the agents are not getting frustrated answering monotonous questions.  In some cases, less live agents are required to be on duty.  
Below are some of the better rated live chat companies.  Free plans and pricing and a description of the live chat services are compared.
Free Plan – this would be a plan that is permanently free.  If there is a free trial for a paid plan, this is listed.
Fees – fees are often per agent seat.  Most of these plans allow unlimited agent seats.
2023 Live Chat Comparison
Company

Free Plan

Pricing

Ometrics

Yes

Basic – $69 per month

Plus – $109 per month

Pro – $495 per month

PureChat

Yes

Growth – $39 per month

PRO – $79 per month

SnapEngage

No

Essentials – from $16 per user per month (Minimum 3 users, billed annually)

Professional – from $26 per user per month (Minimum 3 users, billed annually)

Enterprise – from $40 per user per month (Minimum $400/month, includes 10 users, billed annually)

Olark

No

Monthly – $17 per agent per month

1 year – $15 per agent per month

2 year – $12 per agent per month

Zendesk Chat

Lite plan is free

Team – from $14 per agent per month

Professional – from $29 per agent per month

Enterprise- from $59 per agent per month

ClickDesk

Yes

Lite – $14.99 per month

Pro – $24.99 per month

Enterprise – $39.99 per month

Smartsupp

Yes

Standard – $10 monthly per agent

Pro – $19 monthly per agent

Zoho Desk

Yes

Standard  – $12 per agent per month billed annually

Professional – $20 per agent per month billed annually

Enterprise – $35 per agent per month billed annually

Chaport

Yes

Pro – $9.80 per operator per month

Nextiva

No

Enterprise – starts at $30 per month per user

Chatra

Free forever

Paid per agent – $19 per month billed monthly or $15 per month billed annually

Tawk.to

Yes

iAdvize

Register for a Live Demo

JivoChat

Basic version is free

Professional version – $13 Per agent per month if billed annually

LiveAgent

No

Ticket – $15 per month

Ticket+Chat – $29 per month

All-inclusive – $39 per month

HelpOnClick

No

Starter – $7.20 per user per month

Advanced – $11.40 per user per month

WebsiteAlive

No

AliveChat – $30 per month

AliveChat Plus – $50 per month

Enterprise – Contact Us

MyLiveChat

Yes

Starter Plan – $15 per month

Basic Plan – $29 per month

Corporate Plan – $59 per month

Enterprise Plan – $99 per month

Kayako

No

Inbox – $15 per agent per month

Growth – $30 per agent per month

Scale – $60 per agent per month

Sendinblue

Yes

Lite – $25 per month

Essential – $39 per month

Premium – $66 per month

Enterprise – Get quote

Velaro

No

Small Business – $64.95 per user

Professional – $179.95 per user

Enterprise – Contact us

WhosOn

Free Trial

WhosOn Cloud – from $33

WhosOn On-premise – from $46

Professional Service Custom WhosOn project – enquire

HubSpot Live Chat

Yes

Starter – starts at $50 per month

Professional – starts at $800 per month

Enterprise – starts at $3200 per month

Intercom

No but Essential and Pro plans have free trials

Essential – from $87 per month

Pro – from $153 per month

Premium – Custom Pricing

Acquire.io

No

Basic – $300 per month billed annually +$40 per month per agent

Pro – $950 per month billed annually +$50 per month per agent

Enterprise – Custom Pricing

LiveChat

No but Team plan has a 14-day free trial

Starter – $16 per month per seat (logged in agent) billed annually or $19 month-to-month

Team – $33 per month per seat (logged in agent) billed annually or $39 month-to-month

Business – $50 per month per seat (logged in agent) billed annually or $59 month-to-month

Enterprise – individual contract with annual billing

Drift

Yes

Standard – $50 per month billed annually

Pro – $400 per month billed annually

Premium – $1500 per month billed annually

Bold360

Agent – Request Quote

Service – Request Quote

Acquire – Request Quote

Helpdesk – Request Quote

LivePerson

Request a Quote

Userlike

Yes

Team – 29$ per month

Corporate – 99$ per month

Business – 299$ per month

Flex – Request Demo

Freshchat

Yes

Blossom – $15 per team member per month billed yearly

Garden – $24 per team member per month billed yearly

Estate – $39 per team member per month billed yearly

Forest – $79 per team member per month billed yearly

HelpCrunch

No

Standard – $15 per month per team member billed monthly

Premium – $25 per month per team member billed monthly

Enterprise – Chat With Us

Tidio

Yes

From $15 per month

Formilla

Sign up free

Livezilla

LiveZilla ONE is free

LiveZilla PRO – 200-1100 euros

Comm100

No

Team – $29 per agent per month

Business – $49 pre agent per month

Enterprise – Request quote

LiveHelpNow

No

$21.00 per month for 1 agent – cost scales upward

Help Scout Beacon

No

Standard – $20 per user per month

Plus – $32 per user per month

Company – Contact Us

REVE Chat

No

Standard – $13.50 per agent per month

Advanced – $22.50 per agent per month

Enterprise – $45 per agent per month
Ometrics – a suite of website engagment tools including a chatbot and live chat.  There is a free plan for personal sites up to a Pro plan for those who want everything taken care of by Ometrics's natural language processing engineers.  No coding is required.  You simply copy the code that is generated when you build your chatbot or other website engagement tool and paste it into your own website code.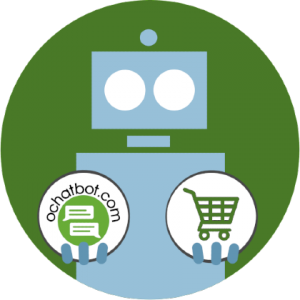 True AI to engage customers for eCommerce, business leads, and customer support.
5% to 35% Increase in AOV*

20% to 40% Increase in Revenue*

25% to 45% Reduction in Tickets with a Customer Service Chatbot
We Guarantee Results... Or Work For Free!
*When shoppers engage with Ochatbot®
PureChat – a great chat tool that you can put on your website to communicate with your visitors. Getting a chat box onto your site takes less than three minutes from start-to-finish. You will be taken to your PureChat dashboard where you will be provided with the code snippet that you copy and paste onto all pages of your website. By adding a chat box to your page, you're able to close more sales, provide top notch customer support and communicate more effectively than phone and email support.
SnapEngage – SnapEngage provides a snippet of javascript you simply copy and paste onto the website. Some exclusive features include Call-me, secure data transfer, SMS to chat, and co-browsing.
Olark – Olark makes your business human by using live chat software for sales, marketing and customer support on your website.
ZenDesk Chat – multiple different levels of chat with different features and functionalities.  Their live chat works on every platform as it is just an html link you paste. Zendesk Chat can work in tandem with other channels.
ClickDesk – unlimited chats, widget customization, chat transfer and groups, 99.5% uptime and SSL security, chat conferencing, CRM integration and API, audio calling, video chat, post chat survey, reports and history, queuing, white label, unlimited domains, widget Custom CSS, Analytics, and a Dedicated Account Manager.  You can install the ClickDesk chat widget on any of the website platforms.
Smartsupp – an integration with Smartlook, so you have Smartlook recordings (however, the features are limited, Smartlook itself has a lot more possibilities). They are planning an integration with FB Messenger and email.  Smartsupp is more affordable for their target group and they have priority chat support.
Zoho Desk – Zoho Desk is context-aware help desk software that helps businesses focus on the customer. Canned responses help with preliminaries.  Agents can be designated expert in certain categories and chats can be routed to them. Waiting time is shown for an agent and there is the ability to convert chat requests into tickets for customers willing to wait until later.
Chaport – Chaport is  modern live chat software for websites. Connects with apps through Zapier.  When offline, customers can leave messages and receive email notifications with answers.
Nextiva – Nextiva is a business VoIP phone system and customer management software suite to run your business from the cloud.  Only the Enterprise Plan comes with live chat.
Chatra – live chat software that helps to increase revenue and collect feedback providing an easy way for website owners to talk to visitors in real time. Chatra is made to increase online sales but in a friendly, helpful way.  You can log in to your Chatra dashboard both from desktops and mobile. In general, Chatra is a simple and straightforward messenger service with a modern yet lightweight design.

Tawk.to – 100% free and always will be.   You can have unlimited agents and add it to unlimited sites, and your chat history is kept forever until you delete it.  All you have to do is copy a small piece of JavaScript and add it to your website's HTML, usually in the footer of your site (e.g. before </body>).  Tawk.to also has plugins for systems like WordPress, Joomla, Opencart, etc.which make it even easier.
iAdvize – humanises the digital experience in a cost-effective and scalable way, combining the best of human and artificial intelligence for the most valuable conversations.  Your customer service support can easily support your customers via the iAdvize platform. While engaging in conversation, respondents can access your customer information and create support tickets using our CRM integrations. These integrations synchronize all your actions on both tools.
JivoChat – install Live Chat on your website and turn your visitors into paying customers with JivoChat. There is an easy setup and the first five agents are free.
LiveAgent – get started with LiveAgent in five minutes.  You can integrate the chat button to any website/platform that supports placing JavaScript code.  In LiveAgent's system, you have many ways to achieve something automatically, by creating custom rules that will perform some actions based on specific conditions.
HelpOnClick – HelpOnClick improves interaction with your customers and boosts conversion rates by 40% with live chat software. Enhances communication online.  You just copy and paste the code and then it will work in real time.
WebsiteAlive – WebsiteAlive live chat solution, customizable to match your website and allows you to communicate in your customer's language. 
MyLiveChat – MyLiveChat live chat software for your website. It is free, powerful, and available for your mobile devices as well as your desktop.
Kayako – help desk software with a support ticketing system that helps you be more productive and build customer loyalty.  Easily add Kayako live chat to your help center, website, iOS and Android mobile apps to effortlessly support customers, engage visitors, and convert prospects into leads in real-time.  Live chat is available in all the plans and it is bundled with email and ticketing system plus self service. Kayako is platform independent. Customer service and support teams often move to Kayako when they find other live chat tools are difficult to rely on and scale with.
Sendinblue – Sendinblue allows you to take your business to new heights with the complete all-in-one digital marketing toolbox that's built to scale and adapt with you as you grow.
Velaro – an Enterprise-Grade live chat service.  Velaro provides the highest level of service with a 99.99% uptime and integrates out of the box with many popular CRM and ticketing systems such as NetSuite, Salesforce, MS Dynamics, Zendesk, and more down to the API level.  Everything on the Velaro platform can be customized to your specifications. They also provide intensive set-up depending on the level of care you need, ranging from a basic setup to white glove hand-holding you through the product installation so you can have the peace of mind that your Velaro Platform is set up to perform like a well-oiled machine.
WhosOn – WhosOn allows you to monitor visitors and poke them to have a conversation.  Your specialist for secure live chat software & AI. WhosOn offers advanced chat technology for enterprises.  It is all deployed to suit your business.
HubSpot Live Chat – you can connect with your website visitors in real time to convert new leads, close more deals, and provide better support to your customers.  HubSpot Live Chat comes with all products. The HubSpot portal is browser based, so most PCs and Macs can use it. HubSpot is an all in one platform that combines a centralised system with a Marketing, Sales, and Service Hub.
Intercom – Intercom has customer messaging apps for sales, marketing, and support, connected on one platform. Their mission is to make business personal again.
Acquire.io – Acquire.io is a multi-platform widget the contains Text, Voice chat, Video chat, co-browsing, and screen sharing.  All the products are bundled in one and can be utilized simultaneously. It is mainly based on JavaScript.
LiveChat – premium live chat software for business.  LiveChat offers HelpDesk, and Knowledge Base as separate products that can be integrated with LiveChat and used in one window.  It can be installed on any website that allows for custom code implementation. LiveChat offers a built-in ticketing system, canned responses, customer message preview, offline messages, exportable reports, SSL encryption in all plans, and more.
Drift – conversational marketing and sales tools designed to make buying by businesses from businesses easier.  With Drift a question starts conversations and then pushes to live chat or a form.
Bold360 – Bold360 part of a suite of tools.  Live chat is completely customized by the user.  There is a virtual agent and the program also works on a mobile device.  You can do live chat surveys and video chat
LivePerson – different features depending on the need that you have. LivePerson works in an open API that you can use with Live chat to improve your consumer's experience.  As an open API, you can integrate their services on many platforms to reach your consumers in many different ways such as Messenger from Facebook and Whatsapp among others. You can have your agents assisting your consumers from a different platform at the same time, track the experience of your consumers with metrics, and customize the platform by itself making you feel comfortable with your work environment and creating an easier experience for your consumers.
Userlike – Userlike has a crash course is available to get your agents up and running quickly.
Freshchat – messaging software built for teams who want to ace customer conversations—marketing, sales, or support.  They have Omni-channel in Freshdesk, with that plan, Freshchat and FreshCaller will be included. They operate on Mobile and web platforms.
HelpCrunch – HelpCrunch is a combination of live chat to talk to your website visitors on your marketing sites/landings and convert them to leads/registered customers and an in-app messenger which is integrated into your web/iOS/Android apps. It allows you to forward your custom user attributes to HelpCrunch and automate the chat activities/email activities based on those custom user attributes, email automation which is manual bulk emails or automated emails based on customer attributes, and helpdesk features which are a chat as a ticket where you can assign a status to a chat, tag it, and take some actions.  You can also set up an email forwarding to get all your email requests from support@ or sales@ right to HelpCrunch and proceed to email communication via HelpCrunch.
Tidio – the free plan has all of the needed essentials in it: unlimited chatting, three operator seats, all customization options, all integrations, a mobile app, and quick responses.  Tidio works on most HTML websites.  They are more of a communicator than a live chat service – apart from the live chat, Tidio integrates with Facebook Messenger and Email now so you can run your whole communication with your customers from one place – the Tidio Chat panel.
Formilla – Formilla customer messaging software for sales, marketing, and support combines live chat, email, and in-app messaging.
Livezilla – Livezilla features live chats, real time visitor monitoring, online customer support, ticket system, WebCam chats and an operator to provide premium customer service.
Comm100 – an omnichannel customer experience platform encompassing live chat, ticketing, a knowledge base, and social media.  Comm100 has Windows and Mac apps. They also have an iOS and Android app for mobile.
LiveHelpNow – LiveHelpNow is customer service software with ease of use and reliability to enterprise level analytics, flawless multiple brand management, dedicated US-based support, real-time agent monitoring, financial grade security, instant language translation, social media integration, integrated customer surveys, targeted customer engagement, a customer satisfaction scorecard, exportable dynamic reports, skill based routing and queuing, agent permissions and restrictions, patented Whisper technology, file transfer, automated tagging, and integrated chat, ticket, call and knowledge management.  It will work on any website, web portal, or app. It is SMS capable and integrates with any CRM.
Help Scout Beacon – Help Scout Beacon works in tandem with your docs site (also called a knowledge base) so that you can do things like recommend articles based on the page customers are viewing (so they don't even have to search).  Chat is meant to work alongside Help Scout's other main features, so everything comes together there for you. You can either do web based, or they have both iOS and Android apps. Chat can be offered for all platforms.  You can see everything you need to know about the customer that you are chatting with right in the same window you are chatting to them in.
REVE Chat – REVE Chat is a SaaS based complete AI enabled live chat and chatbots platform to engage your customers across website, mobile and messaging channels for online sales and support. REVE Chat also offers a suite of live engagement tool such as co-browsing & video chat to collaborate with customers in real time.

Latest posts by Greg Ahern
(see all)