Did you know that chatbots can prove to be a valuable addition to almost every area of your business?


Yes, chatbots have been quite a trending topic in a variety of sectors for a variety of reasons. They have revolutionized the way people seek support, get their queries answered, and have changed the way businesses interact with customers. With current advancements in the field of AI and other digital trends, chatbots are becoming an essential tool to perform different business functions. 


In this article, let us see some of the best AI chatbot use cases in eCommerce stores where they can be utilized to maximize their potential to drive conversions and enhance businesses. 
Chatbots and their Usage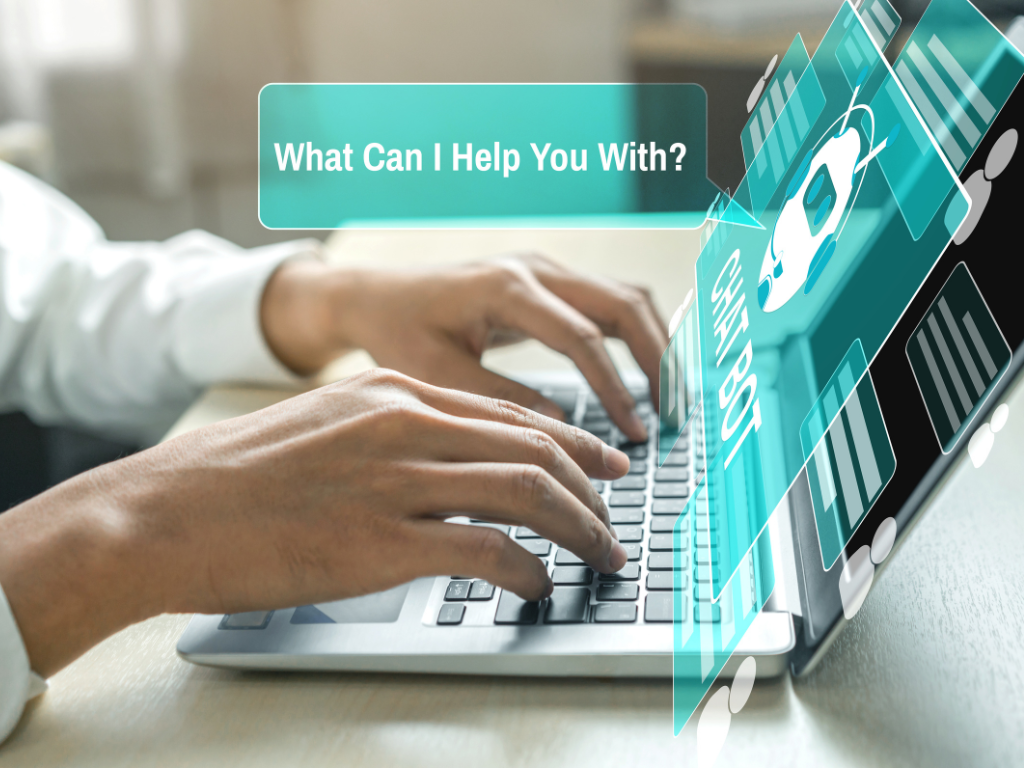 AI Chatbots are computer programs that use Artificial Intelligence (AI) and Machine Learning techniques like Natural Language Processing (NLP) and Natural Language Understanding (NLU) to converse with humans and carry out certain tasks based on customer requests. 


Early versions of chatbots could only perform simple tasks like answering frequently asked questions and connecting the user to a customer support team. Over time, different types of chatbots have been developed that can comprehend customer requests by understanding their intent based on keywords, rules, or buttons.


The most recent versions of chatbots can do so much more in addition to the tasks they were originally designed to handle. About 58% of customers surveyed for Salesforce believe that chatbots and voice assistants have changed their expectations about companies. They can deliver personalized customer support and recommendations, provide in-depth complex support, facilitate the customer journey, and even provide post-sales support, enhancing the customer experience. 
Top 14 AI Chatbot Use Cases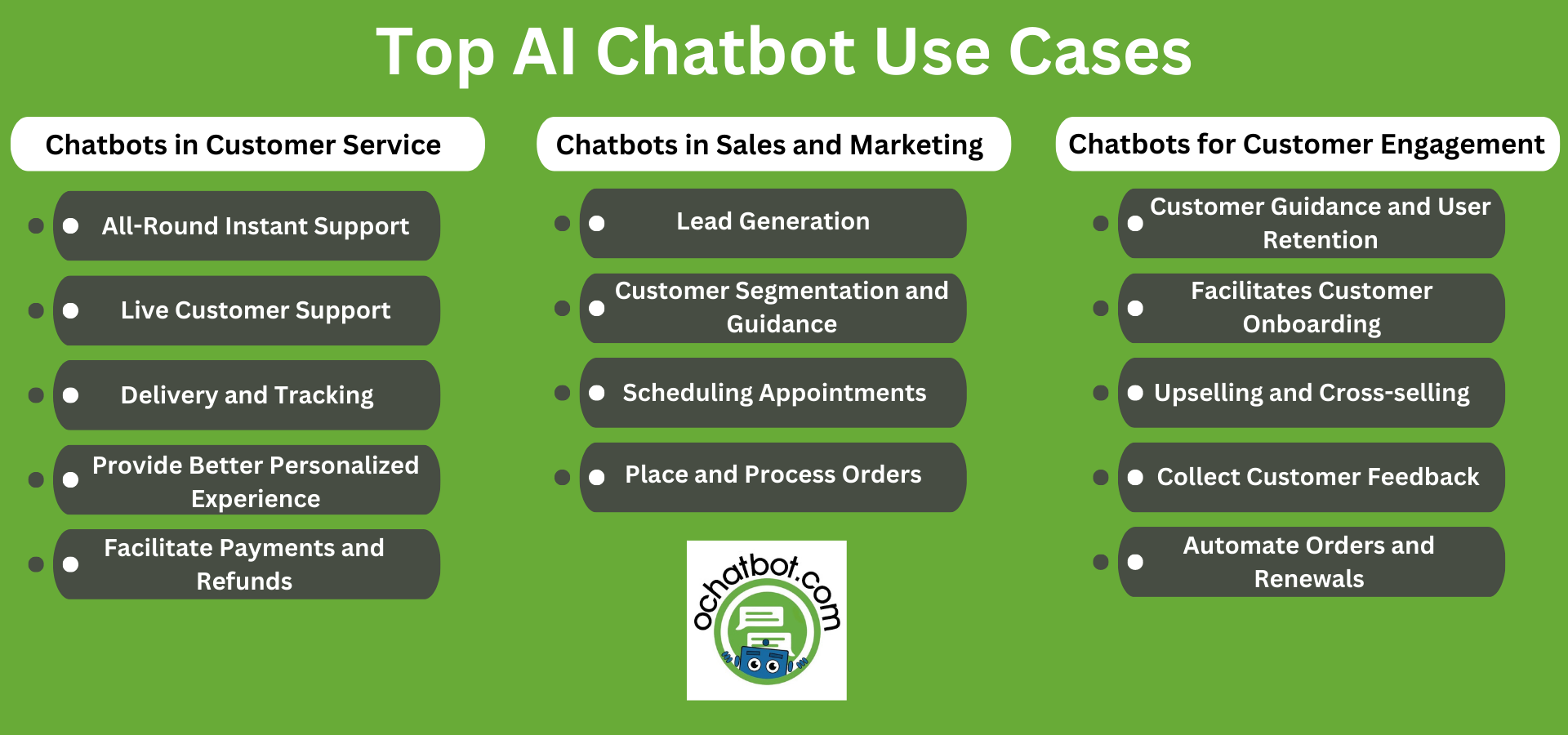 There is a variety of AI chatbot use cases ranging from customer support to engagement and lead generation across industries like eCommerce, healthcare, finance, and banking. Let us now consider the different AI chatbot use cases offered specifically for eCommerce stores.


Chatbots in Customer Service
From delivering immediate responses to reducing costs and freeing up human resources, chatbots can do much more when it comes to enhancing customer satisfaction. As a result, chatbots have increasingly been a preferred choice for customer service.


All-Round Instant Support
One of the primary reasons businesses prefer chatbots is that they can be available all around the clock and provide instantaneous support to customers. This lessens wait time and easily gets them through the primary constraint of customer service. On average, chatbots in customer service have a satisfaction rate of about 90%. This can be attributed to their ability to be available 24/7 and provide accurate instant replies helps them facilitate potential customers and thereby drive conversions.


Live Customer Support
Even though AI chatbots can handle multiple tasks for the user, customers sometimes expect live-agent interaction for in-depth complex support. When confronted by complex, multi-tiered interactions, AI chatbots can prompt the user if they need to connect with a live agent. The chatbot can then easily fix appointments with the customer support team, create support tickets and follow up on them when support agents are unavailable. 

Delivery and Tracking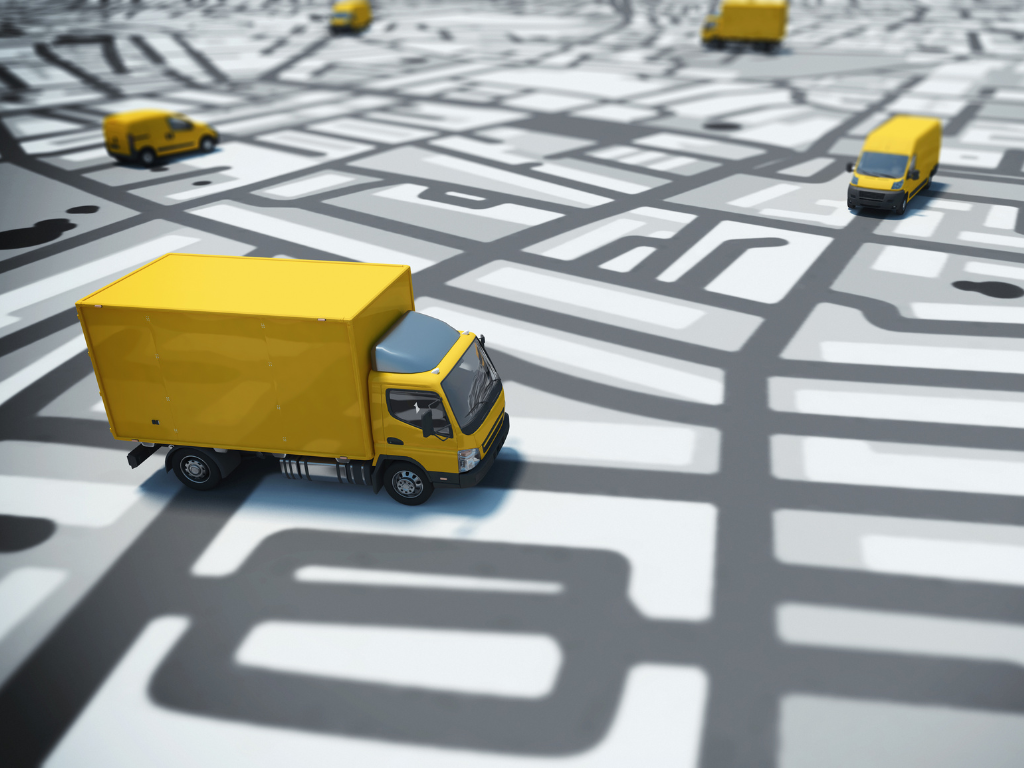 Updating the customer regarding the status of their purchase is another use case of AI chatbots in eCommerce customer service. Chatbots can ease the work of support agents in delivering updates by prompting the customer on the status of the product, due arrival dates or delays, and can provide live product tracking to the customer. 


Facilitate Payments and Refunds
With the digital method of payments becoming more mainstream by the day, any issue relating to transactions can be arduous to deal with manually. Chatbots can not only facilitate the payment process by simplifying information regarding payments or notifying due dates and invoices but they can also help with refunds. From the customer's end, waiting without knowing the status of the transaction can become a bit frustrating. AI chatbots can automate payment processing, inform customers regarding the status of debit or credit, provide prompts on refunds, and confirm transactions.

Provide a Better Personalized Experience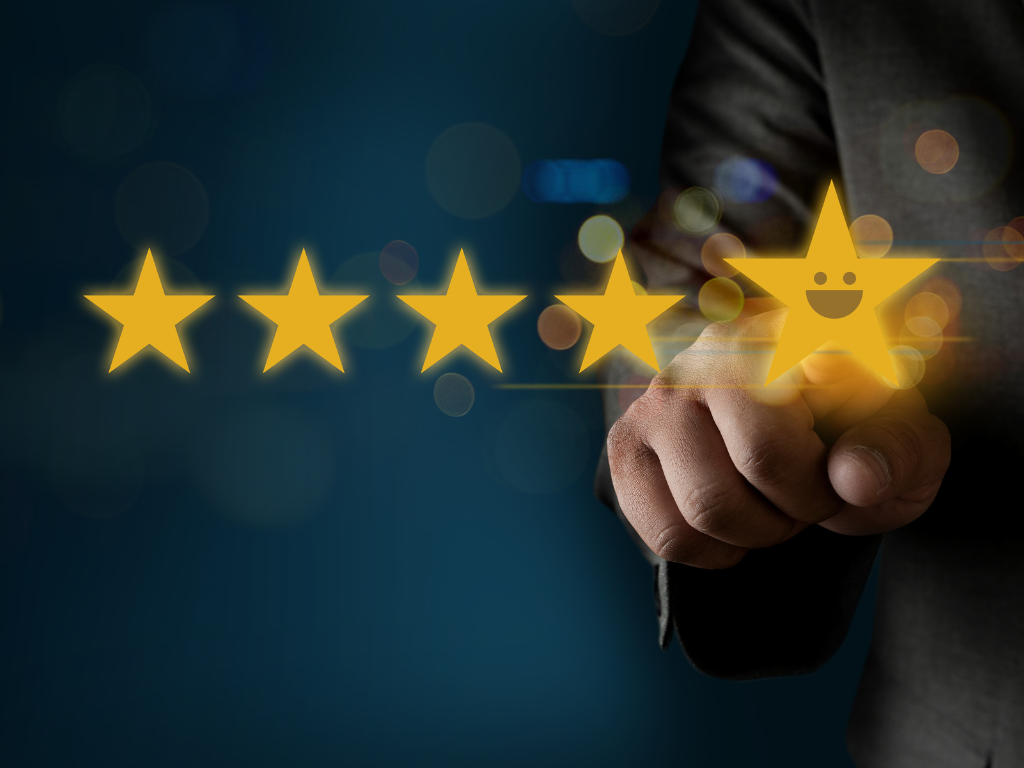 One common usage of AI chatbots in conversational commerce is to provide a personalized experience to the customer. By analyzing user behavior and understanding their viewing and buying patterns, AI-powered chatbots can provide better-personalized recommendations and even solutions. 
In addition, AI chatbots can offer multilingual support, automate mundane tasks, handle customer queries, process exchange requests, minimize errors, and reduce overall operational customer support costs.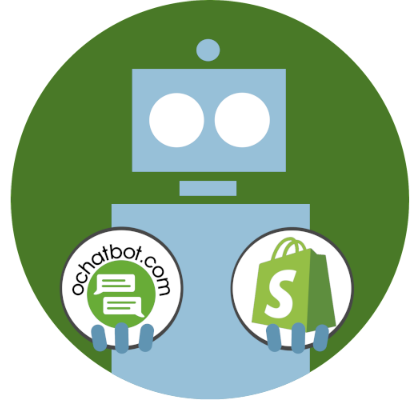 True AI to engage customers for eCommerce, business leads, and customer support.
Create happy customers while growing your business!
5% to 35% Increase in AOV*

20% to 40% Increase in Revenue*

25% to 45% Reduction in Tickets with a Customer Service Chatbot
We Guarantee Results... Or Work For Free!
*When shoppers engage with Ochatbot®
Chatbots in Sales and Marketing
Bringing in viewers, converting them into customers, facilitating the customer journey, and maintaining a loyal customer base have always been tasks necessary for the positive function of any business. These can be performed with ease with the help of chatbots.


Lead Generation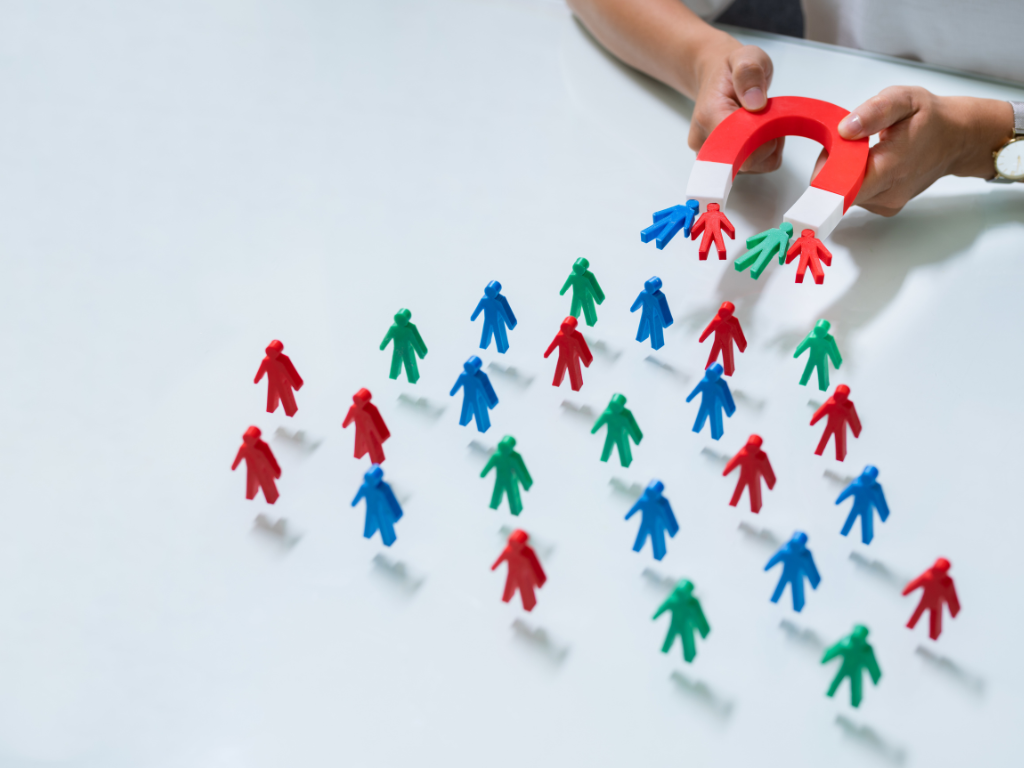 Chatbots help generate leads automatically for marketing campaigns. They can contact cold prospects via emails or messages and can also identify potential warm leads by targeting and focusing on leads who already seem interested in your product or service through questions, surveys, and polls. Chatbots can then target these warm leads by asking questions, tracking their data, curating plans accordingly, and qualifying a lead for your business. 


Customer Segmentation and Guidance
Leads can be acquired at any stage of the buyer's interest. When it comes to generating leads, chatbots can ascertain the level of interest of the prospect and prompt them accordingly. They can understand users' intent and segment the user's data based on their requirements and guide them via proper messages and marketing channels. 


Scheduling Appointments
In a variety of sectors, booking and scheduling appointments is a task that requires constant human intervention. But now, AI chatbots can help effectively set and manage appointments or calls and can even assist in modifying them based on the customer or business needs. They can also send notifications and reminders automatically and manage cancellations and schedules without the need for separate staff.

Place and Process Orders
With integrations and omnichannel approaches being made available, certain tasks can be accomplished easily and efficiently from one place. One such example is placing and processing orders. AI-powered chatbots can be used to place orders either from a chat window or through any social media or messaging platform and even process payments via them. 
With all the benefits AI chatbots offer to your marketing and sales team, they can additionally gather customer insights, reduce shopping cart abandonment rate and streamline sales processes.
Chatbots for Customer Engagement
Customer engagement is an essential factor to reduce the bounce rate and capture the instance of a potential prospect. Chatbots have been an essential tool in facilitating the customer journey from viewing your page to buying your product or services. They can monitor your customer's usage and keep acquiring and analyzing information to enhance the customer experience.


Customer Guidance and User Retention
Sometimes, when a prospect visits your page, they might get confused despite the user-friendliness you have provided. In such cases, having a chatbot that can guide the user through their journey by answering queries about products or services without any wait time, provides a greater chance of the visitor becoming a potential customer.
Smart AI chatbots can prompt the user with a customized message or prompt based on the page they're in. This is known as page targeting. It helps grab the user's attention when they are about to bounce off; page targeting increases user retention. 

Facilitates Customer Onboarding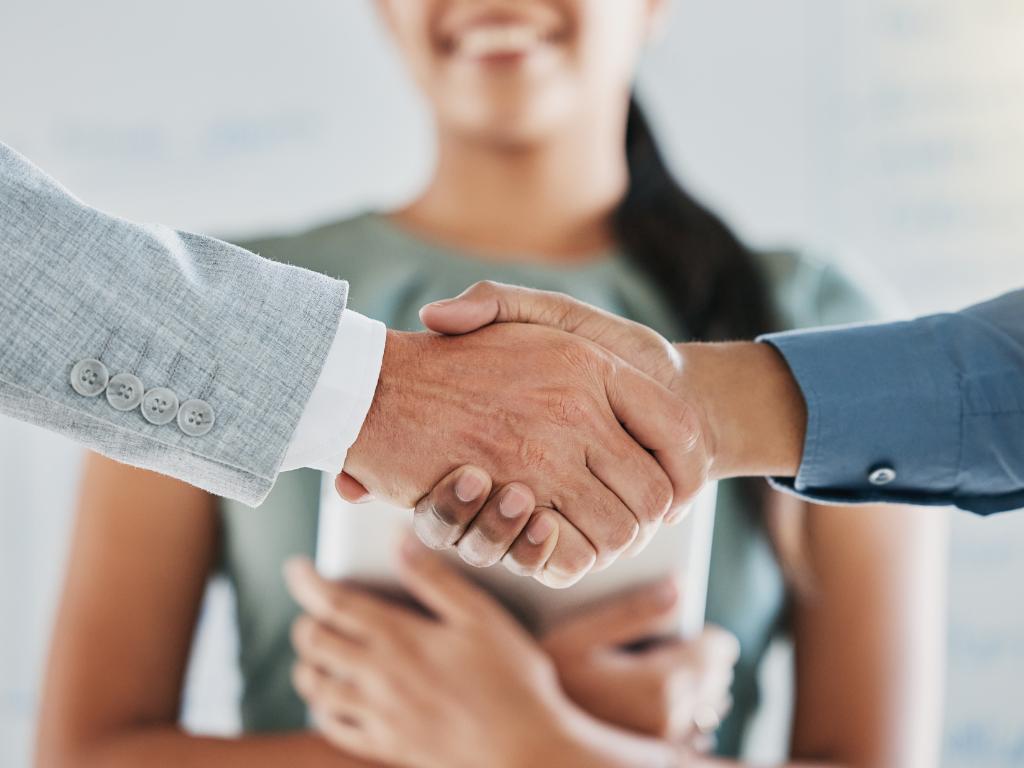 In an eCommerce store, onboarding is when the user is signing up, fills in details, chooses a service, and sets up their account, a primary task that might be strenuous due to the number of steps involved. When confronted with doubts or queries in this part, AI chatbots can aid the user gracefully with answers to questions during the onboarding process. 
Facilitating these actions smoothens the initial customer experience and sets up a rapport and prospect for future services. 


Upselling and Cross-selling
After acquiring leads and facilitating the customer journey, upselling or cross-selling your services makes a business thrive among competitors and generates additional revenue. AI chatbots help in conversational commerce by monitoring the user's buying habits, understanding their requirements by asking questions, and providing relevant options to enhance the features or functionalities of existing purchases. 
Collect Customer Feedback
Customer feedback is an important part of any business strategy to understand the perspective of customers. Chatbots can greatly help in acquiring feedback by engaging with customers in a non-spammy way using a variety of interactions such as surveys, polls, or sentiment analysis. This customer feedback in turn provides you with enough insights to make better business decisions and formulate efficient strategies.
Automate Orders and Renewals
Especially when it comes to services, oftentimes, customers do forget to renew their subscription or membership. This might lead to the accumulation of late charges or cancellation of services. AI chatbots can prompt the user with notifications regarding the expiration and provide information relating to other products or services that might interest them.
Related Reads:
All You Need to Know About eCommerce AI Chatbots
AI Chatbots and 8 Recent Customer Service Trends of 2023
Types of Chatbots: Choose the One Suitable for Your eCommerce Store
Frequently Asked Questions
What is one of the primary uses of chatbots?
Most customers consider chatbots to be the primary source of their initial support, and many prefer them to live agents. In addition to providing support and answering questions, AI chatbot use cases range from sales and marketing to customer engagement and service across many different industries.


What are some use cases of chatbots in eCommerce?
These can include but are not limited to answering FAQs, product suggestions, acquiring feedback, providing tracking information, and cart recovery.


How can chatbots be used for customer service?
Chatbots provide personalized support to customers by tracking and monitoring user queries and behavior. They can even consolidate the data and insights gathered to a live support agent for in-depth support.
AI Chatbot Use Cases are Becoming More Profound
From engaging customers and simplifying customer service to helping businesses with leads and sales, chatbots help with a plethora of tasks and have changed the landscape of several business functions and strategies.
From a customer point of view, AI chatbots can handle customer queries, provide instant order tracking, and offer ways for customer engagement. All these will help smoothen the customer experience and enhance customer satisfaction.
Chatbot use cases have recently expanded greatly and they hold immense potential for businesses and customers alike. They can easily be customized and are highly adaptable to the requirements and needs of your business or industry. They can be used for eCommerce stores or online businesses, but in addition, AI chatbots find a variety of uses in healthcare, banking, human resources, education and so much more.
With all the benefits and diverse use cases, they are becoming indispensable tools to maximize efficiency and drive results.

Latest posts by Greg Ahern
(see all)