With the advent of technology, we've seen a massive shift in how businesses conduct their daily operations. The current trend indicates using technology to enhance customer experience and provide better services. One of which is the utilization of chatbots in eCommerce.
In today's world, the need for instant, updated information is relentless as consumers demand it. How fast the replies are sent to them can be the deciding factor whether they'll proceed to make a purchase. The integration of chatbots is not slowing down anytime soon because it will need faster and more responsive support over time. 
In this article, we'll discuss the many ways chatbots can boost conversion rates for eCommerce companies. At the end of this, you'll have a clear understanding of why it's time to plan chatbot implementation to optimize the user experience of your brand.
How Do eCommerce Chatbots Work?
Chatbots are automated programs designed to simulate human conversations for a variety of purposes like customer service or information acquisition. They're designed to answer customer queries through an automated conversation.
But why the growing popularity?
A whopping 93% of service teams agreed that customers today have higher expectations. They're also smarter and with much misinformation going around, many are doubtful.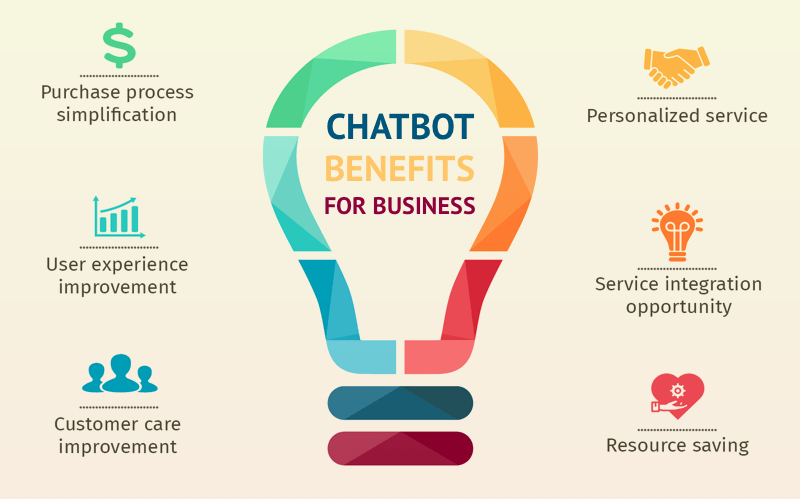 Chatbots: 9 Ways They Can Increase Your Conversion Rates
If you're an eCommerce business, you need to do more than just sell your products online. Engage with your customers to keep them coming back for more. Fortunately, with chatbots, your goal of making existing and potential customers take action on your website increases. Let's see how they can do that.
1. Speedy Customer Service
If you want your customers to stick around long enough for them to buy something from you, you need to respond to them fast. By having a chatbot handle questions and concerns, customers get their answers quicker than they would if they had to wait for a human agent to come online and respond.
Take this solar panel provider's website for example. While they indicated their contact number and business hours in the header, it would be better for customer experience if they had a chatbot to answer queries any time of the day so they can cater to a global clientele.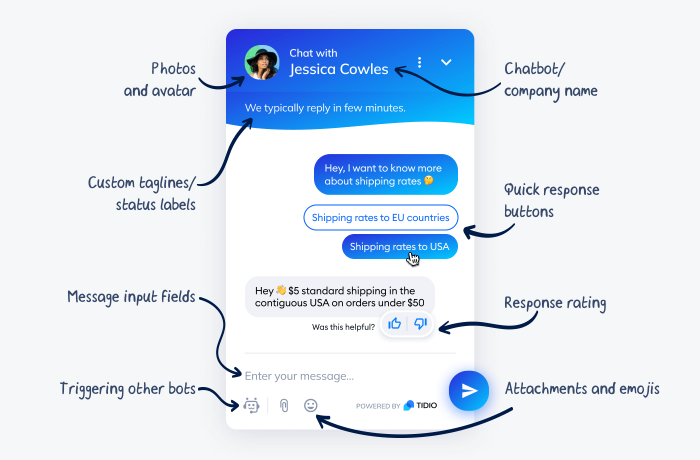 Depending on what type of chatbot software you have, they can answer queries with varying difficulties, from simple to more complex questions. Some chatbot software can even take orders and make recommendations based on a customer's preferences. 
In general, chatbots can be programmed to answer common questions. So, when someone asks about item sizes, an eCommerce bot can give a reply in less than a minute. If others ask what types are available at the same time, they'll get the answer instantly.
2. Keep Your Customers Engaged
Chatbots can help engage customers by providing them with instant answers to common queries, including:
Where do I find this item? 

How much does shipping cost?

Do you accept cash on delivery?

Do you ship in (specific country)?
This instant gratification helps keep customer satisfaction high and keep them interested in the product or service advertised especially if your business is multi-service. Additionally, specific types of chatbots could automatically pop up with suggestions. 
For example, let's say a customer is browsing an eCommerce store for a new stand-up paddle board, and as it turns out his preferred style is not in stock. Currently, the store doesn't have a chatbot. Customers would then have to keep browsing to find an ideal replacement. The process could take a while and may end up frustrating the customer.
However, a chatbot would make the buying process more seamless. A chatbot could automatically pop up with a suggestion that says "You can try these similar styles" once it detects that it's on a product page that has out-of-stock products. It can give them a list of paddle boards that can still meet their requirements.
By giving product suggestions, customers are kept engaged instead of bouncing and moving to another eCommerce paddle board store. Plus, once they've decided to add the item to their cart, a chatbot can walk them through the sales process until the order is finalized.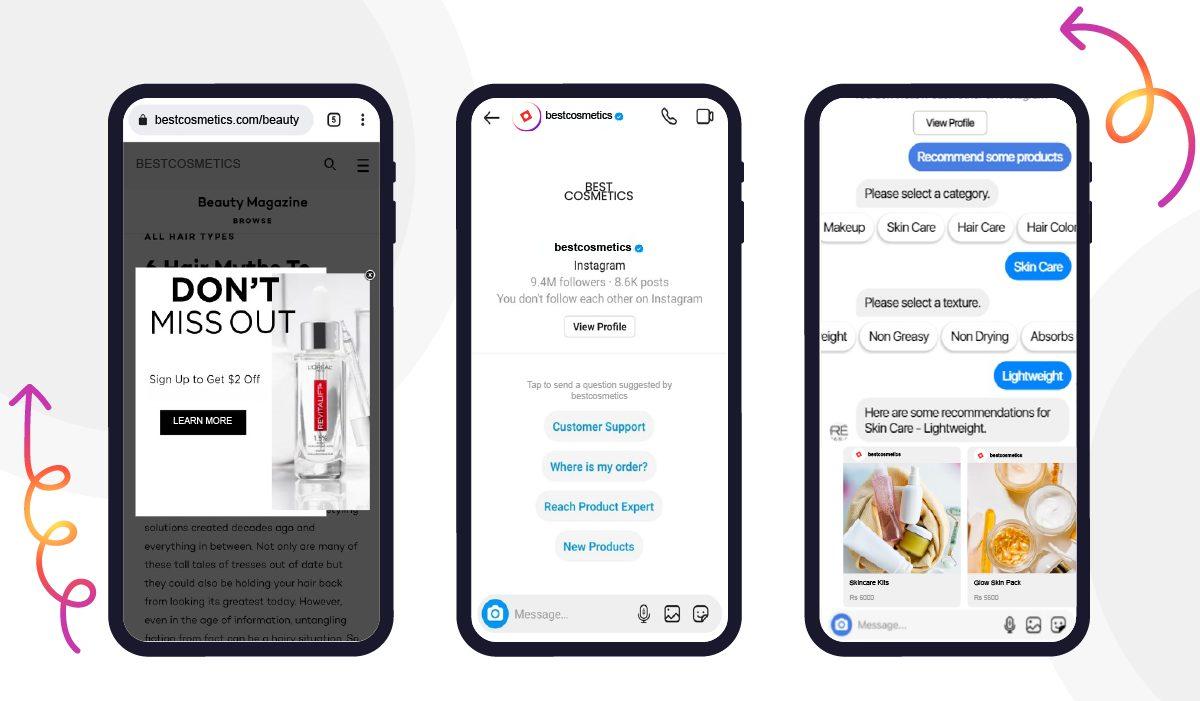 In addition, chatbots can be integrated into social media platforms, an effective strategy because almost everyone uses those platforms for online shopping. For instance, some businesses implement chatbots for Instagram to collect leads and help users with their specific queries (see the image above). 
3. Welcome Message
Chatbots are a great way to greet visitors on your website and welcome them without being intrusive. An excellent example of this is Vector, a logistics automation website and this healthcare marketing solutions website, where they only added a chat icon on the lower right-hand side users can click on if they need more assistance.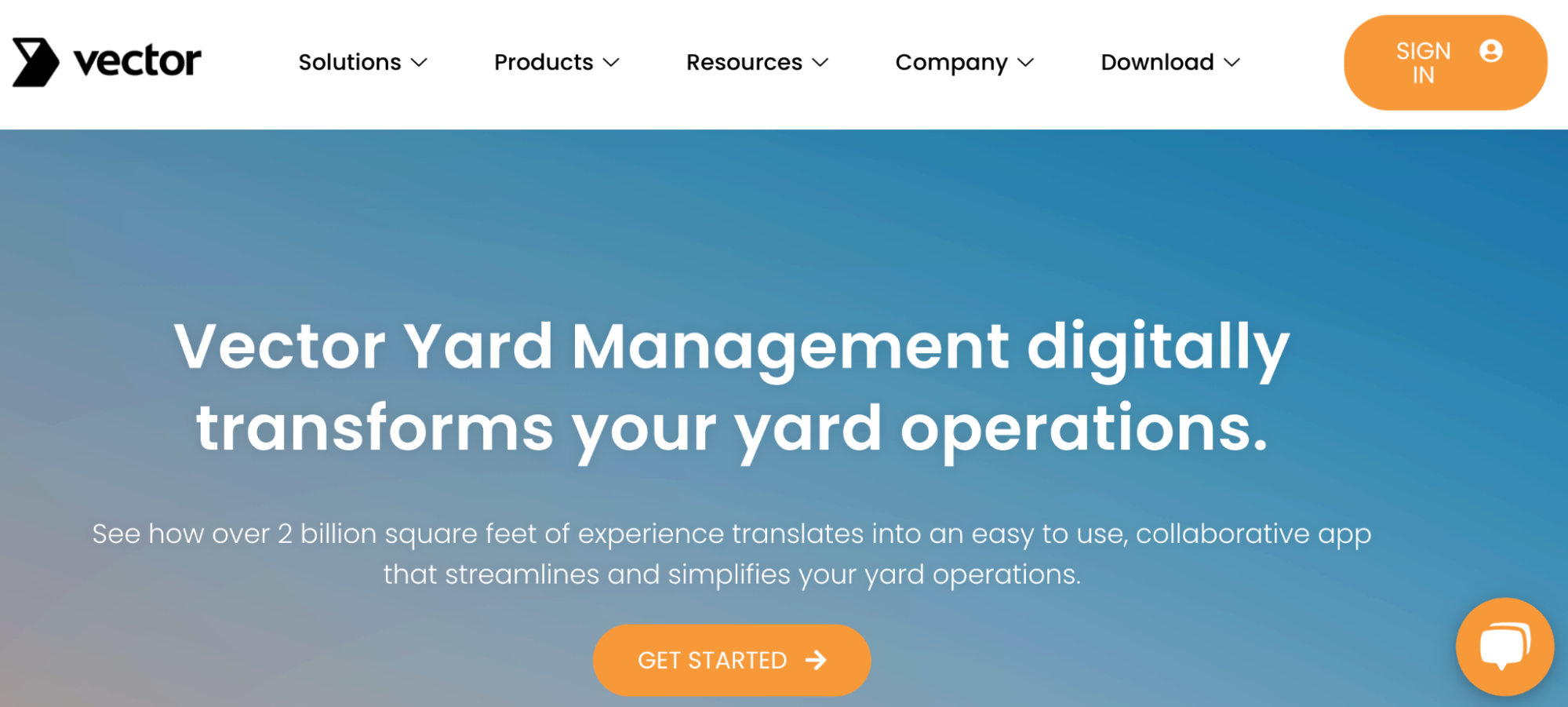 It will make the customers at ease like they're in a physical retail store greeted by a salesperson. Not to mention, knowing they can ask for help anytime and get quick answers can encourage them to continue with their buying process. 
What's more, they can then ask the users what they're looking for after the greeting, which can help them determine what content or offers might interest that particular visitor. However, it's important to remember not to overdo it.
Have an informative greeting that lets users know who you are and what you do without being too "salesy" or pushy. You should also give users the option to skip this greeting if they don't want it—just having a simple "skip" button at the bottom of the screen will suffice.
If not, make sure the exit or "X" button is easily seen so that consumers who don't want to deal with chatbots won't be turned off. Don't force the questioning on the customers and let them have a choice on how to proceed.
4. Trigger Points
The eCommerce chatbots are excellent for conveying information about products or services, triggered by specific actions taken by the customers on the website. It's a great way to keep them engaged, make sure that they're browsing through the online store, and offer them help if needed.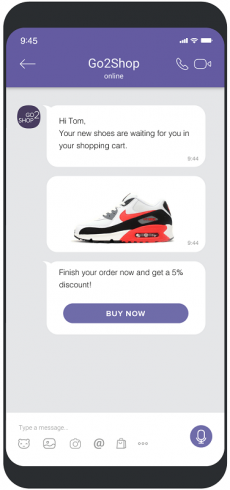 Here are some ways chatbots can pop up by trigger actions:
Inactivity:

A chatbot can pop up after a user has been inactive for at least a certain amount of time and ask if they need assistance. You can set up the chatbot to pop up after 30 seconds or 2 minutes, depending on how fast you want them to take action without being too intrusive.

Cart Abandonment Reminder:

Once they've put items in their shopping cart but haven't finalized the checkout process after a couple of minutes, a chatbot can be a way to ask them if they'd like to proceed with the purchase.
In addition, if your eCommerce shop is available in many countries, a chatbot can offer country-specific services. For example, if someone from Italy is considering buying your product, a chatbot can recognize that and pop up informing them of localized special promos. 
You can also program the chatbot to display delivery information to Europe and the shipping fees. It can also offer extra information like how long it would take to get to Italy.
5. Answer Frequently Asked Questions (FAQs)
Business owners and customer service agents know very well that despite having a dedicated FAQ page, customers will still ask questions on that page and look for assistance. Fortunately, chatbots are a great way to answer frequently asked questions.
They're not just for answering the same questions over and over again. They can help you provide more value to your customers by providing personalized answers that are relevant to their needs and interests.
Moreover, a chatbot that answers FAQs will be extra helpful for unfamiliar tools that don't come with a FAQs page like this Amazon sales tool, Aura. It will be hard to convert buyers in the awareness or consideration stage without a chatbot to answer questions users need to ask before deciding to convert.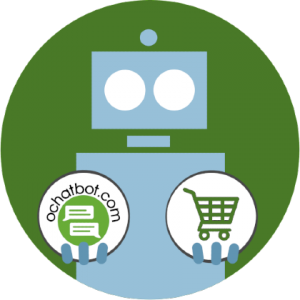 True AI to engage customers for eCommerce, business leads, and customer support.
5% to 35% Increase in AOV*

20% to 40% Increase in Revenue*

25% to 45% Reduction in Tickets with a Customer Service Chatbot
We Guarantee Results... Or Work For Free!
*When shoppers engage with Ochatbot®
6. 24/7 Availability
Did you know that 28% of customers expect a reply in under 5 minutes in a live chat?
For small to medium eCommerce enterprises, the number of queries can be overwhelming since customer service is only available during specific hours of the day. Unlike big companies that can afford 24-hour services. 
Fortunately, chatbots are available 24 hours daily and can answer questions about your products and services in real time. This means that instead of having to wait until your next business day, they'll receive help right away, especially when it's just a series of simple questions.
Customers will appreciate this because they'll feel like they're getting personalized service from your brand 24/7. Hence, it'll help boost your conversion rates by letting customers reach out and get the help they need whenever they need it most—even if that's at 2 AM on a Sunday.
If the question is too complex, the chatbot will ask for contact information. Then, a human customer service agent will take over once they're available.
7. Introduce Special Offers
Chatbots can be utilized to let your customers know about special offers and promotions, helping to increase conversion rates without leveraging ads. The chatbot can be programmed to greet site visitors and offer them a special promo. This will be helpful for businesses needing to source supplies in bulk whether it be equipment or quality ingredients needed for the business.
8. Offer Post-Sale Support 
Once you've made the sale, it's time to get those customers satisfied and keep them coming back. Chatbots can be utilized to offer post-sales support to consumers, which can improve conversion rates as your eCommerce brand can get repeat customers to take desired actions time and again.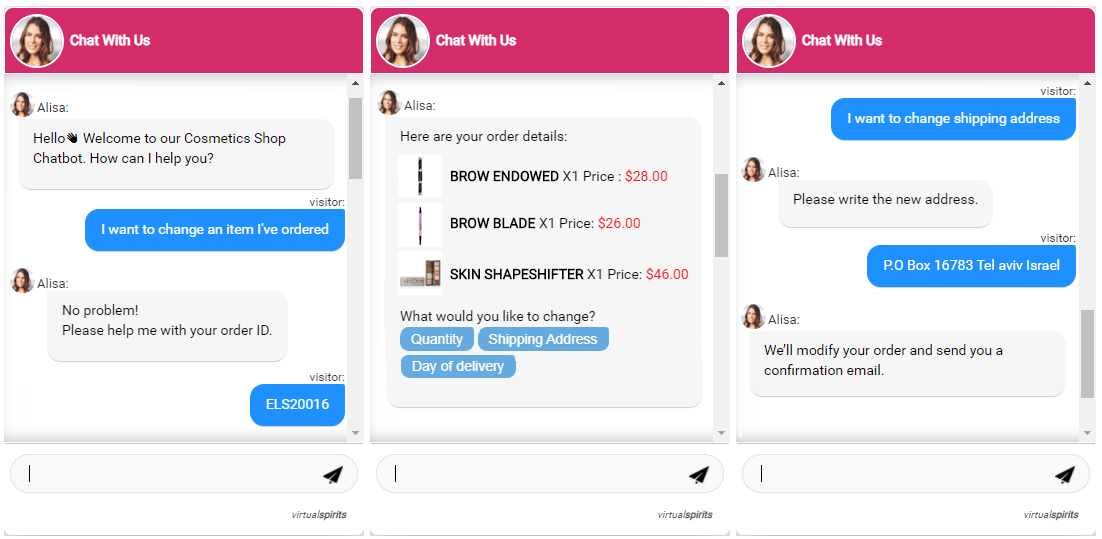 A chatbot can answer the most common post-sale questions, including shipping status or product returns. Not to mention, chatbots can also send text messages to inform users of any delays or product recalls.
But there's more. Your eCommerce brand can use chatbots to send messages with product instructions. It's a great way to keep them engaged and make your mark as a brand as you go beyond just answering queries.
For example, if you're selling products targeting a non-techy age group like medical alert smartwatches, having a chatbot send instructions via text message would be incredibly useful considering the user would be a senior citizen who won't be as techy as the younger generation. 
They're not internet-adept, so offline communication would be ideal for them, and it would give them an easier time following the guideline and getting their devices started.
9. Feedback & Data Collection
For businesses, a deeper understanding of customers is crucial. One way to do that is by collecting feedback and data from them. When we think about this kind of interaction, we often think about customer service calls, which can annoy customers. Plus, this can be inconvenient for them.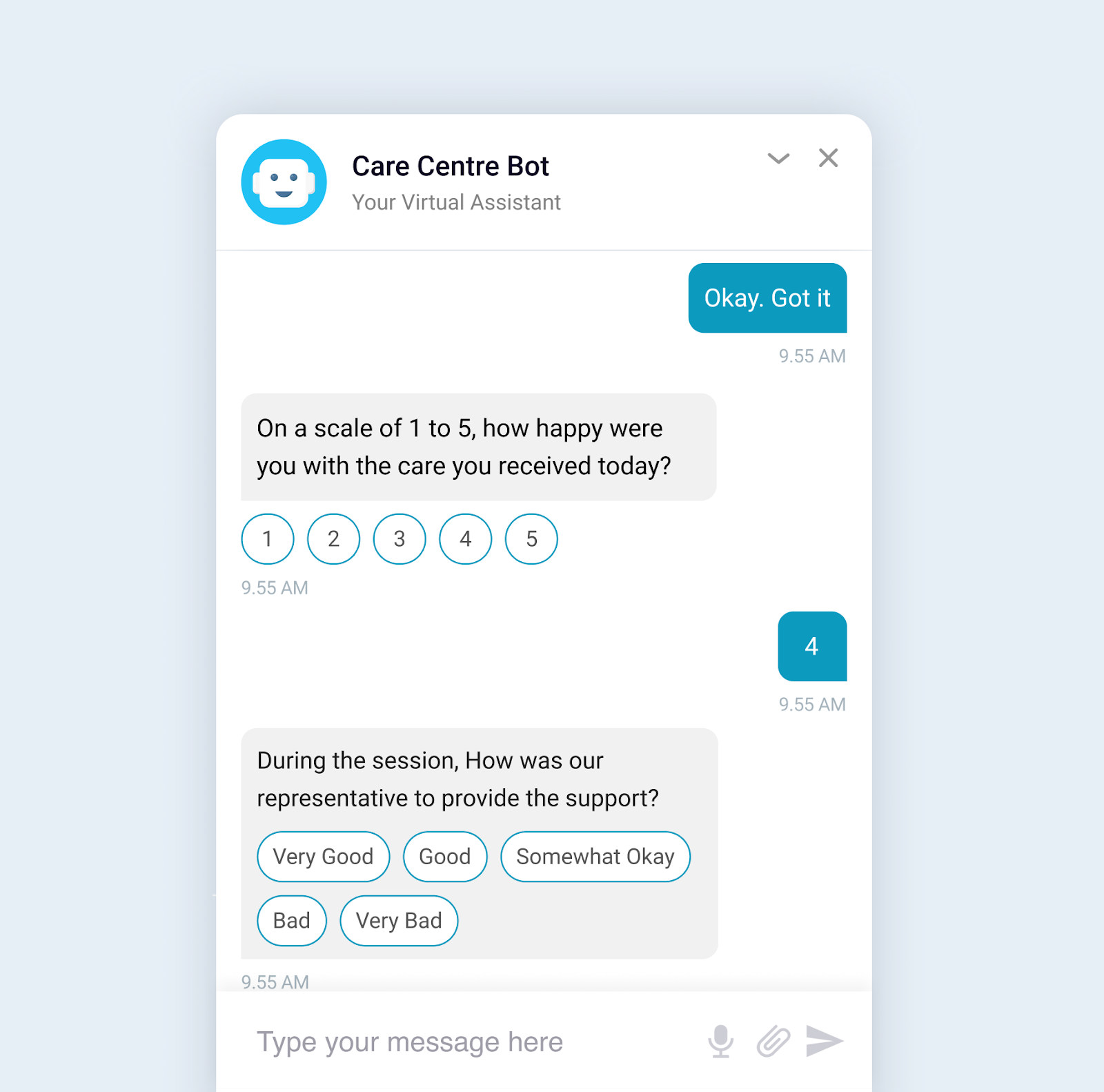 But worry not. Chatbots can be programmed with specific customer feedback questions and then used as a tool to gather information on how customers feel about a product or service. Lots of times, it'll only take less than a minute to complete the process. Not only that, a chatbot asking for feedback doesn't feel as intrusive as having to talk to someone on the phone. 
An eCommerce chatbot can help you stay on top of feedback collection, while you focus on strategizing to continuously offer informative content. Pair your chat tool with a data analytics solution and you'll get the insight you need to scale your business faster. 
Also, you can dispatch chatbots on a wide range of platforms to ask for feedback, including messaging apps like Facebook Messenger. Although, it's best not to overdo it. Hence, choose a platform that you think will be the most convenient for most of your customers.
Moreover, it can help you make data-driven design decisions as you'll identify what users mostly want from your website so you can provide it to them the moment they land on the site. 
Now that you know how impactful chatbots are in improving your conversations with customers and boosting your conversion rates by leading them to take your desired action, it's time to give you more information about which types of chatbots you can utilize.
Rule-Based Chatbots Vs. AI-Powered Chatbots: What You Need To Know
Contrary to popular belief, not all eCommerce chatbots are powered by artificial intelligence (AI), and not all of them are programmed the same. That's why when you're visiting different websites, you'll notice that some chatbots are more advanced, while others only have basic features.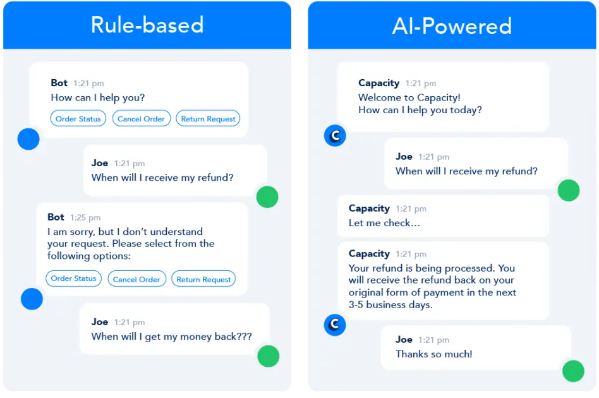 Understanding the different systems the chatbots run on can help you determine which one is right for your eCommerce business. One is a simpler version, while the other is more complex.
A. Rule-Based Chatbots
These are the chatbots that work by performing a set of predefined actions based on the input they receive. They're programmed to respond to specific keywords, phrases, and questions with certain answers. For example, you could program a rule-based chatbot to give you directions to the nearest coffee shop when they say "I want coffee."
When you know what type of conversation will help you meet a specific need, then this is great. But if you want your users to have any flexibility at all in what they ask or say, rule-based chatbots can be limiting. So, if they ask for coffee but not necessarily in those exact words, it can be hard for a rule-based chatbot to answer.
However, one advantage of rule-based chatbots is that they're very easy to build and deploy. A community provides free rules for common use cases like greeting users or answering simple questions. Hence, they're also relatively cheap to build and maintain.
B. AI-Driven Chatbots
These chatbots are more flexible than rule-based ones because they use artificial intelligence to learn from previous conversations and make predictions about what users might want next based on their past behavior. They can improve the pace, accuracy, and efficiency of handling customer queries.
This process is called machine learning: teaching machines how to learn on their own without being programmed explicitly by humans every step of the way. 
They can get smarter over time as it learns from their interactions with users. Thus, they can give more accurate answers over time as it learns more about customer preferences. Additionally, they can be implemented in many ways, via a web or mobile app or through a conversational interface such as Facebook Messenger.
What's more, AI-driven chatbots are programmed to apologize or compensate when they detect negative emotions, such as anger or dissatisfaction. At Ometrics, our AI-driven chatbot, Ochatbot is built not just to engage shoppers, but also to gain insight and grow sales. Optimized for eCommerce, we provide you with chatbots for:
Shopify

Magento

BigCommerce

WooCommerce
You don't only get life-like interactions, you'll also generate insightful reports and analytics so you can optimize how you respond to customers in various stages of the buying journey.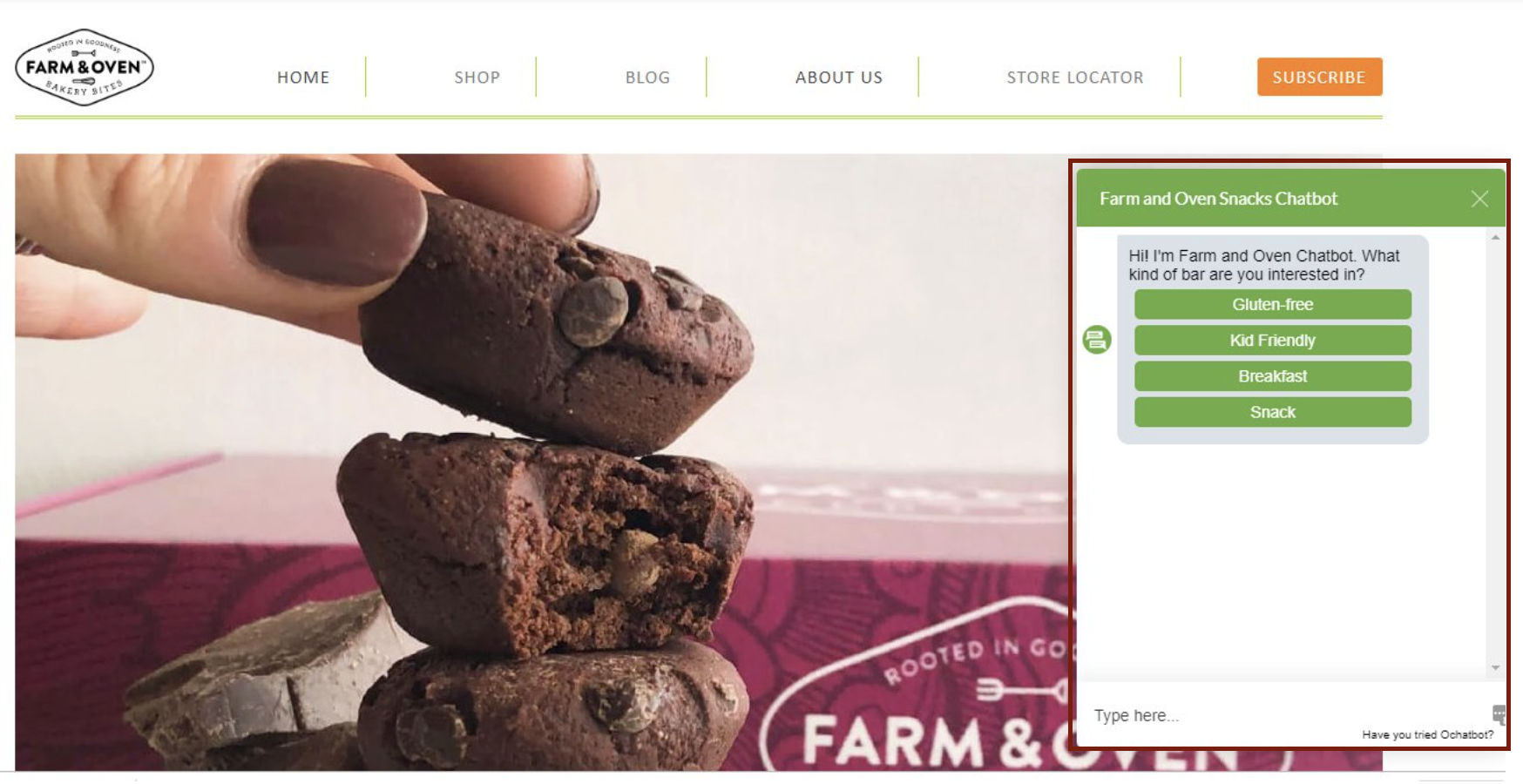 However, there's still a long way to go to fully humanize your chatbot. That's why many companies use a combination of an AI customer service chatbot and human support staff to meet the demands of customers. In today's fast-paced world, it's hard to 100% rely on only one of them.
Conclusion
The convenience and accessibility of online shopping are unparalleled. And in eCommerce, the use of technology, specifically customer service bots, has given rise to new ways of doing things to further improve conversations with users to encourage them to take action. Thus, improving conversion rates.
Would they help you reach your brand's potential? Absolutely. 
Chatbots are great for providing fast customer support. It allows you to engage with them and show that you're listening. They may not be perfect yet, but their value to eCommerce will keep increasing. Want to get started with your eCommerce chatbot? Here's a risk-free way to test the waters. We're offering you a forever free account with 14 days of Plus Plan features. Get your free trial today!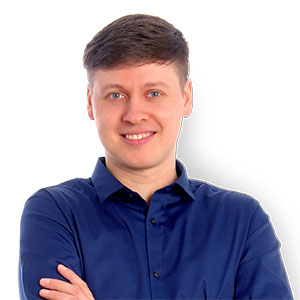 Author Bio
Burkhard Berger is the founder of Novum™. He helps innovative B2B companies implement revenue-driven SEO strategies to scale their organic traffic to 1,000,000+ visitors per month. Curious about what your true traffic potential is?
Latest posts by Lashanah Tillar
(see all)