Do you want to know the best AI chatbots for business growth?
AI chatbots are a key element of modern businesses. A survey from Statista says that Around 77 percent of the technology officers use conversational bots for customer service. Most business professionals prefer running their business in the online medium and marketers keep bringing innovations to have an edge over competitors.
One such attempt is integrating chatbot platforms with the business pages to replace the customer service teams. This article focuses on the best AI chatbots in the industry.
Jump to the Content
AI Chatbots 
A chatbot is a conversational application that communicates with the user through chats or voice texts. The basic level chatbots are rule-based chatbots that function with a predefined or trained set of queries and default answers.
Matching the keywords of the trained sets, the rule-based chatbots come with suitable text to engage their users. The other type is Artificial Intelligence (AI) chatbots that focus on providing customers with a realistic conversational experience by simulating human behavior and natural language.
AI Chatbots for Business
AI chatbots for businesses engage people throughout their customer journey. People who land on the business page may not have a clear idea of the web page and their requirements initially. In this case, an AI chatbot solution initiates a conversation by greeting them and acting as a customer service representative.
Instead of just answering customer queries, AI chatbots implement natural language understanding techniques to respond according to the customer's emotions and requirements.
AI chatbots for businesses will analyze user behavior and understand which products will interest them. Then the chatbots will notify them of the offers in that particular or relevant product to increase the sales conversion rate.
Benefits of AI Chatbots
An AI chatbot is a conversational marketing platform that fulfills the roles and responsibilities of a customer service advisor by imitating human behavior to ensure a quality customer experience.
Benefits for Customers
Customers are the major component of a business as they bring sales to the business. Business owners must provide quality service to users who are the prospects of their business.
High Availability
Users who browse through the business page early in the morning or late at night have customer support without waiting for working hours. As the chatbot software functions 24/7, users may reach out to the support team at any time.
No Language Barriers
Many conversational AI chatbots understand most languages so users need not struggle with language barriers. They can simply select the language of their choice or the AI bots will identify the language using natural language processing (NLP).
Supports Multiple Platforms
Conversational chatbots support most platforms like Facebook Messenger, Shopify, Slack, Skype, and Instagram. Users need not enter the official website because they can find a full-fledged conversational commerce service from one of the social sites.
Personalized Experience
Chatbots keep track of every user's action and customer data. The chatbots notify people about the stock availability of their requirements and interest. AI chatbots for businesses also understand the user's interests and show them relevant products to increase the sales funnel.
Simplifies the shopping process
AI bots help users to complete their online purchases just from the chat window itself. They can browse, communicate, purchase and pay from the chat window without complexity.
Benefits for Sellers
While meeting customer expectations comes first, simplifying and automating the seller's tasks is also equally important. There are a few factors that highly benefit business owners to boost their business.
Customer Engagement
Most website visitors will leave the site in a few minutes, but automating customer service operations with AI chatbots in major messaging platforms increases the customer engagement rate. Even if they didn't make purchases, customer conversation rates can help business owners build customer data and make valuable insights with them.
Sales Conversion
Not all visitors will reach the third level of the sales funnel. Converting casual visitors into customers is one of the biggest challenges for website owners. Live chat software acts as a customer service agent and urges the users to buy products by sending them products that match their interests.
Customer Retention
Retaining a customer is another important aspect. Once a customer leaves the business page with or without recording purchases, the chatbots continue to update them with other relevant products and offer to retain them.
Low Man-power
Replacing human agents in the customer team will help them make use of manpower to focus on other business aspects.
Analytics and Reporting
Chatbots will record their sales data from chats and develop an analysis report so they can find the hits and flops in the trials.
Suggested Read: 10 Advantages of AI Chatbots
Top 7 AI Chatbots for Business
Ochatbot

Ochatbot is an AI commerce chatbot that assures life-like interactions with users. This AI chatbot is unique as it implements AI and machine learning (ML) along with humans in a loop technique so users get a realistic conversation from conversational bots.
The chatbot has an efficient analytic solution to measure the performance of the chatbots based on messages, users, and chats. This analysis further helps them in generating reports that the marketers can use to derive useful business insights. This analytics system recorded a 20% to 40% of revenue rise in businesses, and you may visit this page to learn how to build a chatbot.
Easy to build, test, and launch the chatbot with a single script.
Search the products with keywords, tags, descriptions, or stock-keeping units (SKU) from the chat screen.
Add the products to your cart from the chat window.
Simplified payments process without multiple redirections.
Actively engages the users to reduce the abandoned cart rates.
Automatic chatbot analytics measure the performance of the chatbot in sales.
Interacts with chatbot users in a human-like manner and responds to them in the same way.
Collects customer feedback from surveys and forms in a conversational tone.
Simulates human-like conversation by imitating human tone and behavior.
Pricing 
| | | | |
| --- | --- | --- | --- |
| Price  | Customer | Price | Trial |
| Free | Startup | Free | Free trial available |
| Basic | Small Business | $69 per month | Free trial available |
| Plus | Business | $109 per month | Free trial available |
| Pro | For all who want to manage the system | $495 per month | Contact us |
| Enterprises | Large Business | Contact us | Contact us |
Chatfuel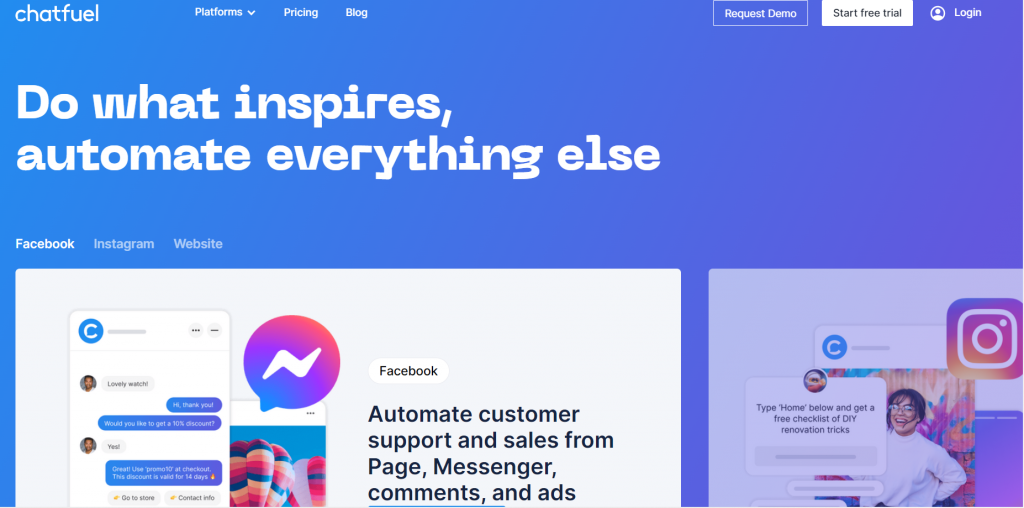 Features
Chatfuel is one of the leading AI chatbots platforms that has a track history of seven million clients since 2015. These chatbot platforms intend to automate every possible topic with their AI chatbot features. Chatfuel works best in Facebook messenger and also supports Instagram and business webpages.
Different templates for sales and customer support with multiple factors like FAQs, lead generation, promo codes, and customer feedback.
Easy to customize the chat window of Facebook Messenger in a way that suits the business type.
Uses Zapier tools to automatically integrate the Chatfuel bots with multiple apps and platforms.
A free trial for automating your first 50 messages.
Three different packages for startups, entrepreneurs, and small businesses. Check out the prices and services they have available.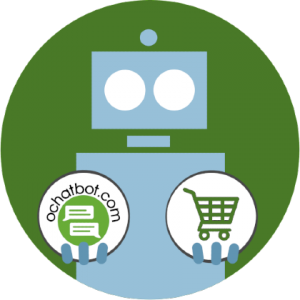 True AI to engage customers for eCommerce, business leads, and customer support.
5% to 35% Increase in AOV*

20% to 40% Increase in Revenue*

25% to 45% Reduction in Tickets with a Customer Service Chatbot
We Guarantee Results... Or Work For Free!
*When shoppers engage with Ochatbot®
ManyChat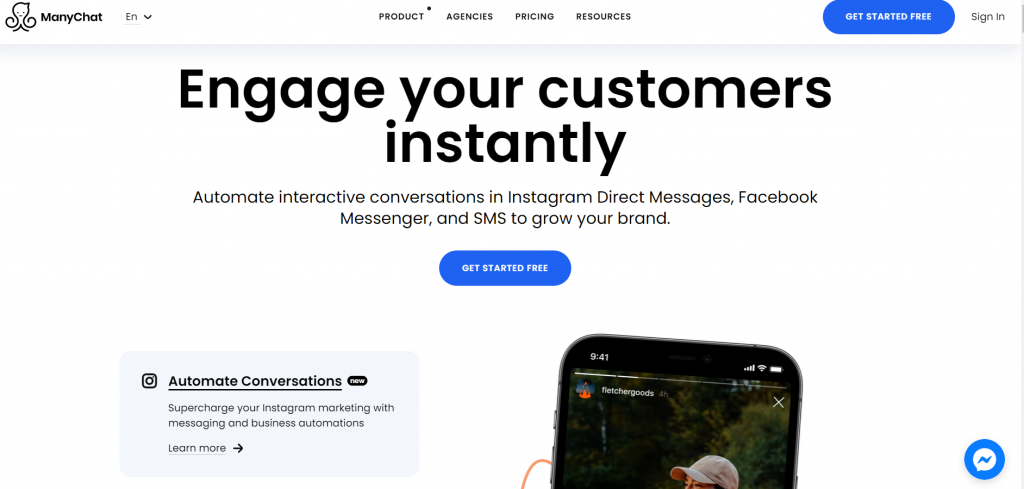 ManyChat is a popular chatbot platform that furnishes AI-powered chatbots for e-commerce solutions and agencies. This is the best among Facebook Messenger chatbots, but it also supports Instagram, messaging channels, and Shopify platforms as a conversational e-commerce tool. ManyChat handles more than 400,000 businesses across the world and works with billions of conversations.
Features
Zapier connects ManyChat with more than 1000 platforms.
Drag and drop components to build chatbots.
Automation features for Instagram Direct Messages as a Marketing funnel.
Ensures customer satisfaction by meeting up customer expectations.
This chatbot offers services under free and pro packages. The free version handles up to 1000 free contacts while the pro account unlocks the advanced features that scale up with the price range.
Botsify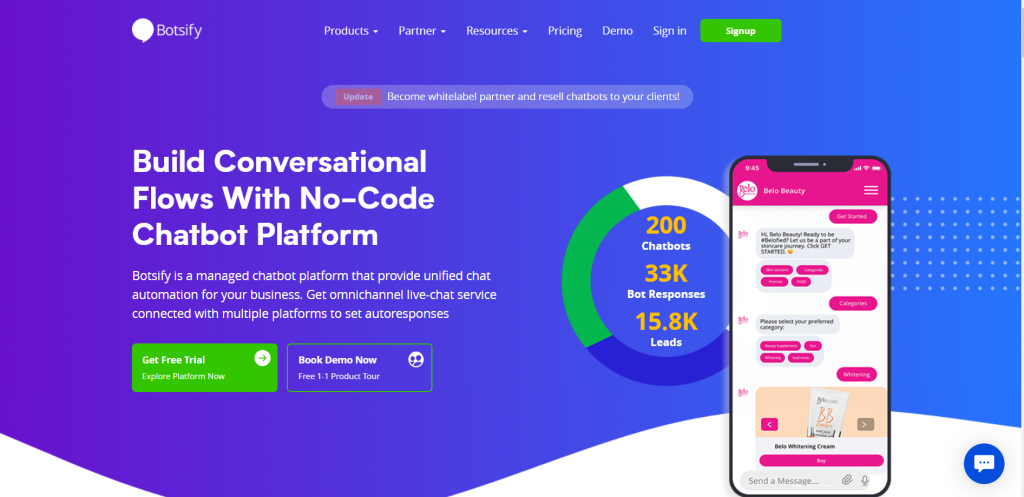 Botsify is the most suited chatbot platform to set up because it requires no code. This chatbot stands out in handling complex queries from customers with suitable and natural answers. This chatbot supports multi-channels like Facebook messenger, Instagram, Slack, Whatsapp, Telegram, and Website platforms.
Features:
This chatbot platform also allows Live chat to get into the conversation when the chat requires human intervention.
This chatbot platform provides many plugins with which the user can add and integrate your platforms with the chatbots.
Easy to customize the color, theme, and text settings of the chatbots.
Botsify allows you to explore with their 14 days free trial and their pricing range from $49 per month.
LiveChat
Live Chat software provides customers with efficient conversational AI chatbots for boosting business sales. It replaces human agents in the customer support team and assures 24/7 active service through conversational chatbots. LiveChat focuses on increasing sales and revenue through qualified leads.
Features:
LiveChat supports omnichannel integration. Business Marketers can integrate the Live Chat application with Messenger, Email, Apple business chat messages, Whatsapp, SMS, and websites.
Maintains a perfect balance between artificial intelligence and the human agent.
Regular analytics and reporting processes help develop business plans based on previous experience.
Connects with more than 200 tools and sends customer data to customer relationship management.
LiveChat offers a free trial for 14 days where you can experience all their services.
They also offer premium plans, such as Starter, Team, Business, and Enterprise.
ZenDesk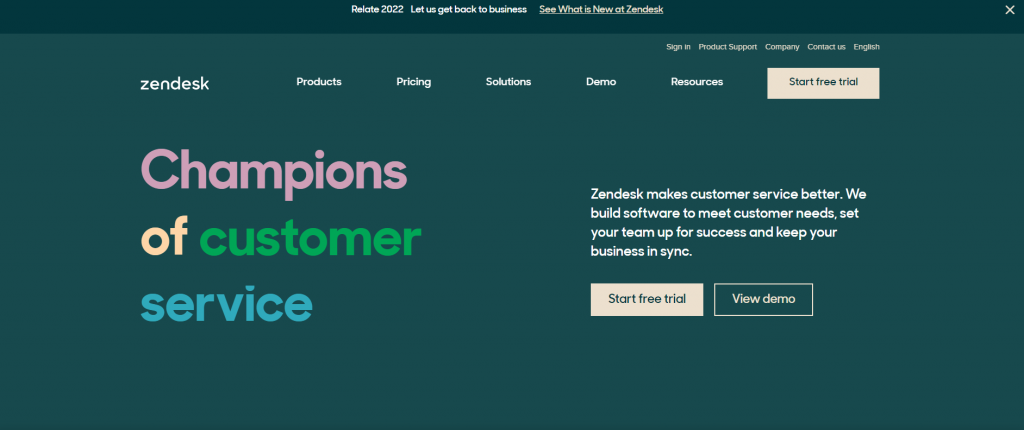 ZenDesk is an AI chatbot platform that allows users to create chatbots without any coding knowledge. These Zendesk chatbot platforms are voice-enabled AI chatbots that allow customers to communicate through text or voice. This chatbot application ranks in the top position of the Gartner Report in Digital Customer Service.
Features:
ZenDesk ensures a personalized experience, sales conversion rate, and real-time monitoring.
Provides an automatic analytic service that tracks the chatbot performance in sales conversion.
The Answer Desk function of ZenDesk answers the customer questions right at the moment.
Supports multilingual chats so that users can communicate in any language they are comfortable with.
ZenDesk provides three different packages like sales, team, and professionals to boost the sales, and the price starts from $19.
Drift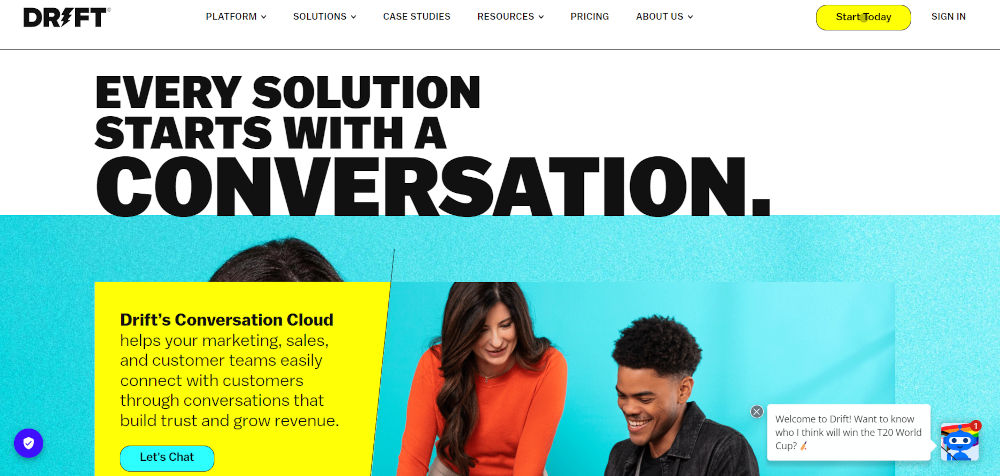 Drift offers multiple sales-boosting services along with Drift Conversational Cloud. This is a conversational AI chatbot that is a perfect blend of both artificial intelligence and human intelligence. When customers communicate through Drift AI chatbots, they can expect a realistic human-like conversation.
Features:
These chatbot platforms provide Software Development Kit for Android and IOS.
Drift records a 650% of Return on Investment (ROI)
Builds conversational marketing with qualified leads.
Drift offers multiple applications to increase sales and offers Live chat tools and Chatbot platforms.
Drift provides services in three categories: Premium, Advanced, and Enterprises.
Final Thoughts
AI chatbots are the better option for real-time conversational marketing. Most business solutions use AI chatbots these days to ensure human natural behaviors.
You can choose AI chatbots for business if you expect an auto-responsive conversational service with human-like understanding. It will benefit you in understanding the user's needs and emotions and responding accordingly.
However, machines may fail in recognizing emotions, and certain AI chatbots like Ochatbot are better than the others and will work with human-in-the-loop features and let you fill the gaps with human agents.

Latest posts by Greg Ahern
(see all)