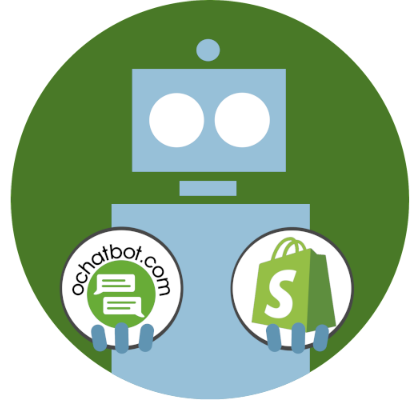 As a Shopify business, you want more sales to increase your revenue. A Shopify chatbot can accomplish this goal. What's the fastest way to generate more sales? Shorten the sales cycle so that customers can make a purchase more quickly. When you have a Shopify chatbot on your site, your customer's questions are answered quickly and the customer can add to cart and complete a purchase all within the ecommerce chatbot. This gives you an edge over your competition.
Using a Shopify chatbot in your online store is similar to a salesperson greeting a customer walking into a physical store. The salesperson says hello and asks if your customer needs any help, and the customer responds with their wants or needs. Don't you want the same interaction in your online store? Using an ecommerce chatbot gives you an advantage over your competition in these ways:  
Revenues can increase 15% to 35% when customers engage with a chatbot, especially when the user can add to cart directly from the chatbot. 

The sales cycle is shortened because customers get what they want very quickly. 

Purchasing obstacles are removed because the customer's questions and concerns are answered quickly and efficiently. 

Your ecommerce chatbot speaks the language that expresses your business philosophy and tone. Shoppers tend to buy from companies whose business philosophy and social presence match their own values and interests. 

Providing excellent customer service that quickly resolves issues and answers their questions will build your reputation and your brand. 

Your company is known to be cutting-edge and tech-savvy.
When your Shopify business uses the Ochatbot Recommendation Engine, the products that fit your customer's needs are recommended first. The recommended product results are customized by what products you need to move, such as overstocks, sale items and items with a high profit margin. 
The Ochatbot product search and recommendation engine works inside the AI chatbot to determine what product to show the customer. Adding Ochatbot to your Shopify store is quick and easy. Import your SKU's, decide which products you want to recommend first, and create intents for those items.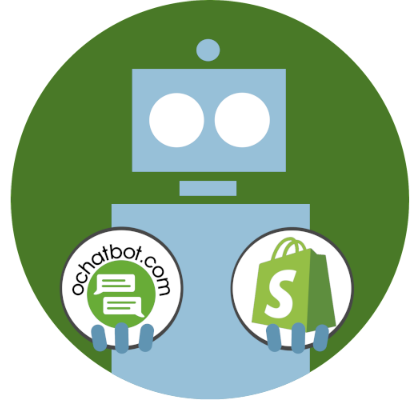 True AI to engage customers for eCommerce, business leads, and customer support.
Create happy customers while growing your business!
5% to 35% Increase in AOV*

20% to 40% Increase in Revenue*

25% to 45% Reduction in Tickets with a Customer Service Chatbot
We Guarantee Results... Or Work For Free!
*When shoppers engage with Ochatbot®
Boost Sales With A Shopify Chatbot
Why are so many Shopify businesses using chatbots for their online stores? The simple answer is to boost sales. When ecommerce chatbots engage with website visitors, a Shopify business hits their sales targets.
Chatbots began to appear on the ecommerce scene in 2016, but they were not common. During that time, mobile ecommerce apps were all the rage. Today the use of apps has declined while the use of chatbots has increased. What caused the change? Millennial shoppers. This generation of online shoppers want to get what they want in the fastest possible way, and they choose tools to accomplish this goal. The simplest and quickest way to buy something is to ask questions using an online chatbot. 
Using a Shopify chatbot in your business, you attract these millennial shoppers who use chatbots to add to cart and purchase in a flash. Your sales revenue increases quickly because these shoppers want to purchase and move on to the next thing. 
To get started using a Shopify chatbot, please contact us for more information.

Latest posts by Greg Ahern
(see all)