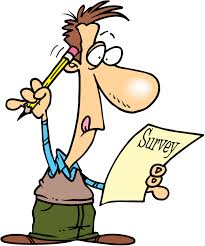 Gathering qualitative information with online surveys before A/B testing your site is the most efficient way to find out what the core issue is. This way you are not randomly testing items but testing what affects the user the most in the decision process. Here are three of the most common ways to survey website visitors online. The type of information and the number of responses you require will determine the type of survey you would use.
Tab survey
A tab survey quietly sits on the side or bottom of your page. It is a passive way of gathering information and good when you want to gather information but do not want to disturb the user during a process such as purchasing. A tab survey has a low response rate, from .1 to 1 percent, but the user is more committed to providing answers, so the results can be more accurate. This works well for multiple-question surveys as well.
Pop-up survey
There are two types of pop-up surveys, those that slide up or from the side and those that are interstitial pages that block the user from continuing. The surveys that slide and do not block the user from continuing provide more accurate results and do not irritate the visitor.
A pop-up survey is triggered by a user action. Actions can range from landing on a page to being a return visitor. Common triggers are scrolling to a section on the page.
The pop-up survey provides the highest response, from 3 to 5 percent and sometimes as high as 20 percent. However, the quality of the answer may not be as accurate, since some users are just clicking anything to get rid of the pop-up. Pop-up surveys get responses quickly.
Exit survey
Exit surveys provide insight into why people are leaving the site. An exit survey is triggered when users demonstrate actions that look as though they are about to leave the site. These active surveys are a great way to find out what your site is missing and causing the user to leave.
The best placement is the left side. This way the user sees the pop-up as they make their way to click the back button or enter a new URL. The response rate is similar to that of tab surveys, .1 to 1 percent; however, the accuracy is higher than for pop-up surveys.
How you ask your question has an effect on the response rate. The shorter the question and the shorter the answers the more results you will get. People just don't want to take the time to figure out your questions. Also the more direct your question. Such as " How can we improve our site?" will elicit more answers.

Latest posts by Greg Ahern
(see all)