Chatbots have become a necessary addition to virtual platforms in almost every way. From handling customer queries to providing data and insights for businesses, AI chatbots and the benefits they provide are becoming the need of the hour. A study by Uberall shows that about 80% of people have had a positive experience with chatbots. 
If you have planned on investing in a chatbot for your store, you will have to understand that all chatbots are not the same. Some come with additional features that can run an enterprise, whereas some come with only the necessary features that are enough to power a small-scale business. 
Concerning the different features it offers, the price of a chatbot also fluctuates variedly. One main factor for determining the price is the functionalities and features an AI chatbot offers. However, there are quite a few additional factors that influence chatbot pricing. 
In this article, let us see some of the factors affecting chatbot pricing and how you can choose the right chatbot for your business. 
Factors Affecting Chatbot Pricing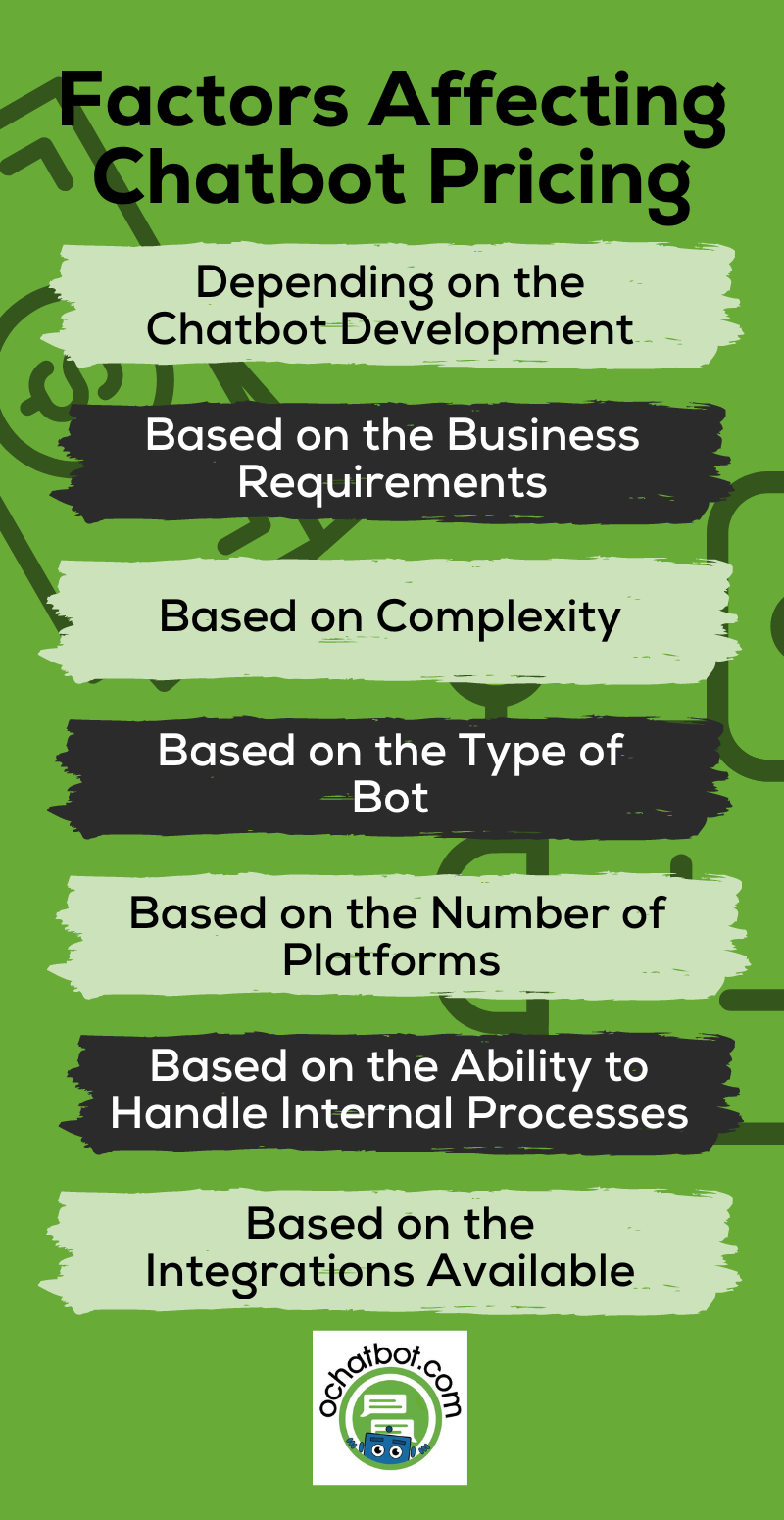 Just like any other commodity, chatbots too have a wide range of pricing depending on multiple factors. Smarter versions of AI chatbots might cost much compared to simple rule-based bots. From $0 to a few $100,000, the price of a chatbot can vary extensively depending on multiple factors. Here are some primary factors that influence their pricing. 
Depending on the Chatbot Development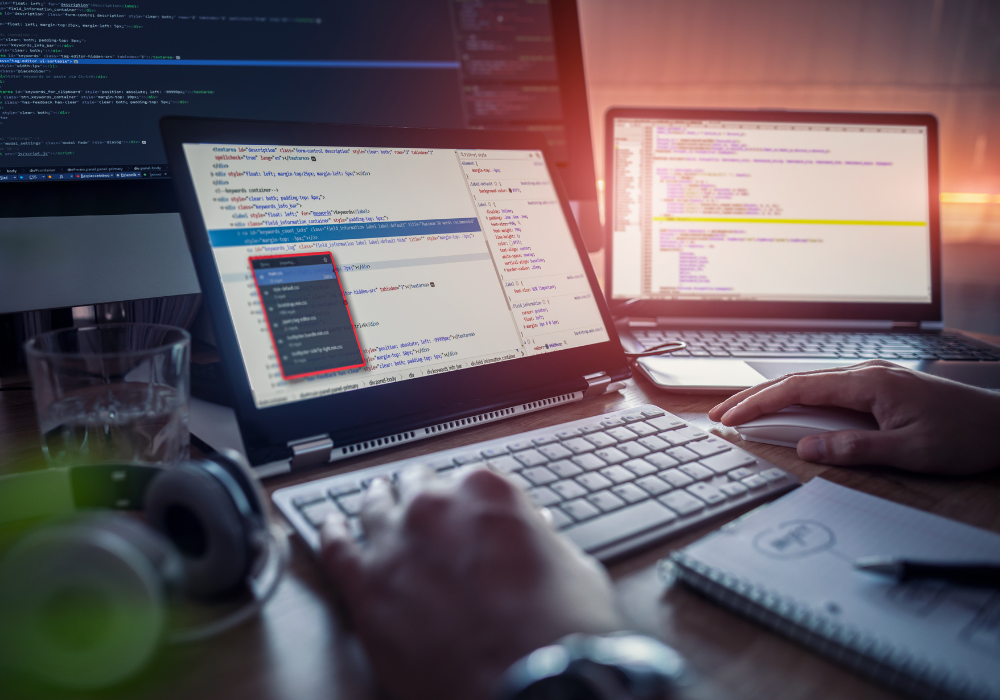 The type of chatbot development is one of the major factors that influence the price of a chatbot. It can greatly vary based on the developer and their mode of development. 
Chatbots can either be developed from scratch via coding by employing in-house developers or by using a third-party external chatbot platform. The in-house way of developing a chatbot is often the priciest, as it requires dedicated developers to build a chatbot and cater to the needs of the business, but it also offers a wide variety of customization and can be built and customized based on your business's needs. You can also hire freelance developers to help build your chatbot and use them in need of maintenance or necessity. 
On the other hand, you can opt for subscription-based DIY models like Ochatbot, which helps to build your chatbot based on your business needs in addition to providing assistance and support from the builder's side. 
Based on the Business Requirements
The goals of a business are responsible for determining the number of features that would help you build an ideal chatbot. The more complex the goals and use cases are, the more functionalities and features are added to the chatbot, which in turn influences the chatbot pricing.  
Although the ultimate goal of any chatbot is to bring in more conversions and enhance user engagement, identifying your business goals in detail greatly helps in determining the ideal chatbot. Is it for lead generation, marketing, customer support, or just as a simple FAQ chatbot? 
Once you have determined your business goals and your requirements for a chatbot, you can weed out unnecessary features that might add to the cost.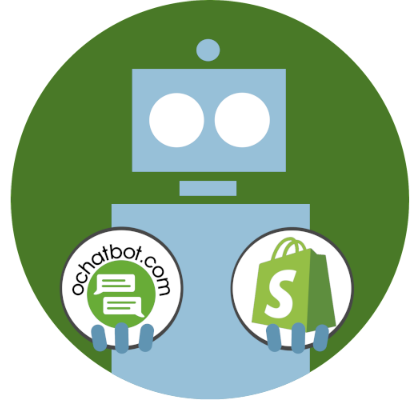 True AI to engage customers for eCommerce, business leads, and customer support.
Create happy customers while growing your business!
5% to 35% Increase in AOV*

20% to 40% Increase in Revenue*

25% to 45% Reduction in Tickets with a Customer Service Chatbot
We Guarantee Results... Or Work For Free!
*When shoppers engage with Ochatbot®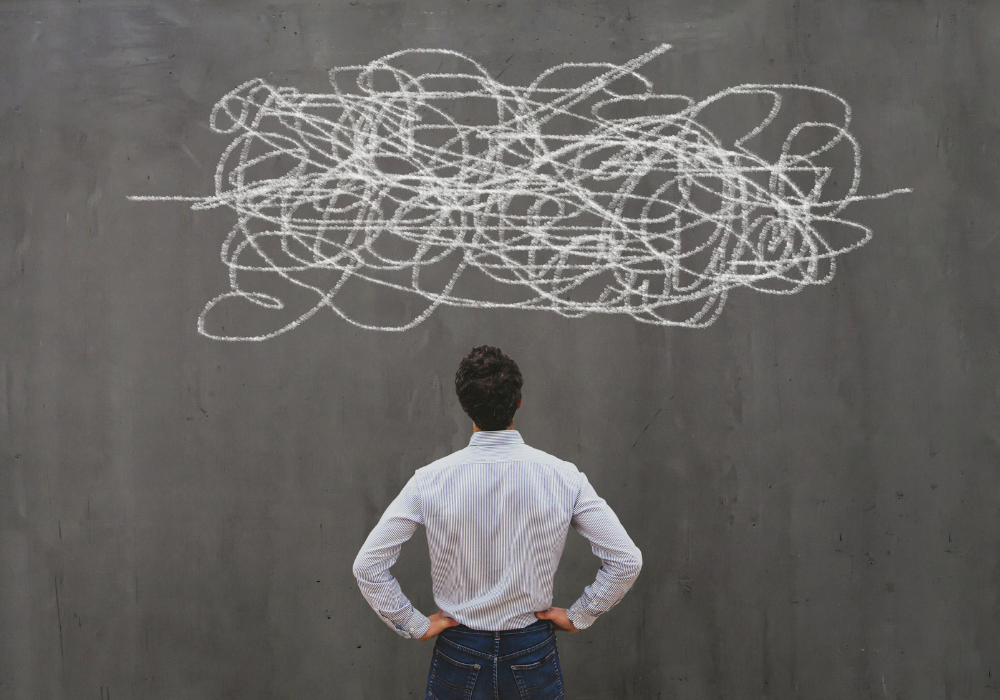 AI chatbots can perform simple to complex tasks. The more complex tasks they can handle, the more pricier they become. 
A simple FAQ chatbot can cost less, whereas an AI chatbot with the complexity of data handling and advanced security measurements, along with AI and ML capabilities and predictive analytics consequently increases the pricing. 
Additionally, small-scale businesses need chatbots with simple minimal features whereas large-scale businesses might need complex functionalities to handle all the customer support queries. The more complex the tasks and chatbot flow become the higher the price. 
Based on the Type of Bot
There are different types of chatbots available on the market based on a variety of features, and choosing the right chatbot for your business affects its pricing. 
For example, if you are working on a simple business platform with a small number of users with limited automation, you can opt for a rule-based chatbot or keyword-based chatbot. These chatbots predominantly use simple decision trees or predetermined flows to answer user queries. Thus, they are relatively less expensive and can fulfill the purpose of answering queries and performing simple tasks. 
On the other hand, AI chatbots have various features including NLP and NLU which enable them to perform several different operations like answering user questions based on their intent, and can learn on their own based on past interactions. As a result, these chatbots can be quite pricey. 
Hybrid chatbots which include the features of both rule-based and AI chatbots can offer flexible pricing.
Read More: Types of Chatbots: Choose the One Suitable for Your eCommerce Store
Based on the Number of Platforms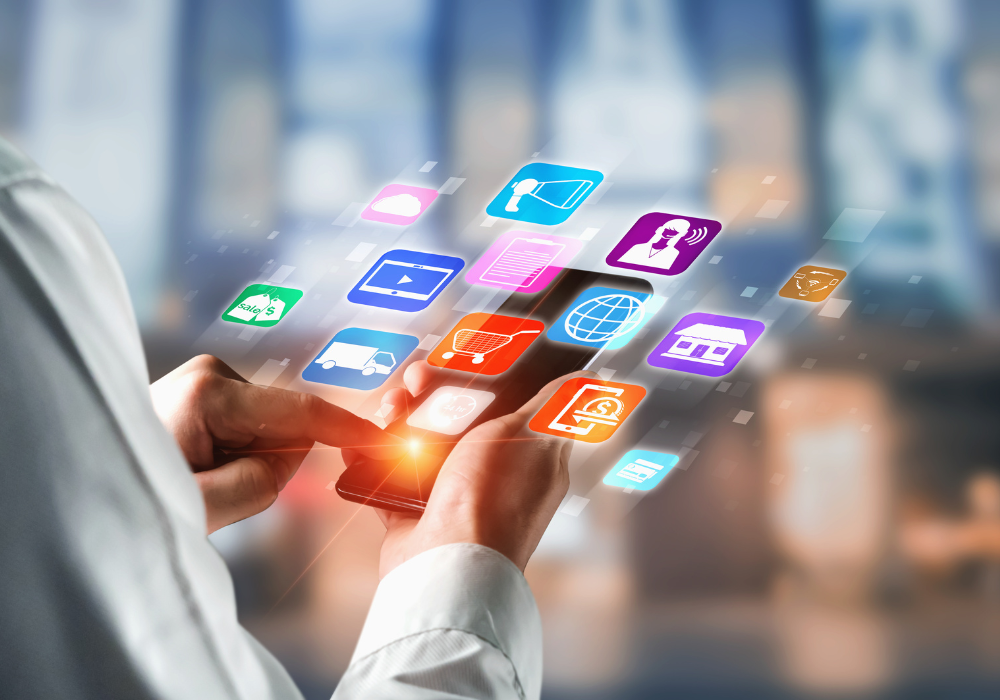 Businesses find it very efficient to engage with customers over multiple platforms so that customers can engage via the platform of their preference. The number of channels a chatbot can be incorporated into or the number of platforms supported also influences the pricing of a chatbot. 
Depending on your business requirements, you could choose the most suitable platform your audience prefers. And of course, a chatbot can be incorporated into several platforms such as WhatsApp, Telegram, Facebook Messenger, and other social media applications.
Predictably, the chatbot pricing also increases with more domains or subdomains.
Based on the Ability to Handle Internal Processes
Chatbots ease up internal operations throughout the processing pipeline with multiple use cases. Acquiring customers and managing their feedback, automating tasks, and handling customer queries, along with providing internal communication are some internal processes common to any business. 
The more internal processes you want your chatbot to handle in your business, the greater the chatbot pricing.  
Based on the Integrations Available
Integrations are a key element of chatbots that enables them to connect with multiple platforms. The type and number of integrations available are also pricing factors for a chatbot. Most integrations available for chatbots relate to CRM and CMS and include platforms like SalesForce, Zendesk, Shopify, Zapier, and other similar platforms depending on the usage.
Chatbot integrations greatly aid in automating processes, streamlining them, providing multi-channel messaging, managing your data, and consolidating them with ease. This level of complexity and customization makes your chatbot comprehensive. With these integrations, you can make your chatbot platform more personalized and customized to your needs. 
Frequently Asked Questions
What is the average price of an AI chatbot?
AI chatbots can vary from a few dollars to quite over 100,000 dollars. However, this is not a fixed price and can fluctuate depending on the features and functionalities they offer and between different providers and market trends.
What are some factors affecting the price of a chatbot?
Some factors which influence the pricing of a chatbot are your business needs, the features and functionalities you need in it, the way it'll be developed, the type of chatbot to be incorporated, and also, the integrations available and platforms it'll be deployed in.
Should I choose an in-house development or a chatbot provider to build my chatbot?
Chatbots can either be developed using an in-house developer, a freelance developer, or even, certain third-party chatbot providers offering no-code easily buildable chatbots. An in-house development offers more customizations and offers easy maintenance, but can be pricey. Whereas, no-code chatbot providers can also serve as a viable alternative.
Choose the Right Chatbot Pricing for Your Business
Once you have decided to opt for a chatbot, there are multiple price ranges you can choose from depending on your needs and requirements. Depending on your needs and requirements, the pricing of AI chatbots greatly varies concerning the complexity of the chatbot, the way it is developed, the integrations available, and the type of chatbot you'll be deploying.
Even though the pricing of the chatbot can be a deciding factor based on your budget framework, it is important to look at all the necessary features and functionalities that benefit your business. With the required features and functions, a well-deployed chatbot can be a powerful tool in your overall market strategy. 
By comparing the cost of a chatbot and the benefits it provides, you can choose the perfect chatbot platform or provider for your business. 

Latest posts by Greg Ahern
(see all)