Chatbot? A robot that chats?
The answer is: YES. Chatbots are technologically designed to let us interact with computers in a conversational manner. It also became a norm for websites and gadgets such as phones created in these modern times to be equipped with a chatbot. These chatbots help make people's daily lives easier than it used to be with just a swipe, type, click or even just by mentioning a particular keyword. 
Chatbots are also used for websites to accommodate any visitor that happens to pass by in it. But not all chatbots used in websites are as efficient as we expect them to be. Well-designed ones attract site visitors more since it'll be able to help in case any issue arises with the website's customer support.
In order to know what chatbot is best to use for your website, you should know it's Pros and Cons first. It's just like how a person chooses a car, house or gadget before buying one. By doing some research, you can have an overview of what you're choosing which will then help with your decision.
Pros and Cons of Chatbots
AI Chatbot (Artificial Intelligence)
These chatbots are used via texts, pressing buttons and voice recognition and work with "Human-In-The-Loop" (HTIL) which is a process where machine power and human intelligence are used to create machine learning based AI. Machine learning is when the chatbot learns by itself which is a bit risky. An example of this is Gmail when its suggested word is incorrect. A pro is that you can talk to it for as long as you can, just like a human person. It can also quickly give you the data you need with images, texts or links that will lead you to what you are looking for. Now, one of its cons is that it is unable to understand misspellings such as "u r" which means "you are", and they need maintenance and guidance of a parent (human) because it's like a child or infant that needs constant learning to get smarter.
Livechat
Livechat is a person responding to the questions similar to chatting or texting through the computer. It is best used for interpreting more complex issues that an AI system cannot but it is also important to have an AI chatbot with it as a second option in case the livechat is not available. Its pro is that things can be monitored daily and since there is a personal touch, a human connection, complex questions can be answered right away and daily monitored. Now, its con is that customers expect an immediate response, otherwise it'll give the impression that no one is at the company. So the person assigned to it should always be on livechat. Next is that 63% of the customers prefer AI chatbot more than Livechat because they feel more secure with giving their private information to a non-human.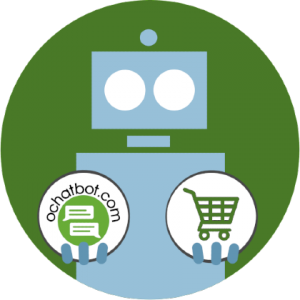 True AI to engage customers for eCommerce, business leads, and customer support.
5% to 35% Increase in AOV*

20% to 40% Increase in Revenue*

25% to 45% Reduction in Tickets with a Customer Service Chatbot
We Guarantee Results... Or Work For Free!
*When shoppers engage with Ochatbot®
Leadbot
Leadbot is just a simple chatbot with a series of question. It does not have AI to answer typed questions since it is programmed with just a series of specific questions. Its inputs are usually button clicking or entry by name, email, appointment setting, etc. Its pro is that it is very easy to set up, inexpensive and gathers quality lead information. Its only con is that it cannot answer customers' or users' questions.
eCommerce Chatbots
These kinds of chatbots take in data with which they can ask questions. Then they respond to that information quickly. It is ideal for sales conversion and sites with a lot of stock-keeping units which has a scannable barcode printed on products in retail stores. Its pro is that it answers questions and inquiries about the products, order status, sales, and other information about the shop or company. With this, there's an average of 15%-35% increase in revenue whenever a customer interacts with the chatbot. For its con, some chatbots, especially in sites under legal and medicine fields, may not be able to answer a customer's inquiries that require professional help.
Support Chatbots
These chatbots can answer simple and FAQs (Frequently Asked Questions) of customers and do not sleep. Its last option is livechat which serves as a backup for questions and inquiries that the chatbot can't answer. Now its pro, since these chatbots are available anytime, is that it can provide real-time assistance like a salesperson in an actual store and owners do not have to hire many customer support staff. For its con, it is difficult to create and also needs maintenance such as updates because it is used daily.

Latest posts by Greg Ahern
(see all)