Do you know e-commerce marketing strategies are outpacing the competition?
E-commerce is a trending industry and reaches more target audiences effortlessly. An e-commerce site owner should devise multiple strategies to captivate more website visitors and increase revenue exponentially.
Proposing an effective e-commerce marketing strategy in the e-commerce market will make you stand out from your competitors. E-commerce business owners should unlearn outdated ideas to keep up with their competitors. This blog will help you understand effective e-commerce marketing strategies to increase brand awareness among your target audience.
What is E-commerce Marketing?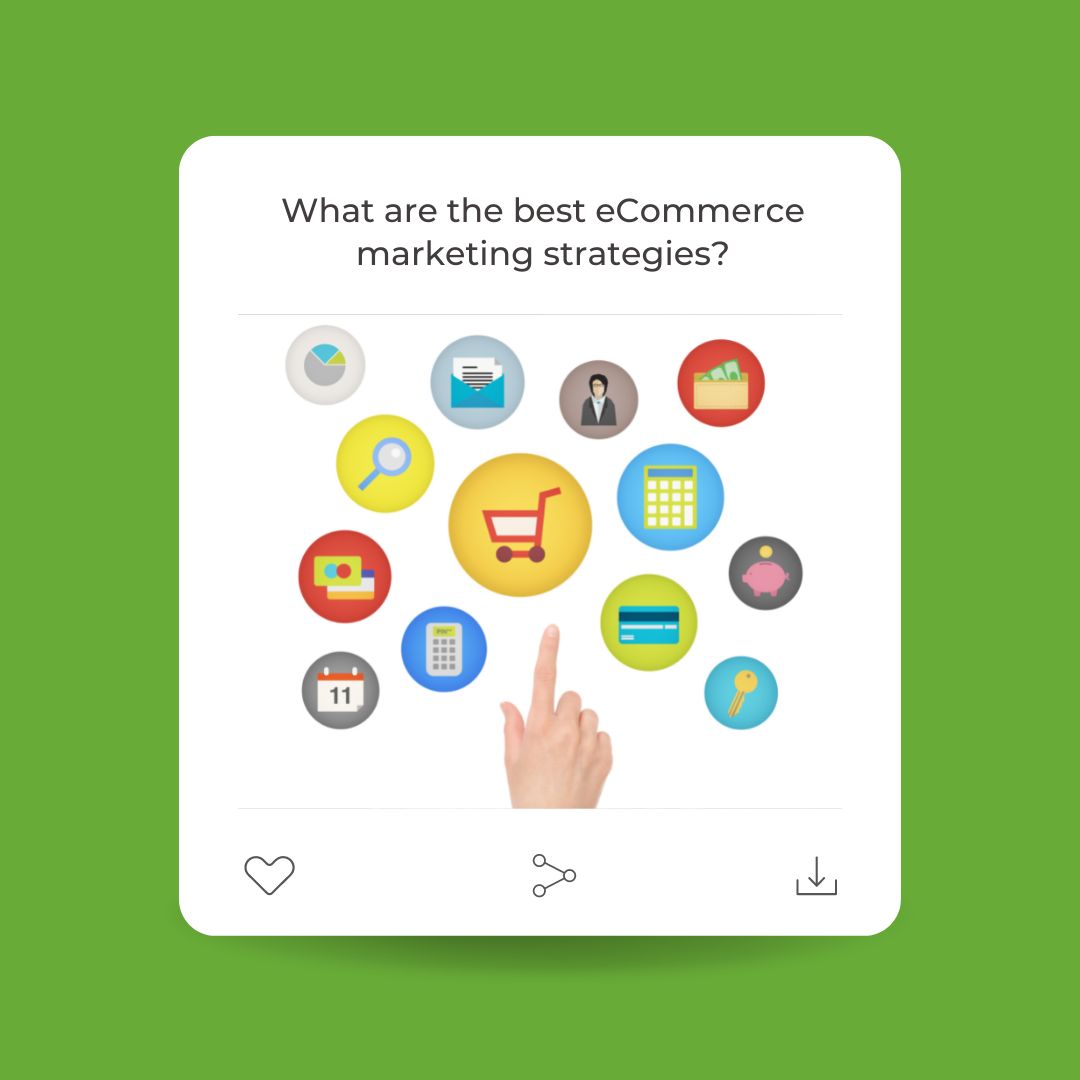 E-commerce marketing is selling your products and goods with the different ideas that are trending in the market. There are plenty of online stores that are selling their products and reaching their target audience successfully.
In this crowd, you must understand the marketing tactics to make your store unique. This is the reason why you need to test the best e-commerce marketing strategies that work for your target base.
How to Drive Awareness with E-commerce Marketing?
Your target audience should know about your brand which creates more brand awareness. When you create brand awareness, your target audience will know more about what are the best features of your product in the market.
Every business has its own objectives and goals to achieve. A business can reach its goals like increasing revenue, website visitors, traffic, etc. by creating the right marketing strategies. In e-commerce marketing, you can use several digital platforms to reach your audience. E-commerce marketing will also help you understand your customers' preferences.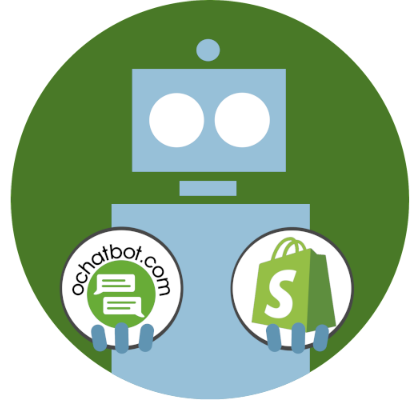 True AI to engage customers for eCommerce, business leads, and customer support.
Create happy customers while growing your business!
5% to 35% Increase in AOV*

20% to 40% Increase in Revenue*

25% to 45% Reduction in Tickets with a Customer Service Chatbot
We Guarantee Results... Or Work For Free!
*When shoppers engage with Ochatbot®
7 Strategies to Boost Your Business with E-commerce Marketing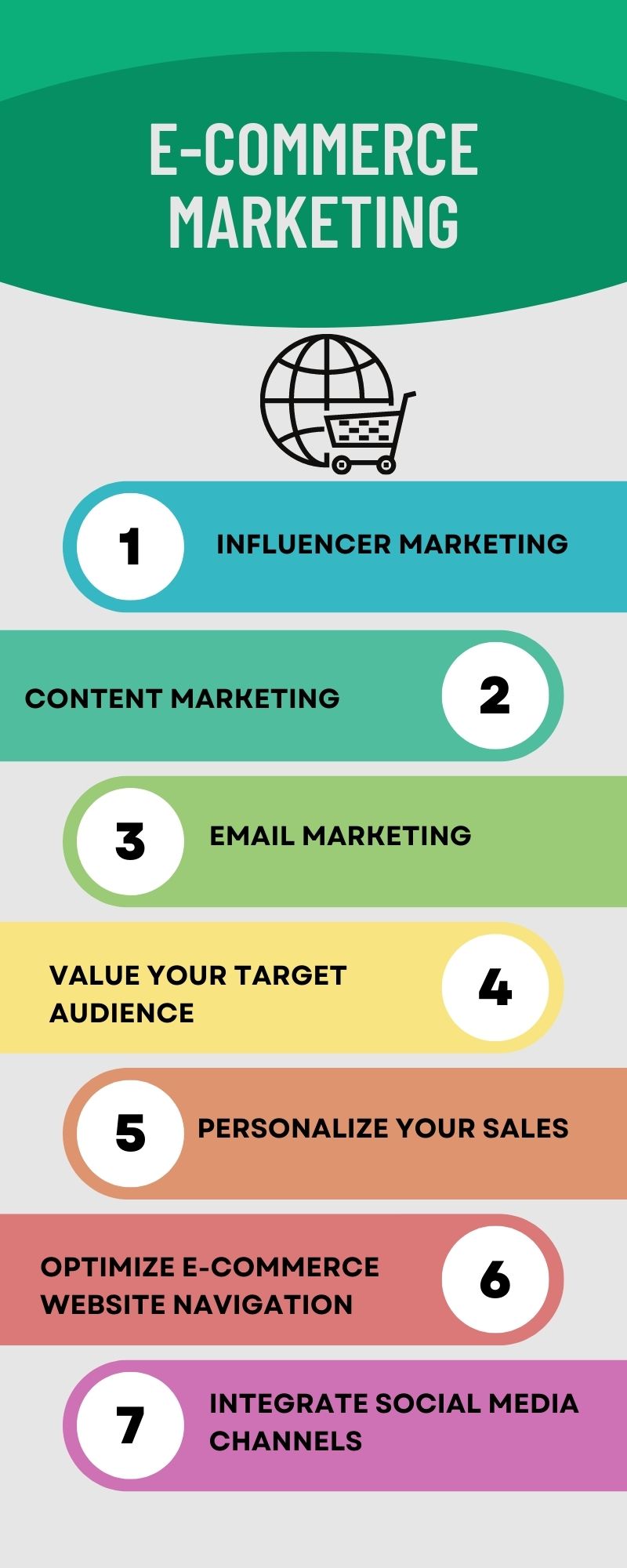 Every business needs to market its services when they launch new services or products. It is quite challenging to find a strategy that stands out from your competitors. Nevertheless, the industry is coming up with new and innovative ideas every day. It is best to understand these seven e-commerce marketing strategies that will help you outpace your competitors and win the race.
1. Influencer Marketing
While social media marketing is common, it is best to understand social media ads alone are not going to help you climb up the ladder. Influencer marketing is one of the social media marketing strategies that will help you reach your target audience fast.
Influencers on social media platforms increase their popularity by gaining more followers. Now, business owners should research the types of influencers that have their target audience as their followers. These influencers will talk about your products and their features on their channel. Your e-commerce store will effortlessly increase online sales with influencer marketing.
2. Content Marketing
Content plays a vital role in enhancing the sales of your business. E-commerce companies that have the best content on their blogs and social media posts will drive more sales. Recent research says that more than 15% in an online survey respond that content is king since it boosts the position of their websites on the search results page. Search Engine Optimization (SEO) also falls under content marketing which enhances your website ranking.
When your target audience is searching for products on Google, your website should rank on the first page for different keyword searches to let them know what you're offering. Content marketing helps e-commerce site owners to increase brand awareness and boost their revenue. Another great method is PPC which also needs good content. Consider working with a Shopify PPC agency if you've used Shopfiy to build your website, and you will get things done more professionally.
Read More: 10 Tips on Content Marketing Which Will Boost Sales on Shopify Stores
3. Email Marketing
E-commerce businesses will launch new services and offer them regularly. Offers and discounts are one of the perks of online shoppers. However, how do you let your audience know about the new offers and discounts on your website?
Email marketing is one of the best ways to reach out to your audience base with new products and services. Online business owners can send newsletters, promotional emails, retention emails, etc. to their customers. Email marketing has several benefits for e-commerce business owners: you can reduce abandoned carts, retain more customers, and generate new customers for your business.
4. Value Your Target Audience
How do you become a loyal customer for an e-commerce business? When you think from the perspective of your target audience, you will understand what they're expecting from your e-commerce business. Hence, online business owners should first understand their target audience to enhance their sales.
When you understand your audience base and provide them with what they expect, you can increase customer loyalty exponentially. Your customer base will feel valued and visit your store as returning customers.
5. Personalize Your Sales
Providing your customers with dynamic products as they expect is one of the best ways to increase your sales. Many e-commerce companies generate a strong customer base by helping them customize their needs.
In this strategy, you should first understand your customers' demographics. For instance, what is the common age group of customers that are visiting your store, and what is their location are two significant criteria to analyze your customers' needs.
E-commerce site owners also use Live Chat and AI chatbots to track their customer's preferences and demographics. Predominantly, an AI chatbot is the best way to understand your customers' needs conversationally. Implementing the best AI chatbot is a very successful e-commerce marketing strategy to personalize your sales.
6. Optimize E-commerce Website Navigation
When online shoppers visit your store, they should be able to easily surf through the website. If an e-commerce website has complex navigation, purchasing products can also become difficult.
As an e-commerce site owner, you should change your website layout and enhance your site to become frictionless. If you are visiting an online store, you should be able to reach the collection and product pages quickly. You should plan your page structure with easily understandable language. Page speed also plays an important role in improving navigation. Optimizing your website navigation is one of the ways to increase your ranking in Google.
7. Integrate Social Media Channels
Social media is a game changer in any industry, and e-commerce is no exception! If you are an e-commerce owner trying to reach a wider audience and increase online sales, integrating social media channels is one of the best ways.
Having active social media channels will increase your popularity in the e-commerce industry. Integrating social channels is one of the effective e-commerce marketing tips that will help you enhance sales. You can add social links to your website, blog posts, etc. With this strategy, you can easily redirect your social media followers to your website to make a purchase.
Latest Posts:
Frequently Asked Questions
1. What are the types of e-commerce?
There are many types of businesses in the e-commerce industry. Some of the common types are B2B (Business to Business), B2C (Business to Customers), C2B (Customer to Business), D2C (Direct to Customers), etc.
2. What is an e-commerce marketing strategy?
E-commerce marketing strategy is collecting effective e-commerce marketing tactics to promote online stores. By implementing these strategies in marketing channels, companies can easily retain their customers, convert website visitors into shoppers, reduce abandoned carts, etc.
3. What is the difference between digital and e-commerce marketing?
Digital marketing will help you communicate and reach your audience. Whereas e-commerce marketing revolves around selling your products to them.
4. What is the e-commerce marketing strategy?
An E-commerce marketing strategy is formulating a plan to outwit the competitors by evaluating the intense strategies that win in the market. With the help of marketing strategies, eCommerce store owners will gain more sales. 
Summing Up
Promoting your online store is not only enough to achieve your goals in the e-commerce industry. Online business owners should also understand the latest trends and updates in the industry and change their business course accordingly.
This blog has enumerated several strategies to enhance your online sales, choose the best strategy that suits your business, and achieve your goals effortlessly. 

Latest posts by Greg Ahern
(see all)