Do you want to know the best chatbot welcome message examples for your e-commerce stores? Implementing an Artificial Intelligence (AI) chatbot in e-commerce stores is the best way to engage your online shoppers.
Chatbots in e-commerce stores will help online business owners automate tasks and develop conversations with customers. An AI chatbot welcomes online shoppers like a sales rep in physical stores. The chatbot welcome message templates in this article will help you enhance the customer experience in your online store.
Overview of the Content
Why are Chatbot Welcome Messages Significant?
How to Create an Engaging Welcome Message?
6+ Chatbot Welcome Message Examples
Provide Information in the Beginning
Information About Live Chat Support
Information About Exclusive Offers
What is an AI Chatbot?
An artificial intelligence (AI) chatbot is software that understands human conversation and provides relevant information to users. The algorithms in the AI chatbot will mimic natural human conversations.
Many online business owners implement chatbots in their e-commerce stores to automate various tasks and improve customer service availability. AI technology in chatbots helps in decision-making and engages customers with conversational elements.
Online businesses prefer AI chatbots to rule-based chatbots to reduce mechanical responses. Natural Language Processing (NLP) in an AI chatbot will help them understand human language. Go through this page to know more about Machine Learning Chatbots.
Also Read: Future of Chatbots – 7 + Latest Chatbot trends in 2022 
Why are Chatbot Welcome Messages Significant?
A well-crafted welcome message will captivate customers to continue their conversations with the AI. An e-commerce store has many casual visitors on its website and online business owners should convert casual visitors into potential customers in various ways. A chatbot's welcome message is one of the many ways to engage customers and captivate them.
If your greeting message is unique, it creates an impact and helps you stand out from the crowd. Not every customer in an e-commerce store is a potential buyer but with simple and effective strategies you can convert casual visitors into potential buyers. The right chatbot welcome message will intrigue your customers about your products.
How to Create an Engaging Welcome Message?
An online business owner should first understand their target audience before creating an engaging welcome message on the platform. The welcome message should not confuse your website visitors.
Chatbots can ping website visitors by ensuring that they will answer site visitors' questions about their services. The welcome message should replicate the conversation of a real person instead of sending mechanical greeting messages. This next section focuses on the chatbot welcome message examples to guide you through good welcome messages for your website visitors.
6+ Chatbot Welcome Message Examples
1. Provide Information at the Beginning
While crafting a bot welcome message, you should provide information at the beginning of the chat. For instance, the chatbot should introduce the services of an e-commerce website to allow customers to choose from them.
In this case, analyzing the target audience will help you understand their intent. An e-commerce site owner should think from the perspective of the target audience and frame questions accordingly. You should first know what services that your customers are looking for.
The welcome message of the Ochatbot captures users' attention. Ochatbot helps customers choose from options by framing the right questions and providing the services of the website.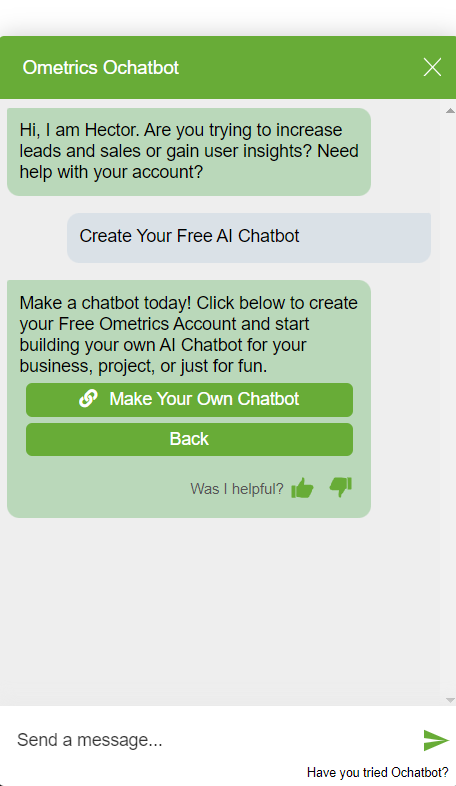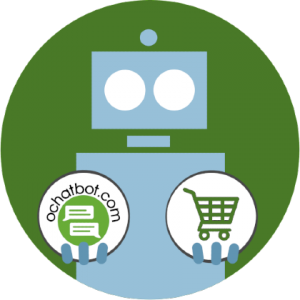 True AI to engage customers for eCommerce, business leads, and customer support.
5% to 35% Increase in AOV*

20% to 40% Increase in Revenue*

25% to 45% Reduction in Tickets with a Customer Service Chatbot
We Guarantee Results... Or Work For Free!
*When shoppers engage with Ochatbot®
2. Redirect Your Customers
If you want to redirect your customers to the product page or collections page, you can add the redirect options at the beginning of the chat.
Your chatbots can provide a warm welcome to your customers and add page links so shoppers will directly go to the page and purchase products. Chatbot's welcome message should not be blunt and the website page link should be natural in the conversation. If your customers don't click on any link, the chatbot will continue the conversation and provide them with various options.
3. Humanize Your Bot
AI chatbots replicate human conversations so if your website visitors ask different questions to an AI chatbot, it can answer like a real person.
An e-commerce website owner should humanize their chatbot with a human name. If your chatbots introduce themselves to customers with a human name, then customers will feel like they're talking to a real person. For instance, if Ochatbot introduces itself as 'Hector' at the beginning of a chat, then it is the best welcome message example with a human name.
4. Break Down Your Conversation
One of the significant points you should remember while crafting a welcome message is that your chatbot should not send a welcome message in paragraphs.
Blocky paragraphs at the beginning of the conversation will not interest your customers, and they might not read the information you provide in the beginning. Breaking down your welcome message is one of the best ways to engage users and intrigue them to read your services.
Note: Online business owners can write the welcome message in a maximum of four lines and provide a map for the services.
5. Call to Action Button
If your customers choose one service from the list you provide, that should direct them to the service.
Online business owners can add links to the service that your website visitors choose. For instance, if your website visitors choose 'Create Your Free AI Chatbot' from the list of services, it will provide the link to create their own chatbot. The call to action button in the chat window will help your customers reach their destination easily.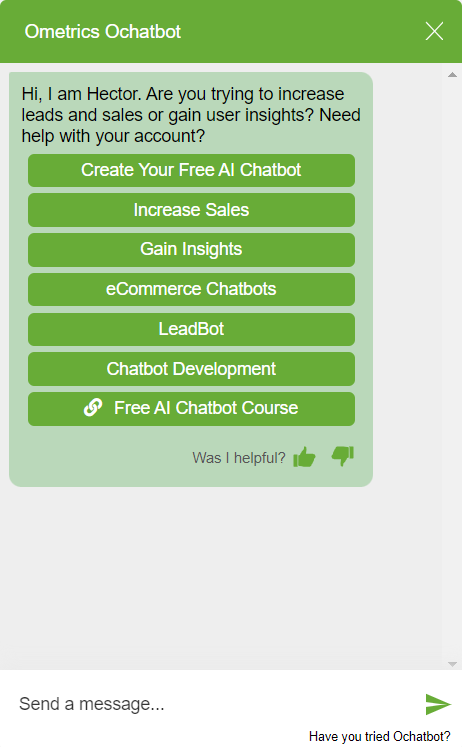 6. Information About Live Chat Support
What if your customers want to talk with a live chat agent? An AI chatbot can also provide information about the live chat support on the website.
If your customers want to talk to a live chat agent on the website, then the chatbot's information at the beginning about the live chat support information will benefit them. Chatbots are available 24/7 on the website, with live chat support making your online stores more functional. Sometimes, customers tend to leave the website if there is no live chat support. You can also craft your welcome message following this template:
Example: 'Hi, I am XX. Are you looking for YY service? You can also talk to a live chat agent about your queries'.
7. Inform About Exclusive Offers in Welcome Message
Do you have an exclusive offer on your website? Your customers should know about the discounts, promos, and offers in your online store. Chatbots can also welcome customers by telling them about the latest discounts.
When a chatbot tells customers about the latest offers and promos, this will accelerate the purchase process on the websites.
Example: Hi, I am XX. Are you looking for YY service? We also have XX offers on our website, which you can check out!
Frequently Asked Questions
How can I create an AI chatbot?
While creating an AI chatbot, you should give a proper purpose and train the bots regularly. Online business owners should test a chatbot before implementing it on the website.
Which is the best chatbot that improves customer service on e-commerce platforms?
Ochatbot is the best AI chatbot platform that converses with customers like a real salesperson. This AI chatbot has increased the revenue of CBD companies in e-commerce up to 40%. It also provides valuable insights for e-commerce businesses.
How does an AI chatbot enhance customer service in the e-commerce industry?
AI chatbots understand customer behavior with the patterns. The chatbots analyze purchase history and collect conversation data. Artificial Intelligence will provide instant replies to customers by identifying the same pattern. The relevant suggestions and answers will boost customer service in e-commerce.
Final Words
Chatbot welcome messages are significant to help your customers reach their destination in the sales funnel. If your welcome message is unique with proper CTA, then there is a lesser chance of customers abandoning your website.
In this article, we looked into the seven chatbot welcome message examples. Research your target audience and write a welcome message wisely. The first impression is always the best impression!
Latest Posts

Latest posts by Greg Ahern
(see all)